Do you want to drive more local clients for your lawn care business?
Google Local Services ads for lawn care companies will help you attract more local leads looking for landscaping experts. If you haven't invested in these ads yet, you're missing a prime opportunity to grow your business.
On this page, we'll provide you with everything you need to know about Google Local Services ads for lawn care and three reasons to invest in these ads. To learn more about Local Services ads, contact us online or call us today at 888-601-5359 to speak with a strategist.
What are Google Local Services ads for lawn care companies?
Google Local Services ads appear at the top of Google search results when users search for a local business. These ads appear when users search for businesses in a specific city or zip code. Appearance-wise, the ads show in a bar with three square boxes.

Each listing may differ, but a good listing consists of:
Company name
Star rating
Contact information
Hours of operation
Company snippet
Hear What It's Like to Work With WebFX!

"WebFX is a fantastic company to work with. They provide the reporting I need, the results I want, and if there is a problem they reach out first and have a plan on adjustments. I cannot recommend them enough."
Landscaper
How do Google Local Services ads for lawn care companies work?
When someone searches for a local business that qualifies for Google Local Services ads, three ads can appear at the top of search results.
If users want to look beyond the three companies listed, they can click the "More lawn care providers" button to see more options in their area.

Once your audience selects more options, they can filter out businesses based on the services they need. It makes it easy and efficient for searchers to find the right landscaping company.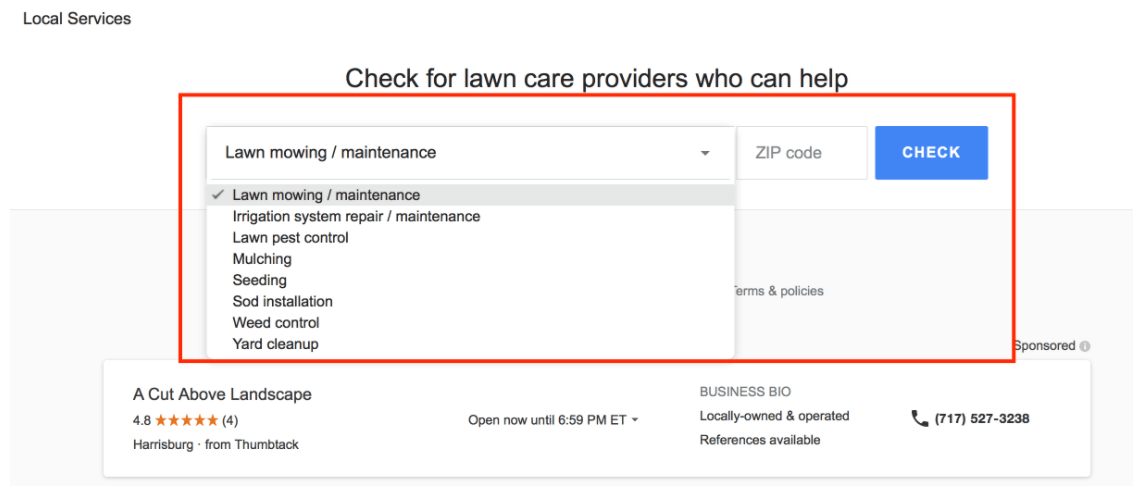 After someone clicks on a business of interest, they'll see a page filled with information about that lawn care company.

On this page, users see the services you offer and the areas you service. This page also contains your company's bio, which leads can read to learn more about your business.
If someone likes what they see, they can contact your company from your Local Services ad. Google Local Services ads operate on a cost per contact model, so you won't pay for leads until they call or message your business.
After this lead calls or messages your business, you have the opportunity to reply. If they call your business, and you're available, you can pick up the call and speak with the customer. For off-peak hours, you'll receive a voicemail or message.
Whether it's through Google's app or your email, you can see who contacted your business and get back to them. Google allows you to call users back or message them through your app. You can accept and decline requests in the app, too.
It's a great way to help you manage leads calling or messaging your business.
How do I set up Google Local Services ads?
Google provides three simple steps for getting started with Google Local Services ads:
Sign up: Get access to Google Local Services ads by signing up and providing Google with a list of the services you offer and your service area.
Set your budget: Determine how much you want to spend for your local advertising campaign. These ads don't have a set minimum amount, but you'll want to consider your cost per contact when you set your budget.
Launch your ad: Once you provide all your information, you'll launch your ad campaign. After starting it, Google gives you complete control to decide when you want to run your ad.
Need help getting started with Google Local Services ad? Our team at WebFX will help you set up your ads and monitor your campaign. Call us today at 888-601-5359 to learn more about our Local Services ad management plans.
What is the Google Guarantee badge?
When you apply for Local Services ads, you can get the Google Guarantee badge.
The Google Guarantee badge is a symbol of trust. To get this badge, you must pass a background check. Google will also verify your licensing information and insurance.
This process ensures that you are a legitimately operating business and have coverage for mishaps. As long as your paperwork is in order and up to date, you'll earn the Google Guarantee badge.
The Google Guarantee badge is a safety net for clients who hire your company. Many people hear about bad landscaping experiences or jobs gone wrong. They'll read reviews and gather opinions to understand if a company is safe to use.
With the Google Guarantee badge, you're building even more trust. People trust Google to show them the right businesses. If you have this badge from Google, potential clients will have a better first impression of your company.
When you have the badge, clients can get reimbursed, up to $2000, if they don't like the work you do for them. Google takes the invoice from your job and reimburses the client if they find the client's case to be eligible.
Google will not accept claims for:
Future projects
Unhappiness with prices
Cancellations
Property damage
Dissatisfaction with responsiveness
If you do quality work for your clients, you won't need to worry about them filing claims to get a refund. The Google Guarantee badge will serve as a symbol of trust that makes people confident about hiring you for landscaping work.
Why should my business invest in Google Local Services ads for lawn care companies?
Now that you know all you need to know about Local Services ads, you're wondering why you should invest in them. What do Google Local Services ads do for your business? Let's take a look at three significant benefits of investing in these ads.
1. You only pay for leads that contact your landscaping business
You attract leads interested in your lawn care services with Local Services ads. You don't waste your time and money on people that aren't ready. Google Local Services ads help you attract users that want to become customers.
Your business focuses on leads that want to talk to your team, whether to discuss your services, get a quote, or schedule an appointment. These leads know they need a landscaping company and want to find the right one.
By running a Local Services ad, you'll help them find your business first.
Google only charges you when someone contacts your business, too, so you aren't spending money on leads that look at your ad and leave. You're paying for people who looked at your listing, liked what they saw, and felt compelled to contact your business.
2. You gain more visibility in the search results
When you're competing with other landscaping companies in search results, you want your company to stand out. Google Local Services ads help you gain more visibility in search results by placing you at the top — a prominent location.
If you're already investing in search engine optimization (SEO) and pay-per-click (PPC) advertising, Local Services ads provide another way for leads to find your business.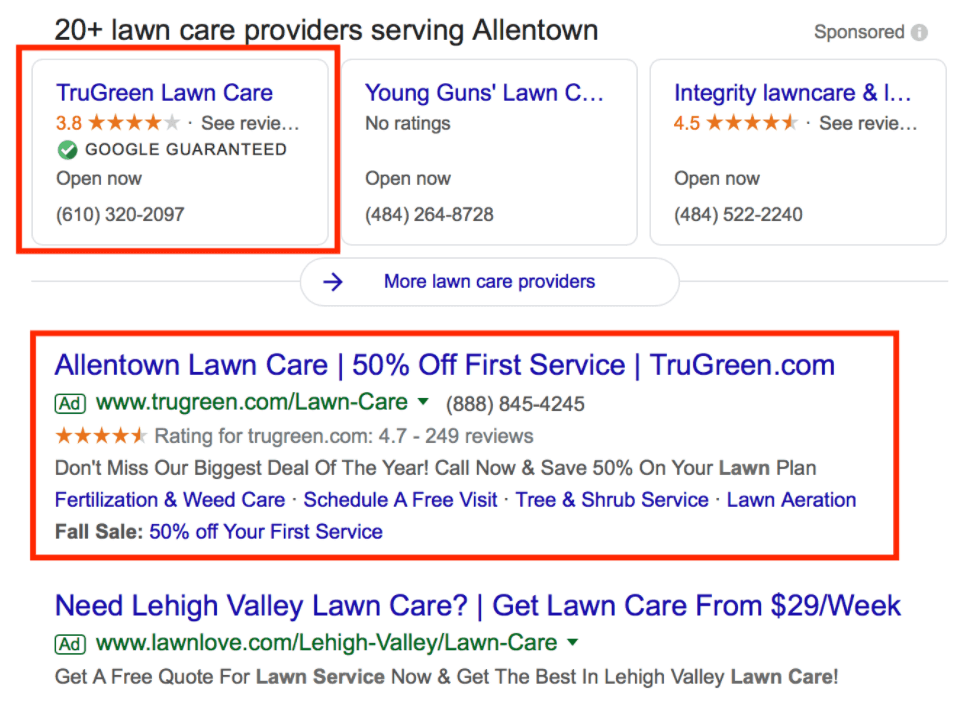 Let's take TruGreen as an example. When you search for lawn care providers, you immediately see their name in the Google Local Services ads section. If you look further, you see they have a PPC ad.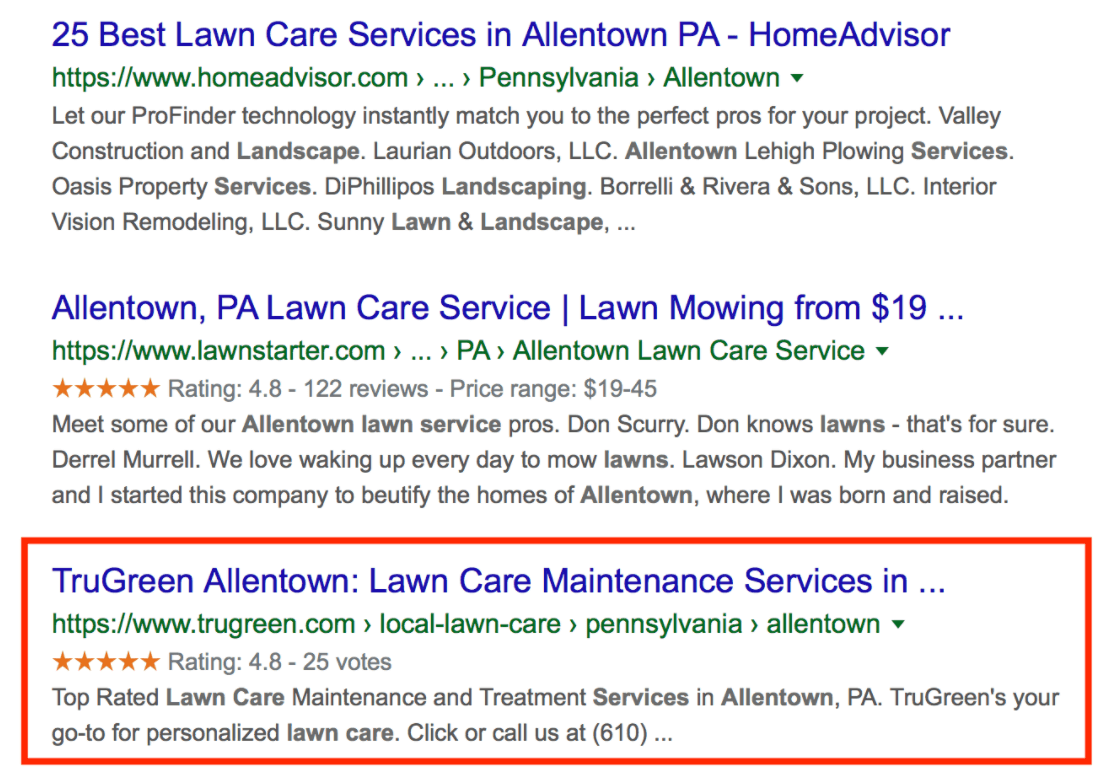 Even further down the page, you see their business's page in the organic search results. This optimization creates three different exposure points, with the Local Services ad making one of the most significant impressions.
Local Services ads increase your company's visibility in search results. If they keep seeing your brand as they continue to browse and scroll, they're more likely to contact your business. They can easily click on your Local Services ad and call your company to make an appointment.
3. You build trust in your brand
Google Guarantee badges establish trust with your audience and make them feel more comfortable about hiring your company. As a result, Google Local Services ads help people build confidence in your brand and services.
Additionally, Google pulls your star rating from your Google Business Profile listing. If you have a high star rating, it builds more confidence in your audience that you'll provide them with a quality experience. It helps them feel more confident about selecting your business over the competition.
Our digital marketing campaigns impact the metrics that improve your bottom line.
See More Results

WebFX has driven the following results for clients:

$3 billion
In client revenue

7.8 million
Leads for our clients

5.2 million
Client phone calls
Start creating impactful Google local ads today
Google Local Services ads for lawn care companies help you attract more credible leads. Invest in these local ads, and you can help your business grow, from booking more clients to hiring more team members.
Want to use Google Local Services ads but don't know where to start? No worries!
Our team of local marketing experts will help you get started.
We've driven over $3 billion in sales and over 7.8 million leads for our clients in the past five years. You can count on our talented team to help you drive leads and revenue through your Local Services ads.
Ready to learn more about how you can help your lawn care business grow? Contact us online or call us today at 888-601-5359 to speak with a skilled strategist about our Google Local Services packages!
Earn a 20% greater ROI with WebFX