If you operate a locksmith business in your local area, you need ways to engage with your audience on social media. Social media is a powerful tool that allows you to communicate with people from your audience base, so it's crucial to follow all the best practices.
Read on to see our top tips for using social media to grow your locksmith business. Or, if you're ready to start improving your social media presence now, contact us today!
Growing your social presence with WebFX is a walk in the park.
"WebFX allows growing your social media platforms to be stress-free! They are knowledgeable and adapt to your company needs!"
Learn More About Our Social Media Services

Social media tips for locksmiths
Check out top tips for increasing your social media presence below!
1. Create engaging profiles
The first step when starting a social media marketing plan is deciding which platforms you want to use and how you can optimize them. Many businesses focus on Facebook, Instagram, and Twitter, though you could also use TikTok, LinkedIn, and Pinterest.
Once you know which platforms you want to use, you need to create your profiles. If you already have profiles, you'll want to optimize them for your target audience. Have a profile and cover photo that use your logo and showcase your services. Include your location, hours of operation, and contact information.
2. Make high-quality posts
After creating accounts, you can start making posts your users want to see. Do facts and figures drive them? Would they enjoy infographics about the statistics of getting out of your home?
Social media is often a great place for sharing photos and videos. For example, you could write that you're having a promotion — or make a graphic that conveys the same information. Determine what options are most appealing to your audience.
You can share text-based posts on social platforms as well. Facebook is likely the easiest to do so, as you can make long captions. If you post on Twitter or Instagram, you'll want to be concise and appealing with your word choice.
3. Provide behind-the-scenes access
Many audiences love to get a look into what's going on behind the scenes at businesses they support. Videos and photos are the best for sharing, though it will depend on what services you offer as a locksmith business.
You could demonstrate how one of your services works through video. For example, you could show:
How your team copies keys.

How you install locks and security systems.

How you install safes.

How your team repairs broken locks.

How the rekeying process works.
Take whatever services you offer and figure out how to demonstrate them safely. Don't show an authentic house key on a video or image — use a stock key for all demonstrations.
4. Use paid ads on social media
You can pay to display your ads on social media platforms like Facebook, Twitter, and Instagram. Social media ads can help you reach prospective customers and increase brand awareness. Often, your ads will look like original posts on the platform, so you'll want to write your ads and use images or videos that reflect your brand voice and style.
Be sure to at other factors when advertising on social media, such as ad fatigue, retargeting, performance, and landing pages. When done correctly, social media ads drive more leads to your locksmith business.
5. Host Q&As, surveys, and polls
Many social media platforms allow you to create polls and surveys or hold live streams, including Instagram and Twitter.
Find out what your audience wants to know. Do they have questions about what to do if they get locked out of their houses? Do they want to know the safest type of locks?
Ask yourself what you want to know about them. For example, you could run a poll asking if they've ever been locked out of their house or vehicle, with the answer choices being yes, no, or both. Both polls and surveys are excellent ways to get more information about what's relevant to your audience.
Once you know, you can host Q&As. If you want to ask for questions in advance, you can either make a post and tell them to drop them in the comments or use the "submit a question" feature on platforms like Instagram.
6. Drive traffic to your website
Another way to use social media is to promote your website through links and shares on your accounts.
For example, if you recently posted an article about the steps to take if you get locked out of your home, share it on social media. Twitter and Facebook make it easy to include links directly in your captions.
On Instagram, you'd have to share the link to your story if you want to make it clickable. You could also post them in the caption, but people would have to copy and paste them, so it's easier to put them in your stories. Or, you could set it as the link in your bio.
Posting a link to your blog, sales, or other pertinent pages on your website helps drive more traffic and get you the conversions you need to grow your business.
Benefits of having a social media presence
Marketing and having a presence on social media provide numerous benefits for locksmith businesses. Top advantages include:
Improved brand awareness and visibility.

Affordable marketing options — it's free to create profiles.

Better target audience marketing.

Increased interaction with your customers.

Boosted website traffic.
74% of people use social media when making a purchasing decision.
Make their decision easy with a stellar social media presence. See how your brand can level up by requesting a no-obligation proposal today.
One of our experts will be in touch within 24 hours!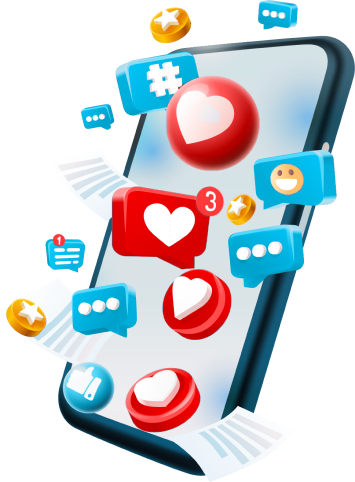 WebFX will help you stand out online
Are you ready to engage with your target audience across various social media platforms? At WebFX, our team offers social media marketing and management services that help you get your presence set up and reach the right people.
With an extensive team of strategists on your side, you will grow your locksmith business in all the right ways using social media.
Improve your social media presence today by contacting us online or calling 888-601-5359 to get started!
Increase your leads, sales, and revenue with digital marketing
Find Us Driving Revenue Nationwide