For homeowners across the U.S., bathroom and kitchen renovations are a priority. In fact, they're the most common home improvement projects, providing your company with the opportunity to help homeowners create the home of their dreams.
Competition in the $11 billion industry, however, is making it a challenge to rank in search results and capture the attention of your target audience.
For cabinet manufacturers, pay-per-click (PPC) advertising offers a competitive advantage. At WebFX, we use decades of experience to craft compelling and cost-effective PPC ads that generate revenue and qualified leads. So far, we've generated $3 billion in revenue for our clients.
Keep reading to learn more and give us a call at 888-601-5359 or contact us online to speak with a strategist.
How does pay-per-click (PPC) advertising work?
PPC advertisements are paid ads that appear above organic search results. They let your business connect with potential clients when they search for a keyword that you're targeting, such as "kitchen cabinet."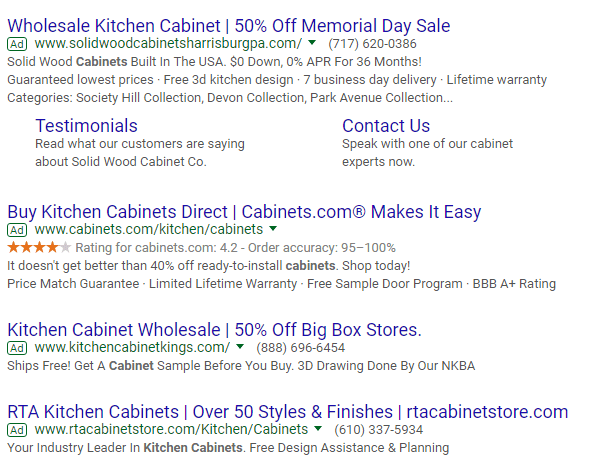 Now, if a user clicks on your ad, you will then pay for that click — which is why it's called pay-per-click advertising. Businesses love this feature because it makes PPC cost-effective. In fact, Google estimates that businesses make $2 for every $1 they spend on PPC.

Hear What It's Like to Work With WebFX!

"WebFX has taken our PPC and SEO strategy to the next level. They always provide thoughtful ideas to further our brand awareness."
Cabinet Company
How pay-per-click advertising helps clients find your cabinets
A well-executed PPC campaign can help you accomplish several goals, including:
Increasing your revenue
Growing your conversion rate
Improving your website traffic
Building your online presence
How?
By placing your website at the top of search results, letting shoppers discover your cabinet collections. In fact, more than 45 percent of the clicks on a page go to the top three pay-per-click ads, which is why PPC often works as a partner to SEO strategies.
Another reason for PPC's success comes from consumer behavior. People that click on PPC ads are 50 percent more likely to purchase your product than an organic visitor. That's a significant amount of untapped revenue.
As an example of PPC's conversion rates, look at our work for Wilson College. Their PPC conversion rates increased by more than 65 percent. Meanwhile, our partnership with Giordano's, an Italian restaurant chain, caused their PPC conversion rates to jump by more than 1000 percent.
We have plenty of additional examples in our portfolio.
How to share your cabinets with pay-per-click advertising
Ready to bring pay-per-click advertising to your cabinet manufacturing company? It requires some time and research, but that's why we've compiled a seven-step overview of how to create PPC ads for your cabinets:
1. Determine your budget
Before you dive into digital marketing, it's critical that you decide your budget. What's feasible for your company to spend? Think about how many separate campaigns you want to finance as well, such as for your different collections of bathroom and kitchen cabinets.
What's helpful about PPC advertising is that your company can modify your bids over time. So, while your budget remains the same, you can shift its distribution if you find that one campaign needs higher bids to compete.
2. Choose your keywords
A critical factor in PPC advertising for cabinet manufacturers, as well as other companies, is keyword research. The keywords you choose will determine which search results trigger your ads — and that's vital to your campaign's success.
Now, you have two types of keywords to choose from:
Short-tail keywords
A short-tail keyword is quite common among searches, but they're the last keyword you want for a PPC campaign. While they bring a high search volume to the table, they also bring a lot of competition, which doesn't help you. Plus, they're vague, which mean users could want a variety of things.
Some examples of a short-tail keyword include, "bathroom cabinet" or "bathroom vanity."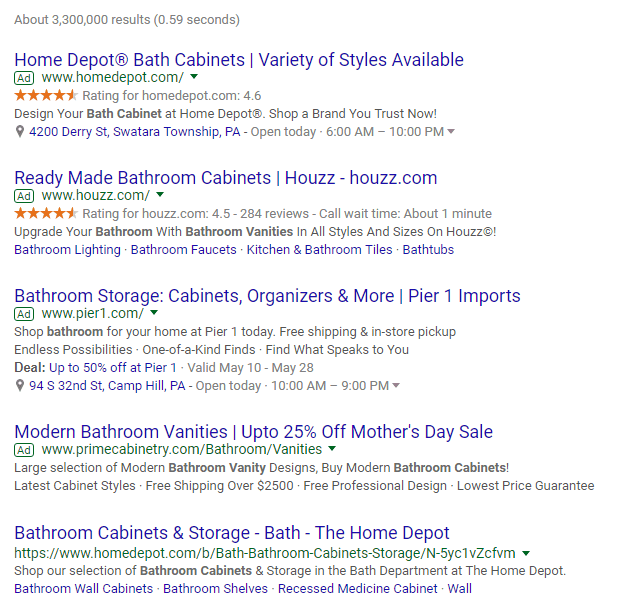 Long-tail keywords
A long-tail keyword is less common, yet more valuable in PPC. It's distinct and to-the-point. A long-tail keyword also contains several phrases, which tends to decrease the competition for it and lets you optimize your PPC budget.
Some examples of a long-tail keyword include, "sage green bathroom cabinets" or "white bathroom cabinet with marble top."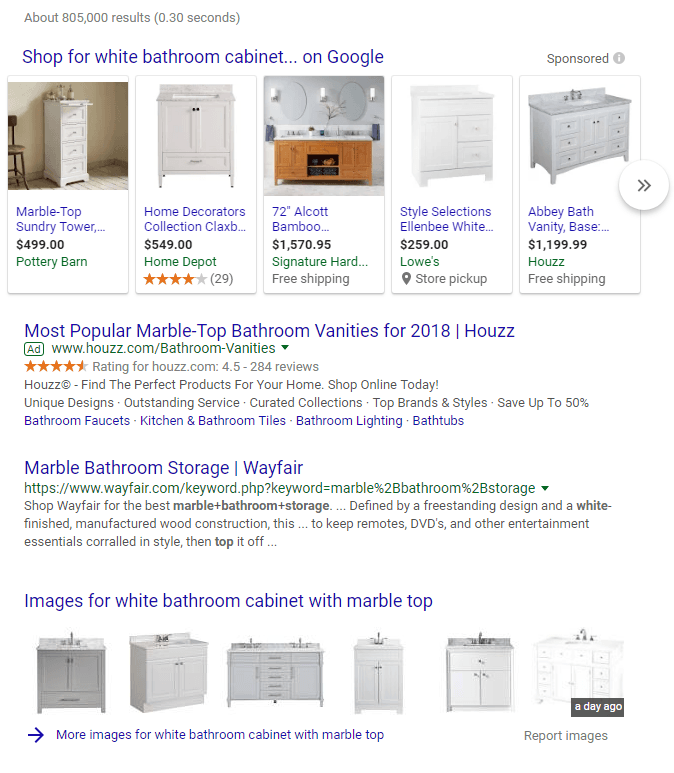 So, when you're researching your keywords, make sure you're focusing on long-tail keywords. Additionally, choose keywords relevant to your website, as well as your target audience. It's also critical that you research the user intent behind the keywords you're selecting.
Make sure you avoid negative keywords like "free" or "cheap" too. It tends to encourage visitors outside your ideal audience to click your ad, which costs you money. Depending on your audience, it could even deter them from visiting your website.
3. Create your ad groups and campaign
Next, create your ad campaigns, which contain your ad groups. In some instances, you may develop your campaigns and ad groups before keyword research or make them after finding the appropriate keywords.
Later, you can automate your campaign, ad groups, and keywords for the following factors:
Daily budget
Max cost-per-click
Ad status
And more
For now, though, you want to focus on categorizing those keywords. Each ad group should contain 10 to 20 related keywords, such as for a cabinetry collection that comes in sage green. You could then create a second ad group for that same collection, but for another color, like white.
That collection's ad groups would then make-up your campaign.
4. Write your ads
With your keywords selected and your ad groups and campaigns created, you can start writing your cabinetry company's PPC advertisements. It's essential to make a series of ads that engage and entice users to click them — make sure you're clear about what users can expect to find, though.
One of the reasons that clarity matters is because of your Google Ads quality score, which Google assigns.
What is an Google Ads quality score?
It's a representation of your reliability and quality on a scale of one to 10. Google relies on quality scores to assess the trustworthiness of PPC advertisers. The biggest factors that Google considers when assigning its quality scores are ad click-through-rates (CTR) and any past ad campaign performance.
As an example of content for a PPC ad, consider these "sage green bathroom cabinets" PPC ads:

If you notice, the keywords from the search, are bold in the ad description. The ads also emphasize some of the unique selling points of the companies, like free shipping, eco-friendly fixtures, and years in business.
None, however, indicate that they offer sage green bathroom cabinets, which is beneficial for you.
5. Optimize your landing pages
It's essential to understand user intent in Internet marketing. Otherwise, you'll receive traffic from the wrong audience — or no traffic at all. That's why your PPC ads must direct users to a relevant landing page.
A landing page is your way of delivering on your ad's promise. If your advertisement discusses sage green bathroom cabinets, for example, point users to a product page about that specific cabinet, not to your homepage or a different cabinetry collection.
Optimize your landing pages for speed as well. If they require several seconds to load, many users will leave. In fact, more than 45 percent of users expect a page to load within two seconds, so aim for a load time within that range.
It's also a smart investment to create a mobile-friendly version of your website, as Google now drives more than 90 percent of paid search ad clicks on mobile. Plus, more than 50 percent of Internet traffic — worldwide — comes from mobile devices.
In addition to providing pay-per-click ad management, our team also offers page speed optimization services. We use several different techniques to optimize the performance of your website, including content compression, image optimization, and more.
Our work with Cleveland Brothers, a dealer of Cat® equipment, for instance, saw their CTRs increase by more than 25 percent in a 90-day period. Meanwhile, our work for Tabor Design Build, a residential contractor, caused a CTR boost of more than 1000 percent over the course of a year.
6. Place your maximum bid
After your PPC advertisements are ready to launch, you can set your maximum bid — which you can modify later in response to your ads' performances. The tricky aspect of PPC bidding is you don't know what others are bidding for the same keywords.
That's why it's beneficial to start your bids small and see how your ads perform before changing bids.
At WebFX, we make the bidding process hassle- and stress-free for your team. We respect your budget, optimizing it for the best results. As an example, our improvement to the CTR of PPC ads from Ceramcor, a ceramic cookware ecommerce store, led to an ROI increase of more than 38,000 percent.
7. Analyze your results
A few ways to monitor the performance of your ad campaigns include:
Analytics
Reports
By reviewing your analytics and generating reports on a routine basis you can see which ads are performing well and which ones need additional assistance. It can also help you determine which ads are driving the most conversions.
As your partner, our team handles all the monitoring and management for you — though you have complete access to the data. Plus, our MarketingCloudFX software includes call tracking, which lets you track your return on investment (ROI) and conversions even better.
Measuring the metrics that affect your bottom line.
Are you interested in custom reporting that is specific to your unique business needs? Powered by MarketingCloudFX, WebFX creates custom reports based on the metrics that matter most to your company.
Leads

Transactions

Calls

Revenue
Learn More

Add style to home and business renovations with WebFX
At WebFX, we offer more than 25 years of expertise and innovation to you and your cabinet manufacturing company. With our personalized PPC management, as well as suite of result-driven Internet marketing services, we're the trusted partner of cabinet manufacturers across the country.
Discover how our award-winning team can help you with pay-per-click advertising by contacting us online or calling us today at 888-601-5359 for a free quote!
Earn a 20% greater ROI with WebFX