You're likely not the only veterinary practice in your area, and to get people to choose you over your competitors, you have to run a successful online marketing campaign. One of the best ways to ensure your campaign's success is by using pay-per-click (PPC) advertising for veterinarians.
But what constitutes a well-run PPC campaign? Below, we'll look at several top-notch veterinary PPC tips to set you on the right path.
Read on to learn more about improving PPC for veterinarians, and then partner with WebFX's team of over 500 experts for our veterinary PPC services. Just call 888-601-5359 or contact us online today!
What is PPC advertising for vets?
PPC allows you to display paid ads at the top of Google search results, where potential customers can immediately find you when they search for a local veterinarian.

Hear What It's Like to Work With WebFX!

"Although we have only been working with WebFX for a short time, I have already received more communication and better ideas than all of the prior SEO companies I have used before combined. I'm looking forward to a long lasting relationship with WebFX."
Animal Hospital
7 stellar veterinary PPC tips
PPC for veterinarians is an incredibly valuable strategy, but only if you know how to drive results. That's why we've put together a list of top-of-the-line tips to help you generate more conversions with your ads.
Here are seven veterinary PPC tips to follow!
1. Target branded keywords
When you launch a PPC campaign in Google Ads, you target particular searches by bidding on specific keywords. But some keyword types are more effective than others at reaching your ideal audience, and branded keywords are one of those types.
Branded keywords — keywords that include branded terms like the name of your practice — can help you reach some of the most valuable users. If someone directly searches for your vet directly, it means they already have an interest in you and are more likely to convert.
So, by targeting ads to those searches, you're targeting the people most likely to respond positively to those ads. The result is a much higher number of conversions.
2. Create custom audiences
Keywords are a great way to hone your ads to a particular audience, but Google Ads offers an additional way to help you reach just the right people: Custom audiences. With custom audiences, you can build a specific group of users by selecting traits like:
Age
Gender
Occupation
Location
You can use custom audiences to create a highly specific target group based on the characteristics most common among your customers. If most of the animals you treat belong to people between the ages of 20 and 45, you can target people solely within that age group.
Be sure to focus on the location targeting element.
3. List negative keywords
Another way to help direct your ads to the right users is to use negative keywords. While most keywords tell Google which searches to target with your ads, negative keywords tell it which searches not to target.
For example, let's say your practice is located in Tennessee. You target the keyword "veterinary practice," but your ads appear for several variations of that keyword — including "veterinary practice Florida." Since your practice isn't in Florida, you don't want to show ads for that search.
To resolve the issue, you could add "Florida" as a negative keyword in Google Ads.
4. Harness RLSA
When users visit your site but leave without scheduling an appointment, they've already indicated an interest in you — you just need to encourage them to follow through and set up an appointment. You can do that by using remarketing lists for search ads (RLSA) in Google Ads.
RLSA allows you to track users who visit certain pages on your site and target them with remarketing ads. If someone starts to schedule an appointment and then abandons the form, you can target them with an ad specifically encouraging them to finish scheduling it.
As with branded keywords, since those users already have a vested interest in your practice, they'll be more susceptible to your ads than other users.
5. Use ad extensions
Ad extensions are another useful tool for veterinarian PPC. Many PPC ads simply consist of a link, title tag, and meta description. But in Google Ads, you can create ad extensions for some of your ads — additional elements that appear below the description.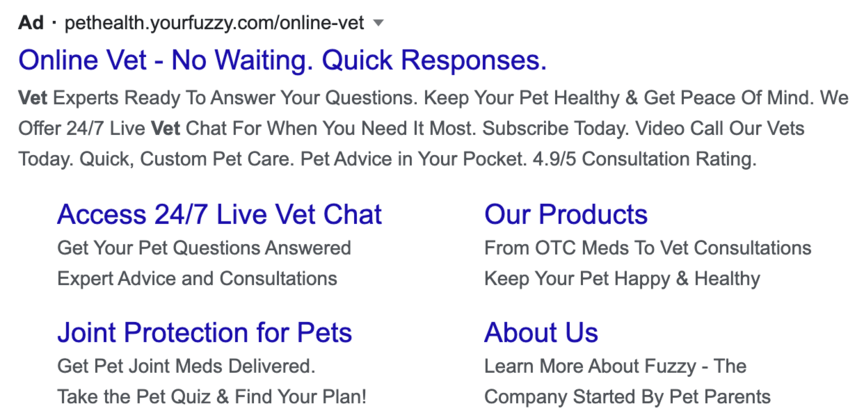 There are multiple types of ad extensions available, including:
Phone number
Links to pages on your site
Address
And more!
By displaying some extensions underneath the main text of your ad, you can give people more incentive to click. Maybe the main body of the ad doesn't catch their eye, but they're interested in the link you provide to your "Appointments" page.
6. Design CTA-central landing pages
All your PPC ads will lead to corresponding landing pages when users click on them. But try not to use preexisting pages on your site as your landing pages. For each ad you launch, create a highly specific landing page just for that ad, and center it around a single call to action (CTA).
Keep in mind that your landing page should provide all the necessary information that a user needs to schedule, but it shouldn't overwhelm users. This could lead to users abandoning the landing page.
Here's what you should include on your landing page:
Description of the service
A complete form (if the landing page is to schedule or contact)
Cost of the service
An image or video
Reviews of the product or service
All the elements on your landing page should direct users to a single CTA button.
7. Monitor key metrics
Your veterinarian PPC campaign won't be finished as soon as you launch it. On the contrary, the bulk of the work comes later, as you reoptimize your ads to drive bigger and better results.
The way you accomplish that reoptimization is by monitoring some key analytics in Google Ads. Things like click-through rate (CTR) and conversion rate can help you see which ads perform well and which ones don't.
As for underperforming ads, you can either pause them or reoptimize them to perform better. With your high-achieving ads, meanwhile, you can consider devoting a larger portion of your budget to them.
Whatever specific changes you choose to make, you'll only be able to bring your ads up to par by keeping up with their performance.
Our digital marketing campaigns impact the metrics that improve your bottom line.
See More Results

WebFX has driven the following results for clients:

$3 billion
In client revenue

7.8 million
Leads for our clients

5.2 million
Client phone calls
Drive up conversions with WebFX's veterinary PPC services
Ready to start driving incredible results for your veterinarian PPC? Let WebFX give you a hand! With over 25 years of experience, we know PPC inside and out, and we know what it takes to drive a successful campaign for your practice.
With our veterinary PPC services, you'll get help optimizing your ads for every one of the veterinary PPC tips above. You'll also receive a dedicated account representative to keep you closely informed about everything we do for you.
To get started with us, give us a call at 888-601-5359 or contact us online today!
Earn a 20% greater ROI with WebFX