4 Walmart Advertising Strategies That Help You Sell More
Did you know that the average family of four spends more than $4000 at Walmart each year? Whether in-store or online, many people spend their hard-earned money at Walmart. That makes Walmart Marketplace an excellent avenue for you to sell your products and reach people who spend their money at this retail giant.
While listing your products organically is a great way to start, Walmart marketplace advertising can take your listings to the next level. Advertising on Walmart can help more shoppers find and purchase your products.
On this page, we'll provide you with four Walmart advertising strategies you can use to get the most from your campaigns. Keep reading to learn more!
Partner with a team of ecommerce masters!
WebFX campaigns have delivered more than 12,936,451 ecommerce transactions in the last 5 years
Read the Case Studies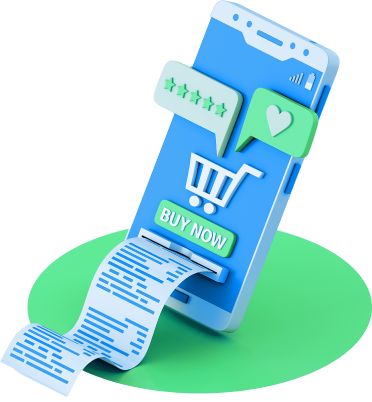 Advertising options for Walmart Marketplace
Before we dive into the list of Walmart advertising strategies, we quickly want to cover the advertising options available to your business.
Walmart offers four main advertising formats:
Sponsored products
Sponsored products are the main form of advertising companies use to promote their products. These are paid ads that appear on desktop and mobile devices, as well as the Walmart app.
These ads typically come in two formats. The first format is in-grid search results.
You'll see these ads listed in search results with other related products — they're tagged with the words "Sponsored product."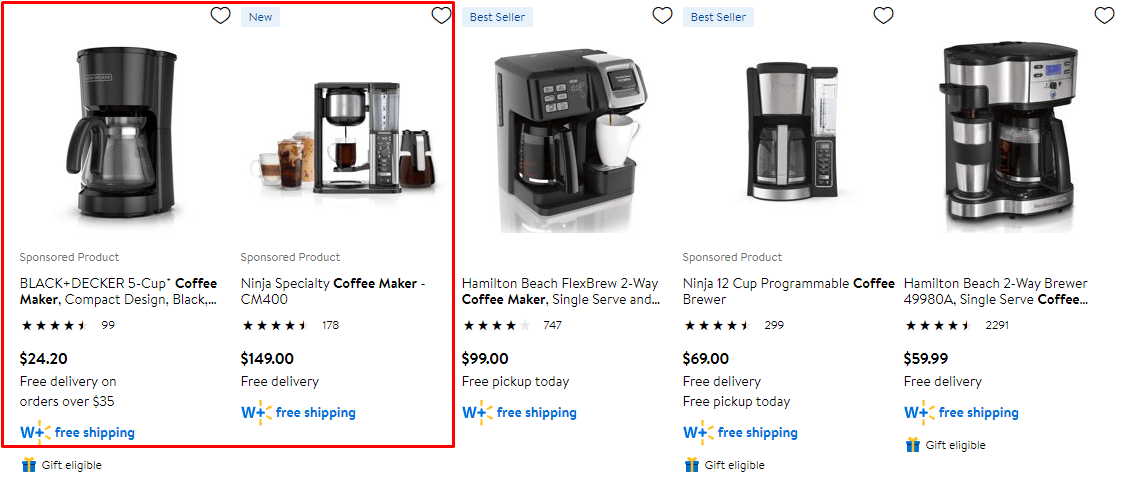 You can also see these ads at the bottom of the page in a section designated "sponsored products." This format is a carousel of sponsored products related to the user's query.

The organic listing for your product needs to appear within the top 128 organic search results to run these ads.
Native banner ads
When you opt for native banner ads, Walmart places your products in a banner format at the top of product category pages.
So, for example, if you were selling women's clothes on Walmart Marketplace, you might have a native banner ad appear at the top of the "women's clothing" section for Walmart.
These ads are an excellent way to increase brand awareness for your business, but you need to partner with the Walmart Media Group to run these ads.
Catapult ads
Another advertising option for your business is catapult ads. These ads appear at the top of a product listing and contain the text "Featured Item" to indicate paid content.
These ads don't rely on keywords like sponsored product ads. Instead, they use product categories to determine relevancy. These ads can help you increase sales for your business, but you must maintain a low Advertising Cost of Sales (ACoS) to ensure you get the most from your ads.
Site search feature ads
The last advertising option is site search feature ads. These ads enable you to promote your brand on a related product page. When people click on your ad, it takes them to a page that features all your products.
In this example from Community Coffee, their site search feature ad appeared on a page for coffee makers. It's a related product that can drive people looking for coffee makers, to buy coffee.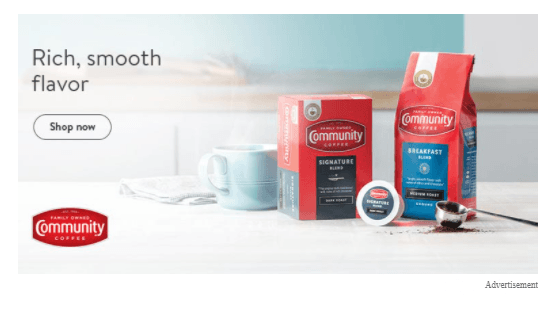 These ads work great to both increase brand awareness and conversions for your business.
4 Walmart advertising strategies you need to try
Now that we've covered the different types of ads you can run, let's dive into the advertising strategies you can use. Here are six Walmart advertising strategies to use to drive more sales with your ads.
1. Competitively price your products
If you want your ads to result in more clicks and sales, you need to price your products competitively. Since Walmart focuses on delivering products with the lowest prices, it's critical to set your products at the right price point.
When your prices are competitive, you increase the chances that someone will click on your ad over another company's listing.
Additionally, another big reason to do this is to win the buy box. If multiple people sell the same product, Walmart puts them all in one listing and only gives the buy box (the "add to cart" button) to one company. Typically, the company that wins the buy box is the one with the best price.
Earning the buy box will increase your chances of earning a sale and boosting revenue for your business.
2. Focus on earning more reviews
While earning reviews doesn't directly impact your ad's positioning, it can affect whether people click on your ad. People rely on reviews to tell them if a product is worth purchasing, so, if you want to drive more qualified leads with your ads, you should work to earn reviews for your product listings.
Walmart will automatically email shoppers asking them to review the product a few weeks after receiving it, but there are other steps you can take to earn more reviews.
For example, one way to earn more reviews is to include a card within your packaging to remind buyers to review your product. It's a great way to give them a physical reminder to review your product and review the product soon after receiving it.
By obtaining more reviews, you can help guide future customers towards clicking on your ads and buying your products.
3. Focus on your best performing platform
Next on our list of Walmart promotional strategies is focusing on your best performing platform. When you launch ads for your products, your ads can appear on desktop, mobile, and tablet.
Walmart enables you to optimize your strategy based on the device. If you run your ads for a few months and find that you get the most sales from mobile users, you can re-optimize your strategy and adjust your budget to put more money into your mobile campaigns.
By using this Walmart advertising strategy, you can focus your efforts on advertising on devices that are most likely to result in a conversion.
4. Focus on secondary products
One of the best Walmart advertising strategies is to focus on advertising secondary products.
When you sell on Walmart, you may focus on promoting products that earn your business the most sales. After all, if a product sells well, it makes sense to promote it to get more people to buy.
While it's great to promote products that sell well, another excellent strategy is to promote secondary products. These secondary products are products that you sell on Walmart, but may not sell as well as your top-sellers.
Promoting these products can be a great way to bolster sales for your business and diversify your revenue streams. It can also help you build brand awareness for these lesser-known products.
We foster and form long-term partnerships so that your business has long-term results.
Over 90% of WebFX clients continue partnering with us into year 2 of their campaign.
Hear from Our Happy Customers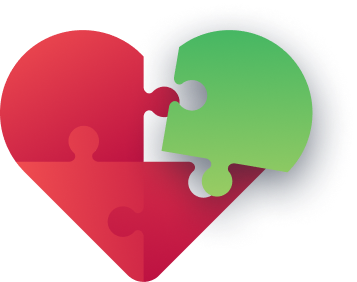 WebFX can help you implement Walmart advertisement strategies
Walmart is a great place to sell your products, but you need to use the right strategies to help you reach interested customers. By implementing the Walmart advertisement strategies we've listed above, you can take your campaign to the next level.
Not sure where to start? WebFX can give you a hand with your Walmart advertising campaign.
We have a team of over 500 marketing experts that can help you craft ads that drive more sales for your business. We've driven over $3 billion in sales for our clients in the past five years alone, so you can feel confident that we'll help your business thrive on Walmart Marketplace.
Want to launch a Walmart advertising campaign that boosts your revenue? Contact us online or call us today at 888-601-5359 to speak with a strategist about our Walmart advertising services!
Earn a 20% greater ROI with WebFX