Walmart Sponsored Products: The Complete Guide
What do Meow Mix, Bose, and Listerine all have in common? They use Walmart Sponsored Products.
Walmart Sponsored Products offer businesses like yours a cost-effective way to sell products. These paid ads, which appear in search results, product pages, and category pages on Walmart Marketplace (or Walmart.com), help your company reach — and convert — shoppers interested in your products.
Looking to learn more about Walmart Sponsored Products? Get answers with this guide, which answers questions including:
If you're looking for some professional help with joining, selling, and advertising on the Walmart Marketplace, WebFX can help. With our decades of experience, as well as our dedicated team of over 200 marketing specialists, you can count on us to help you make the most of Walmart Marketplace.
Contact us online or give us a ring at 888-601-5359 to learn more today!
Need help marketing your business on Walmart Marketplace?
CONTACT US TODAY TO LEARN MORE!
What are Walmart Sponsored Products?
Walmart Sponsored Products, also called Performance Ads, are cost-per-click (CPC) ads that appear on the Walmart Marketplace, better known as Walmart.com. They can appear within search results, category pages, and product pages on Walmart's app, mobile site, and desktop site.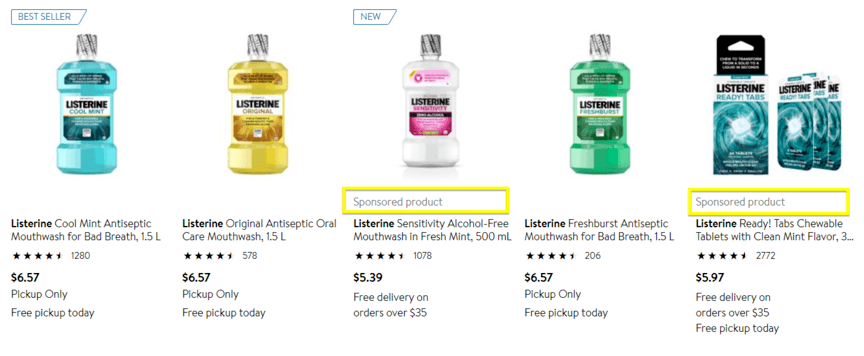 All Sponsored Products display with a "Sponsored" tag.
Where do Sponsored Products on Walmart appear?
Sponsored Products on Walmart appear in three locations: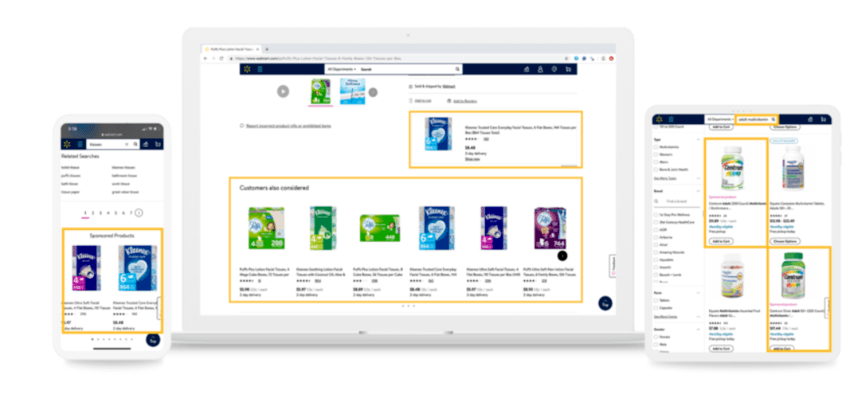 Search results (in position 3, 5, 6, or 12)
Category pages
Product or item pages
Your Sponsored Products ads can display on Walmart's mobile and desktop site, as well as app.
How do Walmart Marketplace's Sponsored Products work?
Walmart Marketplace's Sponsored Products operate on a cost-per-click model.
That means, you only pay when someone clicks on your ad, versus when someone sees your ad. This payment model, which ad networks like Google Ads and Amazon Advertising also use, is usually cost-effective for businesses.
When it comes to explaining how Sponsored Products work, there are a few key components to review:
Your campaign is the foundation of your Sponsored Products. You'll choose between an automatic or manual campaign type. Automatic campaigns let Walmart choose your keywords while manual campaigns give you the power to pick your keywords.
Your ad group features a "group" of related or similar products. For example, cat food is one ad group and dog food is another ad group. You should add 10 to 20 SKUs per ad group for the best results, especially if using automatic campaigns.
Keywords are the words or phrases that "trigger" your Sponsored Products ad to appear, like "dog food" or "cat food." You do not choose keywords with automatic campaigns. With manual campaigns, you do pick keywords, and Walmart will even suggest some.
Your bid is how much you're willing to pay for someone to click on your ad. Should someone click on your ad, you will pay that amount. Automatic campaigns require a minimum bid of $0.20, while manual campaigns require $0.30.
Your budget is your monthly or daily ad spend — you will never exceed your overall budget. For Sponsored Products, Walmart requires a monthly budget of at least $1000 and a daily budget of at least $100. Your investment will depend on your business, goals, and keyword targeting.
Now that you know the basics, here is an overview of how Sponsored Products work:
Determine your ad budget
Create your ad campaign, either automatic or manual
Build your ad groups of relevant products, aiming for 10-20 SKUs for each ad group
Choose your keywords to target (for manual campaigns only)
Place your bids
Launch your ad campaign
For your ads to appear, though, they must meet these requirements:
It doesn't make sense to promote a product that isn't in stock, which is why Walmart only promotes in-stock products. If you want to get the most value from advertising, keep your products in-stock and look for ways to improve your supply chain.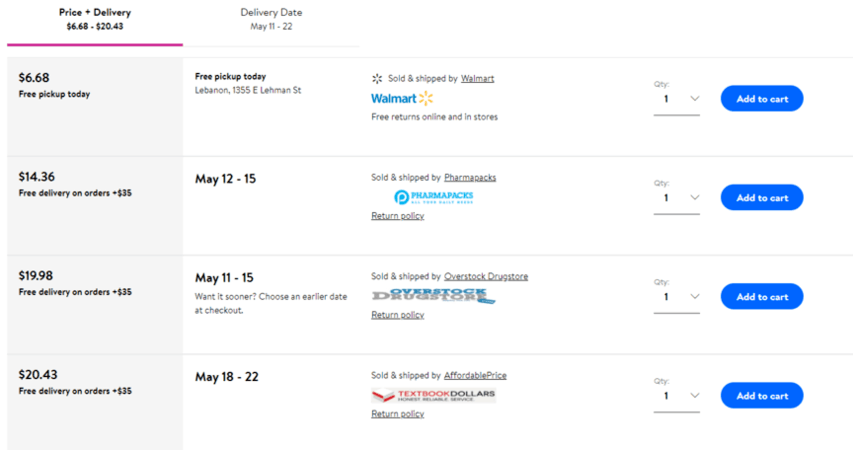 Products must also win the buy box to appear as Sponsored Products. When a product "wins" the buy box, it's the default choice when someone adds the product to their cart. Keep your product in-stock, offer competitive prices, and provide fast shipping to claim the buy box.
If you want your Sponsored Products to appear, you'll also need to:
Rank within the first 128 results: If your promoted product doesn't appear within the first 128 organic search results, its ad won't appear in search results, though it can appear in category or product pages. Improve your rankings by optimizing your product listing for relevant keywords.
Match the search query category: Your promoted product will also need to occupy the same category as the search query. If someone searches within the "Wireless & Bluetooth Headphones" category, for example, and you offer wired headphones, your ad will not appear.
Share the product type of a non-sponsored product: For the best advertising and user experience, your promoted products must match the product type, like "headphones," of at least one non-sponsored product.
Besides the above requirements, Walmart also considers a few additional factors to determine which Sponsored Products will appear and where they will appear. Even though you're advertising on Walmart Marketplace, you aren't guaranteed your ads will display.
These additional factors that Walmart uses include:
A relevant ad matches a user's search intent. Your ad won't appear if it isn't relevant, like due to poor keyword targeting. As a result, most companies use automatic campaigns before moving to manual campaigns because automatic campaigns provide keyword data.
Ads that meet the above requirements, as well as offer the most relevance, will win the ad auction if they have the highest bid. That's why it's critical to optimize your ads and place competitive bids for Sponsored Products.

Walmart also looks at a product's reviews. Specifically, Walmart checks your number of reviews and the overall score of your reviews. It doesn't want to advertise a product that people don't like or recommend.
If you offer two-day shipping, you can increase the chances of your Sponsored Products appearing. You can also improve your organic rankings. Companies can start offering two-day shipping with a service like Deliverr.

Like product reviews, Walmart doesn't want to recommend a product or seller that customers wouldn't use again. That's why the company assesses each advertiser's customer support policies as a part of its ad auction.
With all these factors, Walmart determines which Sponsored Products ads appear.
This process or auction happens every time someone searches on Walmart.com, so if you want to maximize your visibility, you need to optimize every part of your business, from your product listing to your order fulfillment to your customer support.
WebFX is a partner businesses trust.
Hear from HydroWorx, who saw a 236% increase in organic sessions with WebFX services.
Watch the Video Testimonial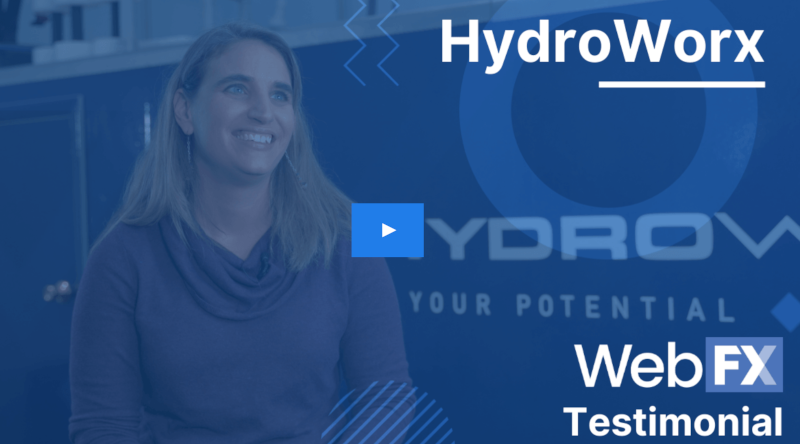 How much do Walmart Sponsored Products cost?
How much you invest in Walmart Sponsored Products depends on your business and its goals.
Walmart, however, does require a minimum daily budget of $100 and minimum monthly ad spend of $1000 for Sponsored Products. Depending on your campaign type, automatic or manual, you will need to place a minimum bid of $0.20 (for automatic campaigns) or $0.30 (for manual campaigns).
While you can use these pricing requirements as a baseline for your budget, it's vital to do some research so you can establish a realistic ad spend for your business and product line. That way, you'll get the best return on investment (ROI).
For example, maybe you begin with a $1500 monthly ad spend.
With that ad spend, you can set up a few ads, target a few keywords, and see what happens. Then, you can watch your campaign's performance, make tweaks, and use that data to inform next month's investment.
Who can use Walmart Sponsored Products ads?
Walmart Suppliers and Marketplace Sellers can use Walmart Sponsored Products ads.
The general standards or eligibility requirements for Sponsored Products include:
Verified account
In-stock product
Competitive prices
High shipping standards
Positive reviews
Both Walmart Suppliers and Marketplace Sellers will need to apply by submitting a request to [email protected]. Requests should include your company name, tax ID, and admin email for your Walmart account.
Marketplace Sellers that use Deliverr will get pre-approved to use Sponsored Products.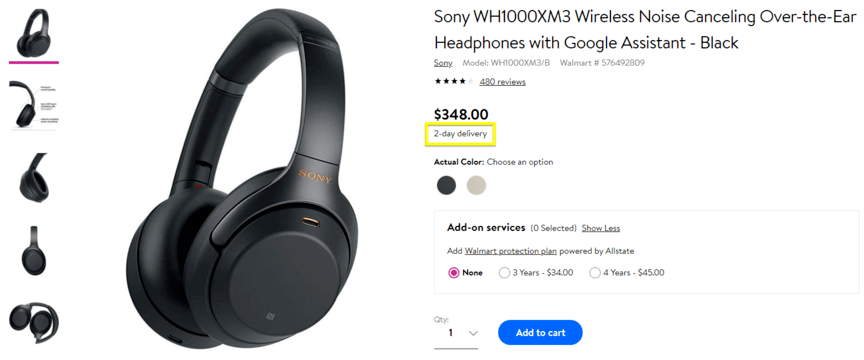 Deliverr is a service that helps your business fulfill online orders faster. Use it for Walmart Marketplace, and your product listings receive a two-day delivery badge. This badge can help you rank higher in Walmart search results and earn the Walmart buy box, which is essential for Sponsored Products ads.
Why should I use Walmart Sponsored Products?
Deciding to use Walmart Sponsored Products can help your company:
Increase product sales
Most businesses decide to use Sponsored Products because they can use these advertisements to increase product sales. Whether you're looking to generate sales for a brand-new, top-selling, or seasonal item, you can use Sponsored Products ads to make it happen.
Access tremendous audience
Walmart is the number one retailer in the United States. It provides your company with a competitive platform for selling your products online. With Walmart, you can reach a broader part of your target audience, which can lead to more sales and growth for your business.
Improve product visibility
Sponsored Products can also lead to better visibility. With more than 18,000 businesses selling on Walmart, you need to have a strategy for standing out, especially if you're looking to grow your brand — which is a common reason companies sell on Walmart.
When you use Sponsored Products, your product can appear as one of the first 15 products, which gives you immense visibility. If you offer additional bonuses, like free two-day shipping, that can quickly lead to a new sale.
Grow share-of-wallet (and market share)
Walmart's advertising options also provide your business with an answer to increasing its share-of-wallet and market share. Whether you're an established brand or new to the market, you can take Sponsored Products ads and use them to make people aware of your business and products.
Good agencies have more than 50 testimonials.
Great agencies have more than 100 testimonials.
WebFX has over 1000+ glowing client testimonials.
See What Makes Us Stand out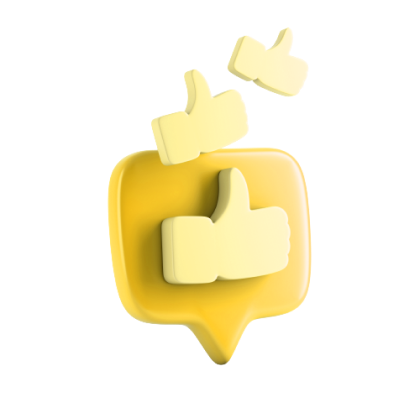 3 tips for getting better results from Sponsored Products on Walmart
Getting all the benefits of Sponsored Products on Walmart requires launching a smart ad campaign. If you don't invest the time reviewing your campaign data and optimizing your strategy, you won't get the results you want — and no one likes sharing bad news.
These three tips, though, can help you achieve your goals for Sponsored Products ads:
1. Optimize for search
The performance (and placement) of your Sponsored Products depends on your search engine optimization (SEO). For example, if you want your ads to appear in Walmart search results, your product needs to rank organically within the first three pages — or first 128 listings.
You can optimize your product pages by:
Setting competitive prices
Earning positive reviews
Providing fast shipping times
Delivering excellent customer service
These optimizations will contribute to a better user experience, as well as increase your chances for ranking higher in relevant search results. Rank higher, and you can help your Sponsored Products appear at the top of search results.
2. Start with automatic campaigns
Automatic campaigns are a useful starting point for Sponsored Products.
That's because Walmart takes care of your keyword targeting — finding the most relevant keywords based on your product page. You can then use that keyword data later to set up more refined ad campaigns and ad groups.
While you can research keywords beforehand and start with a manual campaign, you won't have the keyword data that shows which keywords delivered the best results for your business. For example, which keywords lead to purchases versus just clicks?
3. Practice patience
While online advertising can provide immediate results, it often takes time for digital ads to reach peak performance. When you launch an automatic campaign, for instance, you don't know what will happen. It isn't until you have the data that you can compile takeaways and steps for improvement.
That's why advertisers recommend waiting a month before drawing conclusions about your Sponsored Products. During these four weeks, your campaign can gather data that you can use to investigate your strategy.
Remember, however, to optimize your campaign for as much success as possible before starting it. Don't skip making improvements to your product listing, for instance, or double-checking a product's inventory status.
Set your Sponsored Products up for success, not failure.
Ship more orders with Walmart Sponsored Products
Walmart Sponsored Products offer businesses like yours several benefits, including the ability to move more products and generate more revenue. That's why it's worthwhile to apply to use Sponsored Products.
If you're looking for help getting started, though, WebFX is here.
With our award-winning team of more than 500 U.S.-based digital marketing professionals, you can get your business set up on Walmart Marketplace and started with Sponsored Products ads. Plus, you can count on us to develop and manage revenue-driving campaigns.
After all, we've helped our clients manage more than 12.9 million transactions in just the past five years.
Learn how you can start driving more online orders (and revenue) for your company with Sponsored Products and our Walmart Marketplace services by contacting us online or giving us a ring at 888-601-5359 today!
Earn a 20% greater ROI with WebFX