When it comes to social ad campaigns, imaginative and innovative companies have a higher conversion rate and more impressive yearly revenue than their competitors. If you aren't getting creative with your social media ad campaigns, you're missing an opportunity to produce similar results. But how can you keep up with some of the best social ad campaigns?
On this page, we'll talk about a few of the best ad campaigns out there, some social media campaign ideas for your business, and how to create a social media campaign strategy that works. If you'd rather speak to a specialist first about your existing social media campaign strategy, or you know you're ready to start a campaign with WebFX, feel free to give us a call at 888-601-5359!
5 examples of our favorite social media campaigns
Check out some of the best social media campaigns from the past few years!
Moon Pie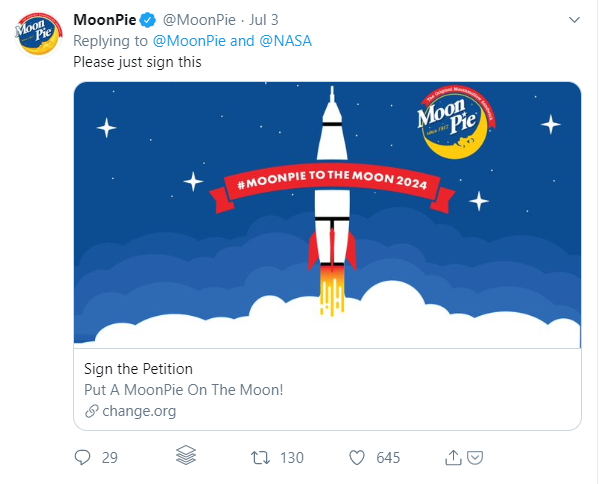 Remember when everyone was enamored with the 50th anniversary of Apollo 11? Moon Pie didn't waste any time capitalizing on the event.
They quickly started their #MoonPieToTheMoon2024 campaign, which garnered all sorts of attention. The social media campaign strategy was centered around sending a Moon Pie treat to the moon with the 2024 blast off.
Why it was one of the best social ad campaigns: An already-well-known brand latched on to a happening that the whole world was following, Apollo 11, and managed to stay relevant by creating their own social media campaign strategy that will stick around until the year 2024.
You can do it too! Try this social media campaign idea: Be on the lookout for special anniversaries of events within your industry.
We advise that you not capitalize on every anniversary, but you can absolutely create one of your best social ad campaigns by utilizing a special event.
Adobe and Pantone
With climate change dominating the news cycle more than ever before, Adobe and Pantone came together to create a new color that would spur action. The series of glow colors, dubbed "Glowing Blue," "Glowing Yellow," and "Glowing Purple," speak to the oceans' corals glowing to protect themselves from dying off. The dual-brand social media campaign idea was made to encourage designers to use these bright colors in their art to raise awareness for the dying reefs.
Why it was one of the best social ad campaigns: Adobe and Pantone took a popular cause that many people are passionate about and capitalized on it.
As a result, more users were aware of Pantone's colors and Adobe and Pantone's brands as a whole.
You can do it too! Try this social media campaign idea: Take a cause you and your brand are passionate about and create a social media ad campaign around it. Great connections form when you create a relatable bond with your customers through a shared passion.
Adidas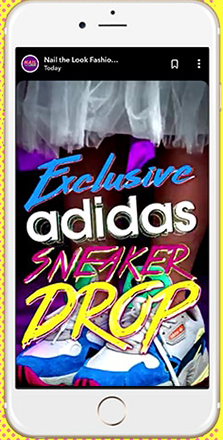 Adidas took to Snapchat to advertise their new shoe, the Falcon W, and it was a massive hit.
Adidas reported that their sales potential was 100% when they partnered with Snapchat and that their shoes sold out in six hours. Fashion 5 Ways, the Snapchat show where the shoes were sold, produced such amazing results, which surprised no one. Nike and Air Jordan partnered with Snapchat previously and saw great success with their campaigns as well.
Why it was one of the best social ad campaigns: Adidas paid attention to channels and campaigns that worked well for their industry in the past and jumped on the opportunity to do it themselves.
You can do it too!
Try this social media campaign idea: Take the time to consider every social media platform before deciding where to place ads, or furthermore, where to try to reach your most qualified audience.
Airbnb
Airbnb is really stepping up their game when it comes to target audience. With their latest campaign, they decided to target beyond those who want to travel by targeting those who want to travel and love food. Their campaign centers around providing customers with travel destinations that match them with local cooks around the world so that they can experience the smells, tastes, and recipes of their selected location.

Why it was one of the best social ad campaigns: People love food and adding lessons from an experienced local chef to a vacation is a dream for food lovers and chefs alike. Not only that, but it gives Airbnb an entirely new market to target— food lovers.
You can do it too! Try this social media campaign idea: Broaden your audience!
This idea might sound easier said than done, and it is. If your brand isn't well-developed already, adding another audience probably isn't your best move. However, if your brand is well-established and you're ready for a challenge, try brainstorming other target audiences that you could draw in by adding a second dimension to your business.
Dunkin'
What will Dunkin' come up with next?
The coffee mogul's latest social media campaign adds candles to their inventory in hopes of bringing their brand to homes across the U.S. Adding candles to their online store may have been a smart move, but an even smarter move was their decision to partner with Homesick, a well-known candle brand. Not only will Dunkin' reap the sales that they make from their own ads and website, but they yield double the advertising power since Homesick also advertises the branded candles on their site.

Why it was one of the best social ad campaigns: Dunkin' made a smart move by partnering with an already well-known brand. It's no secret that Dunkin' isn't a candle shop, and taking on candle production on their own would have not only caused confusion but would also take time to build trust among customers. Partnering with Homesick saves them the hassle of producing their own candles and double dips when it comes to advertising.
Shoppers will trust their coffee-scented candles because they're made by a real candle brand and not a coffee company.
You can do it too! Try this social media campaign idea: Try partnering with a local brand that does really well. Coffee and candles have seemingly nothing to do with eachother, but the cross-brand marketing will allow Homesick to increase sales while Dunkin' also reaps some benefits.
Don't be scared to contact a brand that you believe in for a potential partnership! It will benefit you both in the long run!
How to create your best social ad campaign yet
If you're discouraged at the success of your previous social ad campaigns, we've got you covered. It's helpful in any situation to have a road map, so we'll provide you with a social media campaign template that will help you create the best social ad campaign for your business.
1. Decide on your audience
You won't have any progress with a social ad campaign if you don't know who you're targeting. It's not as simple as selecting an age group. You'll want to create a marketing persona that outlines your ideal customer.
Where do they live? What are their previous buying habits? What's their gender?
Social media ad targeting offers a laundry list of options when it comes to ways that you can target your audience — and you should take advantage of them all. For example, you can target by:
Age
Gender
Relationship status
Occupation
Education level
Ethnicity
Geographic location
And more
The more you take advantage of the many targeting options that social media ad platforms have to offer, the more successful you'll be.
Why? When you target people who have an interest in your products and services, they'll be more likely to convert and become a loyal, long-lasting customer.
2. Don't create a boring ad
This might sound harsh, but one of the biggest reasons that users overlook social ads is because they simply don't catch their attention. If you want to stand out, create bold ads — and most importantly, make them different. For example, if users scrolling through their Facebook feed see another ad for a "gourmet cold brew coffee," something about your ad must reel users in and set you apart from all the other cold brew ads.
Whether it's your ad graphics, your tagline, or your call to action (CTA), it must capture the attention of every user if you want your ads to be worth your budget spend.
3. Consider your call to action (CTA)
Your CTA can make or break a sale. If your CTA is boring, like "click here," users likely won't feel as inclined to click as they would if the CTA said something like "I want mine now," or "I'm ready to own this!". Your CTA must stand out so that users have no question about your ad goal which is to sell your product.
4. Craft your landing page with a careful hand
Your landing page is essentially the last step between a shopper merely looking at your product and a shopper making a purchase. When it comes to our social media campaign template, your landing page is one of the most important elements and is crucial to making a sale. If your landing page doesn't have all the elements listed below, it'll be much harder for you to make a sale.
Picture of the product
Materials used
Color options
Size options
Price
Shipping options
Description of the product
Conversion-friendly CTA
Without these elements, users won't have all the info they need to confidently make a purchase, so it's important to think, in detail, about your product and service landing pages.
Characteristics of the best social ad campaigns
So what do the best social ad campaigns have that make them successful? Check out the list to learn more!
A goal
The best social ad campaigns have a goal in mind. Without a goal, you'll care less about specific metrics that make or break the success of your ad.
When you set concrete goals, you determine, with numbers, whether or not your campaign performs successfully and what you need to change.
A strategy
It won't benefit your company to start running social ads with no strategy behind it. A great social ad strategy has the following:
A target audience
A budget
An ad schedule
A platform schedule
Analytics consideration
When you have a complete social ad strategy, you'll be much more likely to have success in the long run.
A cause
Not to say that every ad must back some worldly-known cause, but every ad does have to have a unique, specific reason. Your ads will not perform successfully if you don't believe in your product or establish a trajectory for where you want it to end up in the future.
Time for analyzing
Finally, the best social ad campaigns will have time for analytics. Without analytics, you won't know the important metrics that make or break your campaign.
It's absolutely crucial that you take time to run and analyze A/B tests, check click numbers, interactions, and more if you want your ads to be successful.
74% of people use social media when making a purchasing decision.
Make their decision easy with a stellar social media presence. See how your brand can level up by requesting a no-obligation proposal today.
One of our experts will be in touch within 24 hours!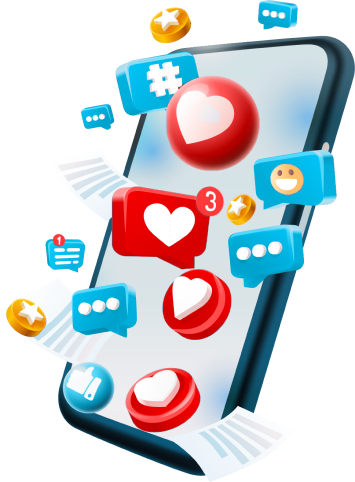 Get a jump start on the best social ad campaigns for 2021
If you're ready to jump headfirst into your social media campaign for 2021, WebFX can help. We've got a full team of social media specialists who know how to create an effective, custom social media campaign on your channels of choice to help you create the best social ad campaigns. If you'd like to learn more about our custom social media campaign strategies, we're here for you!
Contact us online or give us a call at 888-601-5359!
WebFX Careers
Join our mission to provide industry-leading digital marketing services to businesses around the globe - all while building your personal knowledge and growing as an individual.