If you are searching for an effective way to interact with customers on your site, then live chat software could be the tool you need. Live chat allows you to communicate with consumers easily and ultimately provide them with a service that they will find useful. Need proof?
Check out this list of the nine benefits of live chat. With these live chat statistics, you can gain a better understanding of why live chat is essential in the digital atmosphere and why you should use live chat to stay ahead.
1. Satisfy up to 73% of consumers with live chat
Improving your site's customer support and consumer experience is essential. You want to make sure that you are doing well with both of these because without these, your website will struggle to find success. Being able to satisfy your online consumers is likely one of your top priorities!
Live chat is the most successful customer service channel, with a 73 percent customer satisfaction rating. Email, phone calls, and other customer service channels are more likely to leave consumers unsatisfied because they're more likely to make consumers feel ignored or annoyed. By using live chat, you can increase the satisfaction of your customers and provide them with a positive experience.
2. 79% of consumers enjoy instant answers when shopping online
A benefit of live chat that you can't overlook? It allows you to interact with your online shoppers immediately. A live chat platform lets your site save your business and your customers a significant amount of time by speeding up the communication process.
Consumers consider efficient communication an essential factor for websites, with 79 percent of consumers preferring live chat services for the immediacy of receiving a response. By interacting with your customers instantly, you match their exact preferences.
3. Increase conversion rates by an average of 20% with live chat
With live chat, you can increase your site's conversion rates by an average of 20 percent! Some consumers may visit your site, but don't convert because they don't receive answers to their questions. Live chat gives you a chance to instantly interact with your customers and increase the likelihood that they will make a purchase.
Taking advantage of this customer service channel can ensure that you not only assist consumers, but also improve their experience on your site! A better experience can lead to word-of-mouth recommendations, as well as shout-outs on social media from your shoppers.
4. Live chat is 50% more cost-effective than phone calls
Another advantage of live chat is that you can significantly lower your customer service costs. Using phone and email services to interact with consumers can often become expensive and time-consuming. Live chat can immediately cut down on your customer support spending.
In fact, studies show that live chat is 50 percent cheaper than traditional phone calls for customer service! Making use of live chat allows agents to interact with several customers at the same time, too. Becoming more efficient with customer service frees up a significant amount of your budget and stops your business from wasting time and money.
5. 90% of consumers feel more confident with live chat
Building customer trust is a priority for any organization. With many companies using ecommerce sites, it's difficult for a company to build trust with a customer without meeting face-to-face. Live chat gives your site the opportunity to bring that in-store feel to an online platform by supporting convenient interaction between agents and consumers.
Live chat is proven to build consumer trust, as studies show that 90 percent of customers feel more confident shopping online if live chat services are available. Taking advantage of an opportunity to build confidence with online consumers is something that you do not want to skip.
6. Retain up to 63% of consumers using live chat software
When doing business online, you know going in that not every shopper is going to make a purchase. Fortunately, live chat provides you with a way to increase customer retention. Statistics have shown that 63 percent of consumers are more likely to return to a site that uses live chat.
You can use live chat software to connect with consumers before they make a purchase and collect information about customers to find ways to reconnect with them after they leave your site. Live chat can provide benefits for both informing customers, and helping you retain them. That's a tremendous perk, as it costs ten times more to replace a customer than to retain one.
7. 51% of consumers prefer live chat so they can multitask
Live chat services provide your consumers with a convenient way to browse and have questions answered immediately. With all the benefits that are available to consumers with live chat, it is no wonder that users enjoy having this feature available when surfing the web. One of the reasons that users like live chat is that they can multitask while shopping.
A recent report found that 51 percent of online users enjoy live chat so that they can shop and get answers at the same time. If users are openly stating that they find live chat helpful, then this is a feature you should highly consider!
8. 62% of mobile consumers expect websites to have live chat
When consumers visit your site, they have expectations for what your website should include before navigating it. Providing live chat customer service has become one of these expectations in today's online atmosphere. A survey conducted by Moxie Software, Inc.
concluded that 62 percent of online shoppers on a mobile device expect live chat support. It is important to recognize this statistic because mobile is a favorite way for consumers to shop. By offering live chat, your business makes it easier for customers to act on your calls-to-action (CTAs).
For example, your company may want users to purchase your product, join your newsletter, or follow your social media accounts. With live chat, you can respond fast to any user questions.
9. 82% of customers would use live chat if available
Businesses looking to make the most of a website need to provide consumers with the features and design that they desire. Live chat is just one of these features that consumers have said they find valuable. Another study provided results showing that if a live chat feature is made available, then more than 80 percent of shoppers would use it.
If consumers are saying that they will use live chat, plus find live chat helpful, then it's something to consider.
WebFX is a partner businesses trust.
Hear from HydroWorx, who saw a 236% increase in organic sessions with WebFX services.
Watch the Video Testimonial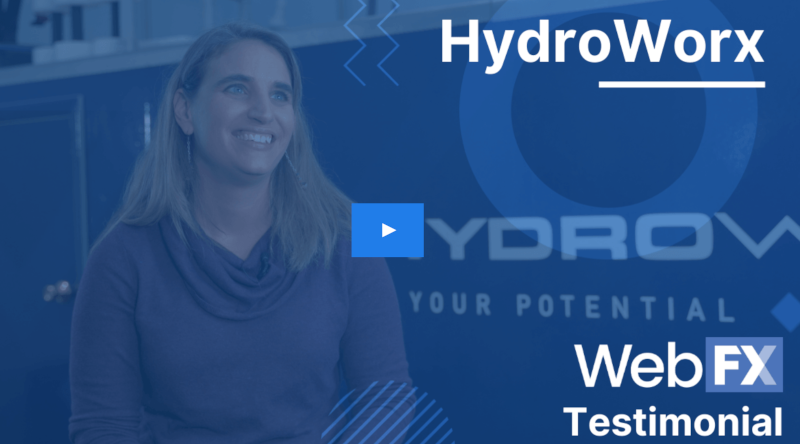 Want more live chat statistics?
As we look into the digital future and the outlook for online business, it is important to consider using online chat to keep in touch with consumers. Without live chat, you significantly increase the chances of customers feeling ignored and will leave them less likely to return to your site. With live chat, you can instantly enhance your site and provide users with a more positive online experience.
Live chat can give your website the opportunity to increase sales, conversions, satisfaction, and customer service. Now that you know why live chat support matters to businesses and consumers, want to learn more about live chat? Join our newsletter at the top to stay up-to-date with the latest news and statistics when it comes to live chat!
WebFX Careers
Join our mission to provide industry-leading digital marketing services to businesses around the globe - all while building your personal knowledge and growing as an individual.