Did you know that 79% of people are less likely to buy from a website after a negative experience? Customer satisfaction is a crucial part of helping your business earn more sales and loyal customers. If your audience doesn't have a positive experience with your business or website, you risk losing both new and returning customers.
Digital marketing strategies help you meet customers' needs and boost their satisfaction with your business.
On this page, we'll cover five digital marketing strategies you can use to delight customers and spark customer loyalty. If you aren't sure how to implement these strategies into your digital marketing plan, call us today at 888-601-5359 to speak with a strategist.
1. Use social media marketing to ask for feedback
Social media marketing is one of the best opportunities for you to connect directly with your audience. People use social media to communicate with companies and expect companies to engage with them and respond to their remarks fast. In fact, 52% of consumers expect you to respond within 30 minutes of contacting your business through social media.
Consumers also use social media to review their experience with your company. As a result, you can use social media marketing to ask for feedback and highlight the positive customer experience. For example, you can encourage people to rate and review you on social media.
How they share their experience will depend on the platform. Facebook offers a review section where people can leave a star rating and comments about their experience. With Instagram or Twitter, users will have to use hashtags or tag a company to get their feedback noticed.
Social media feedback allows you to see what you're doing right and how you can provide that positive experience to every person that encounters your business.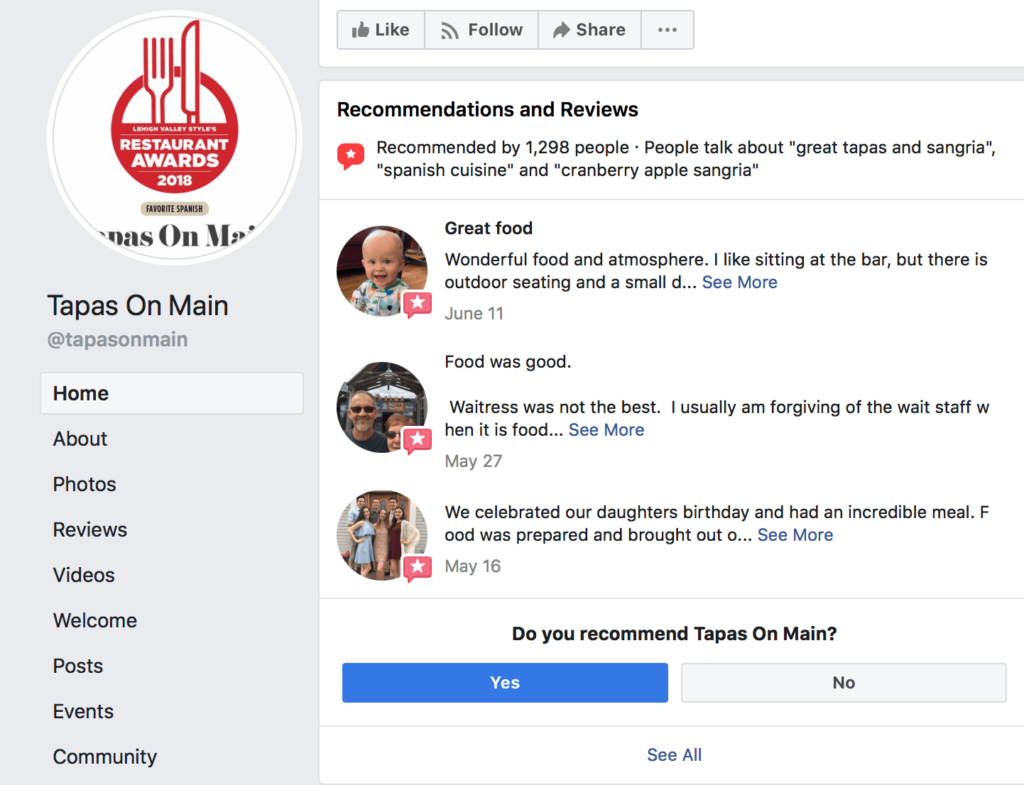 People often look to social media for opinions on a brand or business, so it's essential to keep track of what people say about your business. Thank people for their positive feedback and address issues with negative feedback.
Customers want to see that you care about them, so taking time to acknowledge what they say will go a long way. Even if someone has a negative experience with your business and leaves that feedback on social media, you can quickly turn it into a positive experience by addressing the issue. This action goes a long way when it comes to improving customer satisfaction.
2. Use paid advertisements to recruit the right employees
Your employees play a big role in the consumer experience — and ultimately customer satisfaction. Whether it's your sales team or customer service team, your employees play a fundamental role in creating a positive experience for your customers. If you want to improve customer satisfaction, start by hiring the right employees to interact with your customers.
You can use paid advertisements to reach the right candidates for your company. Let's take a look at three paid advertising options to help you achieve better candidates.
Pay-per-click (PPC) ads
Pay-per-click (PPC) ads are a great advertising option for you to reach candidates interested in your company. These are paid advertisements that appear at the top of the search results on search engines.
Paid search ads allow you to reach candidates searching for a company like yours. These ads appear in the search results when users search for specific key terms and phrases. You want to ensure that you use specific keywords to drive the most interested candidates to your ads.
You can use long-tail keywords, which contain three or more words, like "customer service representative Harrisburg, PA," "key account specialist near Philadelphia," or "sales associate jobs in Harrisburg, PA."

When you use long-tail keywords, you drive candidates that are searching using your specific terms. If they are highly interested, they are more likely to click on your PPC ad because 65% of all high-intent searches result in someone clicking on a PPC ad. PPC ads will help you drive more valuable candidates to your company.
Social media ads
Social media ads are another great opportunity for you to reach people interested in working for your company.
You can target candidates based on specific qualifications to help you achieve the right future employees. LinkedIn is one of the best places to recruit new and valuable candidates through social media ads. This professional networking platform allows you to create sponsored job posts to reach candidates searching specifically for the jobs you offer.
It's an excellent way for you to reach people that are actively searching for open positions that are similar to jobs at your company. You can also create social media ads on different platforms that help people get to know your business and brand. It's an effective way for you to market to people that are actively and passively looking for a job.
All social media platforms offer paid advertising programs. You can use this as an opportunity for you to expose people to your company and brand. It's a great way to get your brand in front of candidates and get them to learn more about your business.
Job board ads
When people search for new jobs, they often turn to job boards to find their next position.
These job boards are an excellent opportunity for you to reach the most interested candidates. You can create sponsored ads that allow you to reach candidates looking for your positions. If these candidates search with your exact vital terms, you know they are the most interested in your position.
It helps you drive people to apply to your jobs that are the best fit for them.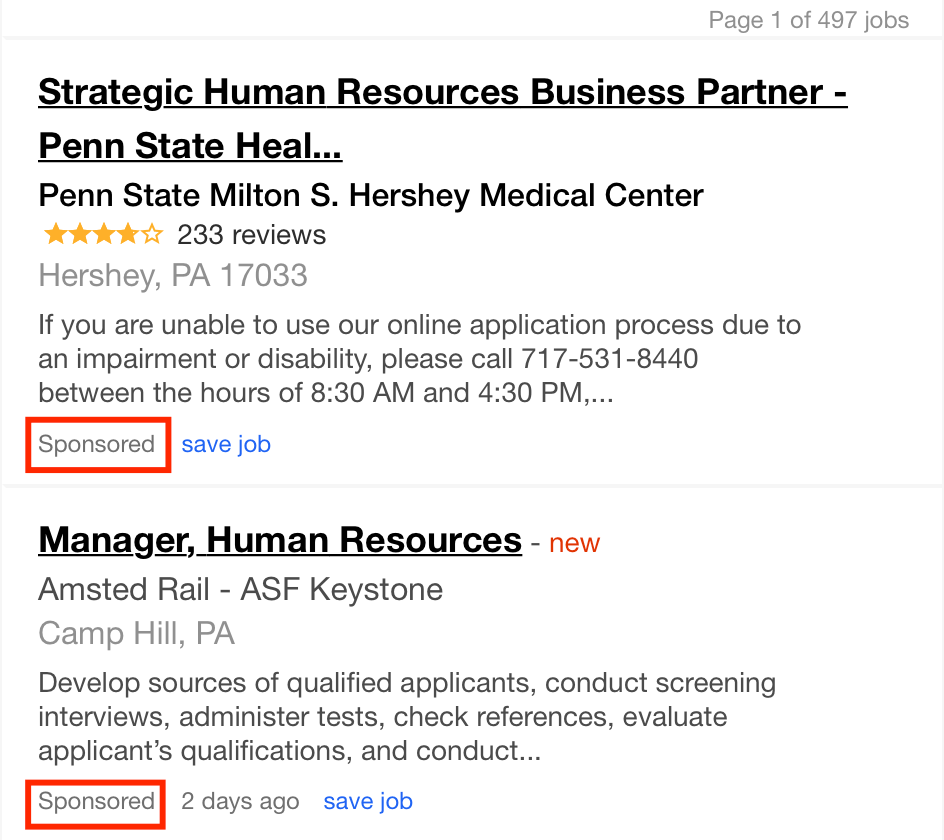 At WebFX, we offer digital recruitment services to help you find the right candidates for your business. Our team of over 200 experts will help you recruit valuable employees that help your company continue to grow.
Call us today at 888-601-5359 to speak with a strategist about creating your custom digital recruitment campaign.
3. Create personalized email marketing content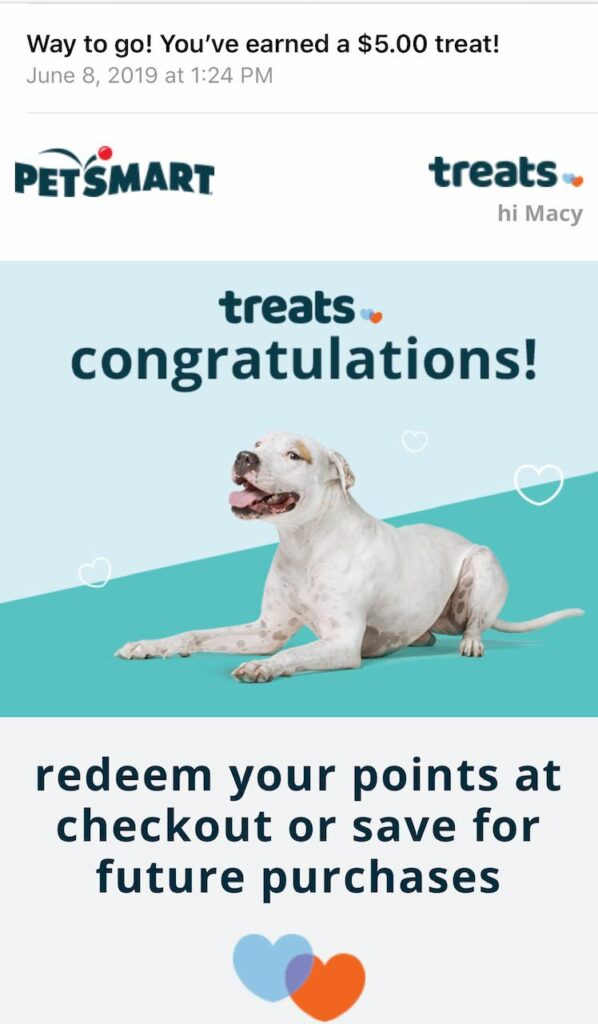 The importance of customer satisfaction is that you keep customers coming back. They want to feel special and feel like they're not just another sale for your business. With personalized email marketing content, you can create a unique experience for your customers.
Your audience receives emails from dozens of companies a day. They don't have time to sift through emails that aren't pertinent or important to them. If you want to get your audience to click on your emails and open them, you must create personalized emails that get them to engage.
You can achieve this by segmenting your audience into groups based on their preferences. It's an excellent way for you to group people together based on their interests, so they can receive emails that matter the most to them. For instance, a single woman with no children would not be interested in hearing about your new children's clothing line.
Instead, you may send personalized emails about your new children's clothing line to moms and dads on your email list. Personalization improves the open rate by 42% compared to emails without personalized information. People only want to see offers that are pertinent to them and their lifestyle.
When you use personalization, you obtain new, satisfied customers and keep old customers coming back. You can recommend similar or additional products for your audience to buy, and because you tailor it to their likes, it leaves them satisfied and more likely to buy. By utilizing personalization, you'll make your customers feel unique and valued by your company.
It's a great way to achieve customer satisfaction with digital marketing strategies.
4. Design a user-friendly website
Your website is where your audience will purchase your products or check out your services. If you want them to have a positive experience on your site, you must invest in creating a user-friendly design. You don't want your audience to struggle to use your site.
If your site is too challenging to navigate, your audience will become discouraged. It won't make customers satisfied with your business because they can't easily shop and browse on your page. Creating a user-friendly site allows people to easily navigate and move about your website to find what they need.
It keeps people on your page longer so they can get to know your brand and business. So, how do you make your website user-friendly for your audience?
Make your navigation simple and easy to use: Your audience doesn't want to struggle to browse through different pages on your site. Simple navigation will make it easy for them to find information on your pages. Use broad headings and organize categories and subcategories beneath each title.
Optimize your site for mobile users: People won't access your site all on desktop. If you want to ensure you're providing the best experience for everyone who visits your site, make sure your site is mobile-friendly. Integrating a responsive design ensures your website looks good on any device.
Secure your site: No one wants to shop on a website that is a risk to their personal information. If your site doesn't have "https" in the URL, you'll discourage your audience from using your site. By buying a security certificate; you'll create better browsing and shopping experiences for your audience.
Make your call to action (CTA) buttons prominent: Call to action (CTA) buttons are crucial for driving people towards conversion. If people know how to proceed next, they are more likely to be satisfied with your business. CTA buttons help you guide your audience to the next step.
Optimize the checkout process: Don't ask for too much information when your audience checks out. Only ask for the necessary information that is the most important to fulfilling the order and obtain more relevant information later. Also, adding a "continue as a guest" option is always great for fast checkout (ask for an email address so you can keep them updated about their order and then follow up by asking them to create an account) and boosts customer satisfaction.
Create FAQ pages to answer common questions: FAQ pages are extremely helpful in boosting customer satisfaction. People don't want to have to contact your business about a simple question (and you probably don't want to answer the same question a thousand times a day!) Creating an FAQ page helps boost customer satisfaction because it provides your audience with answers fast.
These are just a few of the elements that will help you create a more user-friendly website. By creating a user-friendly website, you will keep your customers satisfied and wanting to come back to your business.

5. Create content that fits customers' needs
People search for information on the web always. It creates an opportunity for you to share valuable information with your audience and drive them to your site. If you want to know how to achieve customer satisfaction, you can start by providing your audience with what they need.
Content marketing allows you to spread information to people in your audience that is of value to them. People want answers to their questions, and your business has the potential to provide those answers through content creation. When you create content, you'll want to utilize numerous formats.
This content includes blog posts, videos, infographics, ebooks, and more. All of these styles present a unique way for your business to offer information to your audience. To find topics for your content, you will want to conduct keyword research.
Keyword research will help you find relevant topics and see how your audience is searching for them. You can search these keywords on Google to see what other content surrounds your topic. When you create your content, you'll want to ensure that it is informative and helpful.
You want to provide your audience with information that meets their search intent.
If someone searches "how to make an apple pie," you wouldn't write an article on the best types of pies. Instead, your article would focus on providing details on how people can make the best apple pie.
Content opens many opportunities for your business. You can create videos highlighting positive customer experiences or show people how to use a particular product. It's a great way to increase customer satisfaction with your business.
By creating content, you are fast on your way to improving customer satisfaction. You'll provide your audience with valuable information and help build your brand in a positive light.
Boost customer satisfaction with digital marketing today
If you want to continue to earn conversions and grow your business, you must work on keeping customers satisfied. When you have satisfied customers, they are more likely to recommend your business to others and encourage them to go to your company.
At WebFX, we have over 25 years of experience implementing digital marketing strategies to help keep customers satisfied. With a team of over 500 experts, you can count on us to help your business grow and reach new clients. We'll help you create a digital marketing campaign that boosts customer satisfaction and keeps people coming back to your business.
If you're ready to start improving customer satisfaction, contact us online to see how our online marketing company can help you make happier customers.
WebFX Careers
Join our mission to provide industry-leading digital marketing services to businesses around the globe - all while building your personal knowledge and growing as an individual.