With the ability to earn you $44 for every $1 invested, email marketing is a powerful lead nurturing strategy. But if you want subscribers to take action, you need creative, amazing email newsletters. Need some inspiration?
Sit back and relax — we've got you covered. Check out these 11 amazing email newsletter examples to inspire your next campaign! Did you know, WebFX is one of the best email marketing providers in Harrisburg?
It's true!
1. Provisions for the Wild (P&Co)
Up first, this email newsletter example comes from Provisions for the Wild (P&Co). A U.K.-based lifestyle, clothing, and accessories brand, P&Co aims to "bring purpose back to clothing — creating not just a brand but a lifestyle." P&Co offers email subscribers 15 percent off their first orders — an incentive that enticed me to sign up for their email newsletters. Upon signing up, new subs receive a welcome email with their offer code.
In addition, P&Co's newsletters contain Insta-worthy photos and typography that reflect the brand and encourage subscribers to shop new arrivals.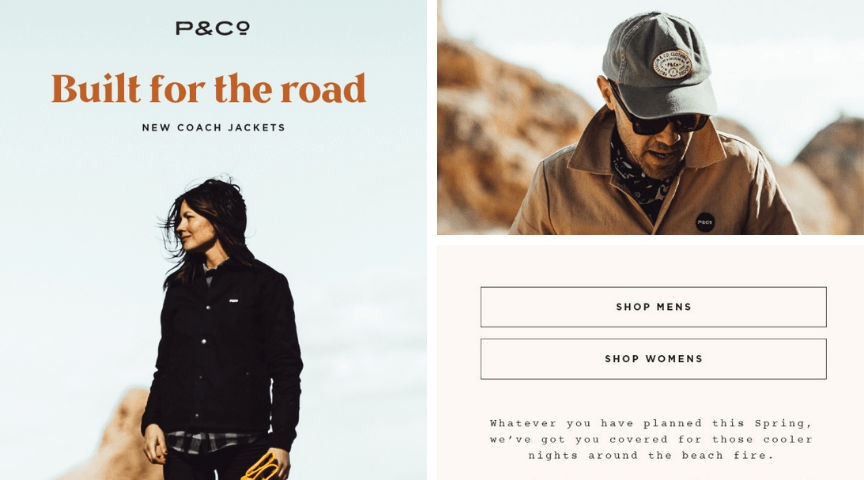 Why we love it:
Enticing welcome offer
A+ product photography and branding
Call-to-action (CTA) buttons encourage readers to shop
2. Headspace
Headspace, a guided meditation app, earned the next spot on our examples of great email newsletters. Coupled with solid branding, Headspace nails the newsletter game with CTAs and copy that clearly show the value of meditating. I'm a big fan of email newsletters that add value instead of bombarding readers with sales pitches — and Headspace newsletters master the value-add.
Full of tips and helpful info, Headspace emails make it easy for readers to start meditating with the app.
Why we love it:
Creative, branded graphics
Copy adds value for readers
Clear CTAs make it easy to take the next step
3. Uber Eats
Number three on the list of best company email newsletter examples is Uber Eats. As an Uber user, I received an email newsletter inviting me to try out Uber Eats. The email included step-by-step instructions for navigating the app AND a code for free delivery on my first two orders.
Like P&Co, Uber Eats does a great job of adding incentives to email newsletters. You better believe I scooped up that free delivery code to take the edge off a night of grad studies.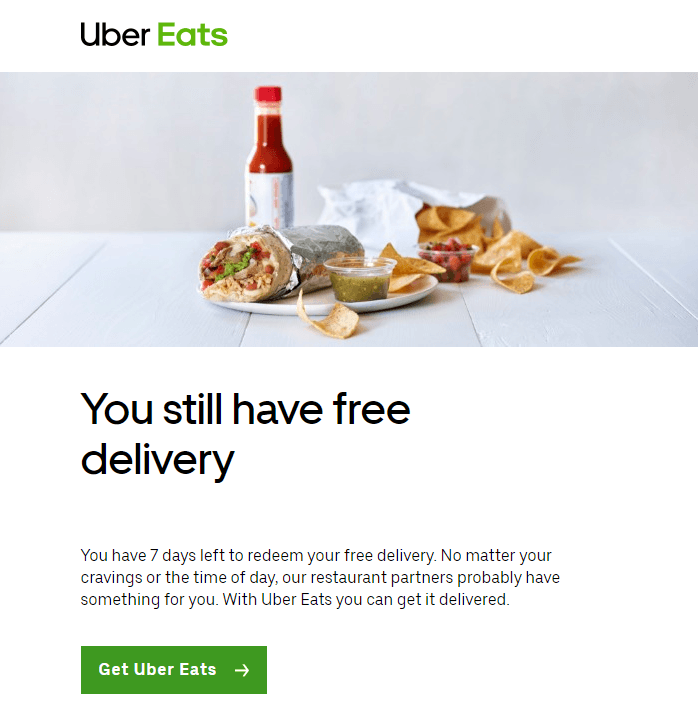 Why we love it:
Step-by-step instructions for navigating product/service
Promo code with a link to order
Simple design streamlines conversions
Find the Best Marketing Newsletters
4. Poo-Pourri
This next email newsletter sample comes from Poo-Pourri. Yes, the before-you-go toilet spray that promises to leave the bathroom "smelling better than you found it." Despite your thoughts about the product, it's hard to deny — Poo-Pourri adds a pinch of creativity to stink-free bathroom products with their email newsletters. Poo-Pourri added some flare to seasonal email marketing with a recent newsletter, urging readers to take 20 percent off "spring break essentials," which of course include Poo-Pourri.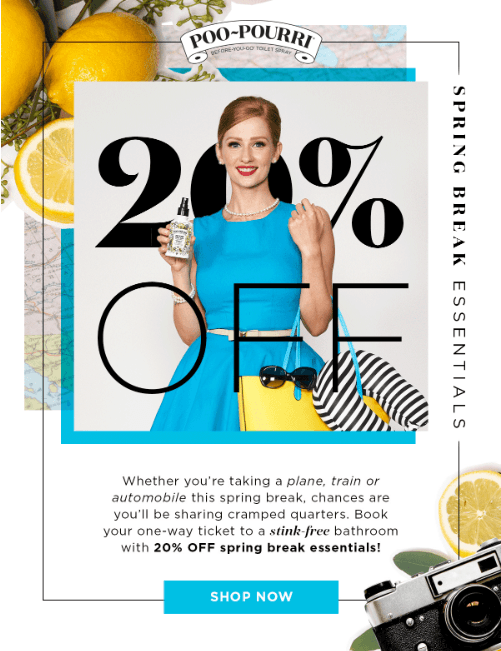 Even better? Poo-Pourri emails include "Reviews from the loo," a dash of social proof to encourage purchases.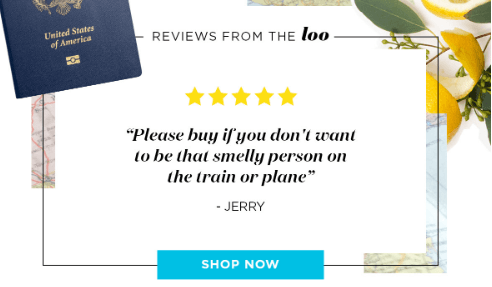 Spring breakers, take heart.
If Poo-Pourri works for Jerry, it'll work for you too!
Why we love it:
A creative twist on seasonal email newsletters
Engaging images and graphics
Social proof encourages purchases
5. The Skimm
An email newsletter classic, the Skimm is a daily email digest that gives you "all the news and info you need to start your day." The Skimm knows their subscribers are busy, often checking emails on the go. In fact, 33 percent of all emails today get opened on iPhones. This daily newsletter makes it easy to "skim" the day's breaking news while indulging in your favorite morning java.
Dunkin' iced caramel coffee with just cream, please. Oprah even backs it.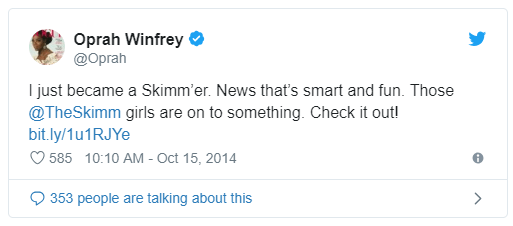 Why we love it:
Easy to scan and read on-the-go
Clever copywriting
Social links for easy sharing
6. The Good Trade
This next example — a company I first discovered on Instagram — wins subscribers with their inspiring, Daily Good emails. The Good Trade is a hub for conscious fashion, beauty, food, wellness, travel, and lifestyle. Email newsletters from the Good Trade always include inspiring quotes and links to a curated selection of podcasts, articles, music, products, and more.
By featuring their latest articles in email newsletters, The Good Trade sends email subs back to their site to learn more and engage with the brand.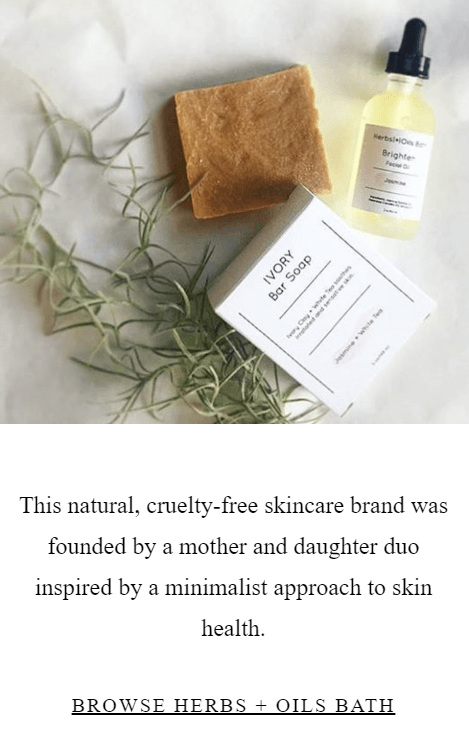 Why we love it:
Highlights new site content with links in emails
Uplifting copy inspires subscribers
Clean, simple newsletter design
7. Compassion International
A humanitarian aid and child sponsorship organization, Compassion International sends regular email newsletters to sponsors. Compassion's emails highlight upcoming events and featured stories, all while demonstrating the value of sponsorship. In addition, their email newsletters contain featured sponsorship opportunities with photos of a child waiting to be sponsored and a CTA button to "Sponsor Me." Compelling text and images encourage people to take action, and subscribers can even forward emails to friends and family members interested in sponsorship.

Why we love it:
Demonstrates the value of sponsorship
Keeps sponsors up-to-date with the latest events and news
Emotional appeal encourages readers to take action
8. Girlboss
Bright colors and fun images abound in Girlboss email newsletters. An online career, money, and wellness resource hub for women, Girlboss sends newsletters "as smart and ambitious as you are." Girlboss email newsletters contain links to featured stories on their website, encouraging people to visit the site to read more. Their email newsletters also highlight upcoming events, like the Girlboss rally.
The Girlboss team keeps their email content fresh with a solid mix of articles, advice, events, and news. Why we love it:
Fun, colorful design and images reflect the brand
Highlights upcoming events
Fresh content engages readers and keeps them informed about brand happenings
9. Hilton
This next amazing email newsletter example features hotel chain, Hilton. Hilton made our list with their personalized email newsletters. A recent Hilton newsletter arrived in my inbox with the subject line: "Emily, get away to your favorite cities at the best price!" Well okay, Hilton.
Don't mind if I do! As I scrolled through the newsletter, I noticed the featured destinations included several cities I've recently visited. Coincidence?
I think not. The newsletter also included options to check out new destinations, like Hawaii. Hello, tropical paradise.
And it featured an option to book at discounted prices with my Hilton Honors membership.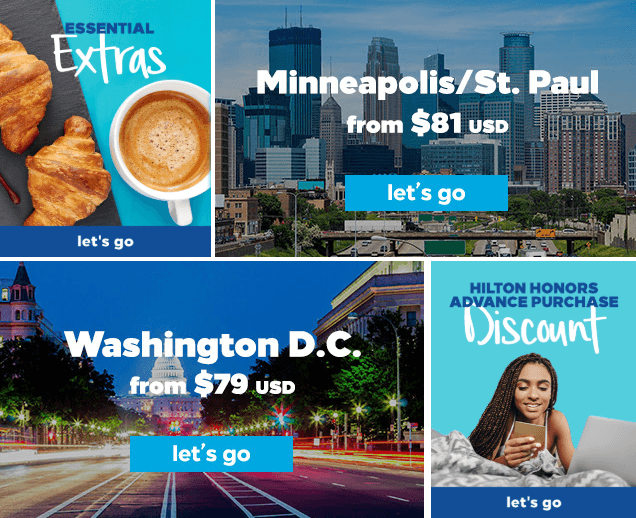 Why we love it:
Personalized content and recommendations
Special offer for Hilton Honors members
Easy-to-follow CTA buttons
10. Primally Pure
Natural skincare company, Primally Pure, is next on our list with their beautifully-designed email newsletters. Just like their products, Primally Pure's email newsletters are simple, clean, and straightforward. A recent Primally Pure email encouraged subscribers to join the brand's #daretocomparechallenge. The challenge encourages readers to swap one toxic beauty product with a clean alternative.
But Primally Pure doesn't stop there. They invite email subscribers to show the swap by posting on Instagram with the hashtag and share the challenge with two other friends.
Why we love it:
Boosts brand engagement
Encourages social sharing
Simple design and clean product photography
11. Darling
And finally — we conclude our list of amazing email newsletter examples with this email from Darling — a quarterly print magazine with a "no-retouching" policy. I've subscribed to Darling's email newsletters for a while now, and it's always a treat when they land in my inbox. Darling newsletters include notes from the company's founder, Sarah Dubbeldam, creative takeaways and quotes, and graphics for readers to share on their social media.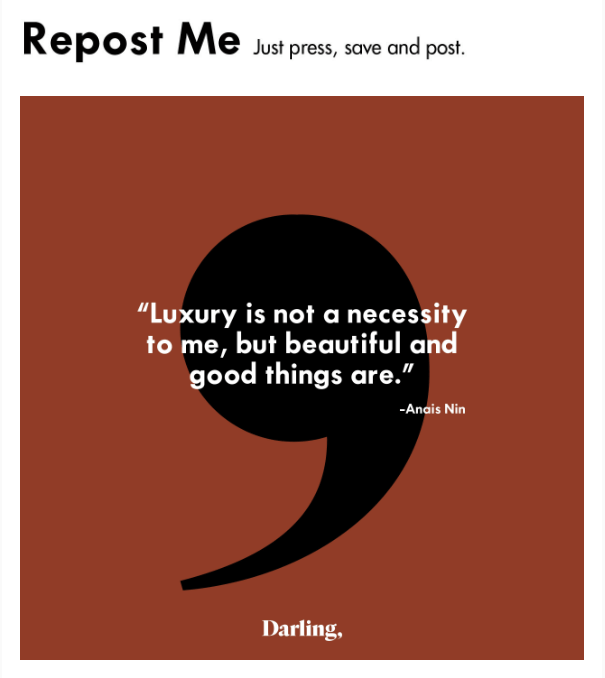 This example brightens the reader's days by encouraging positivity and good vibes. By inspiring social sharing, Darling boosts brand reach and engagement, and the newsletters also feature new blog posts for readers to check out on the Darling website.
Why we love it:
Uplifting copy adds a dose of sunshine to subscribers' inboxes
Social sharing encourages brand engagement and boosts reach
Sends valuable traffic back to website
Create your own amazing email newsletter!
Have these online newsletter examples inspired you? Are you ready to create your very own email content? Check out our custom email marketing services and contact us online or call us at 888-601-5359.
Still here — what are you waiting for? Go ahead and click that link below to get started today!
WebFX Careers
Join our mission to provide industry-leading digital marketing services to businesses around the globe - all while building your personal knowledge and growing as an individual.