PPC campaigns are designed to get results on a limited budget. But in order for them to work well, they have to be laser-focused on their target markets. You can get every penny's worth from your PPC initiatives by using this negative keywords list of 25 negative keywords.
Don't forget, WebFX offers PPC services to clients around the world — so whether you need PPC services in Dallas or PPC in Jacksonville, we've got you covered.
The list (and reasons)
These are the 25 negative keywords that almost every legitimate business can add to their PPC campaigns. For our purposes, we'll base these ideas on Google's AdWords platform.
Pornography
None of your potential clients are looking for your products or services when they're using these words.
Nude(s)
Naked
Sex
Porn(o)
You can use as many related negative keywords as you'd like, but these general terms will protect you from showing ads to people who have "other interests" outside of your business and often form part of the common negative keyword list.
Free stuff
In addition to pornography, you can also block keywords that people who don't want to pay for your products or services use.
Torrent(s)
Example(s)
Sample(s)
Open Source
Shareware
Homemade
Cheap
These keywords could also be indicators of illegal activity, which is another reason to exclude them and add them to your Google Ads negative keywords list.
Law
Unless you're a law firm, these negative keywords are essential to focus on your target audience.
Law
Legal
Lawyer
Regulation
Lawsuit
These types of searches almost exclusively deal with law, and legal keywords get expensive. If you're not a law firm, let someone else bid for those clicks.
Do-it-yourself
These keywords show that someone is interested in doing something themselves — not buying it from you.
Do it yourself
DIY
Antique(s)
Model(s)
Vintage
Template(s)
Craft(s)
Picture(s)
Photo(s)
Even if you offer insights or tips on your site, you should use your Google Ads PPC campaigns to direct traffic to high-value pages. Plus, you're in business because you're good at what you do — DIYers probably can't get the same results that you can.
Implementation
Adding negative keywords to your campaigns is easy. 1. Log into Google Ads and make a campaign.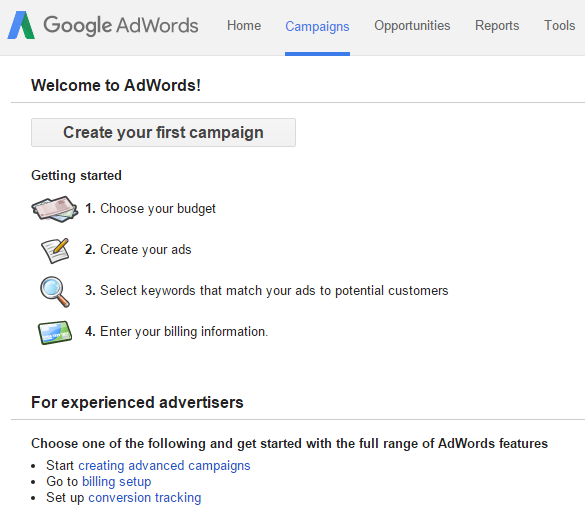 2. Click the Keywords tab.

3. Click the Negative Keywords option.

4. Add your negative keywords on the ad group level…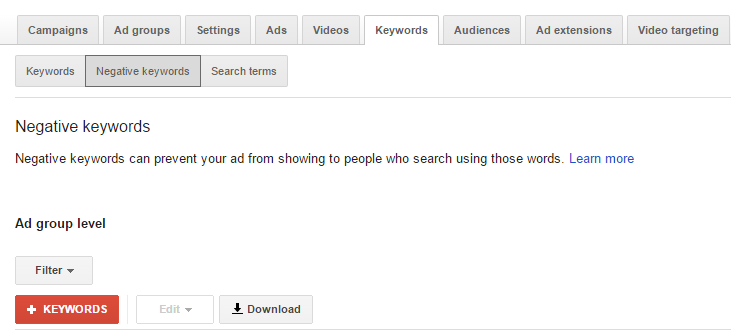 5. …and campaign level.

And there you have it — in a couple of minutes, you optimized every PPC campaign you have on AdWords to use your negative keywords list.
Why these keywords don't do any good
In their own ways, these keywords are indications of poor traffic that PPC campaigns can bring to your site — and this definitely isn't a comprehensive list. At the same time, it's also possible that one of these keywords conflicts with your overall PPC strategy.
And if that's the case, then obviously don't use it. Businesses like antique dealers definitely want to keep "antique," "vintage," and maybe "model" as positive keywords to get the right kind of traffic. But if you shift that perspective to a modern car dealership, they only want traffic from people who want to buy 2015 Camaros — not first-generation models.
The idea is that these negative keywords all minimize spam traffic, unqualified traffic, and unwanted business associations, so you can run a clean, crisp campaign. With that in mind, let's weigh the pros and cons of using these keywords in your own campaign and why adding them to your negative keywords list is important.
Pornography
These keywords are useless to the typical business. The vast majority of companies in the world don't benefit from these keywords, so keep your ads away from that traffic.
It's just better for your campaign when these words aren't included. It helps your traffic and your image at the same time.
Free stuff
If someone wants to get something for free, they'll do it — especially if the alternative is spending money. Remember Napster?
Using these negative keywords makes sure your ad doesn't show up in searches for freebies. If it does, you'll have searchers clicking to your site (and making you pay for it) before realizing that they'll have to buy something. And once they learn that, they'll be gone.
It's better to eliminate that potential so easily stay within your budget. Let the people who want free stuff try to find it on their own — and keep your quality score intact.
Law Negative
Legal keywords are expensive, and if you're not a lawyer, you don't want to deal with someone looking for that. They won't find what they want, and you won't get customers.
Instead, just avoid that kind of information-seeker. It'd be especially disappointing if your main source of traffic from ads were for keywords about landlord law, but you sold organizational software to real estate companies.
Do-it-yourself
Like the freebie-seekers, do-it-yourselfers has already made up their mind about what they want — they want what you sell, but they want to make it on their own. Unless you sell starter kits, it's important to block this kind of traffic, so you're not constantly turning down DIY-ers who don't want your full product.
Because DIY-ers are so self-determined, they probably won't change their minds from a sales pitch. And if they're clicking your ads, they're costing you money.
Optimizing your PPC campaigns
The biggest advantage of using these negative keywords is a more focused campaign that delivers better results. And considering it only takes a couple of minutes, every PPC manager should do it.
WebFX Careers
Join our mission to provide industry-leading digital marketing services to businesses around the globe - all while building your personal knowledge and growing as an individual.