Imagine for a moment that a scientist is performing an experiment in a lab. She assembles the materials, mixes the chemicals, and lets the experiment play out — but then she gets up and walks out of the lab, not bothering to see how the experiment turned out.
That wouldn't make sense, right? Well, the same is true of your company's marketing efforts. If you get your marketing up and running, but don't bother to analyze the results, you're not gaining from anything it.
That's why you can benefit from using business intelligence (BI) — and, in particular, using a business intelligence platform. BI platforms are essential tools for any business that wants to effectively track, measure, and reoptimize its marketing and sales efforts. But what exactly are business intelligence platforms?
To find the answer, just keep reading. Then subscribe to Revenue Weekly — our email newsletter — for more helpful marketing information!
What are business intelligence platforms?
Business intelligence platforms are pieces of software designed to help companies gather, process, organize, and analyze large quantities of marketing and sales data in one location. In other words, BI platforms are large-scale analytics software.
BI software isn't the only type of analytics program out there — enterprise resource planning (ERP) platforms provide analytics analysis for larger enterprise companies. However, BI platforms operate on a larger scale than most other types of software, allowing you to analyze data related to many different areas.
Why do you need BI software?
The primary value of BI software is the same as all other business analytics platforms: It allows you to learn from your data so you can reoptimize your business practices going forward.
With a business intelligence platform, you can determine if your marketing efforts drive the results you want. You can also learn more about your target audience and see which products or services are the most successful.
Using that information, you can then reevaluate and reoptimize your marketing and sales tactics to drive better results and earn more revenue.
What do business analytics platforms include?
There are several key features that every piece of BI software should include. Here are the three most important ones!
1. Visual analytics display
One of the most crucial features for your BI software to have is a visual analytics display. In short, you want to view your data through different tables and graphs, preferably on an analytics dashboard.
The benefit of this feature is that it lets you view different patterns and trends in your data that you might not see from individual data points. For example, if customers routinely buy two particular products together, a chart could help you see that.
2. Cross-platform integration
Another vital BI platform component is cross-platform integration. That is, BI analytics platforms integrate seamlessly with different software to gather data.
The last thing you want to do is manually input every data point into your BI software. Instead, you want to integrate the program with your sales and marketing platforms so it can pull all that data in automatically.
Before you choose a BI platform, make sure it can integrate with all the other platforms you use to generate data.
3. Automated reporting
One of the most useful features of business intelligence platforms is that they generate automated reports for you to view. This occurs on a regular basis and shows you all the latest insights into the data you gather and organize.
This feature means you don't have to spend time organizing all the data on your own. Instead, if pressed for time, you can look at the latest reports generated by your BI platform to see what information it reveals about your sales or marketing.
Best BI platforms for your business
There are several BI platforms available, so you may wonder which ones are best to use. The answer to that question depends on your individual business needs, but here are three of the best options!
1. Microsoft Power BI
Price: $9.99+ per user per month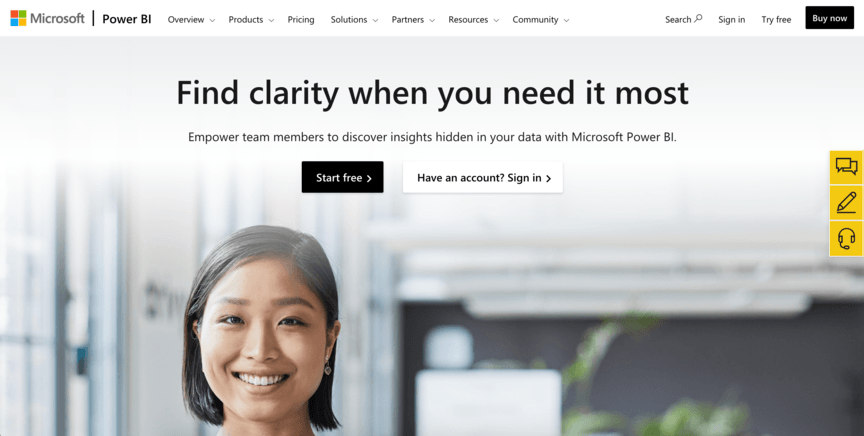 Microsoft Power BI is one of the most reliable BI platforms you'll find. It comes with a few different plans, including a Pro version and a Premium version.
As you might expect from a Microsoft product, Power BI integrates with Excel (in addition to many other platforms!). That means you can easily import data from your spreadsheets into the BI platform.
This platform also comes with predictive analytics capabilities, meaning it can use your existing data to predict future trends and marketing performance.
2. Tableau
Price: $70+ per user per month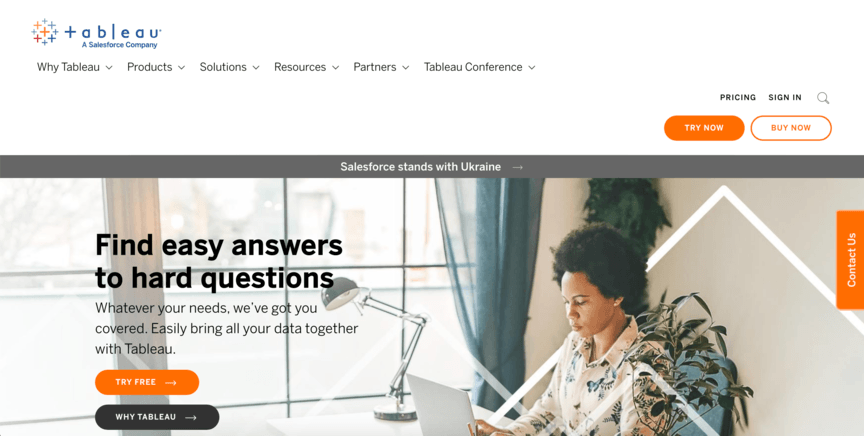 Another useful piece of BI software is Tableau. Tableau is one of the oldest companies in the BI software game, so it's had years to determine what works best for businesses — it's even earned awards for its intuitive platform interface.
One of the standout features of Tableau is VixQL, its custom visualization builder. The builder lets you drag and drop pieces of data to easily put together custom reports in your preferred format.
Additionally, Tableau makes it incredibly easy to find the specific data you need — you can just use the content discovery tool to search through all your data, which is organized by project.
3. Qlik
Price: $30+ per user per month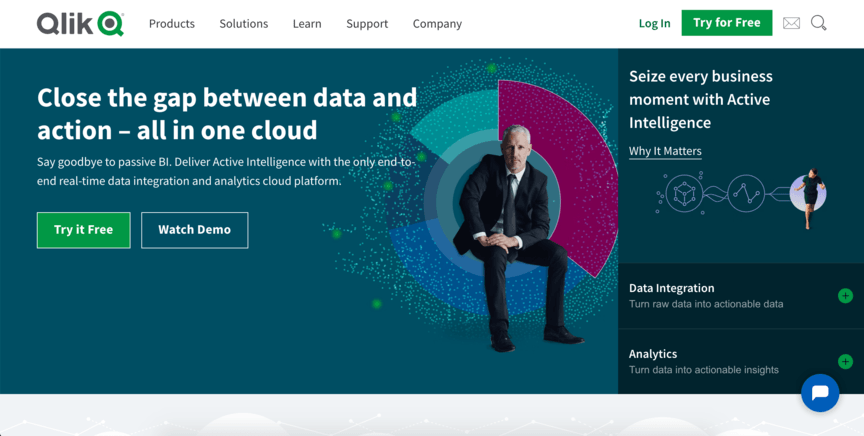 A third option for your BI platform is Qlik. Qlik offers more than one analytics product, but if you're aiming for business intelligence, you'll want to use Qlik Sense.
One of the handiest features of Qlik Sense is offline mode, where you can access all your data, charts, and reports offline. It also features machine and AI learning insights to help you find patterns in your data and predict upcoming trends.
There's even a feature called conversational analytics that lets you ask questions in everyday language, which the platform can understand and interpret to give useful answers.
We foster and form long-term partnerships so that your business has long-term results.
Over 90% of WebFX clients continue partnering with us into year 2 of their campaign.
Hear from Our Happy Customers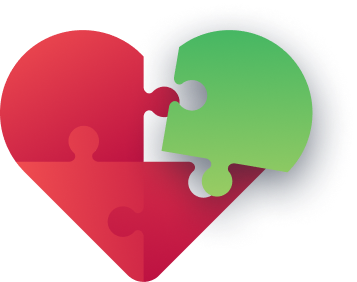 WebFX can help you master your BI software
Want some support managing your business analytics platforms? WebFX can help! We have over 25 years of digital marketing experience at our backs, giving us all the insight we need to drive stellar results for your company analytics.
With our marketing analytics services, we can help you track and make sense of your data so you can reoptimize your marketing for better results down the road. We'll also keep you in the loop about everything we do so you're never left in the dark!
To get started with us, just call 888-601-5359 or contact us online today!
How is your website's SEO?
Use our free tool to get your score calculated in under 60 seconds.
Get posts by email
Join 200,000 marketing managers and subscribe to Revenue Weekly!
"*" indicates required fields
WebFX Careers
Join our mission to provide industry-leading digital marketing services to businesses around the globe - all while building your personal knowledge and growing as an individual.