Jesse needs a new printer, so he orders one from Canon's website. Later, he realizes he also needs some printer toner — also from Canon — so he runs to Walmart to buy some. Little does he know, he's taken advantage of two sales channels.
But what are channel sales, and how do you generate them?
Keep reading to learn about sales channels and how they can benefit your company. Then subscribe to Revenue Weekly — our email newsletter — to get more digital marketing tips from the agency with over 25 years of experience!
What is channel sales?
Channel sales, also known as indirect sales, is a sales strategy where the parent company sells its products through another business. This business is often referred to as a partner, distributor, or affiliate. An example of channels sales is Canon (the parent company) selling its products via Walmart (the other business).
What is the difference between channel sales and direct sales?
When we talk about sales channels, it's helpful to discuss the difference between direct and indirect sales.
Direct sales are those where the only two entities involved are you and the customer. So, if a customer buys one of your products right off your website, it's a direct sale.
An indirect sale, on the other hand, is another term for a channel sale. It refers to a kind of sale where you sell your products through another entity. So, if you get Target to sell your product, and a customer buys it from there, that would be an indirect sale.
It's worth noting that your company can use direct and indirect sales together — you could sell your products on your website, but also through Amazon, for example.
7 types of sales channels to know
The most common sales channels include:
Resellers
Affiliate partners
Distributors
Independent retailers
Dealers
Agents
Consultants
Parent companies may use multiple sales channels.
Why use sales channels?
Now that you understand what sales channels are, you might be wondering — why should I invest in sales channels?
Here are some reasons to invest in channel sales:
1. Expand your audience
Sales channels help you expand your audience. Consider this — let's say you sell paper products like napkins and paper towels. What are the odds that most people will buy those items by visiting your website?
The answer is, pretty low. Most people buy those products at grocery stores, not via online stores. So, to expand your audience to a reasonable size, you'd want to sell through third parties like Walmart and Kroger.
2. Cut distribution costs
Another reason to adopt a channel strategy is to cut the costs of product distribution. When you rely entirely on direct sales, you're responsible for getting your products to customers. You might have to ship to all your company locations, and if you have an online store, you have to deliver to customers' homes.
But with indirect sales, that's no longer the case. You're only responsible for getting your products to the new distributor, and they'll handle the process of getting those items to customers. As a result, you can cut down on both effort and expenses.
3. Reach new geographical areas
The third major reason for using sales channels is that they help you sell to new geographical areas. Let's say you want to sell your products in a different city, state, or country. Odds are, you're not intimately familiar with the potential buyers there.
But if you partner with another company that is familiar with the people in that new region, they can help you market and sell to them more effectively.
3+ sales channels tips
Wondering how you can get the best results from your sales channels? Here are four helpful tips for managing your indirect sales!
1. Assess which channels to use
Before you partner with any third parties, you should take the time to consider which channels will benefit you the most.
In particular, look at where your audience is most likely to shop. If your customers are predominantly young people, you might not want to spend all your resources selling through a distributor that mostly caters to older generations.
Furthermore, consider your location. If your target audience is located entirely in New England, you might not want to sell your grocery items through Publix (which is limited almost entirely to the southern United States).
2. Train and motivate your partners
Whatever businesses you do end up partnering with, be sure to provide them with the necessary incentive to sell your products. If you communicate the benefits of partnering with you, you'll motivate them to work hard to sell your product.
Additionally, if your product is particularly advanced or sophisticated, take some time to train your partner business on how it works and why it's beneficial. That will help them sell it to customers. You can even create a sales pitch deck to help your prospects remember key details from your pitch.
Of course, this doesn't apply in every situation — you don't need to train Target employees to give a sales pitch for your vacuum cleaner. But for some industries, it can be a helpful tool, particularly if you're a business-to-business (B2B) seller.
3. Invest more in analytics
Analytics is essential for any business. It allows you to examine the performance of your marketing and sales to see where you can improve. When you use sales channels, though, it's more important than ever.
Analytics is more complicated when channels are involved because it can be difficult to tell which results are being driven by the third party and which ones are being driven by you. To determine the distinction, you'll want to invest more time and effort into your analytics.
4. Upgrade your marketing
Finally, you should upgrade the extent of your marketing when you use different sales channels. If you only sell from your website, all your marketing should be aimed at sending users there — but if you also sell on other channels, your marketing should reflect that.
Consider running different campaigns for your different sales channels. For instance, in addition to marketing your online store (if you have one), you might engage in Amazon marketing strategies to promote your content on Amazon.

If the business you're selling through is willing to contribute to the marketing process as well, that can be a huge help!
WebFX is a partner businesses trust.
Hear from HydroWorx, who saw a 236% increase in organic sessions with WebFX services.
Watch the Video Testimonial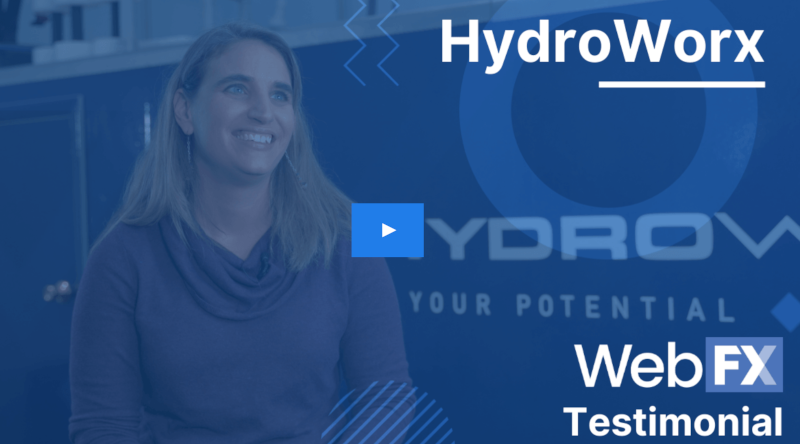 Partner with WebFX to improve your channel strategy through marketing
Ready to start driving channel sales for your business? Let WebFX help you market those channels! We've earned over 1020 client testimonials from the small businesses we've partnered with, and we can offer you the same top-notch service we give them.
With the help of our digital marketing services, you can harness various strategies to market your products across every digital sales channel you use. We'll also be sure to keep you updated on your marketing results with frequent reports and analytics.
To get started with us, just call 888-601-5359 or contact us online today!
How is your website's SEO?
Use our free tool to get your score calculated in under 60 seconds.
Get posts by email
Join 200,000 marketing managers and subscribe to Revenue Weekly!
"*" indicates required fields
WebFX Careers
Join our mission to provide industry-leading digital marketing services to businesses around the globe - all while building your personal knowledge and growing as an individual.