11 minute read
Sarah Berry is a Google Analytics-certified Web Marketing Consultant at WebFX. She's written over 400 articles on digital marketing, covering topics like SEO, CRO, and Amazon. When she isn't polishing her Time Magazine Person of the Year Award, she's spending time with her flock of ducks.
Amazon is more than the world's number one ecommerce site. It's also one of the best marketers in the ecommerce sector. That's why any business looking to sell on Amazon should look to the company for marketing inspiration — and this blog post makes that task simple.
Keep reading to learn the tactics behind Amazon's marketing strategy, as well as which ones you should steal for your Amazon marketing plan. If you're looking for even more inspiration, check out Revenue Weekly to get a constant stream of ideas for your Amazon marketing strategy.
What is Amazon's marketing strategy?
When it comes to Amazon's marketing strategy, the company relies on the following tactics:
Pay-per-click (PPC) advertising
With PPC advertising, Amazon drives a significant amount of revenue. The company can promote its products, like the Amazon Echo, and services, like Amazon Prime, with ease on its website and third-party sites, like IMDb.com.
Search engine optimization (SEO)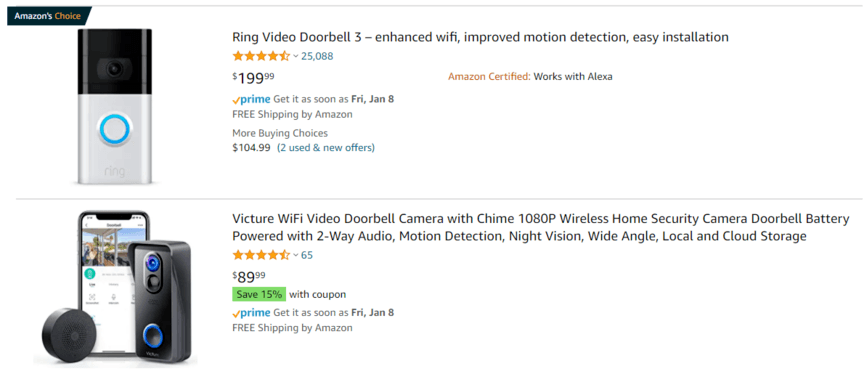 Besides advertising online, Amazon also maximizes the presence of its product listings in search results (both on Amazon and Google) with SEO.
With higher rankings in search results, Amazon captures more traffic and sales for its brand.
Email marketing
Email marketing is one of the best marketing strategies from Amazon. Besides sending order summaries, Amazon uses email to deliver personalized product recommendations, friendly requests for product reviews, and announcements for upcoming sales.
Video marketing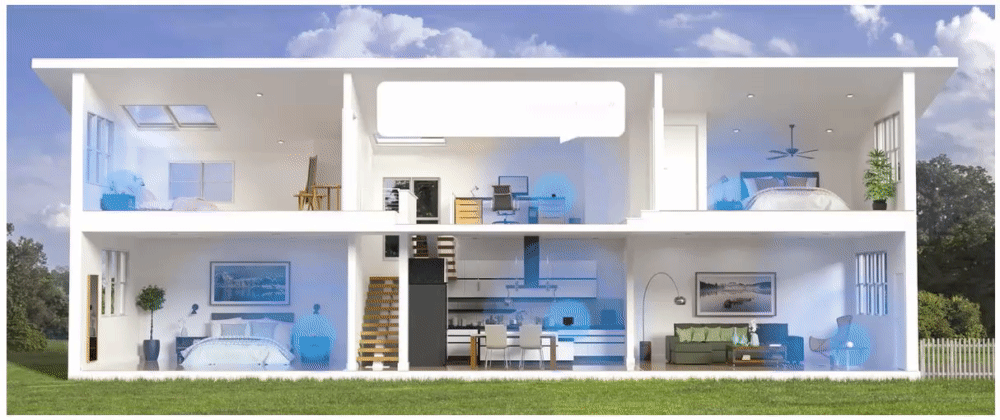 Video helps 90% of people make a purchase decision. So, it's not surprising that Amazon also uses video across its product listings and advertising campaigns to educate and persuade shoppers to buy their products.
Web design

Web design is one of the most overlooked marketing strategies from Amazon.
With regular design updates to its product pages, sign-up pages, and category pages, Amazon tailors its website (and empowers its sellers) to drive even more sales.
Conversion rate optimization (CRO)
With CRO, Amazon discovers new ways to design its product listings, structure its search results, and motivate its shoppers to checkout. Since Amazon receives a tremendous amount of website traffic, the company can run CRO tests — and implement the results — fast.
User-generated content

Amazon recognizes that people look to others before purchasing a product. That's why the company allows shoppers to leave product reviews, upload product photos and videos, and answer other shoppers' questions.
User data

Data is the foundation of Amazon's marketing plan.
With shopper data, Amazon can personalize someone's online shopping experience by providing recommendations, delivering relevant ads, and offering insight into what fellow shoppers ultimately bought.
5 tactics your Amazon marketing strategy should steal from Amazon
You know which marketing strategies make up Amazon's marketing plan, but which should you steal? This year, the five tactics that will benefit your Amazon marketing strategy the most include:
SEO
PPC advertising
User-generated content
Video marketing
Dedicated website
Keep reading to learn more about these strategies and how to bring them to your business:
1. SEO
SEO is one of the most critical marketing strategies for Amazon sellers. With Amazon SEO, you optimize your product listings to increase their ranking in Amazon search results. A higher ranking equals higher sales numbers.
Why? Well, because 70% of Amazon shoppers stick to the first page of Amazon search results. They don't bother with page two.
You can get started with Amazon SEO by following these best practices:
Learn more about optimizing your listings for SEO with our Amazon Listing Optimization Guide!
2. PPC advertising
PPC advertising is a must-use Amazon marketing strategy.
With ads on Amazon, your business will drive more traffic to your product listings. Since Amazon offers various targeting options, you can ensure these ads generate sales by delivering them to the most relevant shoppers. If you opt to add PPC to your Amazon marketing plan, you'll get to choose between several ad types:
Sponsored Brands
Sponsored Display
And more
Generally, Sponsored Brands work best for brand awareness. You can promote your brand and top-selling products in relevant search results. Even better, you can highlight each product's star rating, number of reviews, and Amazon Prime status.

In comparison, Sponsored Products and Sponsored Display focus on generating sales for a single listing.

No matter which ads you use to promote your business and products, optimize your product listings before launching your ads. That way, your listings will include high-quality images, benefit-rich features, and relevant product titles, which will increase the number of shoppers that buy your product.
For more information about how to use this Amazon marketing strategy, bookmark these resources:
3. User-generated content
User-generated content, also called UGC, is a tactic that's appearing in more Amazon marketing plans. It's easy to see why, too. People trust one another when making a purchase decision.
One study, for instance, found that 80% of people use social media for buying advice.

That's one reason why Amazon allows shoppers to share the following on product listings:
Star rating
Written review
Images
Videos
Amazon users can also interact with one another in the "Customer questions & answers" section, which appears on every product listing. A lot of times, shoppers will highlight their product experience in their answer, which can influence purchases.

Keep in mind that while anyone can respond to questions in the "Customer questions & answers" section, your business should dominate that area.
With answers from your team, your company can turn hesitant shoppers into brand-new customers, so take a proactive role in answering questions.

Now, attracting user-generated content is a challenge. That's because it requires work on the shopper's part.
They must enter the rating and write the review, which takes time out of their day. If they're enjoying your product, they often don't have the motivation to submit feedback, either. Your business can work to get ratings and reviews, as well as user photos and videos, by:
In most cases, you'll send more requests than receive reviews. However, the fact that you're taking the initiative to request reviews will put you ahead of competitors because some of those requests will lead to valuable reviews and user-generated content. If you want to learn more about getting Amazon UGC, check out this post: How to Get Amazon Reviews.
4. Video marketing
Video marketing is another strategy you should steal from Amazon's marketing plan.

With video marketing, you can:
Highlight your product's uses
Showcase your product's design in detail
Provide walkthroughs on how to set up and use your product
And more
All these uses can improve your product listing's conversion rate, leading to more sales and revenue.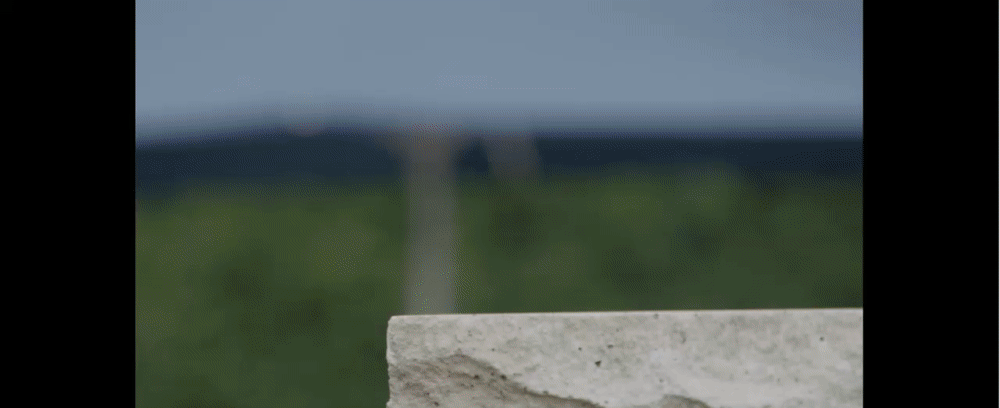 Bring videos to your Amazon listings with these tips:
Limit videos to 30 to 90 seconds
Avoid distracting background noise
Use a white or black backdrop for product showcase videos
While you can film product videos with your smartphone, it's often smarter to use a professional camera or product video production services for these types of videos. A professional-grade camera or services will supply your business with a high-quality video that showcases your product's value and benefits. Now, if you're looking to film an unboxing video or how-to video, a smartphone will likely do the job.
In addition to video ads, you can promote your products with Amazon audio ads while users listen to their favorite songs and podcasts. P.S. Looking for someone else to shoot your product videos? Check out our product video services!
5. Dedicated website
Companies that want to get the most value from Amazon's marketing strategy should consider launching a dedicated website for their brand and products. For instance, Anker grew its brand on Amazon and now sells on both Amazon and its own website.

When you sell on your website and Amazon, you unlock some of the most profitable marketing strategies Amazon uses, like email marketing, web design, user data, and CRO.
These are strategies that Amazon sellers typically can't access because of Amazon's business structure.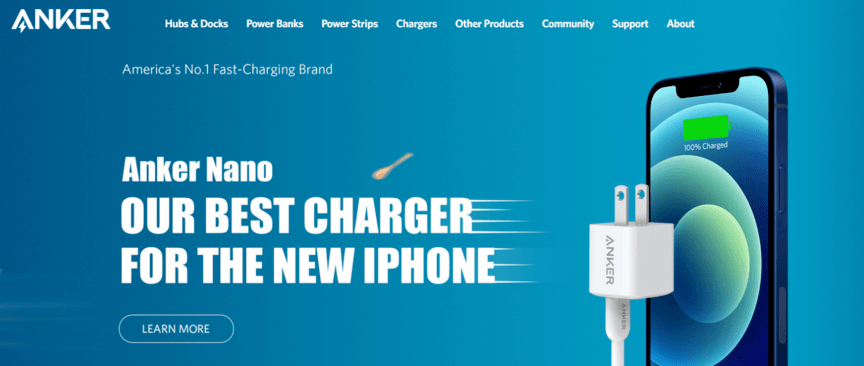 Amazon, for instance, owns Amazon.com, which means Amazon controls:
The website's design
The website's CRO tests
The website's user data
And more
This structure makes sense because Amazon does, after all, own the platform. Not to mention, with more than one million third-party sellers on Amazon, it's likely that some would abuse having greater access to shopper information and control over the website's design for product listings. That's why it's smart to invest in your own website.
When you have a dedicated website for your company and its products, you create new avenues for driving revenue.
Besides Amazon, you can use search engines like Google and social media networks like Instagram to drive sales. Plus, you can use your website's user data to build and inform your email marketing and CRO efforts. You can even carry over what you learn from your website users to your Amazon shoppers in some cases.
For example, a website CRO test that experiments with highlighting different product benefits could influence what you highlight in your product listing's features on Amazon. Learn more about expanding your online presence with a dedicated site in these resources:
Maximize sales from your Amazon marketing plan in 2023
Now that you know which tactics to steal from Amazon's marketing strategy, are you ready to get started? Building and implementing your Amazon marketing plan will take time and resources, but it's worth the effort for the return on investment (ROI). If you don't have the time, knowledge, or resources to bring these marketing strategies to your Amazon account, though, WebFX can help.
We've helped our clients manage more than 12.9 million transactions in the past five years across their dedicated websites, Amazon Stores, and more.
The first step to increasing your SMB's Amazon sales is getting a FREE proposal.
One of our experts will be in touch within 24 hours!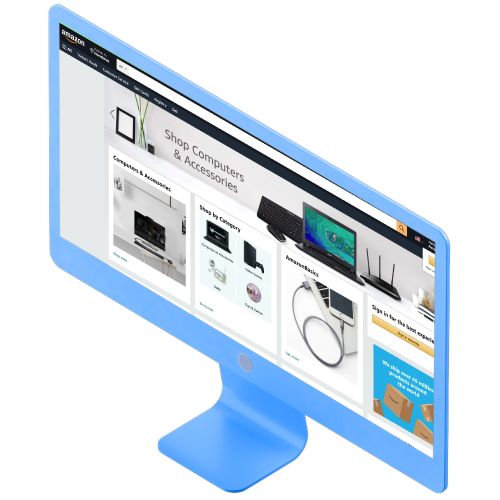 Just contact us online or call 888-601-5359 to learn about our Amazon and professional marketing services!
We don't want to tell you about the work we do, we want to SHOW you.
View Our Portfolio

We've built over
Websites
in a variety of industries.
Sarah Berry is a Google Analytics-certified

Web Marketing Consultant at WebFX

. She's written over 400 articles on digital marketing, covering topics like SEO, CRO, and Amazon. When she isn't polishing her Time Magazine Person of the Year Award, she's spending time with her flock of ducks.

WebFX provides digital marketing solutions with expert marketers, designers, and developers to increase visibility, conversions, and revenue.

Learn more
Try our free Marketing Calculator
Craft a tailored online marketing strategy! Utilize our free Internet marketing calculator for a custom plan based on your location, reach, timeframe, and budget.
Plan Your Marketing Budget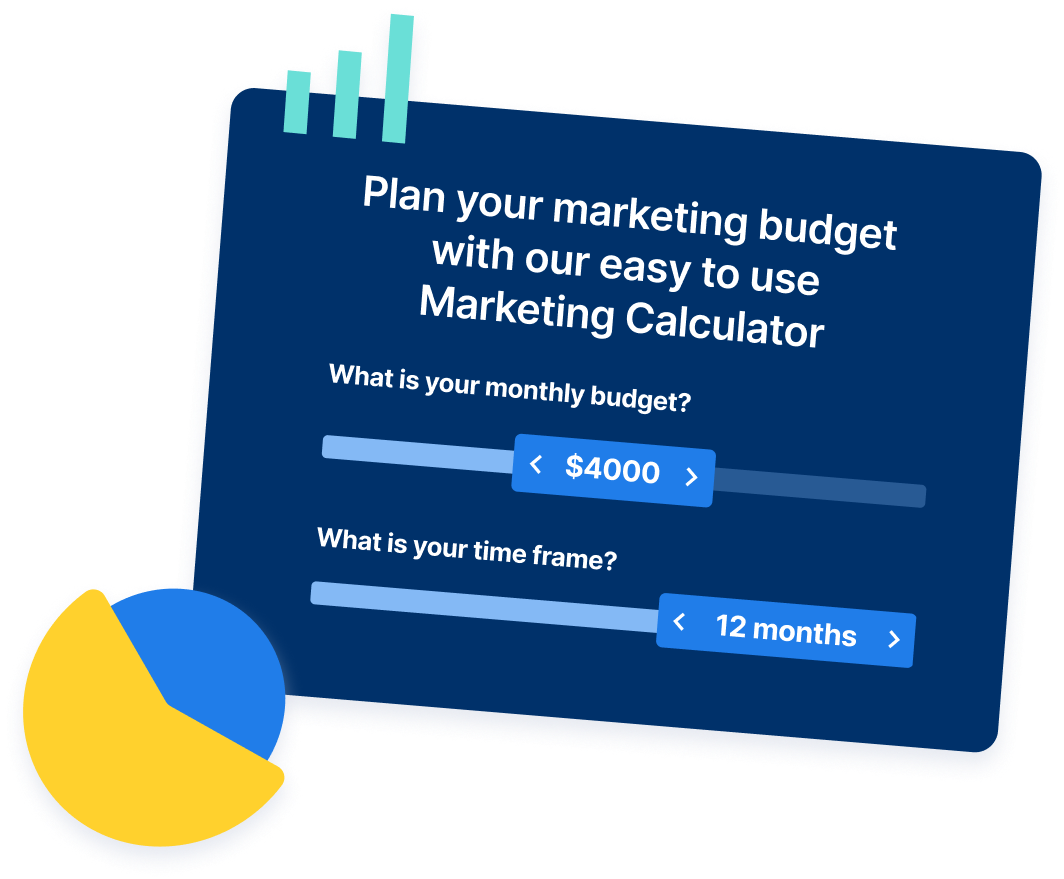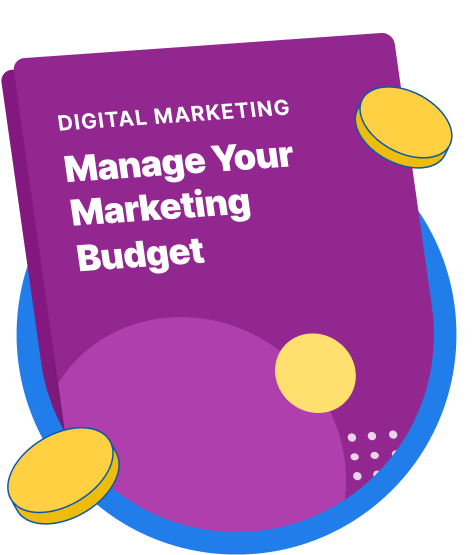 Maximize Your Marketing ROI
Claim your free eBook packed with proven strategies to boost your marketing efforts.
Get the Guide
Try our free Marketing Calculator
Craft a tailored online marketing strategy! Utilize our free Internet marketing calculator for a custom plan based on your location, reach, timeframe, and budget.
Plan Your Marketing Budget