Your reputation matters. If people have reason to distrust or dislike your business, it goes without saying that they won't want to buy from you. On the other hand, someone who thinks highly of you will have good reason to choose you over the competition.
That's why it's so important to keep up with your reviews online. You want to know what people say about you so you can determine how your audience views you. But you can do more than just watch the reviews go by — you can manage them.
To do that, you'll want to use review management software. But what is review management software, and how can you benefit from it? Keep reading to find out!
Then subscribe to Revenue Weekly — our email newsletter — to receive more digital marketing tips right in your inbox from the agency with over 25 years of digital marketing experience!
What is review management software?
Reputation management software is a digital tool that lets you track, gather, and respond to online reviews of your business from customers.
Review management is about responding to reviews in a way that improves your reputation. You want to address the problems people express in negative reviews and thank people for their positive reviews.
A review management platform helps you do that. You can use review management tools to make the process easier and ultimately boost your reputation.
Benefits of review management platforms
You may be wondering why you should go out and find review management resources. After all, why not focus on other aspects of your business? And when you do manage reviews, why not just do it manually?
There are several benefits to using reputation management software. Here are three of the biggest ones!
1. Encourage more purchases
The first way review management software can benefit you is by encouraging more purchases from users.
For every negative review you change into a positive one, your reputation improves immensely. When people see a long list of positive reviews from users, they're more likely to buy from you.
That will lead to more people buying your products or services. More customers will then leave reviews, helping you improve your reputation even more!
2. Save time for your company
Another advantage of reputation management software is that it saves you a ton of time.
If you really wanted to, you could manage your reviews manually. The problem is that it's exhausting. You have to manually visit website after website to gather all your reviews — first Google, then your website, then Amazon — before you could even start responding to them.
Then you would have to painstakingly work through each one to see which ones warranted a thoughtful response. Ultimately, you'd end up spending hours on reviews alone, taking away time from the other aspects of running your company.
But a review management tool can save you from that fate. A review platform can automatically gather reviews for you and put them in one convenient place, letting you easily identify which ones you should respond to.
3. Boost your search engine optimization (SEO)
The third major benefit of review management software is that it can improve your search engine optimization (SEO).
Reviews have a large impact on SEO. If Google sees that a company is being bombarded with negative reviews, it will often penalize that company in rankings. On the flip side, a company with glowing reviews will tend to rank higher.
So, by managing your reviews more effectively, you'll boost your place in search results. That will allow more users to find your website and convert into loyal customers.
3 of the best review management tools
We've covered what review management software is and why you need it, but which software should you choose? There are plenty of options out there, and you may be unsure which one to choose.
That's why we've listed three of the best review management resources you can find. Keep reading to learn more!
1. ReviewAccelerationFX
Price: $125+ per month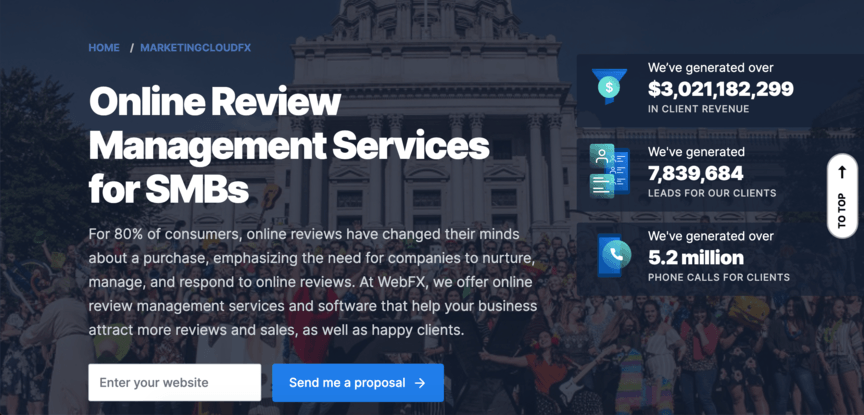 ReviewAccelerationFX is WebFX's review management software. As part of our larger MarketingCloudFX software, it's a fantastic tool for handling your review management.
With ReviewAccelerationFX, you can:
Collect testimonials through customized landing pages

Upload bulk lists of customers to ask for reviews

And more!
Part of what makes ReviewAccelerationFX so excellent is that you're getting more than a tool. At WebFX, we don't just hand you a piece of software and call it a day. Instead, we actively work with you to improve your review management, with ReviewAccelerationFX being one component of those services.
If you're wondering about the price, that's why — we're giving you so much more than you'd get from a platform like Podium or BrightLocal, where you'd be left to your own devices once you've made the purchase.
2. Podium
Price: From $289 / month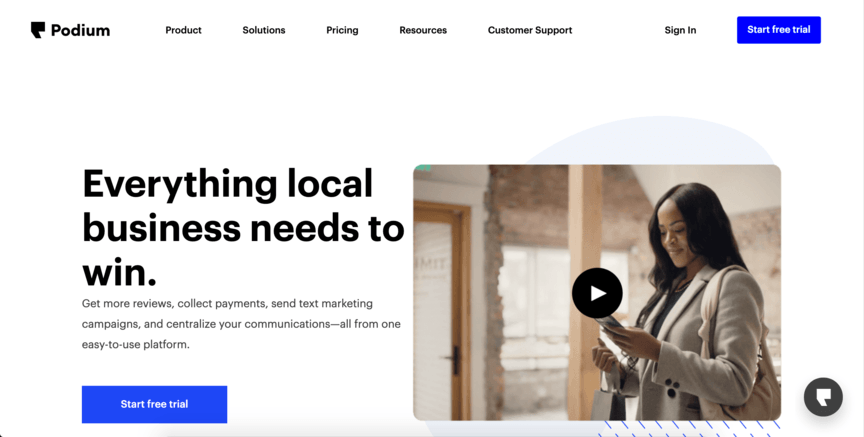 Podium is one of the most highly recommended review management platforms on the Internet, and for good reason. It gathers reviews and other customer interactions from across the web and centralizes them on a single dashboard that you can easily access.
You can sort and respond to reviews directly through the dashboard, rather than going to the individual websites to handle it. You can also view analytics related to how you're performing relative to your competitors.
Podium is accessible on both mobile and desktop, allowing you to access it wherever you are.
3. BrightLocal
Price: $8+ per month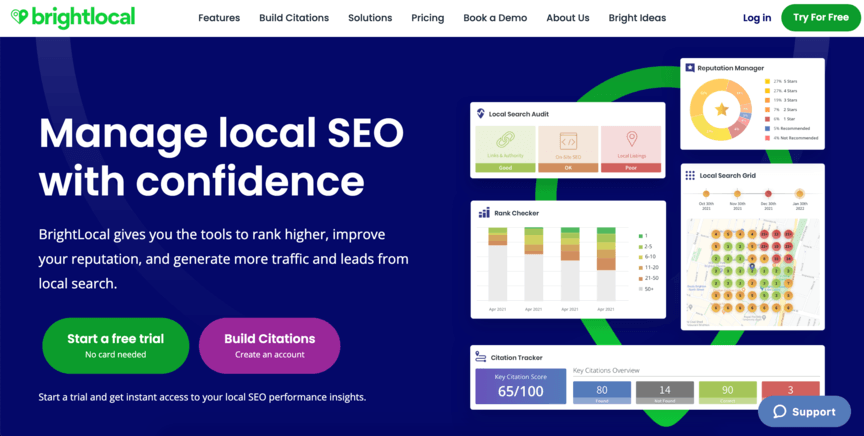 BrightLocal is another excellent piece of reputation management software. It's optimized to manage reviews on your Google Business Profile, and it integrates well with different social media platforms.
One of the standout features of BrightLocal is that it lets you easily find and update name, address, and phone number (NAP) information across the Internet. Keeping your NAP info consistent is crucial for maintaining high rankings, making it a fantastic feature.
BrightLocal offers different plans. You can pay $8 per month to solely manage reviews, or you can opt to pay more and gain access BrightLocal's SEO functionalities.
4. Birdeye
Price: Custom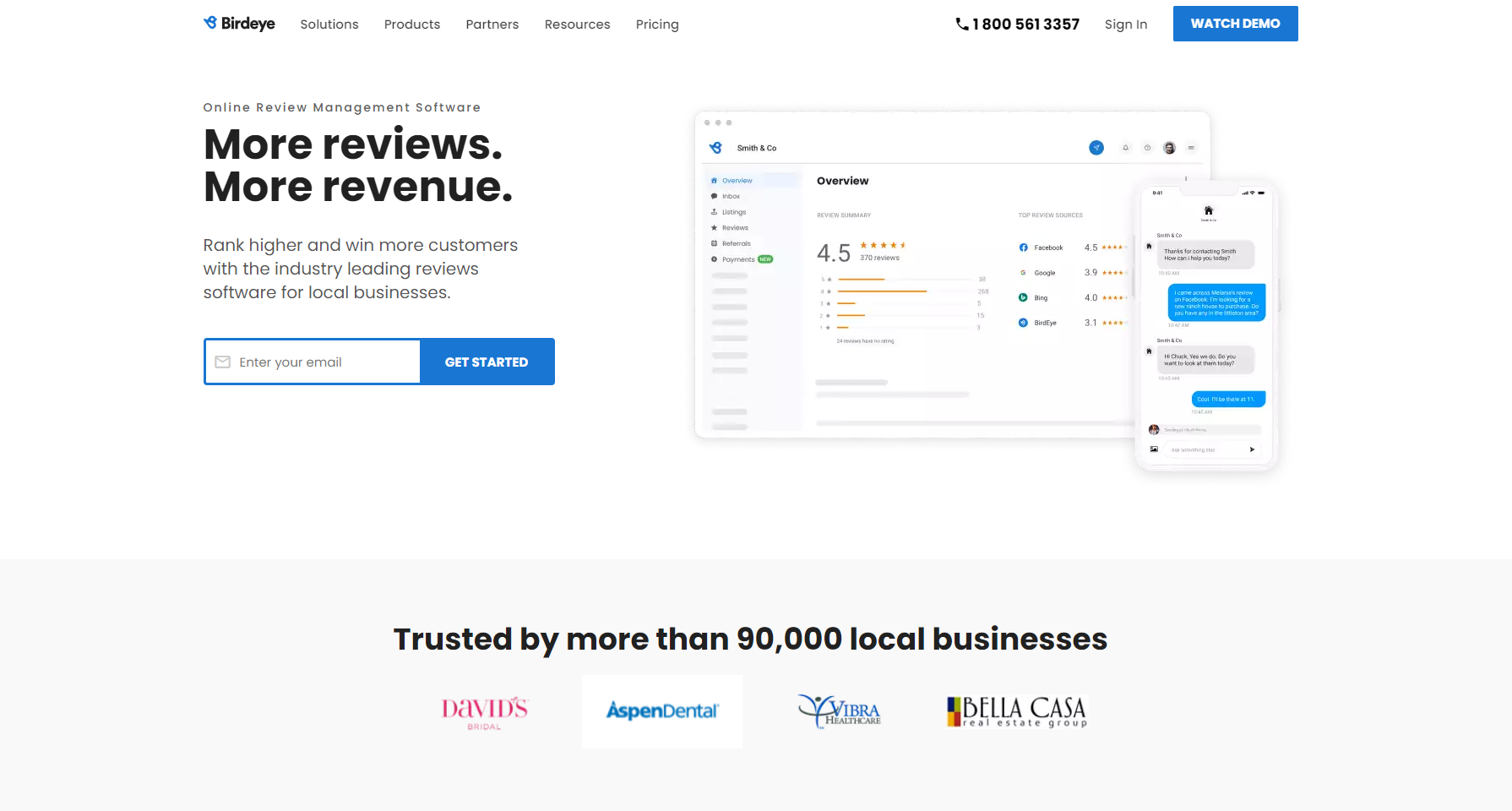 Birdeye comes highly recommended as an online reputation and review management software allowing you to generate and manage reviews on Google, Facebook and 200+ other websites. With Birdeye, you can manage reviews from a singular inbox.
Birdeye also integrates with over 3000+ unique CRMs for ultimate flexibility and notifies you the minute a negative review is posted so you can take swift action.
5. ReviewTrackers
Price: Starting at $119 / month per location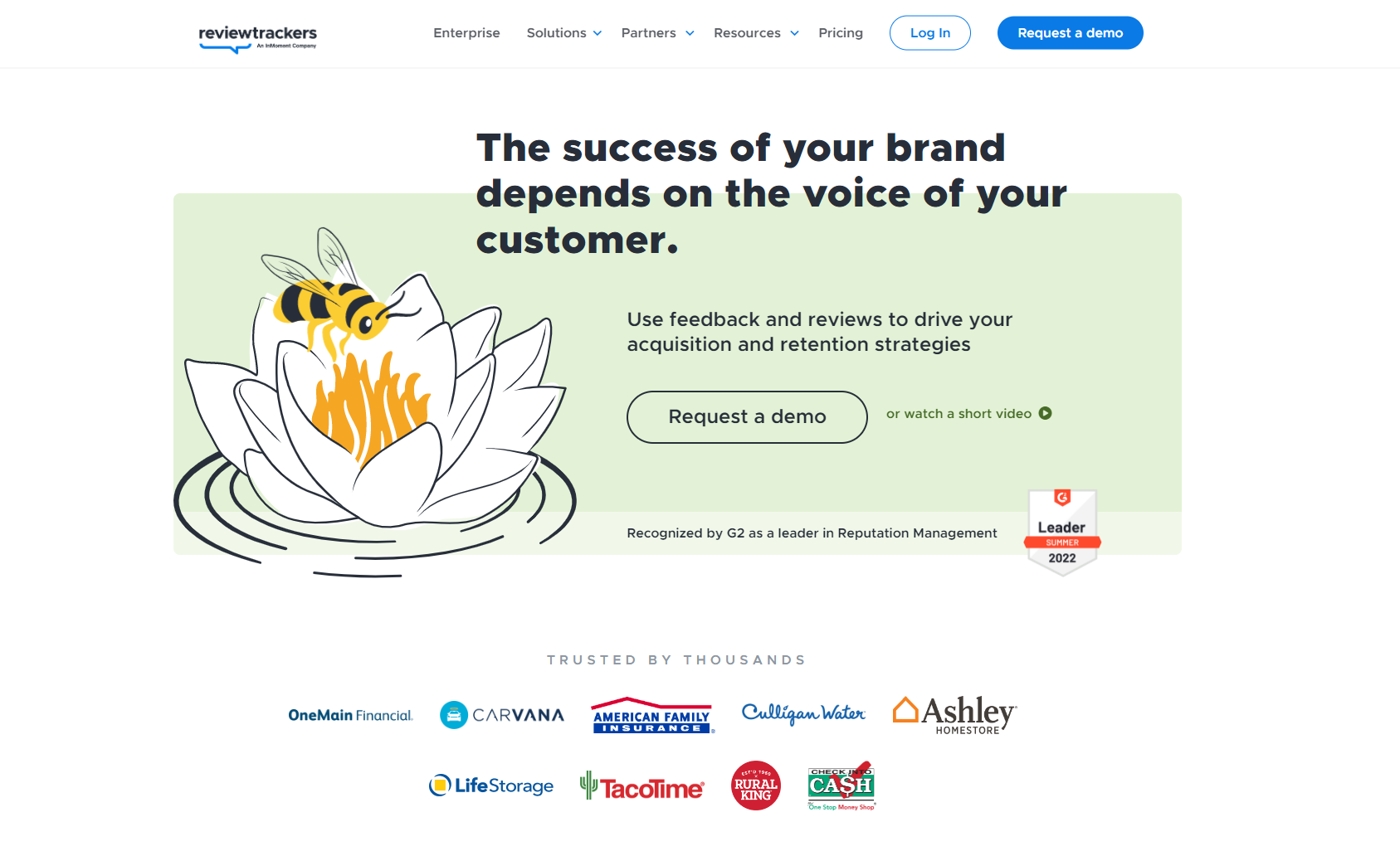 ReviewTrackers is another worthwhile review management app that integrates well with over 1000 apps and CRMs through Zapier. With ReviewTrackers, you can manage reviews in-app and create templated responses that leverage Smart Response technology to quickly and effectively personalize your review responses.
ReviewTrackers also offers customer experience analytics, review and social monitoring, and local SEO tools.
Let WebFX help you get the most from your review management software
Even with the right tool, review management takes time and effort. That's why you can benefit from partnering with a digital marketing agency like WebFX for help with your review management.
When you partner with us for our review management services, you'll receive all the benefits of ReviewAccelerationFX listed above. We have over 1,020 client testimonials speaking to the quality of our services, so you can rest assured your reviews are in good hands.
To get started with us, just call 888-601-5359 or contact us online today!
WebFX Careers
Join our mission to provide industry-leading digital marketing services to businesses around the globe - all while building your personal knowledge and growing as an individual.