8 Top Reputation Management Companies Around the Globe
Your reputation plays an important part in how others perceive your brand. The best way to help you maintain your brand's name, keep existing customers, and earn new ones is through reputation management.
Back in 2011, Avril Lavigne famously declared through song that she didn't care about her reputation — but the same probably can't be said for your company. Nor should it! Every business should care what their reputation is online, because bad publicity can do a lot to hurt your conversion rates and revenue.
That's why reputation management is so important. You need to stay up to date on what people are saying about you online, and you need to be prepared to manage bad publicity when it comes along. But that's a tall order for you to do alone, which is why many businesses opt to partner with a reputation management agency.
But the question is, which company should you choose? There are a lot of reputation management agencies out there, and you could have a drastically different set of options depending on where in the world your business is located.
That's why we've compiled this list of top reputation management companies from around the world. Keep reading to learn more, and then subscribe to our email newsletter — Revenue Weekly — for more helpful digital marketing info!
Don't miss our Marketing Manager Insider emails!
Join 200,000 smart marketers and get the month's hottest marketing news and insights delivered straight to your inbox!
Enter your email below:
Inline Subscription Form - CTA 72
"*" indicates required fields
(Don't worry, we'll never share your information!)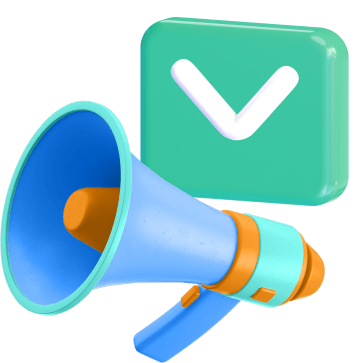 8 top reputation management companies around the world
Depending on where your business is located, you may have significantly different options when it comes to reputation management agencies. Thankfully, we've got you covered. On this page, we've listed eight of the top reputation management companies from around the globe, including:
Here's a summary of the basic info about each one:
| | | | |
| --- | --- | --- | --- |
| Company | Location | Team size | Clutch Rating |
| WebFX | Harrisburg, Pennsylvania | 500+ | 4.9 |
| Sherlock Communications | São Paulo, Brazil | 50–249 | 5.0 |
| PRLab | Amsterdam, Netherlands | 10–49 | 4.8 |
| BDC Consulting | Tallinn, Estonia | 50–249 | 4.8 |
| Republic PR Agency | Cape Town, South Africa | 2–9 | — |
| UpLift Marketing | Ahmedabad, India | 2–9 | 5.0 |
| AJ Marketing | Minato City, Japan | 10–49 | 5.0 |
| MediaCast | Eight Mile Plains, Australia | 2–9 | 5.0 |
Keep reading for an overview of each reputation management agency!
1. Best reputation management company in North America — WebFX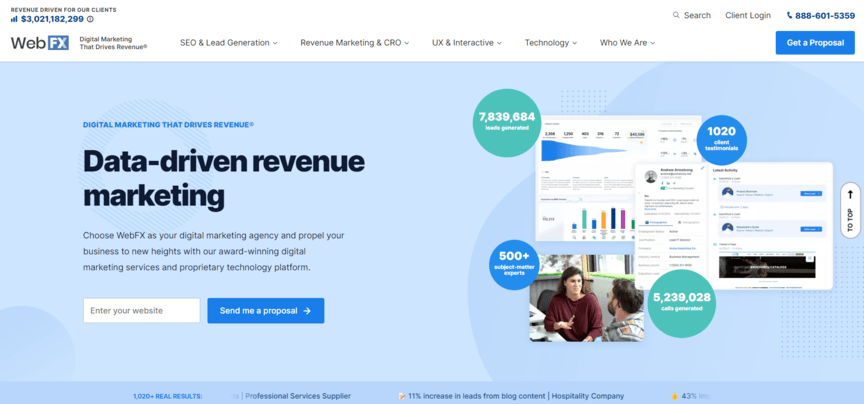 Location: Harrisburg, Pennsylvania, United States
Team size: 500+
We'll begin our list in North America, where the top reputation management is none other than yours truly — WebFX. But just so we're clear, we're not just saying that to make ourselves look good. The results speak for themselves.
With over 300 reviews on Clutch that come out to an overall 4.9-star rating, WebFX is one of the most widely praised digital marketing agencies out there. We offer a variety of services, but reputation management is one of our strongest suits.
When you partner with us, we'll promote your brand online through a variety of marketing strategies, and we'll also monitor for negative reviews or publicity. When negativity comes along, we'll work to counteract it with things like positive reviews and search result reworking.
2. Best reputation management company in South America — Sherlock Communications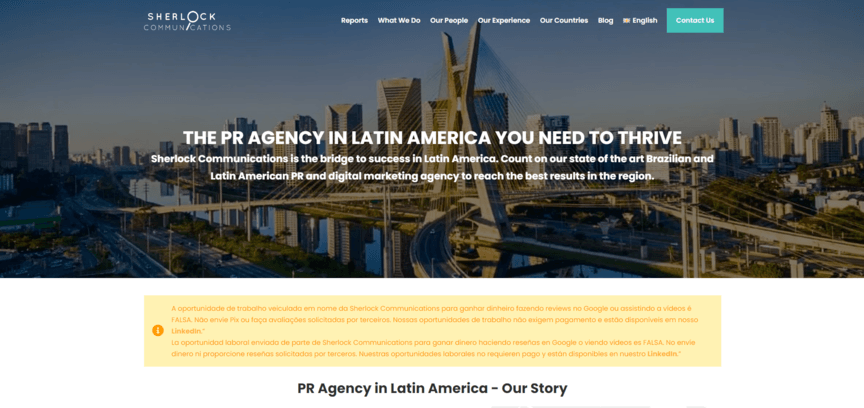 Location: São Paulo, Brazil
Team size: 50–249
Looking for a South American reputation management agency? Just book a trip to Brazil to partner with Sherlock Communications! (Okay, you don't actually have to go to Brazil — that's just where they're headquartered.)
With a 5-star rating on Clutch, Sherlock Communications is clearly loved by their clients, a testimony to their top-tier services. Sherlock also boasts several different awards, including the SABRE Latin America award for company of the year.
Sherlock offers several different types of digital marketing services, from search engine optimization (SEO) to paid advertising. But among those services is reputation management, which — if their reviews are anything to go by — they're quite good at.
3. Best reputation management company in Western Europe — PRLab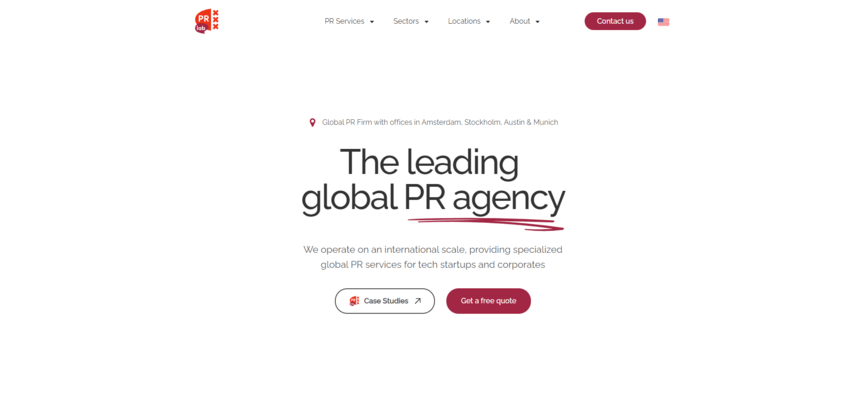 Location: Amsterdam, Netherlands
Team size: 10–49
Goedendag vanuit Nederland!
As a Dutch PR company based in Amsterdam, PRLab is one of the best reputation management agencies available in Western Europe — and you don't need to be in the Netherlands to work with them. They serve businesses across Western Europe, with additional offices in Stockholm and Munich.
PRLab maintains a 4.8-star review on Clutch, with their clients reporting that they exhibit a positive attitude about each task and demonstrate "professionalism, goodwill, and attentiveness." Reviews also mention that PRLab is great at securing media placements for their clients.
4. Best lead generation company in Eastern Europe — BDC Consulting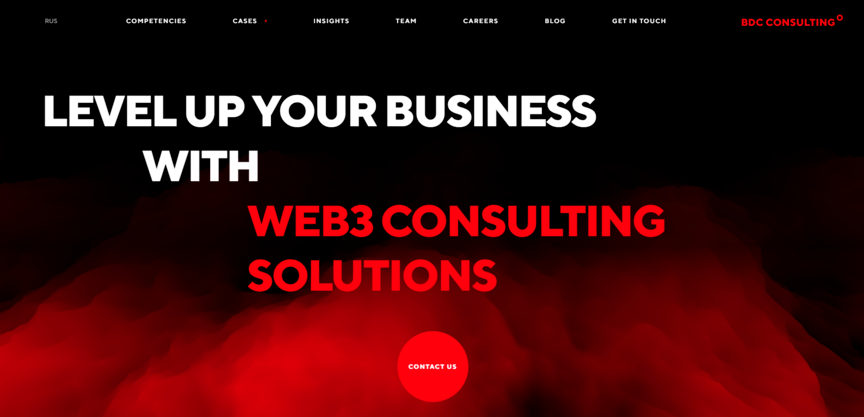 Location: Tallinn, Estonia
Team size: 50–249
Maybe you're saying, "The Netherlands is cool and all, but I'm in Eastern Europe, so it's a little farther away than I'd like." If that's the case, no problem — we've got an Eastern European agency to recommend to you as well! That agency is BDC Consulting, which operates out of Estonia.
BDC is an interesting case because their main services relate to Web3 and the blockchain, but they also provide marketing and PR consulting services. They hold a 4.8-star rating on Clutch, and their reviews speak to BDC's prompt, responsive, and smooth communication.
5. Best reputation management company in Africa — Republic PR Agency
Location: Cape Town, South Africa
Team size: 2–9
Moving on to the next continent on our list, we find ourselves in Africa, where one of the top reputation management companies is Republic PR Agency. The name pretty much tells you what this company does — PR, primarily, though they also handle things like content marketing and social media.
Republic PR Agency is based in Cape Town, South Africa, and they advertise that they have "a combined 30 years of experience working on some of the world's leading brands." They work with a variety of industries, from medical to legal to retail, so you can find a home with them no matter what your business does.
6. Best reputation management company in South Asia — UpLift Marketing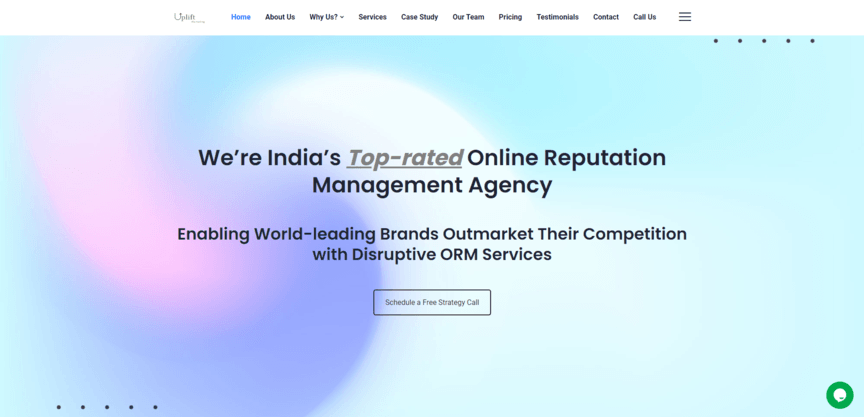 Location: Ahmedabad, India
Team size: 2–9
Asia's a pretty big place, so different agencies are better for different regions. In South Asia, the best option is arguably UpLift Marketing, which is headquartered in India. This agency focuses entirely on PR, devoting themselves fully to that specific service. That means they're experts at reputation management.
UpLift holds a stellar 5-star rating on Clutch, and their reviews make it clear why that is. Clients say that this agency is honest, gets things done on time, and drives incredibly successful results for the companies that partner with them.
7. Best reputation management company in East Asia — AJ Marketing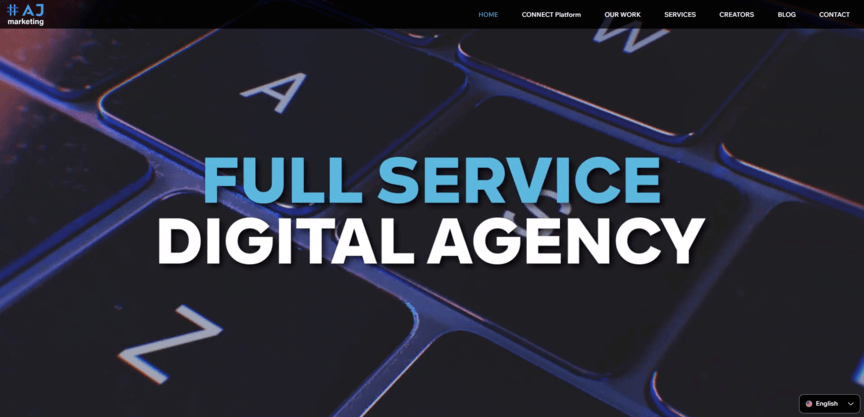 Location: Minato City, Japan
Team size: 10–49
Moving over to East Asia, you've got some different options for your reputation management agency. Possibly the best one is AJ Marketing. This company has headquarters in multiple locations, but one of their main offices is in Minato City, Japan.
AJ Marketing offers a variety of different marketing services, with reputation management being just one of them. They work primarily with midmarket companies, and they hold a 5-star rating on Clutch. Some feedback from their clients notes that they're great at communicating and reaching a wide audience.
8. Best reputation management company in Australia — MediaCast
Location: Eight Mile Plains, Australia
Team size: 2–9
Finally, we reach Australia, our last remaining continent. (If you're in Antarctica, sorry, you're out of luck.) The best Australian reputation management company is MediaCast, which is based in Eight Mile Plains. It has a 5-star rating on Clutch, and like UpLift, it focuses entirely on PR services.
MediaCast's clients describe them as "a delight to work with" and praise "their responsiveness and promptness." Regarding their services, clients say that MediaCast has excellent planning skills and knows how to drive top-tier results.
5 qualities of top reputation management companies
So now you know the top reputation management companies, but what sets them apart from the rest? Here are five qualities to look for when searching for a top reputation management company:
1. Strong track record of success
A proven track record of success is one of the most crucial features to look for in a top reputation management company. This record indicates that the agency continuously produces satisfying customer outcomes, enhancing and safeguarding its online reputation.
You must pick a business with a track record of successfully managing and strengthening reputations across various platforms and sectors. This approach will reassure you that they possess the skills and knowledge to meet your demands and overcome obstacles.
2. Deep understanding of online reputation management strategies
You want to collaborate with experts knowledgeable about the latest technologies and recommended procedures for controlling and enhancing online reputations. They must be knowledgeable in content creation, social media management, SEO, and crisis communication.
By choosing a company with this expertise, you can be confident they'll employ the most excellent strategies to enhance your online reputation and protect your brand's reputation. A trustworthy business will also take a proactive approach to reputation management, continuously monitoring internet mentions, reviews, and comments to fix any problems or unfavorable feedback as soon as they arise.
3. Proactive approach to monitoring and addressing online mentions
A top reputation management company should also be able to offer solutions specifically tailored to your requirements and objectives. A credible agency will invest the time necessary to comprehend your industry, target market, and brand values to create a thorough reputation management strategy.
They will collaborate closely with you to pinpoint any possible dangers or weaknesses and develop aggressive countermeasures. In addition, a top reputation management company will have a strong network of contacts and alliances inside the sector, enabling them to use their resources and knowledge to their advantage.
4. Commitment to ethical practices
Another quality of a professional reputation management company is a dedication to ethical conduct. They should emphasize transparency and honesty in their conduct, ensuring that all their methods and techniques comply with moral principles. This dedication to moral behavior safeguards your company's reputation while fostering credibility and trust among your target market.
Top reputation management companies regularly track and evaluate your internet presence, keeping an eye out for any unfavorable comments or reviews. They immediately address any problems and implement the required fixes to ensure your brand maintains a favorable online reputation.
5. Excellent communication skills
A reputation management company must have the communication skills to explain your brand's ideals to your audience and respond to comments or concerns. This method involves connecting with your audience to understand their requirements and problems and keeping lines of communication open with your brand to comprehend your aims and ambitions.
Meet WebFX:
Your world-class, tech-enabled marketing agency with over 1.6 million hours of combined expertise.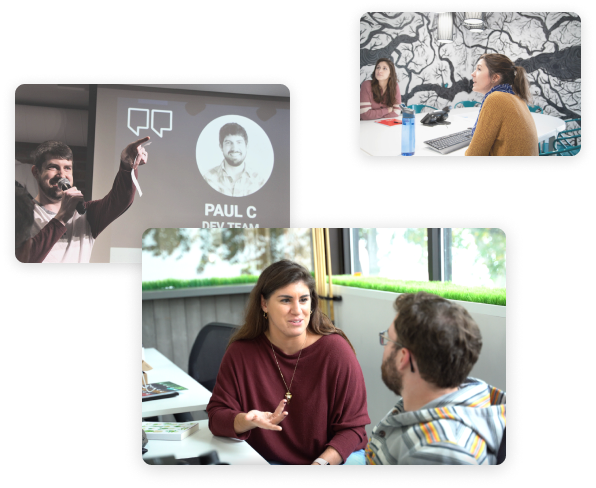 WebFX is the perfect reputation management company for North American businesses
Is your business located in North America? Do you need help with your reputation management? If you answered "yes" to both of those questions, you already know what that means: WebFX is the perfect partner for your business.
When you partner with us, you'll get help countering negative publicity online and spreading a positive image of your brand. And by the way, if you're not in North America, you can still partner with us — we also have offices in locations like Guatemala and South Africa.
Interested in checking out our reputation management services? Just call us at 888-601-5359 or contact us online to get started with us today!