Personalizing your website experiences is the key to unlocking more sales and revenue for your company. When you personalize your website, users will see marketing messages related to them and their needs, encouraging them to convert into paying customers.
But personalizing your website is no easy feat. That's why we compiled this list of the best website personalization tools in 2023.
Check out our favorite personalization tools for websites below and keep reading to learn more about how they can help drive revenue for your business.
Bonus: Want even more web design tips from our award-winning agency? Then sign up for our newsletter, Revenue Weekly, today! Our subscribers get the latest web design and personalized marketing advice sent straight to their inbox for free!
1. PersonalizeFX
Pricing: $875 – $5975 per month or $400 – $4975 per month for existing customers
First on our list of the best website personalization tools in 2023 is PersonalizeFX. PersonalizeFX is a key component of our in-house marketing proprietary software, MarketingCloudFX.
Features
With PersonalizeFX, you can create marketing messages that resonate with specific users based on:
Their job industry
Actions the user takes on your website
Their company
The user's interests or purchase history
The user's location
And much more
PersonalizeFX enables you to personalize several features on your website like your home page banner, calls to action (CTAs), reviews, and more.
In addition to PersonalizeFX, you'll also gain access to more MarketingCloudFX features that allow you to conduct competitor analysis, manage and track all of your marketing campaigns, analyze essential customer data and metrics, and much more.
2. Hyperise
Pricing: $49 – $149 per month
Hyperise is one of the best website personalization software platforms for business to business (B2B) companies. This tool helps you capture your audience's attention and keep them engaged with custom images, videos and more.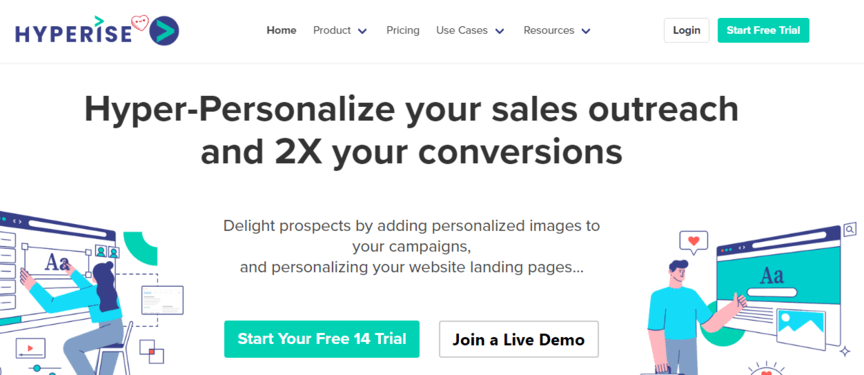 Features
With Hyperise, you can personalize your images, videos, CTAs, and more without any coding experience. For example, you can add dynamic text that features your prospects' company names or job titles. You can also include the company's logo in your images to personalize your prospects' experience even more.
In addition, Hyperise enables you to segment your audience to ensure that the right marketing messages reach your audience at the right time to maximize your conversions.
3. Google Optimize
Pricing: Custom
Next on our list of personalization tools for websites is Google Optimize. Google Optimize is the leading personalization platform for businesses that integrates seamlessly with Google Analytics.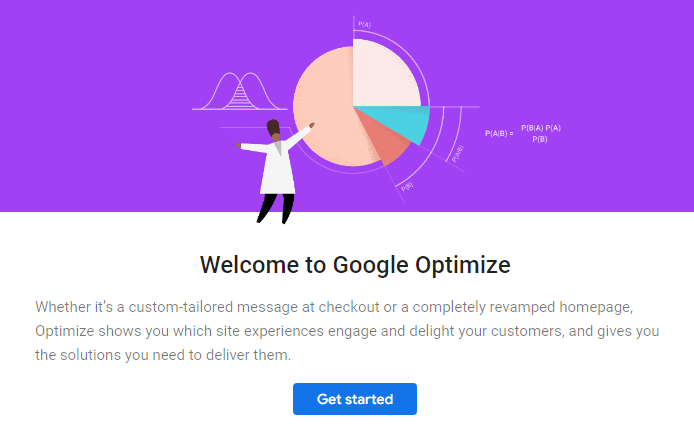 Features
With Google Optimize, you can create a lasting first impression for each user who visits your website that keeps them coming back for more.
Because Google Optimize integrates with Google Analytics, you can use your collected data to personalize your website based on how users interact with your site.
In addition, Google Optimize enables you to run A/B tests to learn which messages get the best response from your audience and improve your website to drive better results. You can also create custom landing pages for your Google Ads campaigns to encourage more conversions and sales for your company.
4. Personyze
Pricing: $149 – $1450 per month
Personyze is a comprehensive personalization solution that uses machine learning and behavioral targeting to deliver a personalized experience that boosts conversions and sales.

Features
Perhaps one of the best features of Personyze is its ability to use omnichannel personalization to create targeted experiences across multiple platforms, like your website, emails, apps, and more.
Check out some more features of Personyze below:
So, if you're looking for the best website personalization software for your business, look no further than Personyze.
5. Segment
Pricing: Custom
The fifth platform on our list of the best website personalization tools in 2023 is Segment. Segment help you create tailored and consistent customer experiences on your website.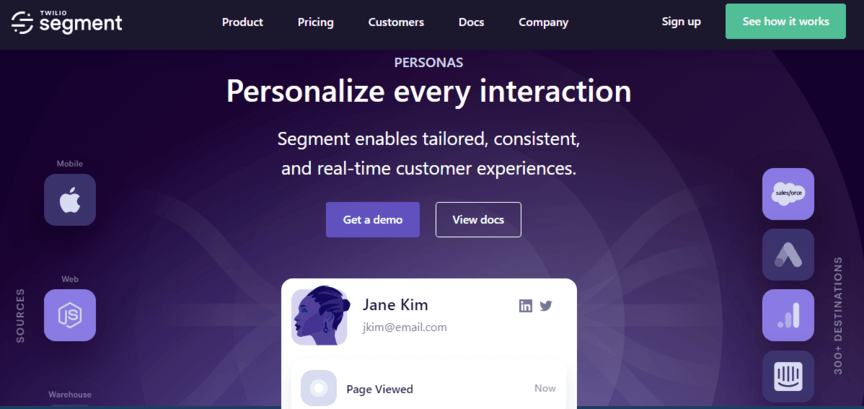 Features
Segment can track your leads and customers' journeys from awareness to purchase to better understand which interactions led your conversions. You can then use insights to implement more personalized marketing messages that reach your audience at each stage of the sales funnel.
In addition, Segment can organize and segment your audience based on their web traffic sources. As a result, you can optimize your marketing campaigns based on these insights to drive more traffic and conversions for your website.
6. Adobe Target
Pricing: Custom
Adobe Target is another excellent website personalization software platform that every business needs.

Features
With Adobe Target, you can test, optimize, target, and automate nearly every aspect of your website.
Here are some of the main features of Adobe Target:
Omnichannel personalization to create targeted, personalized experiences for each user across all your marketing channels and platforms
A/B testing to test and optimize your marketing messages to maximize your conversions and sales
AI and machine learning solutions to receive data-driven suggestions for optimizations to create more personalized user experiences that encourage conversions
If you're looking for one of the best all-in-one personalization tools for websites, Adobe Target is the perfect option for you.
7. RightMessage
Pricing: $79 – $179 per month
Last on our list of the best website personalization tools is RightMessage. RightMessage helps you uncover who visits your website, what they interact with on your site, and what they're searching for from you to deliver highly personalized experiences that drive sales.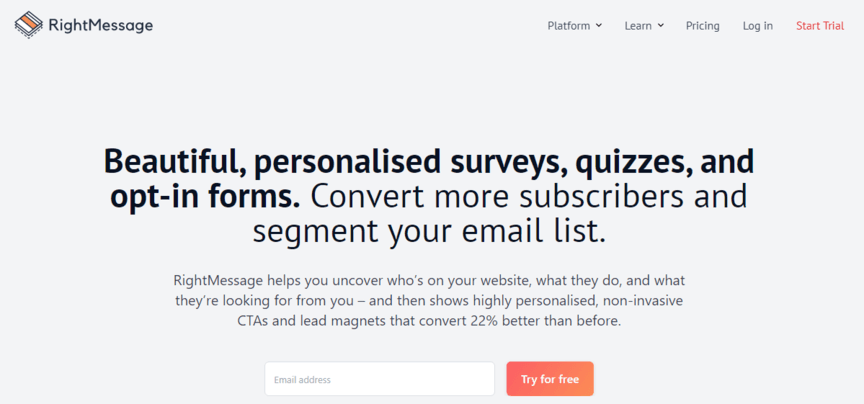 Features
Check out some of the main features of RightMessage below:
Personalized CTAs and lead generation forms
Multiple custom landing pages for your ad campaigns
Personalized surveys to learn more about your audience
Personalized product descriptions, banners, sales copy, and more
You can also integrate RightMessage with your customer data platform (CDP) to collect essential information about your audience all in one place.
Our digital marketing campaigns impact the metrics that improve your bottom line.
See More Results

WebFX has driven the following results for clients:

$3 billion
In client revenue

7.8 million
Leads for our clients

5.2 million
Client phone calls
Get access to the best website personalization tools with WebFX
Are you ready to get started with the best website personalization tools? WebFX can help!
With our award-winning software, PersonalizeFX, you can create personalized website experiences that resonate with your audience and encourage them to convert into paying customers.
And as a bonus, our team of over 500 marketing experts is always on hand to help you maximize your results with PersonalizeFX.
Get ahead of your competitors today. Speak with one of our strategists by calling 888-601-5359 or contact us online to learn more about how our industry-leading website personalization software can drive revenue for your company.
WebFX Careers
Join our mission to provide industry-leading digital marketing services to businesses around the globe - all while building your personal knowledge and growing as an individual.