What is ADA compliance? What does ADA compliance mean for websites? It's time for every company to find out.
What is ADA compliance?
ADA compliance testing refers to the Americans with Disabilities Act Standards for Accessible Design, which states that all electronic and information technology (like websites) must be accessible to people with disabilities.
It is not the same as 508 compliance.
More businesses are asking these questions due to the Americans with Disabilities Act (ADA) Standards for Accessible Design, which the U.S. Department of Justice released in 2010. These standards require companies to offer and maintain sites that people with disabilities can use and access.
With resources like the web content accessibility (WCAG) guidelines, as well as ADA compliance services, your business can start making your site accessible to users everywhere. That proactive approach can help your company not only grow, but also emphasize its commitment to serving users everywhere.
Bonus video: Intro to accessible web design
Keep reading to learn more about the meaning of ADA compliance, whether ADA accessible standards affect you, and how to create an ADA compliant website. If you want to speak to an expert, contact us online or call us at 888-601-5359 to learn about ADA compliance for websites.
Who needs to follow ADA requirements?
Now that you know ADA compliance's meaning, you're probably wondering whether it applies to you.
Organizations that need to adhere to ADA requirements include:
State and local government agencies
Private employers with 15 or more employees
Businesses that operate for the benefit of the public
Since ADA encompasses electronic and information technology, like the Internet and the websites on it, ADA compliance impacts almost all businesses and webmasters.
In most cases, sites (and their designs) aren't ignoring ADA requirements intentionally.
Even if ADA compliance doesn't apply to you, it's still important to create a site that everyone can use.
What happens if your website isn't ADA compliant?
Unfortunately, however, if your website isn't ADA accessible, you are liable.
A lawsuit, for example, could be filed against your company if people with disabilities cannot access or use your site. Even if your business didn't intend to discriminate or exclude people with disabilities from visiting or using your website, you could pay thousands of dollars in lawsuits.
That's why getting answers to the following questions matters:
What is ADA compliance on websites?
Who does ADA compliance affect?
How do you become ADA compliant?
Even though the U.S. Department of Justice hasn't released official ADA compliance guidelines, it has provided recommendations.
Your company wants (and needs) to use these recommendations to start making your site and user experience ADA compliant.
How can I achieve ADA compliance for my website?
Now that you know the meaning of ADA compliance, let's talk about becoming ADA compliant.
When it comes to making your website ADA compliant, the go-to recommendation revolves around the WCAG 2.0 guidelines. This resource outlines several recommendations or goals for making your website ADA accessible to users across the U.S.
The core principles that guide WCAG include:
Perceivable: You want users to have the ability to perceive all the information that appears on your site, like text, images, video, and more. Even if a user can't see your website's text or listen to your website's video, you need to provide an alternative.
Operable: You want users to have the capability to navigate your site and use all its features.

Any user, for example, should have the means to use your main navigation, as well as any site tools, like calculators.

Understandable: You want users to have the means to understand your website content. That means users can understand your site's text, images, videos, and tools. For example, your site may include instructions for using a feature, like a calculator or a contact form.
Robust: You want users to have the ability to receive the same experience, even if using assistive technologies.

People reading your content versus those using a voice reader, for example, should get the same content even if it's delivered differently.
How do those principles, however, translate into actionable items for ADA compliant websites?

Good news, the WCAG compiled all its principles into an easy-to-follow checklist. This checklist consists of three levels:
Level A: Build a website that some users can access.
Level AA: Build a website that almost all users can access.
Level AAA: Build a website that all users can access.
For ADA compliance, most organizations recommend meeting Level AA requirements.
How to become ADA compliant with the WCAG 2.0 Level AA guidelines
If you're looking to start with the Level AA WCAG 2.0 guidelines for ADA compliance, follow these rules:

| Rule | Action Item |
| --- | --- |
| Captions | For all live video, provide captions. You can add captions to your live videos using software or professional services. |
| Audio descriptions | Provide audio descriptions for all pre-recorded content. You can also add a link near the content that directs users to your audio description. |
| Contrast ratio | Maintain a contrast ratio of at least 4.5:1 for text and images of text. Exceptions include large text or images of large text, logotypes, or incidental text or images of text. |
| Text resizing | Allow users to resize site text (without any assistive technology) up to 200%. The resize must not cause a loss of content or site functionality. This ADA compliance item does not apply to captions or images of text. |
| Images of text | Avoid using images that feature mostly text to convey your content unless users can customize the image or the image is essential. If you want to use these kinds of images, like for pull quotes, substitute them using CSS, which can stylize text. |
| Navigation options | Offer users more than one option for locating a page on your site, unless that page is the result or step in a process, like completing an online checkout. Adding an HTML sitemap, site search, and consistent navigation menu can help you accomplish this to-do. |
| Headings and labels | Use headings or labels to describe the topic or purpose of content. Aim for descriptive and straightforward labels or headings. You should also label all site elements, like a pricing table or contact form. |
| Focus visible | Anyone accessing your site with a keyboard should have the ability to see the keyboard focus indicator — or the outline that appears on a form field — on-site elements like links, form fields, and menus. Add this feature to your website with CSS. |
| Language | For any website content that isn't in your default language, add a language attribute to the page. A site that uses English, for instance, may add a language attribute for a page with content in French. |
| Navigation consistency | Provide a consistent navigation location and organization for users. Your navigation menu, for instance, should always appear in the same spot (like the left-hand side) and with the same menu items. |
| Identification consistency | Site elements with the same function should have consistent identification. You can label and name these elements, for example, and use identical alt text for elements with the same purpose. |
| Error suggestion | Offer users suggestions for fixing input errors, like the format of a phone number in a contact form. You can provide correction recommendations via text. |
| Error prevention | Any pages that generate legal commitments or financial transactions, modify or delete user-controlled data, or submit user test responses must be reversible, checked for errors, and confirmed before submission. Create an order confirmation page, for example, or allow users to cancel orders within a specific period. |
If you have a WordPress website, you can also install an ADA compliance plugin to streamline the compliance process.
Get started on these items, and your business can move towards making your website ADA compliant.
More accessibility resources
Need help becoming ADA compliant?

Achieving ADA compliance for your website can seem challenging, especially if your web design and development team doesn't have much time available. Becoming ADA compliant, however, is critical, as a lawsuit could cost your business thousands of dollars.
If you want to make your website ADA accessible now, versus later, WebFX can help.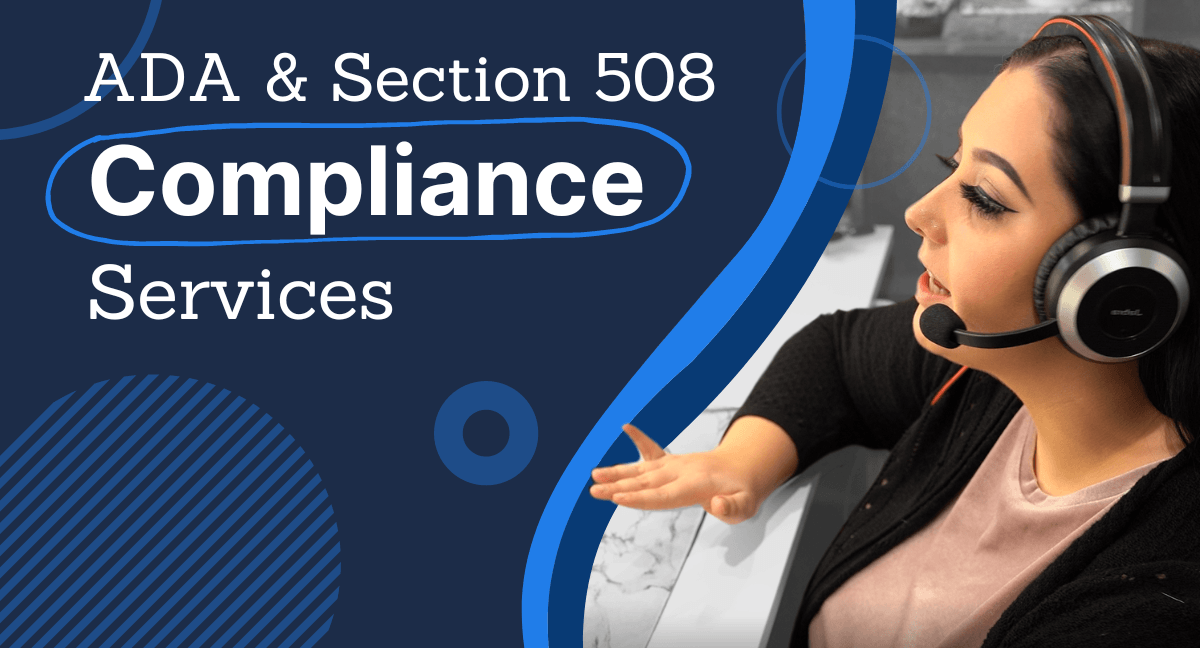 With our ADA compliance services, our experienced web design and development team can ensure your site meets ADA standards. Learn more about how our team can help, and more about our ADA compliance pricing by contacting us online or calling us at 888-601-5359 today!