While Amazon drives more than 40 percent of online sales, the Amazon Buy Box accounts for almost 85 percent of purchases — which is why it's kind of a big deal to Amazon sellers and vendors. What is the Amazon Buy Box, though, and how can your products win it? Keep reading, and we'll explain everything you need to know about the Amazon Buy Box!
The first step to increasing your SMB's Amazon sales is getting a FREE proposal.
One of our experts will be in touch within 24 hours!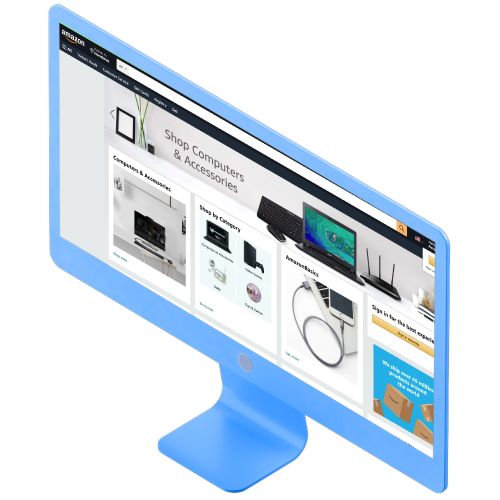 What is the Amazon Buy Box?

The Amazon Buy Box refers to a box that appears on the right-hand side of product listings. It features the product's price, shipping, and seller information, as well as the, "Add to Cart," button.
Why is the Amazon Buy Box a big deal?
While consumers don't pay much attention to the Buy Box, it has a tremendous impact on a seller's sales and revenue.
Why? Because shoppers rarely browse a product's other sellers, unless they're looking to buy a product used. Instead, shoppers click on the product listing, see if it meets their needs, and tap, "Add to Cart." It's not often that they even investigate the Buy Box winner — or if they do, they like what they see, from fast shipping to five-star reviews.
That's because Amazon's Buy Box formula ensures that only trusted, reliable companies win the Buy Box. As a seller, that's an immense perk. Without hesitation, shoppers add and buy your product.
It's an action that contributes to your sales and revenue goals, as well as builds your brand awareness among consumers as Amazon shoppers continue to purchase your Buy-Box winning product.
How does the Amazon Buy Box formula work?
For Amazon, it's critical to provide shoppers with the best possible experience — which is why it developed a formula for its Buy Box. With its Buy Box formula, Amazon promotes trusted sellers to shoppers, encouraging them to buy from these sellers for the best experience. How does Amazon determine who's a trusted seller, though?
By reviewing these 10 factors:
Seller status: If you want to win the Buy Box on Amazon, it's only available to Professional Sellers. Anyone can become a Professional Seller, but as a Professional Seller you must pay a monthly fee, in addition to your selling fees.
Product condition: Per Amazon's Buy Box formula, only new products can win the Buy Box. So, if you're selling a used product, the algorithm will exclude your listing. While some sellers contest this requirement, it helps ensure that shoppers receive new, undamaged goods.
Performance metrics: Amazon also analyzes a series of performance metrics, including late shipment, refund, and cancellation rates, when determining the Buy Box winner. In short, you want to provide the best possible service to shoppers to improve your performance metrics.
Inventory status: The Buy Box formula also considers your product's inventory status. If your product sells out, you can't win the Buy Box. That's why inventory management is a crucial part of not only selling on Amazon but also succeeding on the platform.
In-stock consistency: Amazon looks at not only the current inventory status of your product but also your overall consistency when it comes to keeping products in-stock. Again, inventory management is essential to winning the Buy Box — and winning customers.
Product price: As a part of providing shoppers with the best experience, the algorithm behind the Buy Box also reviews the cost of your product. It's critical that your business offers competitive prices — and that includes your charges for shipping, tax, and handling.
Fulfillment options: Another factor the Amazon Buy Box formula considers? Your fulfillment options, which can range from in-house to Fulfillment by Amazon (FBA). Amazon views FBA to have a perfect order fulfillment score, which is one reason why companies use the service.
Shipping times: For maximum shopper satisfaction, Amazon needs its sellers to offer fast and reliable shipping. That's why the Amazon Buy Box formula looks at your promised shipping times and actual shipping times.
Order defect rates: A seller with a history of order defects will have a difficult time winning the Amazon Buy Box. That's because the algorithm looks at your short- and long-term order defect rates (ODR) and expects an ODR of less than one percent.
Customer feedback: Amazon also reviews your shopper feedback from the past 30, 90, and 365 days — its algorithm also considers your overall time on Amazon, like if you're a new or established seller. If you want to win the Buy Box, you'll need positive reviews.
The Amazon Buy Box algorithm operates 24/7, which means it's always assessing your performance — as well as your competitors' — on Amazon. Based on your grade, plus that of other sellers, Amazon determines who wins the Buy Box.
What about Amazon Buy Box rotation?
As a seller, you've probably heard a few businesses talk about the rotation of the Amazon Buy Box. Depending on how competitive the market is for your product, you could see Amazon pass your Buy Box to multiple sellers in a 24-hour period.
In short, it's more than winning your Buy Box — it's also about keeping your Buy Box. When it comes to Amazon Buy Box rotation, there are two scenarios:
Simple Buy Box Rotation: In this instance, Amazon's Buy Box formula decides to share the Buy Box between two or more sellers. How often you win the Buy Box depends on you and your competition's performance.
Complex Buy Box Rotation: In this scenario, the differentiating factor for Amazon's Buy Box algorithm is your price point, which typically leads to a price war between sellers. In other instances, however, a factor besides price influences the algorithm's decision.
Due to the complexities of Buy Box rotation, as well as the mystery behind it, managing your products to win their respective Buy Boxes can become a 24/7 commitment. That's why some businesses decide to invest in Amazon services that optimize your items for winning the Buy Box.
5 tips for how to win the Amazon Buy Box
While it can take a few months to win the Amazon Buy Box, there are several strategies you can adopt now to work towards your goal. We've compiled some of the best ones, a few of which you can start using today!
Get started on winning your Amazon Buy Box with these five tips:
Switch to FBA: While a paid service, FBA offers immense value when it comes to competing for the Amazon Buy Box. It provides perfect performance metrics for shipping times, as well as order fulfillment. Plus, it relieves your team of the pressure that comes with shipping orders.
Use product pricing software: For many Professional Sellers, automated repricing software is mandatory. That's why we recommend investing in a repricing tool, like Sellics and co, to automatically reprice your products to compete for the Buy Box.
Adopt a review management strategy: If you want to win the Buy Box, you need to interact with your shoppers. Develop a review management strategy for your business, such as a daily schedule for checking and responding to customer feedback.
Optimize in-house processes: Even if you use FBA, you need to ensure you're producing or receiving enough product to deliver to Amazon's various warehouses — otherwise, your product will sell out. Assess your in-house processes, partner relations, and look for ways to improve.
Monitor performance metrics: Review your performance metrics daily. For example, check your cancellation, refund, and order defect rate and see if they're below standards. Refund and cancellation rates need to stay below 2.5 percent — the ODR should remain under one percent.
Ready to use these actionable tips in your strategy, and win your Buy Box and more sales?
Get the 411 on the Amazon Buy Box
Want to learn more about the Amazon Buy Box? Join our newsletter at the top and receive exclusive strategies, videos, and tips from the industry's leading Marketing Specialists for Amazon. Or, get one-on-one assistance with your marketing for Amazon by checking out our consulting services!
WebFX Careers
Join our mission to provide industry-leading digital marketing services to businesses around the globe - all while building your personal knowledge and growing as an individual.