Amazon boasts more than 300 million active customer accounts, which is one reason why the ecommerce giant is now the place for companies to sell — and advertise — their products. With the popular Amazon advertising solution, Amazon Sponsored Products, you can reach your ideal target fast. By connecting with your target audience, whether everyday consumers or fellow businesses, you can bump up your revenue, brand awareness, and website traffic to become a leader in your market.
To do that, however, you need to read up on Amazon Sponsored Products. Enter our handy Amazon Sponsored Products guide — keep reading to start promoting your products!
Time to Level Up Your Sales
Our long list of services helps you grow every aspect of your business with marketing strategies that are proven to increase bottom-line metrics like revenue and conversions.
In the past 5 years, we've managed more than 12.9 MILLION transactions across our client base.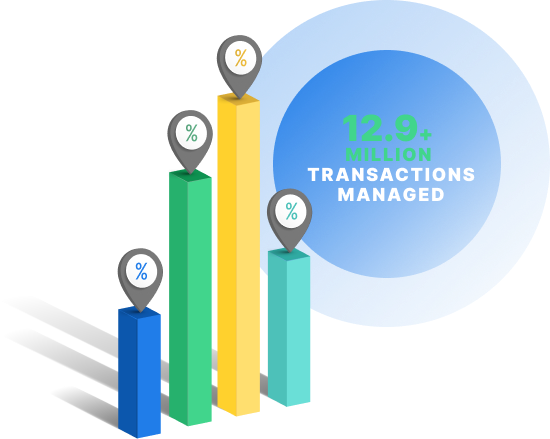 What are Sponsored Products on Amazon?
Amazon Sponsored Products are a part of Amazon Marketing Services (AMS), which encompass the ecommerce website's pay-per-click (PPC) advertising solutions.
Sponsored Products consist of keyword-targeted ads that display in product search results on desktop and mobile devices, as well as the Amazon app. Amazon Sponsored Products appear in three locations:
Top of product search results
Middle of product search results
Below the fold of product detail pages
Amazon Sponsored Products are similar to traditional PPC ads, like those that appear on Google.

For example, they notify users that they're Amazon-sponsored advertisements. They'll feature a gray tag above the title that says, "Sponsored." If your ad appears on a product page, however, it'll feature in a row of Sponsored Products.
That row will feature an orange tag that says, "Sponsored products related to this item." In addition, you only pay for your Amazon Sponsored Products when shoppers click on your ad.
Why use Amazon Sponsored Products?
The popularity of Amazon is unprecedented — it's responsible for more than 50% of online sales. That's why companies of all sizes, from fresh start-ups to established mid-sized businesses, maintain a presence on the ecommerce website. Why should you start investing in Amazon ads, though?
Specifically, why Amazon Sponsored Products?
Outrank your competition
For many businesses, it's a challenge to get discovered by shoppers as your product may not appear till the second page of search results. Or, it may get filtered out when shoppers choose to view products with four-star reviews — and to earn those, you need users to find your product. With Amazon Sponsored Products, you can boost your sales ranking or your product's ranking in search results.
That lets you outrank your competition and earn valuable exposure from shoppers in your target audience. It also lets you intercept potential customers. By appearing on product detail pages, for example, Amazon Sponsored Products can capture the attention of shoppers as they look for alternative options to the current listing.
Reach your ideal customer
With Amazon sponsored ads, as well as other Amazon ads, you can target and reach your ideal shopper.
By targeting specific, relevant keywords for each of your Amazon Sponsored Products, you can trigger your product listing to appear for audiences that meet your criteria. If those shoppers purchase your product, that can lead to gains in other areas. Maybe they leave a positive review, which helps your sales ranking, or they follow your company on social media, which lets you build a relationship with them to encourage future purchases.
Minimize your ad spend
The advantage of Amazon Sponsored Products, as well as other ads on Amazon, is that you can optimize and minimize your ad spend.
Like traditional PPC ads, you control how much you want to spend each day and for every click — for all Amazon ads, the average cost-per-click (CPC) is $0.35. That provides you complete control over your advertising budget. Plus, you can modify your campaign while it's active.
If an Amazon Sponsored Product doesn't earn the click-through-rate (CTR) that you'd like, for example, you could modify your keywords during the campaign. Even better, if your Amazon sponsored ads lead to an influx of sales and your inventory runs out, Amazon will automatically pause your campaign. That way, you're only paying for valuable clicks, versus ones that wouldn't result in a sale.
Maximize your ROI
One of the reasons why businesses like Amazon Sponsored Products is because they provide a return on investment (ROI).
As an example, Sun Products Corporation, a household product manufacturer saw a 500 percent return on their investment, solidifying their confidence in Amazon Sponsored Products. For the best ROI, it's critical that you optimize your product listing for search. That can include revamping your listing's title and description to feature relevant keywords, as well as making the description easy-to-read for users.
Who qualifies for Amazon Sponsored Products?
Before you dive into this type of Amazon ad, it's vital that you make sure your company's eligible to create Amazon Sponsored Products.
In most cases, you probably are, but make sure that your account is active in one of the following areas:
Vendor Central: This is an invite-only platform for manufacturers and distributors that work directly with Amazon. In short, Amazon purchases your products in bulk and then resells your products to shoppers. To earn an invite, you can request one from an Amazon buyer representative or wait for them to approach you.
Advantage Central: This is a self-service consignment program that's for publishers, music labels, and other owners of creative content. It is not for resellers of books, music, movies, and other media content.
Kindle Direct Publishing: This platform, otherwise called KDP, is for self-publishers of digital and physical books. Amazon does not charge a fee for publishing digital and physical content. It also provides publishers with a 70 percent royalty on sales.
If you're active on one of these three platforms, the products that you want to promote will need to meet Amazon's Buy Box requirements — which include having an Amazon Professional Seller account, which requires a monthly subscription. For reference, the Buy Box is the "Add to Cart" button on Amazon. That makes your product the default choice for shoppers.
If a shopper wants to purchase from another seller, they have to take the additional step of comparing seller ratings, prices, and more. If your listing wins the Buy Box, it's more likely that users will purchase from you, versus other sellers. It's critical to mention that your listing must not only qualify for the Buy Box but win the Buy Box to maintain an Amazon Sponsored Products ad.

That's why it's vital that you keep your prices competitive. It's also worth the time and investment to ensure your listings feature high-quality images, as well as an easy-to-read product description — Amazon recommends having bulleted lists. Each product will also have to meet additional standards, which Amazon doesn't fully reveal to sellers.
What we do know, however, is that Amazon wants sellers that provide a positive customer shopping experience and a well-reviewed product to win that the Buy Box.
How to create Sponsored Products on Amazon
Ready to make Amazon sponsored ads? Start with these seven steps:
1. Login to AMS account
Get your Amazon Sponsored Products ready for launch by logging into your AMS account — if you haven't made your account, you can start now by registering with your Vendor Central, Advantage Central, or KDP account.

After you create or log in to your account, you'll arrive at your dashboard. Here, you can create your Amazon ads by selecting the yellow, "Create a Display Ad," button which will appear in a box titled, "Amazon Advertising."
2. Choose sponsored products
Next, you'll see three options with the following titles, "Sponsored Products," "Headline Search," and "Product Display." Since this is a guide for Amazon Sponsored Products, we'll select the first option, "Sponsored Products."

3. Select products to advertise
Now, you'll choose the products you want to advertise under, "Choose products to advertise." Here, you can search for your product by name, as well as by brand name, such as Amazon Basics. For faster results, use your product's Stock Keeping Unit (SKU) or Amazon Standard Identification Number (ASIN).

When your results load, you can do a few things:
Add all the listings on the page to your ad group and campaign
Add individual listings to your ad group and campaign
Add variations of individual listings to your ad group and campaign
While you may want to add multiple listings to a single ad group, it's best to have an ad group for each product or individual SKU. The reason is that, while Amazon does reveal the keywords associated with a click, sale, or impression, it doesn't show which product earned traffic from that keyword. If you're selling multiple models of bath towels, for example, you wouldn't know whether "Towel A" or "Towel B" generated traffic from the keyword, "bathroom towel." By making an ad group for each SKU, however, you will — and that gives you valuable data for future ad campaigns.
4. Customize campaign name and budget
Once you've picked your sponsored products, you can set the following parameters:
Campaign name
Daily budget
Duration
It's important to note that Amazon requires a minimum budget of $1 per day. Amazon's recommendation is generally higher, with the ecommerce website recommending a minimum daily budget of $10 for the best results. For your campaign duration, you do have some flexibility.
You can start your Amazon ads that same day — they generally take about an hour to go live — or you can designate a set timeframe. This feature is helpful if you like to prepare ahead of time, such as for seasonal demands or holiday promotions.

5. Select targeting type
Next, you'll choose one of the following targeting types and add your CPC bid:
Automatic: If you're creating your first set of Amazon Sponsored Products, Amazon recommends choosing automatic targeting. This type of targeting generates relevant keywords automatically, based on your product's information and shopper behavior. It applies a single bid for the entire ad group.
Manual: If you have data from your last set of Sponsored Products, Amazon supports the use of manual targeting. This type of targeting relies on your past advertising analytics and keyword research, as you're providing the keywords and customizing the bid for each keyword.
If you're unfamiliar with advertising on Amazon, as well as keyword research, automatic targeting is a helpful option. Plus, Amazon finds that within two weeks of running your campaign, you should have enough data to create a campaign with manual targeting. No matter what you choose, Amazon will request a form of payment at this time.

Now, if you're creating a campaign with automatic targeting, you can move onto step seven.
6. Add keywords and bids
Ready to publish a campaign with manual targeting? If you choose manual targeting in the previous step, a new menu will appear that will allow you to add keywords to your campaign, as well as customize the bid for each. The menu consists of three options:
Use suggested keywords
Enter researched keywords
Upload keyword file
Amazon recommends targeting at least 30 words at the start of your campaign. As you gather more data, however, it's advised to scale your keywords to up to 50 words — this is a goal that's achievable within the first few months, according to Amazon.

You'll also see the dropdown menu, "Match," which consists of the following keyword match types:
Broad match: Amazon recommends broad match, which is the default selection. This option provides the widest traffic exposure because it triggers your ad when a user searches your targeted keyword — no matter the word order. It also targets variations of your keywords.
Phrase match: With this keyword match type, your ad appears when a user searches for your exact keyword or a phrase that includes your keyword. Amazon recommends phrase match when you want more relevant traffic.
Exact match: For the most relevant traffic, Amazon suggests using exact match. This keyword match type requires a user to enter your exact keyword for your Amazon Sponsored Products to appear. So, while you may see less traffic, the traffic you do see will come from the shoppers you want.
Negative phrase and exact match: To refine your advertising traffic even more, you can use negative phrase and exact match. With this keyword match type, you're not only requiring users to enter your specific keyword but also eliminating your ad from specific searches.
If you're only starting to use Amazon Sponsored Products, they recommend broad match. When you combine broad match with automatic targeting, you gather a lot of valuable data that can provide insight for future campaigns. For more experienced advertisers, Amazon suggests phrase match and exact match.
They also advise utilizing at least two keyword match types, which can help you narrow your audience to the shoppers you want.
7. Launch campaign
Once your Amazon Sponsored Products campaign is set-up, review the following before launching it:
Products
Campaign name
Daily budget
Duration
Targeting
Keywords
Bids
If you're utilizing automatic targeting for your Amazon sponsored ads, you don't have to worry about reviewing your keywords or bids. Once you're satisfied with your campaign, you can click, "Launch Campaign," at the bottom of the page. Within an hour, you should see that your campaign's live — if not, reach out to the Amazon team.
Going forward, make sure you check on your campaign two to three times a week in your Amazon Sponsored Products dashboard.
The first step to increasing your SMB's Amazon sales is getting a FREE proposal.
One of our experts will be in touch within 24 hours!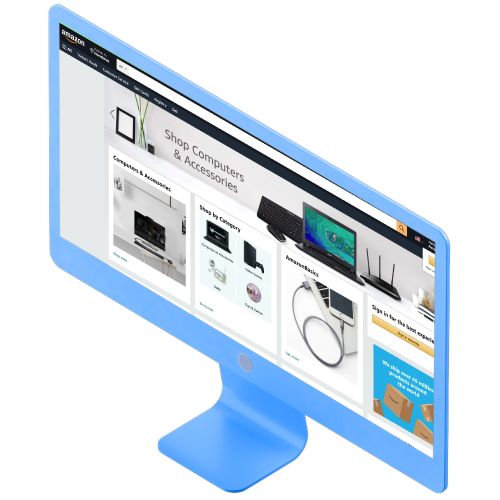 Got tips for Amazon Sponsored Products?
Have suggestions for improving our guide to Amazon Sponsored Products? Let us know at @webfx!
How is your website's SEO?
Use our free tool to get your score calculated in under 60 seconds.
Get posts by email
Join 200,000 marketing managers and subscribe to Revenue Weekly!
"*" indicates required fields
WebFX Careers
Join our mission to provide industry-leading digital marketing services to businesses around the globe - all while building your personal knowledge and growing as an individual.