May 20, 2022
7 minute read
The WebFX team is made up of more than 450 subject matter experts in digital marketing, SEO, web design and web development, social media, and more. Together, they've helped WebFX's clients earn more than $3 billion in revenue from the web — and that's just in the past five years. @webfx

Comparative Advertising
Comparative advertising is a powerful marketing strategy that effectively compares products or services to competitors, helping consumers make informed decisions.
Want to prove to your audience that your brand is better than the competition? Comparative advertising is a marketing technique that showcases comparisons between you and your competitors, so you can highlight your strengths and raise awareness for your brand.
Learn more about this effective advertising strategy, its unique approach, and whether your business could benefit from comparative tactics with this guide from the experts at WebFX. Sign up for our newsletter to get digital marketing insights delivered right to your inbox every month!
What is comparative advertising?
Comparative advertising is a marketing tactic that compares two or more goods or services. When a company presents its products as superior — whether by using generalizations or by directly naming a competitor's offerings — they're engaging in comparative marketing.
These side-by-side comparisons usually highlight one product's value, cost, or features over competitors. You'll let your target audience know why you're their best option, whether they're looking for landscaping services or a new skincare brand.
Comparative marketing can take many forms, including print, television, digital ads, or social media marketing campaigns. Nearly any industry can use these advertising tactics, too. Whether you're in food service, insurance, technology, automobile, or banking, there's a way to stand out from your competition.
The rules of comparative advertising
While you might be eager to jump into comparative advertising for your business, this strategy involves legal and ethical ground rules. In 1979, the Federal Trade Commission (FTC) recognized the benefits of comparative marketing and set guidelines for fair marketing tactics in the U.S.
First, you can't disparage a competing business. That means you can't produce false statements or mislead the public about another company and its products or services. That's a good rule of thumb regardless of the law — customers aren't likely to support a deceptive company.
Secondly, you must be able to prove any claims you make about a competitor or your products. This rule keeps advertising standards high and truthful. Your marketing campaign can use statistics and facts to elevate your products or services while highlighting the competition's shortcomings.
Each country has its standards when it comes to comparative advertising.
Why should you use comparative advertising?
Comparative advertising offers a range of advantages for your brand and can be a powerful marketing strategy. By showcasing comparisons between your brand and competitors, you can make your brand appear more attractive, raise awareness, and get more leads that have the potential to become your customers.
It's important to note that comparative marketing may not be preferable for everybody. You need to know how receptive your target audience is to comparison advertising and follow ground rules to be successful. When properly implemented, comparative advertising allows you to highlight your excellent qualities compared to the competition. You will be able to capture the attention of your competitors' existing customers and entice potential customers to consider your brand.
Comparative advertising examples
Looking for ideas when it comes to creating your comparative marketing ads? Get inspiration from these real-world examples showing how you can highlight your strengths against competitors.
Verizon vs. AT&T
While this first comparative ad is not a recent example, it demonstrates how effective this strategy can be if you highlight your strengths against your biggest competitors. Verizon is showcasing a map of its impressive 3G coverage, setting it apart from AT&T's 3G coverage as shown below.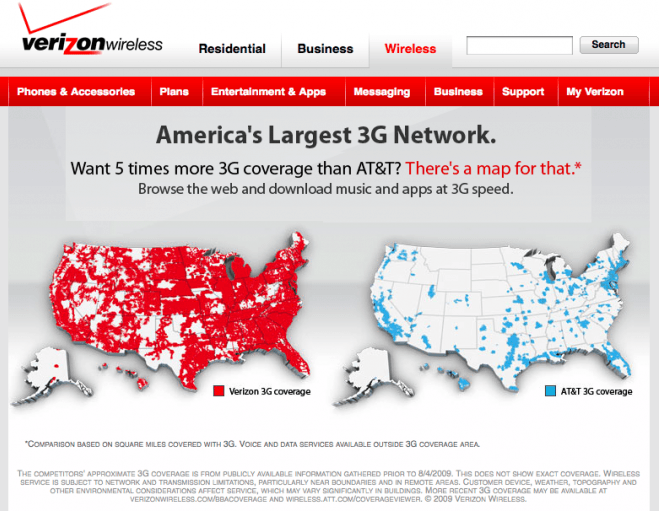 Burger King vs. McDonald's
In the competitive fast-food industry, it's important to grab the attention of potential customers when they see your ad and persuade them to choose you over the others. In this combative ad example by Burger King, they focus on the larger size of their Whopper compared to the Big Mac. This method can attract hungry customers and help them decide what to choose when craving burgers.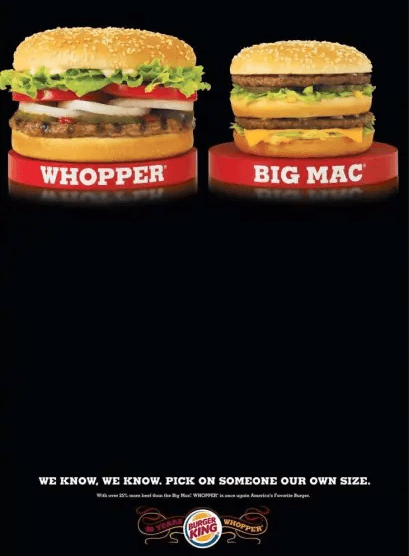 Coca-Cola vs. Pepsi
The never-ending back and forth between two of the most popular soda brands shows excellent points on dealing with your competitor's combative ads. This long-time battle brings entertainment not just for consumers but also for marketers as it provides a crucial reminder to always consider the viewpoint of the customers.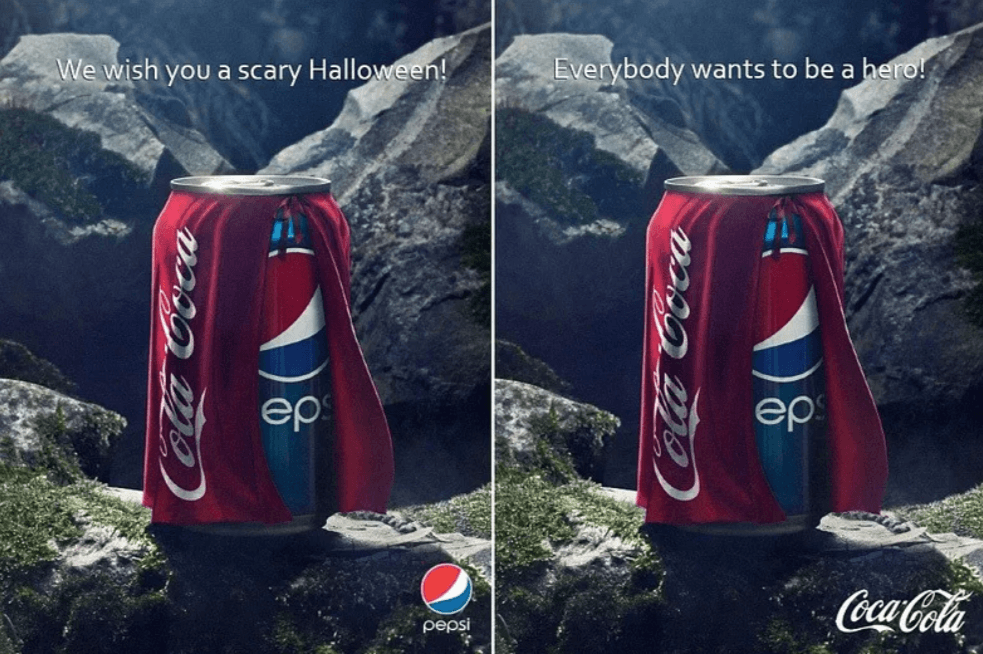 4 tips for developing a successful comparison advertising strategy
Since comparative marketing includes a broad range of approaches, your business has many options for an advertising campaign built around comparisons. Consider these tips to develop an effective strategy and drive results.
1. Consider your brand image
Before you start an advertisement putting down your closest rival, consider whether a combative marketing strategy is the right path for your business. Your brand's image relies on many factors, including how you interact with your competitors. Determine if a comparative approach fits your style.
For example, if your company is in a fast-paced industry with many competitors and you need to establish your brand, a comparative strategy is probably a great choice. It allows you to set your business apart and make a memorable splash in the market. In an intense environment, your audience will understand a more confrontational approach — and they'll likely respect you for it!
However, keep your audience in mind. Some people don't like when a company goes after other businesses — it can seem aggressive. If you want your business to be friendly and approachable, you should consider a more gentle advertising strategy.
2. Direct or indirect comparisons
If you've decided on using a comparison advertising strategy, your next step is to determine if you want to make direct or indirect comparisons. Each approach has its unique advantages along with potential drawbacks.
Direct comparative advertisements name a specific product or service from your competitor. For example, Pepsi has an entire ad campaign targeting Coca-Cola that hopes to prove that one soft drink is better than the other. This type of marketing is a bold choice — if you directly name a rival, you'll be held to stricter disparagement and substantiation rules. You may also confuse your audience with multiple brand names, logos, and features in the same advertisement.
Indirect comparisons take a general approach that doesn't specifically name a particular brand. Businesses may even create a fake product that represents their closest competitors to make a point without citing them by name. This strategy gives your audience an anchor point — a familiar product they can use as a baseline to understand how your goods or services are better — without naming opponents.
Either way, keep it light. The key is to make your point while staying within the bounds of fair competition.
3. Launch new products
Comparative advertising is a great way to introduce a brand new product or service to your audience. When you compare your goods to another brand's, you'll show that you understand the existing market and have features that go beyond what's currently available.
4. Prepare for counter-ads
If you're going after another company's services, you should expect them to retaliate, especially if you use their name or logo. After all, if someone tried to outdo your business, wouldn't you want to respond? That's why it's essential to keep your comparative advertising light, truthful, and fact-supported.
Learn more about digital advertising with WebFX
If comparative marketing and comparison ads sound like the right fit for your business, reach out to the WebFX team today. Our digital marketing experts have over 25 years of experience developing customized advertising plans for businesses in every industry. We deliver real results — check out reviews and testimonials from more than 1020 satisfied clients.
Give us a call at 888-601-5359 or contact us online to learn more and get started today!
The WebFX team is made up of more than 450 subject matter experts in digital marketing, SEO, web design and web development, social media, and more. Together, they've helped WebFX's clients earn more than $3 billion in revenue from the web — and that's just in the past five years.

@webfx

WebFX is a full-service marketing agency with 1000+ client reviews and a 4.9-star rating on Clutch! Find out how our expert team and revenue-accelerating tech can drive results for you! Learn more
Cost Per Click (CPC) Calculator
Do you advertise on platforms that charge per click? Use our calculator and figure out exactly how many clicks will fit within your budget.
Calculate Your CPC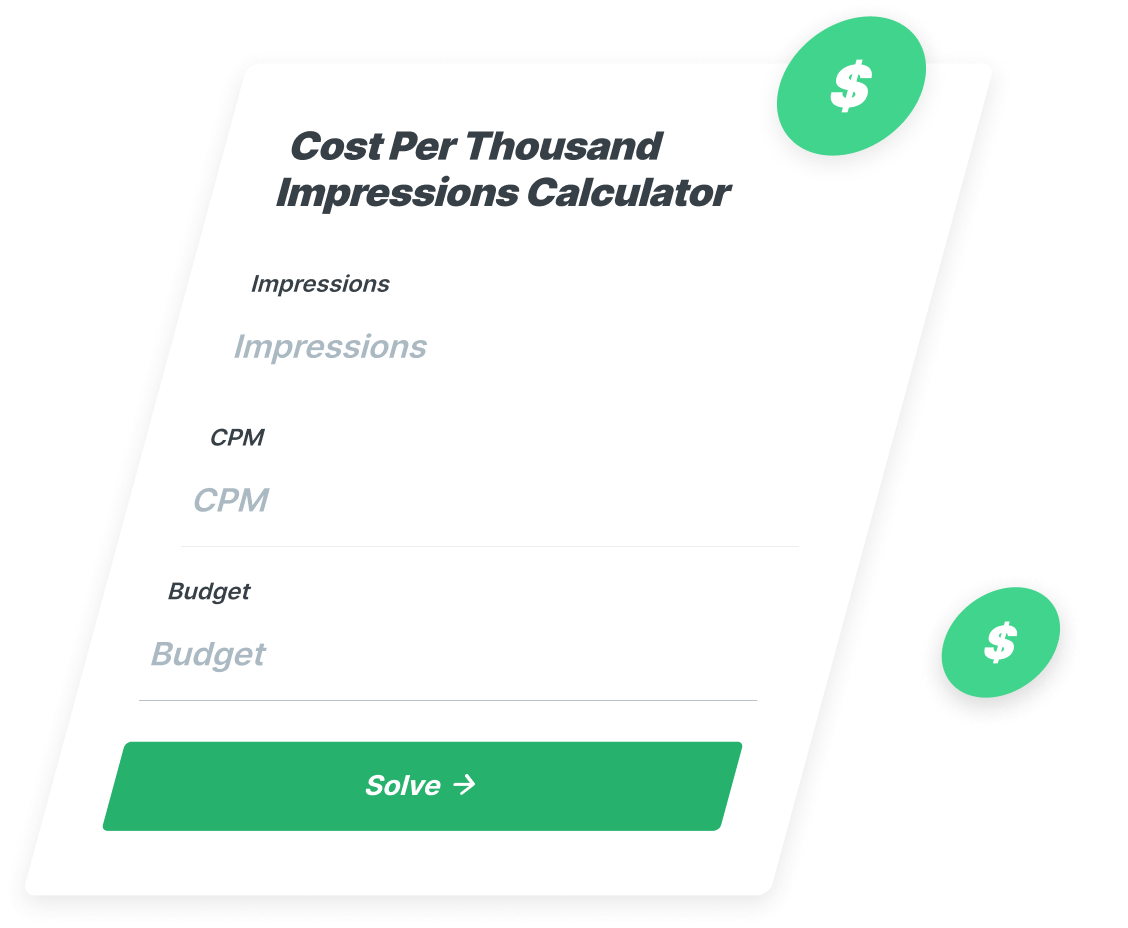 Unlock the Potential of PPC for Your Business
See how WebFX helped another company increase quote requests from paid search.
See How We Did It
Cost Per Click (CPC) Calculator
Do you advertise on platforms that charge per click? Use our calculator and figure out exactly how many clicks will fit within your budget.
Calculate Your CPC