Social media is a great tool for reaching large audiences and can be extremely effective for brands trying to connect directly with consumers. But does that mean that it is only useful for B2C companies? Although it presents a challenge for B2B businesses, successful social media marketing is possible.
It can increase brand awareness, keep customers up to date on company news and updates, and help build relationships with other businesses and consumers. All social networks have the potential for marketers, but in this post, we'll just focus on the biggest one: Facebook. With 890 million daily active users, the odds are in your favor that the decision-makers at the businesses you want to work with are on the platform.
Read more to find out how you can connect with them and start using Facebook to market your B2B company.
74% of people use social media when making a purchasing decision.
Make their decision easy with a stellar social media presence. See how your brand can level up by requesting a no-obligation proposal today.
One of our experts will be in touch within 24 hours!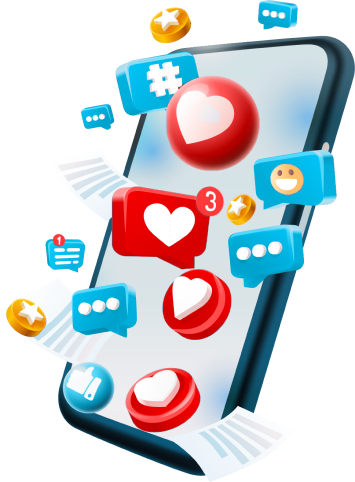 Find Out why we think simon cowell cracked the code to facebook marketing
Use Targeting
You've probably heard by now that Facebook's organic reach for businesses is decreasing. Only a small percentage of the people who like your page will see your posts in their news feeds, which is discouraging news for anyone who spends time maintaining a presence on the platform.
That being said, reaching new audiences on Facebook isn't impossible – it just might require some money. And while you may be averse to the idea of paying for something that used to be free, the targeting options available to businesses might make it worth your while. When I last logged in to my own personal Facebook account, this ad appeared after only a few seconds of scrolling: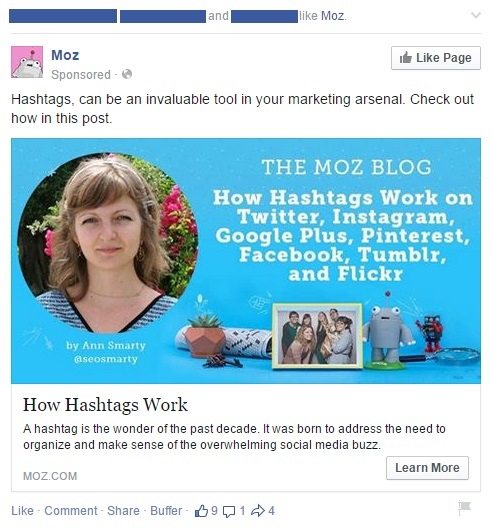 As a marketing professional (and one who has three other friends who already like the page), this ad is highly relevant to me.
In fact, I clicked "Like Page" after seeing it. While not every business has room in its marketing budget to expand into a new platform, the paid advertising options on Facebook could be worth testing out if you are serious about building a following on the platform. And if you're not sure how to get started with Facebook advertising, check out this post we did on promoted Facebook posts.
Share Content
One of the easiest ways to maintain an active account is by sharing content that already exists elsewhere to your timeline.
Instead of spending time creating entirely new statuses, photos, and videos for the platform, you can share content from your website, blog, and other social media channels. When sharing content, make sure that it has value to your target audience. By turning your company's page into a resource for individuals that are interested in your industry, you can build a following and generate trust in your brand.
Cisco does a nice job of creating content that appeals to a wide variety of potential customers, and sharing it on Facebook gives them even farther reach than their blog.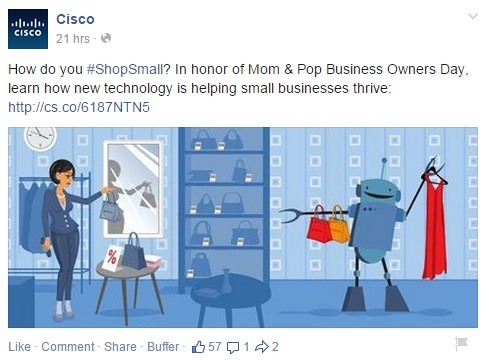 This article in particular is targeted towards small business owners, but the company does a nice job of sharing content that could appeal to many different sectors of its audience. In addition to your own content, you can also share content from other users and businesses.
While I don't recommend sharing information about direct competitors (for obvious reasons), if another company creates something your audience might find interesting or useful, it's not a bad idea to share it with them. This will not only save you time on content creation, but can also help you build relationships with other businesses. Adobe, for example, recently shared photo composition tips to its page.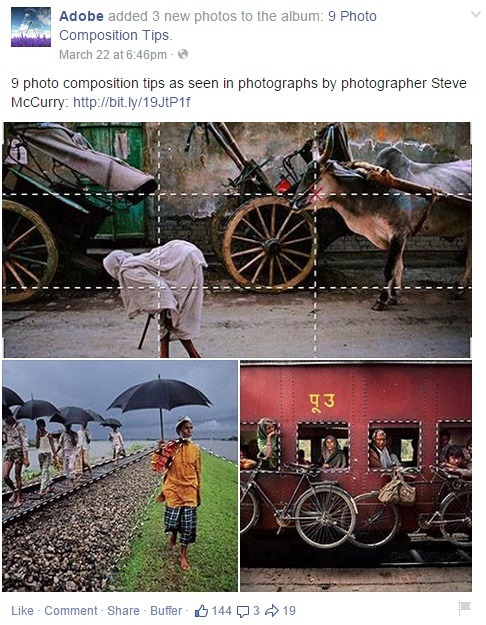 Although the article is from a photography blog that has no obvious connections to the company, the tips are likely useful to some of Adobe's customers.
Engage with Fans
In addition to letting you share posts, Facebook also gives companies the ability to interact with their fans. This can be as simple as posting a status or photo and asking for responses, or as complex as hosting contests and asking for user submissions. This post by Intel demonstrates how simple it can be to start a conversation: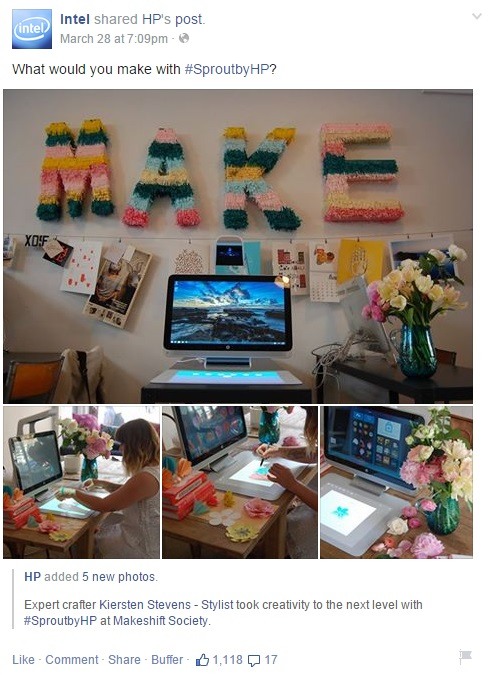 Instead of simply sharing HP's post, Intel added the caption "What would you make with #SproutbyHP?" This encourages users to leave comments, which is essential for engaging with customers.
This post also has the added benefit of allowing Intel to interact with HP, and possibly their customers. Although not every business has partnerships like this, it is never a bad idea to look for opportunities to build relationships with other companies and brands on social media.
Show Personality
As a B2B marketer, you likely use a professional tone for all of your content. While this is certainly advisable for traditional marketing methods, and even certain social networks like LinkedIn, Facebook has a more informal tone and can give your business the opportunity to show a more human side.
Even though you are marketing to businesses, it is important to remember that those businesses are made up of individual people. And unless your business has an ultra-serious tone and reputation to uphold, Facebook can be the ideal place to appeal to those individuals with a bit of transparency and personality. GE regularly posts fun content to its Facebook page, which goes a long way in making the technology company seem more personal.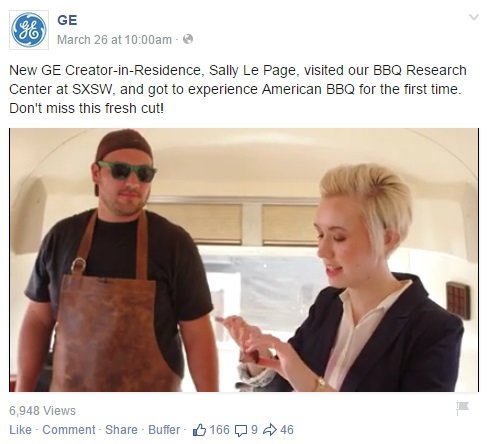 In this video, a new GE employee tries American barbecue for the first time. Although there are a few scientific explanations and diagrams thrown in, it is mostly just a short, entertaining look at what employee life at the company is like. Even if your company doesn't have the budget to sponsor exciting events or spend hours creating high-quality video, it isn't difficult to post "behind the scenes" content.
Photos of our parties, fundraisers, and coffee runs perform well on WebFX's social media accounts, and they only take a few minutes to upload.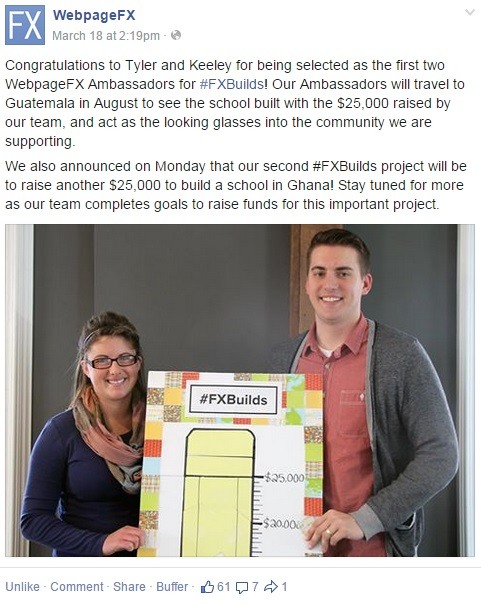 In this case, we just snapped a photo of two of our employees who are going on a trip as part of a recent fundraising project. The important part isn't the production value – it's showing a more personable side of your company. Although it will take some experimentation to get your Facebook strategy just right, it is entirely possible to use the platform for B2B marketing purposes.
Are you a B2B marketer who has had success with Facebook? Are there any strategies I've missed for connecting with potential clients? Let me know in the comments below!
How is your website's SEO?
Use our free tool to get your score calculated in under 60 seconds.
Get posts by email
Join 200,000 marketing managers and subscribe to Revenue Weekly!
"*" indicates required fields
WebFX Careers
Join our mission to provide industry-leading digital marketing services to businesses around the globe - all while building your personal knowledge and growing as an individual.