So your company decided to get on board with social media marketing, and you've started by creating a Facebook page. You've filled out your basic information, posted an update or two, and are ready to start engaging with customers. There's only one problem: You don't have any followers.
Without an audience, social media can't help your company, regardless of how well-written and timed your posts are. And you can't just expect your customers to find you, either – you need to have a clear plan for reaching potential customers and encouraging them to like your page. Today, I'll discuss 5 strategies for attracting (and keeping) an engaged audience that will help you reach your social media marketing goals.
1. Provide as much information as possible
When you created your company's Facebook page, did you fill out all of the optional fields? If not, your first priority should be to include as much information as possible on the page. Select the "About" tab on your company's page, then identify any fields that are incomplete.
When you place your mouse over each piece of information, the "Edit" button will display.

Many businesses simply list their address, phone number, and hours of operation and expect customers to use that information to either make a phone call or an in-person visit. But your social media profiles should be more than a business listing.
If you haven't already, include a links to your company's website. No matter how informative your Facebook page is, it should ultimately be designed to drive traffic to your site, making this arguably the most important piece of information. You should also link to any other social media profiles you have.
If a visitor likes your Facebook page, there's a strong chance they'll want to follow you on other channels like Twitter, too. You had to choose one category for your business when you signed up (like "company"), but you can also add several subcategories (like "web design agency") to give users a better idea of what exactly you do. You can also add both a short description and a long description, as well as a company overview.
This may seem redundant, but these descriptions are all used in different locations of Facebook's site. The short description, for example, can show up in search results, while the long description is what users see when they click the "About" tab on your page. If your company has a mission statement, or even a set list of values you follow, you can list this in the "Mission" section.
Then, list any awards you've won in the "Awards" section. The "Products" section is another underutilized section that can help visitors better understand what you have to offer. And even if you don't sell any physical products, you can use this field to list your company's services.
Once the informational part of your page is complete, make sure that you have a high-quality profile photo that is reflective of your business. In most cases, a high-resolution image of your company's logo is the perfect choice. You'll also need to include a header photo at the top of your profile.
This can be anything from an image of your storefront to a group photo of your employees, as long as it's original.
2. Invite your friends
Now that your page is complete, you need to tell people it exists – and some of the best people to start with are the ones already on your friends list. Click the dropdown list labeled "Promote" at the top right of your page, then select "Invite Your Friends."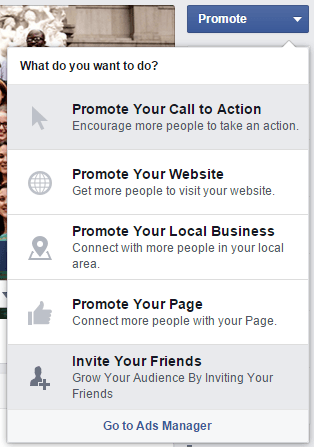 From there, you'll be able to send any of your Facebook friends an invitation to like the page. And although there's no cutoff on how many invitations you send, I recommend that you start with the family members and friends that are already familiar with your business before moving onto acquaintances.
If you're friends with your coworkers or employees, you should send them invitations as well. These first few followers lend a little social proof to your page and help you gain more followers by sharing your page and posts with their friends.
3. Promote your page on other channels
After you've gained a few followers on Facebook, it's time to branch out to other channels. The best place to begin is your company's website. One of the easiest ways to gain followers is simply adding links to your social media pages right in your header and footer so they appear on every page on your site.
On our site, for example, we have links to our Facebook, Twitter, and Google+ pages that show the follower count for each.

Including these numbers is a good idea once you have a few hundred followers on each. But if you're just starting out, simple buttons with logos of each social network will suffice.
From there, you can also use Facebook's Page Plugin to make it easy for visitors to like your page without even visiting Facebook. All you have to do is copy and paste the code they provide, and you'll get a box that looks something like this: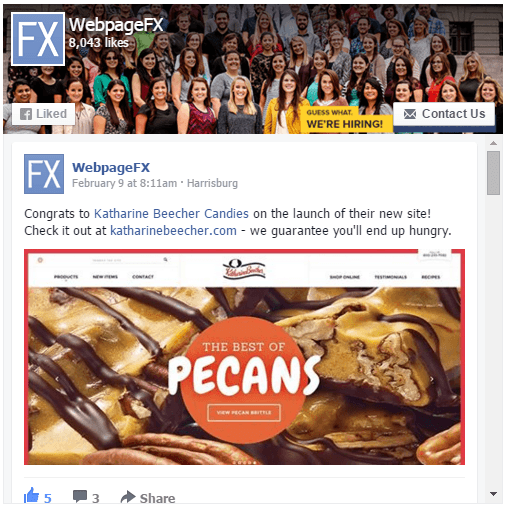 You can customize a few of the options, like the size and whether you want to show your most recent post. Ideally, your site visitors will click through to your page anyway, but these plugins allow you to gain followers directly from your site.
Once you've updated your site, you can move to your other marketing channels, like email. If you send out an email newsletter on a regular basis, you can add links to your social media profiles in the header and footer. In our newsletter, for example, we link to all of our social profiles at the very bottom:

Although the buttons are small, and certainly not the focus of our emails, they let subscribers know where they can find us.
If you already use other social platforms, like Twitter or LinkedIn, you should promote your Facebook page on those channels as well. Share a link to the page at different times for a few days, and you should see some steady growth. That being said, you shouldn't use this as a long-term strategy.
If all you do on your social media accounts is tell your followers to visit your other accounts, you won't have many followers for long. After you've updated your online marketing materials, you should take a look at the traditional advertising methods you use. Do you send coupons to your customers?
Place ads in newspapers? Advertise on billboards? Even though you don't have the simplicity of direct links with these media, they can still be a great way to let customers know that they can find you on Facebook.
4. Be active
Once you've added your Facebook page to your other marketing materials, users will begin to check out your page. But before they click "Like," they want to see that you post the kind of updates they actually want in their newsfeeds. This means that it's important to post content regularly, even before you have a large number of followers.
If your posts aren't interesting – or worse, you don't have any – you won't gain many followers, and you'll probably lose the followers you already earned. Even more importantly, you won't benefit at all from the users who do follow you. The key to effective social media marketing is to create a schedule and stick to it.
Many new social media marketers attempt to come up with posts on the spot, but this strategy rarely works. Instead, set aside some time each month to create a calendar for the upcoming month, complete with topic ideas. Then, use social media management tools like Buffer to write and schedule posts well in advance.
You'll never have to worry about logging in at a specific time to type out updates or upload photos, so your main priority can be monitoring and responding to comments.
5. Run Facebook ads
Much like all other social media platforms today, Facebook can be entirely free to use, but also offers paid advertising options. You may be hesitant to spend money on Facebook ads, like Facebook dark posts, but if you're serious about using the platform for marketing, promoting your page is a great way to attract followers. To get started, click the "Promote" dropdown at the top right of your page, then select "Promote Your Page."
You can use Facebook's built-in advertising platform to determine how you want these ads to look.
Then, your company will show up as a "Suggested Page" in users' newsfeeds.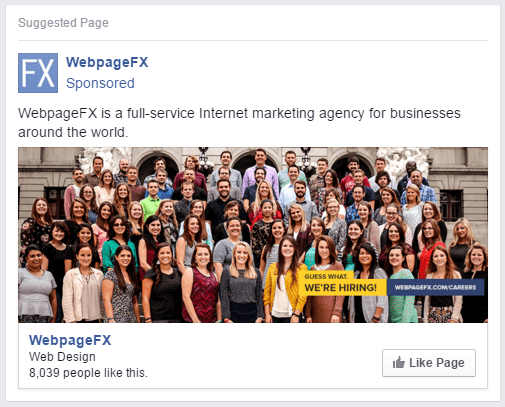 You can target a specific audience based on basic demographic information like age and location, as well as specific interests. If you have a clear idea of who your target audience is, this will make it easy to reach them directly.
As with any advertising platform, though, I recommend that you run a few test campaigns before investing a significant amount of money. And as you begin to gain followers, you may even adjust your strategy to focus less on attracting new followers, and more on boosting specific posts.
Ready to start growing your social media audience?
Managing your company's social media presence can be challenging, especially in the first few months. But using the strategies above, you can find and engage with the users that are most likely to become customers.
And if you've successfully built a social media following for your company, I'd love to know how you did it! Let me know in the comments below which strategies were particularly helpful in attracting new followers.
How is your website's SEO?
Use our free tool to get your score calculated in under 60 seconds.
Get posts by email
Join 200,000 marketing managers and subscribe to Revenue Weekly!
"*" indicates required fields
WebFX Careers
Join our mission to provide industry-leading digital marketing services to businesses around the globe - all while building your personal knowledge and growing as an individual.