Reddit is one of the most popular websites on the Internet today. However, unlike most other social media — which people use to keep each other updated about their lives — Reddit is designed specifically as a home for niche communities.
People join Reddit to talk about different topics that interest them, from sharing work anecdotes to asking for advice on painting techniques. It attracts a wide range of users, and that makes it a perfect place to advertise your business.
But how does Reddit advertising work? What's the best way to advertise on Reddit? Keep reading to learn the answers to those questions. Then subscribe to Revenue Weekly, our email newsletter, for more digital marketing tips!
What to do before advertising on Reddit
You don't want to immediately advertise on Reddit. Instead, you'll want to take the time to lay some groundwork and establish a place for yourself in the community there.
Here's a guide to what to do before you start your Reddit advertising!
1. Create a company profile
The first step toward advertising on Reddit is to create a company profile. To do that, you'll just create a regular Reddit profile and use your business name.
If you already have a personal Reddit account, create a new one for your business. You won't want to do any advertising from your personal account. Likewise, you'll want to associate a work email — not a personal one — with your account.
You can create your account by going to Reddit's website and clicking "Sign up."
2. Determine your audience
Once you create your account, the next step is to determine your target audience. To do this, look at your existing customer data and any audience targeting you may have already developed for other advertising campaigns.
Reddit is unique because, unlike other forms of social media, it's made up of countless niche communities known as subreddits. Each subreddit is built around a particular topic or interest, from r/Basketball to r/Spiderman to even r/advertising.
You can search through these subreddits to find the ones that best align with what your business offers. So, if you sell cooking products, r/Cooking would be an excellent place to go.
If you're having trouble finding relevant subreddits, you can go to the subreddit r/findareddit to help you figure out which communities are best suited to your needs.
3. Join in on community conversations
Once you've identified the subreddit(s) where you want to advertise, it's time to begin engaging with people there. But don't start marketing just yet!
Because Reddit is designed to help users find like-minded people and form communities built around specific interests, Reddit users don't tend to take kindly to businesses entering those communities just to advertise to them. So, you don't want to show up and start marketing immediately.
Instead, take the time to immerse yourself in the communities of your choosing. Answer any questions you're qualified to answer and provide advice, insight, or fun factoids in applicable threads.
Users will still see that you're a business, but when you engage with them informationally before you start marketing anything, they'll develop a more trusting relationship with your brand.
Your 4-step guide to advertising on Reddit
Reddit marketing is like other forms of social media marketing, but the thread-like nature of the platform makes it challenging to use to promote your business. That's why we've laid out this guide to advertising on Reddit.
Keep reading for a step-by-step breakdown of how to use Reddit to drive conversions!
1. Create an advertising account
When you've spent some time creating a positive, trustworthy brand image on Reddit, you can begin to look into running Reddit ads. But to do that, you must first create an advertising account.
To set up your advertising account, visit https://ads.reddit.com/ and fill out the necessary information. Use all the same information you used to create your company profile so that the two are in sync.
You'll then go to an advertising dashboard. Before you start using it, make sure you take the time to enter your billing information and add any permission preferences to grant access to other members of your team.
2. Craft an ad campaign
At this point, it's time to create your Reddit ads.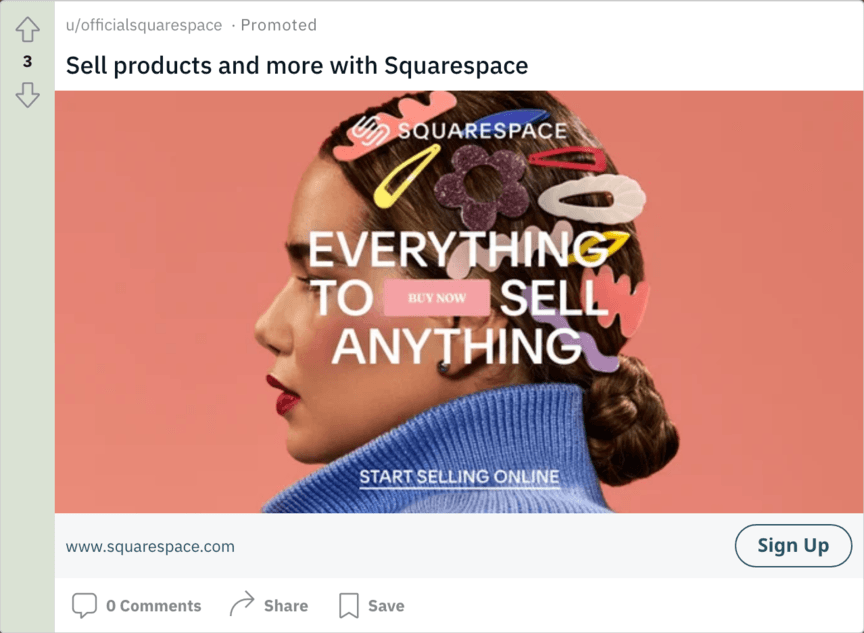 The first thing you'll want to do is sketch out what you want your ads to look like and what you want them to say. Figure out which products or services you want to advertise, and then write some compelling ad copy.
Create ads that tap into the interests you've observed during your time engaging with the community on the subreddit(s) where you intend to advertise.
3. Set up your campaign on Reddit
To set up and launch your campaigns, follow these steps:
Go to your advertising dashboard.

Click

Create Campaign.

Choose a campaign name, payment method, and objective. Then click

Continue.

When prompted, select your ad budget.

Choose your audience targeting options.

When prompted, set up your ad scheduling to determine the days and times you want people to see your ads.

Plug in your ad copy and any images.

When you've walked through the entire form and filled out all the necessary information, click

Review

to look over your ad.

Click

Submit

and wait to receive an email from Reddit confirming when your campaign goes live.
When walking through the steps listed above, pay attention to the information you fill out, and ensure that you optimize everything for your target audience. Once you're through, your Reddit ads will start to appear in front of interested users.
4. Monitor your performance
Finally, you can monitor the performance of your Reddit advertising on your dashboard. The dashboard allows you to view several handy metrics related to your ads' performance, including:
Impressions

Total amount spent

And more!
Viewing these metrics can help you see how much you've spent on your ads and how well they're performing. From there, you can reoptimize them to boost those metrics.
As with any form of paid advertising, metric tracking and analytics are vital for success. Without tracking and reoptimizing your ads, they won't improve, and you'll struggle to drive the conversions you desire.
Time to Level Up Your Sales
Our long list of services helps you grow every aspect of your business with marketing strategies that are proven to increase bottom-line metrics like revenue and conversions.
In the past 5 years, we've managed more than 12.9 MILLION transactions across our client base.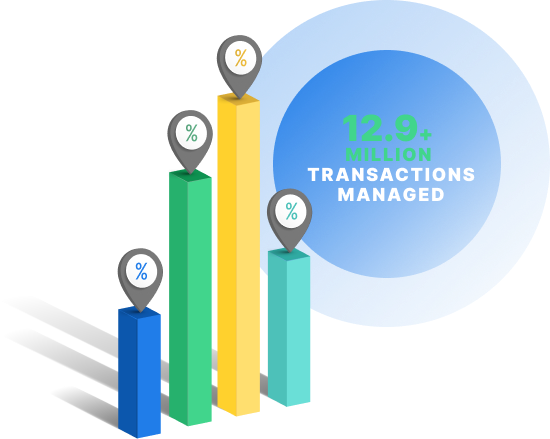 WebFX can help you optimize your Reddit advertising
When you partner with WebFX, you won't have to worry about whether your Reddit advertising campaigns are good enough. We have more than 25 years of experience with digital advertising, so we know what it takes to create high-quality ads.
As part of our social media advertising services, we'll work with you to develop campaigns that attract and engage relevant audiences of users. We'll also keep you informed of everything we do for your advertising.
To get started with us, just call 888-601-5359 or contact us online today!
WebFX Careers
Join our mission to provide industry-leading digital marketing services to businesses around the globe - all while building your personal knowledge and growing as an individual.