I'm not sure if you've ever had a look at the prices on some non-stock photography sites (pictures of Gummy bears for $769.00 anyone?), but they reach far beyond the budget of the typical designer/developer. However, many places online allow you to obtain high-quality stock photos for free, giving the average starving artist a chance to create wonderful works of art/design without having to use next month's rent on stock photos. Even expert designers such as those at WebFX in Harrisburg use stock photos, and these are some great places to find them.
Photos are super important to your digital marketing strategy, so don't disregard them just because they can be expensive.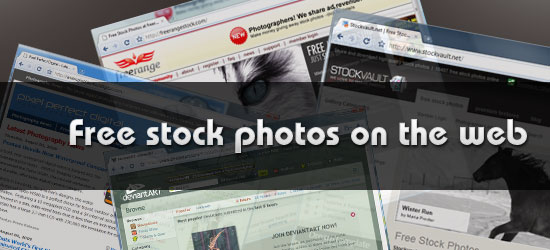 In this article, we review the 15 best places to free stock photos online for designers. Note: Although these sites feature free stock photos, you should read the terms, limitations, and licensing of each work that you use; read the fine print!
Dedicated free stock photo sites
1. stock.xchng

stock.xchng is all free, all the time. Their advanced search is only basic by paid site standards, but hey, did I mention that the service is free? They have over 350,000 images contributed by 30,000 photographers.
The one downside to getting photos from stock.xchng is that they're quite well known, so designers may find that the smaller subset of quality images on site are quite heavily used in many other places, making it difficult to be original. Stock.xchng is a Hungarian site and was founded in 2001. one of the most popular paid stock photo sites – iStockphoto, sponsors them. There's a good selection of illustrations and vectors for free on stock.xchng, which you just don't get with the big free sites. Aimed at: Web designers and web developers, illustrators, print designers

Their admirable goal is to provide stock photography for both commercial and non-commercial use, for free. They give away their collections with the hope that they are useful and enjoyed. A small team of in-house professional photographers supplies the photos in the site.
After each upload, the color and image is sharpened and they are keyword-tagged by professional photographers. This is a great place to get high impact and good looking pictures, but the focus is on quality, not quantity so the collection isn't as big as other sites. Aimed at: all creatives, most pictures are reasonable resolution

Morguefile is for creatives, by creatives. It started in 1996 and is highly recommended by many web design and development professionals. Morguefile currently contains 9,148 pages at 24 photos each page, and the photos are very good resolution.
It's called "morguefile" in reference to the term used for a place to keep postproduction creative materials. The photos are mostly great quality, and you can filter your results by several characteristics, which is handy. Keyword tagging is relatively basic, with between five and fifteen tags per photo, so use a few terms to search.
If you use a photo from Morguefile, you're asked to credit the photographer when possible. The site can be a bit slow to load sometimes. Aimed at: Illustrators, artists, designers, teachers and all other creative pursuits, according to the home page
4. Pixel Perfect Digital
The name is certainly not misplaced as the pictures on the site are quite polished, especially the illustrations. There are around 7,500 images on site currently. The photos, although quite small in number, look good and have been post processed by professionals.
Each photo has an accompanying short story, which can be quite handy, and certainly endearing! You can either browse categories or use the very basic search facility. Aimed at: Both web design and print designers (photo resolution is usually excellent)

Free Media Goo has a memorable name for a not-so-memorable site; it certainly has some good features, but is more a niche search engine. The site was created by web developers for web developers, hence the presence of free Flash and audio as well as stock photos. Alongside free stock photos, the site also has free textures, audio and Flash movies.
Unfortunately, the collection is tiny and many photos are a bit amateurish. Aimed at: Web designers and web developers, illustrators, print designers

openphoto.net has been collecting free photos since 1998, with contributors from all over the world. Many people use it is a photoblog site, so you might find many Flickr-style personal shots. Search is extremely simple (keyword only), but you do have the option to browse categories to find images (which is probably the easiest way).
Keyword tagging is very basic on the site and in many cases, a photo has only one tag. Unless your search is quite literal, you are better off browsing the categories of openphoto.net. Almost all photos have a Creative Commons Attribution-Share Alike license.
Aimed at: Web designers and developers – images are often too low resolution for many print jobs.

Flickr is one of the largest online photo sharing sites on the web. There's an enormous mix of complete amateur pictures and professional photographer images. The admin team at Flickr numbers almost 50, and the site was recently purchased by Yahoo!
so a great group of folks manages it. Use the Advanced Search and check the 'Creative Commons licensed' box to find pictures that can be used in your web design and development. The site has excellent tagging so it's quite easy to find images under the subject that you're interested.
Aimed at: web design and development professionals because most of the photos featured on the site have too low of a resolution for print design work

A reasonable sized collection of quite good photos is available at Stockvault. They have just over 16,000 stock photos from 4,000 photographers. All images are licensed under a Creative Commons attribution license.
The site began as the personal site of Bjorgvin Gudmundsson in 2001. Keyword tagging is quite basic, so explore the site with both the search option and the categories. The resolution is what most ordinary stock photo sites would call "small to medium". You can download pictures, logo templates, clip art, textures and backgrounds without signing up on the site. Stockvault has a nicer and friendlier user interface than many stock photo sites. Aimed at: mostly web designers
9. NASA

Yes, this image site is 'the' NASA. All photos are space themed, but the collection is large and the photos are very professional. Keyword tagging is good and the resolution is invariably 640px x 480px, so they're not ideal for print design.
Many of the shots are better as textures/repeating background than actual pictures. The size of the collection is substantially increased by checking the external collections. Aimed at: People interested in space exploration, but useful for web designers looking for textures or space themed shots

deviantART is a popular website for digital and traditional media artists to showcase their work. They have a great stock photography section on site. deviantART is a big site, with a big team and big ideas.
The site is full of personality, as the name suggests. The images are gorgeous, image resolution is enormous, you can download without registering anywhere, oh, and did I mention that the images are gorgeous? Aimed at: Artists, print designers, and web designers.
Free stock photo search engine

It was only a matter of time before someone found a way to aggregate free stock photo results and monetize the concept somehow, and that's what Everystockphoto does. There are a huge number of pictures indexed on this site, numbering in the millions. For example, there's over 67,000 results for the search term "clouds". You can search free stock photos from Morguefile, Freerange Stock, Photoxpress, Flickr, stock.xchn, NASA, Wikimedia Commons and more, in a single site. They have good sorting and filtering options to help you find the perfect photo, but not heaps of search options, though. You may be able to search all the different sites here, but you still have to sign up for accounts on the site that hosts the image.
Aimed at: Web designers and web developers, illustrators, print designers

The Creative Commons Search finds images through Google and Yahoo, Flickr, Blip.tv, jamendo SpinExpress and Wikimedia Commons. Probably the largest collection of free images in one place but beware, some search results may not be Creative Commons so do your homework before using a photo. You can search for a single term across quite a few different media quickly.
You can refine your results by commercial use and modification allowances. You have access to each site's own search features instantly, but have to log in to download the image in some cases. Aimed at: Web designers and web developers, illustrators, print designers
Free areas in paid sites

Dreamstime has one of the largest libraries of stock photos on the net. At the time of writing, they have just under 7 million images, and just under 80,000 contributing photographers. In order to stand out among the huge crowd, Dreamstime photographers often put their photos in the free section of the site.
A search for house, for example, yields 26 pages of 20 results each. The site has been online since 2000. Most free photos require no attribution to the photographer in your design. Photos at Dreamstime remain on the site indefinitely. Unfortunately, you can only search photos by keyword; there are no advanced search filters like orientation, color or model options, etc.
Aimed at: Web and print designers
14. Fotolia's Free Section
Fotolia is one of the oldest stock photo sites on the net. Their free section is quite good, but changes every day and the free photos that were there yesterday, may not be there the next. Fotolia has an office in France and their global headquarters in New York.
They offer ten to twenty free photos every day. If you have the time to download and tag all of them every day, you could build quite a library of photos. You won't find isolated shots, and photos are frequently just a tiny bit lower quality than you'd pay for.
Aimed at: Fotolia in general has photos, illustrations, vectors and videos for download for many digital media professions
15. iStockphoto's Free Images

iStockphoto is one of the most popular stock photo sites on the net, with excellent quality photos that are often Photoshop'ed to within an inch of their lives already (which is either a good or bad thing). iStockphoto has a responsive helpdesk and a comprehensive FAQ. They only offer one free image a week, but it is always high quality.
Free images from the last three weeks are kept available for download. Similar to Fotolia, you'll have to make it a habit to download and tag these photos yourself so you can search them on your own computer. Don't be afraid to use an image just because it is free.
It may still be effective. Web design for clients such as realtors, say, can get away with a free picture of a house because it fits the site and is still professional. Aimed at: Web designers and web developers, illustrators, print designers
Related Content
WebFX Careers
Join our mission to provide industry-leading digital marketing services to businesses around the globe - all while building your personal knowledge and growing as an individual.