7 Reasons Content Is Essential to Digital Marketing
Content marketing is one of the most popular buzzwords in marketing today.
In a lot of ways, content is a versatile marketing medium that can help any business in any industry. It's also affordable, easy to create, and dependable for long-term results.
Those are all nice benefits, but the real value of content marketing is its importance to digital marketing as a whole. In fact, content marketing is so important that it's essential to online marketing today.
Trying to launch a digital strategy without content is a lot like trying to drive a car without an engine — it just won't go anywhere. But what is content, exactly? If you'd like to speak to a specialist about content, you can reach us at 888-601-5359.
What is content?
Content is a general term used to describe any kind of textual, graphic, video, or interactive element on a website.
Content gives value to a website by giving users a reason to go to it in the first place. If a site is just a parked page — the default setting after you buy a domain name — nobody will go to it and it won't do any good for a business.
But when you fill your site with information about your business, industry, employees, and more, you have the chance to earn new customers.
If you work in retail, you can earn those customers by making additional sales on your site. If you work in a lead-based industry, you earn those customers by getting website visitors to contact you.
Both of these methods work well for growing a business, especially when you tailor them to your target audience. So, in a nutshell, content is the most important part of your site when you want to start digital marketing. But why is it so important? We answer that question below!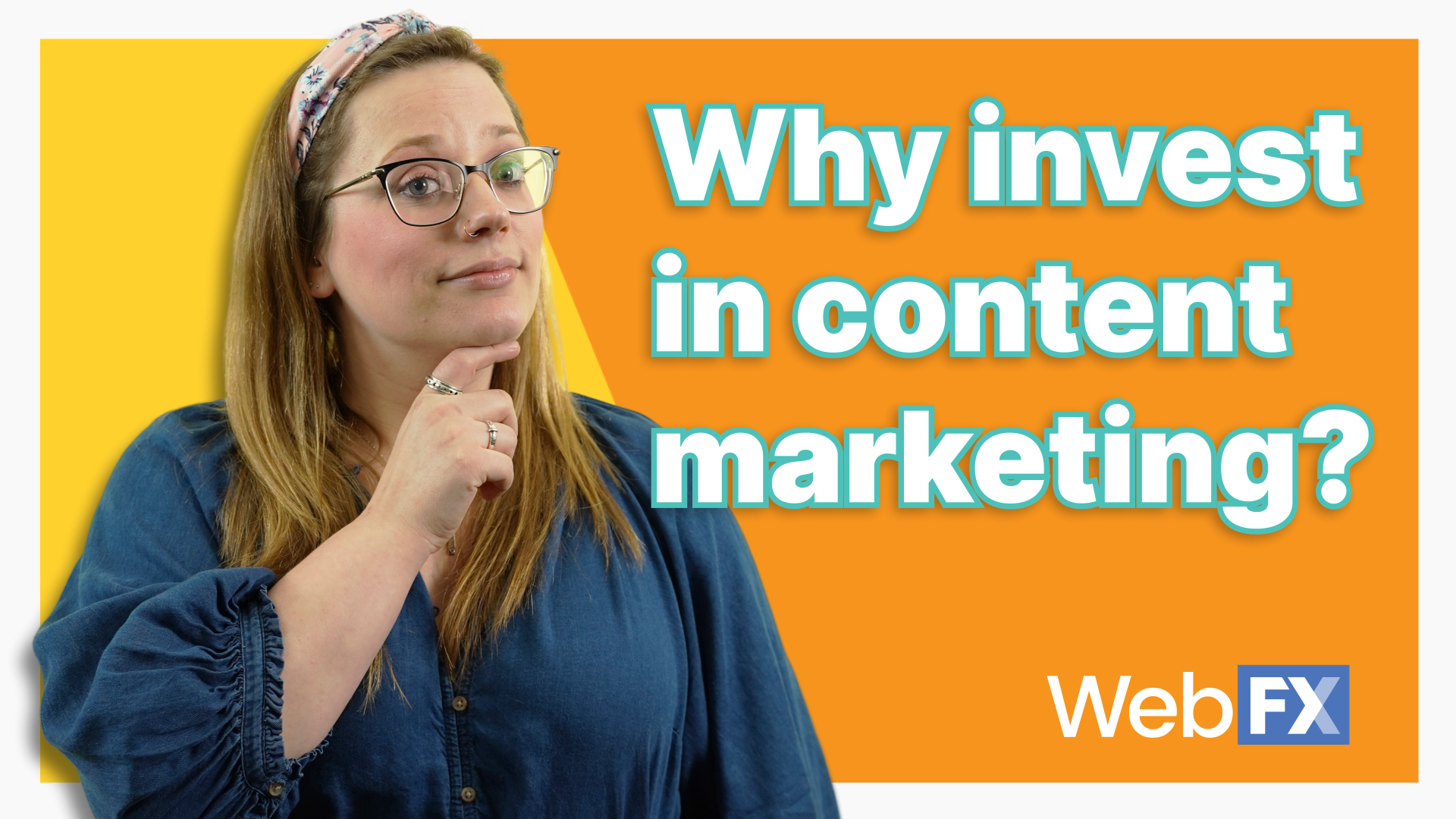 Why is content so important?
When your site has content, people have reasons to visit it, learn from it, and become new customers.
Without it, you may as well not have a website at all because it won't do anything for you. There are seven major reasons why content is important. By looking at them individually, we can get a better grasp of content in general and why it helps businesses grow.
1. Content informs your audience
First, content tells your audience about your business and industry. It answers those basic questions that many of your potential customers have. For example, a local bank may have a page on their site called "What Is a Mortgage?" to help first-time home buyers understand what's involved in the purchasing process.
That lets the customer understand their future situation better, and it also saves time for mortgage specialists who don't want to answer that question every time a new client comes along. (And as any business owner knows, time is money.) So when you create content that informs your audience, you aren't just telling them interesting facts — you're helping them make the right buying decision and saving time and money on your end.
That's a win-win. An informed potential client is that much closer to becoming a paying customer – and all because you took the time to make a page!
Your content doesn't have a shelf life, either. Once you post it to your site, it'll continue informing potential customers day after day, year after year — at no extra charge.
For example, if you write an article about garage door safety as a part of your garage door marketing plan, it will likely remain valuable months after publishing it, versus if you wrote a blog post about garage door design trends.
That alone is enough reason for most companies to start using content marketing. But there are still more advantages that any company can enjoy.
2. Content ranks in Google

Google is the world's biggest search engine. As a result, it fields more than 1 trillion queries every year from users all over the world. With that number, you can bet that someone in your area is using Google to research your industry. Creating content and posting it to your website is the best way to reach those potential customers.
To start, you first have to research the keywords that will help you reach your audience. Once you have a list of keywords that'll earn qualified traffic to your site, you can create content around those keywords and optimize it for search engines.
Then, include a call to action (CTA) at the end of each page to encourage your readers to convert into new leads or customers.
If you're selling a product, CTAs like "buy now," "add to cart," or "get yours" tend to work really well. For lead-based businesses, CTAs like "get a free quote," "get started," or even "contact us" are also effective.
After that, you can submit your new pages to Google individually. That'll help Google find them more quickly, which also helps them index your pages and show them in search results.
Now, you have to wait. This is the most tedious part of the content creation process, but it also gives you time to pursue other tasks — including more content production!
With that in mind, you (or your marketing team) can constantly work on new content to rank in Google every day. The more you post, the more you'll attract visitors to your site – and every one of them is a new potential customer. But showing up on Google is only the beginning. Content gives you another key advantage specific to search engines.
3. Content earns links from other sites
Content brings people to your site, and it's also the part of your site that earns links from other websites. Links are a key SEO ranking factor. Each one you get acts like a vote of confidence in Google's eyes, and the more you have, the higher your site will rank as a whole. That means that if you acquire enough links from other sites, you can create pages of content, add them to Google, and have them rank on the first page the day you publish them.
Typically, this is reserved only for the most powerful websites in the world — Facebook, Twitter, New York Times, and other big brands. But they all rank for major keywords like "social network" or "news."
Your business would target longer keywords that are less competitive, meaning you'd have an easier time getting to the top of those search results. So depending on your industry, earning a handful of links may be enough to get your site on the first page of search results for some keywords.
For other keywords, it may take a little longer. You don't have to be the biggest website online to succeed — but you'll need a few links to get you ahead of your competitors. So maybe you'll only earn a few links for the content you publish. Those few links may not let you fight against New York Times, but they could be enough to get you above your local competitors. And in a digital marketing strategy, that's what matters. Content can go more places than just search engines, though.
4. Content is shareable on social media
No matter what kind of business you run, you should always have social media accounts.
Facebook and Twitter are the two big cheeses in social media, but you can also use LinkedIn, Pinterest, Tumblr, Instagram, and Snapchat.
All of those social networks can help you promote the content from your site.
Facebook
On Facebook, you can post a link to your content with a brief summary of what it's about. That'll naturally earn interactions from your followers (including likes, comments, and shares), and it may even earn new followers to spread the word about your business.
Twitter
Twitter works similarly. You post a link to your content with a small summary, and anyone can find it if they follow you or look up the keywords you've used in your tweet.
LinkedIn
LinkedIn allows you to post entire blogs, if you'd like. But you can also post links to content, questions for your followers, and more. That can earn you hundreds of new connections, many of whom will be decision-makers at key businesses in your area.
Pinterest
Pinterest is ideal for any visual kind of marketing. Posting photos of your work, products, or staff is sure to get interest from other Pinterest users — especially if you're a retailer.
Tumblr
Tumblr makes it easy to connect with hyper-specific niches that may even be their own subcultures online. If you know your audience responds positively to inside jokes, animated gifs, ironic banter, or other atypical ideas, Tumblr is a great place to promote your business.
Instagram
Instagram is another major social network. It only uses images and videos, but can bring hundreds or thousands of users to your website. Instagram's image-centric user base loves photos of just about anything, and the network gives you tons of filters to use to make your photos look their best.
Snapchat
Last, you have Snapchat. Snapchat is based on showing photos or videos for only a few seconds at a time. But it's still a great way to engage users who like quick, bite-sized content. Currently, most businesses on Snapchat are larger brands, which means there's a lot of room for smaller businesses.
All of these social networks help grow your brand by exposing your name and earning traffic. To find the one that works best for you, make an account on each (they're free) and test them out!
As you do that and earn traffic, you'll encounter content's next big advantage.
5. Content earns conversions
Content is ultimately on your site to earn new customers, and every time one of your visitor takes action towards becoming a customer, it's considered a conversion. Those conversions are what help your business grow. Getting your content out there is the first step to earning conversions, but once it's there, how do you use it to get as many new customers as possible?
We've already discussed using CTAs. Those are the best ways to tell site visitors what to do when they're done with a piece of content. But you can also optimize each of your content pages for conversions. This is called A/B testing. It's the process of improving your site by one element at a time.
That element may be a button someone clicks to buy a product. It may be a CTA that's better at encouraging people to buy.
It could be any number of options on a page — even the words you use in the URL. But when you test each element one at a time, you can make small improvements with each test. Maybe you only increase conversions by 0.5% at a time.
Still, that's more customers than you earned before. It may only be one more customer, but even one customer will probably make up the cost of A/B testing (and then some). A/B testing is just one part of a larger strategy called conversion rate optimization (CRO).
When you make CRO part of your digital marketing strategy, your content can earn more and more customers for you every day.
Even with this advantage, content helps your brand establish less tangible goals as well. Some of them are essential to succeeding with a digital marketing strategy.
6. Content makes you an industry authority
When you create content for your site, you're telling the world that you know a lot about a certain topic. That topic is your industry. If you're a plumber, you may choose to discuss brass vs. PVC piping in houses.
If you're an electrician, you could give advice on how to upgrade 100 amp service to 200 amps. If you're a clothing retailer, you could write about current fashion and young up-and-comers in the design world.
All of these are viable options because they demonstrate expertise in an industry.
That expertise goes a long way — especially when your content starts earning links.
You're telling people that you know what's going on in your industry. Whenever someone links to you (or even mentions you), they're reinforcing that idea.
You can't measure that authority — it's just a belief that people have online. But you know when you have it. How?
You'll see an increase in links from other sites, mentions on social media, and overall conversions. That's a reflection of how much people trust you (and your brand). When you have that trust, you'll see a surge in revenue that follows. But still, there's one last advantage to content that none of these other points has hit.
7. Content is the foundation of every digital marketing strategy
If you want to launch a digital marketing campaign, you need content. Content is the basis for SEO because it includes the pages that rank in search results. Content is the foundation of PPC because it makes up the landing pages that draw traffic from your ads.
Content includes the blog posts you discuss on social media, the pages you optimize with CRO, and the words that improve your reputation online. No matter what you want to do, content lets you do it.
That makes content the beating heart of any digital marketing strategy. It's essential to success, and it has the potential to deliver on that success every day. If you've never tried creating content online, now is the time to start. Your business will thank you later.
WebFX is a premier content marketing firm
At WebFX, we know the value of content for every digital marketing strategy. In fact, we're home to dozens of leading content marketers who combine cutting-edge ideas with tried-and-true strategies to get the best possible results for all of our clients.
Now, we'll do the same for you.
Contact us today to create a content strategy that'll help your business grow online!
Earn a 20% greater ROI with WebFX