Today's ecommerce merchants have plenty of options when it comes to online payment systems. That's why, in this article, we'll be reviewing my top solutions for accepting payments online.
This list will help you understand some of the most popular online payment solutions and choose the right one for your business.
A quick primer on online payment methods
Before getting started, here are a few definitions to know related to online payment systems.
ACH payments are electronic credit and debit transfers, allowing customers to make payments from their bank accounts for utilities, mortgage loans, and other types of bills. ACH stands for Automated Clearing House and most payment processors offer ACH payment options to their customers, especially for monthly- and subscription-based transactions. Most payment solutions use ACH to send money (minus fees) to their customers.
A merchant account is a bank account that allows a customer to receive payments through credit or debit cards. Merchant providers are required to obey regulations established by card associations. Many processors (such as the ones listed below) act as both the merchant account and the payment gateway.
A payment gateway allows merchants to securely pass credit card information between the customer and the merchant and also between the merchant and the payment processor. The payment gateway is the middleman between the merchant and their sponsoring bank.
A payment processor is a company that a merchant uses to handle credit card transactions. Payment processors implement anti-fraud measures to ensure that both the front-facing customer and the merchant are protected.
PCI compliance is when a merchant or payment gateway sets their payment environment up in a way that meets the Payment Card Industry Data Security Standard (PCI DSS). The PCI DSS standard was created by the Payment Card Industry Security Standards Council to increase security of cardholder data and to reduce fraud.
9 of the best online payment platforms
You have lots of options when it comes to online payment methods. Here are nine of the top platforms for online payments:
1. Authorize.net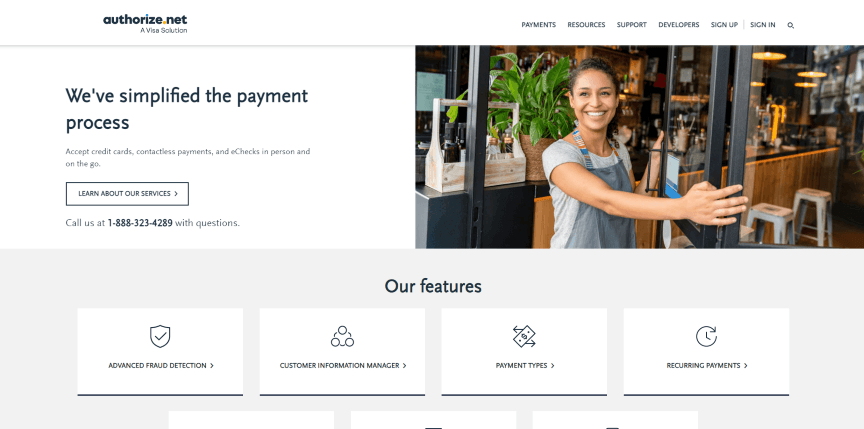 With a user base of more than 445,000 merchants, Authorize.net is one of the Internet's most widely used payment gateways. This payment solution from Visa has been around since 1996 and now handles more than a billion transactions per year.
Many widely used e-commerce platforms, such as Magento, Volusion, and X-Cart, integrate easily with Authorize.net.
Pricing: For an all-in-one solution that includes a merchant account and payment gateway, you'll pay $25 per month and 2.9% plus 30¢ per transaction. For a payment gateway only, you'll pay $25 per month, 10¢ per transaction, and a 10¢ daily batch fee.
Source: Authorize.Net pricing page
2. PayPal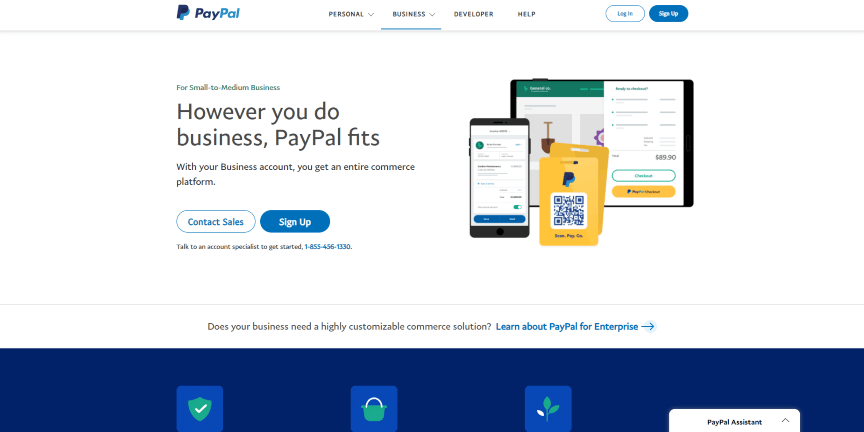 PayPal is the world's most widely used payment acquirer, processing over 19 billion payments in 2021. More than 30 million merchants and 400 million active customers use PayPal.
Payments are made using a user's existing account or with a credit card. Money can be sent directly to an email address, thus prompting the users to sign up for a new PayPal account.
In addition to taking payments, PayPal also allows its users to send money through the service, which is a feature that only a few online payment solutions provide.
Pricing: PayPal takes 49¢ per transaction plus between 2% and 4% for most types of domestic transactions and has no setup or monthly fees.
Source: PayPal merchant fees
3. Google Pay
Google Pay is Google's answer to PayPal. Google Pay allows users to pay for goods and services through an account connected to their Google profile.
A major benefit that Google Pay has over the competition is that millions of Internet users use Google for other services, making a purchase through Google Pay a simpler process.
Pricing: Google doesn't charge merchants any fees for accepting Google Pay. However, if a shopper uses a credit card through Google Pay in-store, the credit card company may charge a transaction fee.
Source: Google Pay Merchant Help center
4. Amazon Pay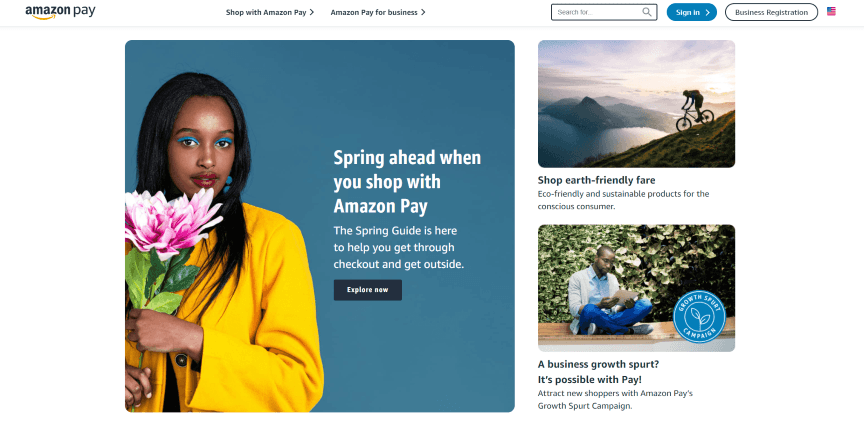 Amazon Pay allows shoppers to easily make purchases using the payment methods saved in their Amazon account online and by voice using Amazon Alexa. Merchants can add an Amazon Pay button to their checkout processes.
Pricing: Amazon Pay charges 2.9% plus $0.30 per transaction for domestic payments through web and mobile. For Alexa payments, Amazon charges 4% plus $0.30.
Source: Amazon Pay help center
5. Dwolla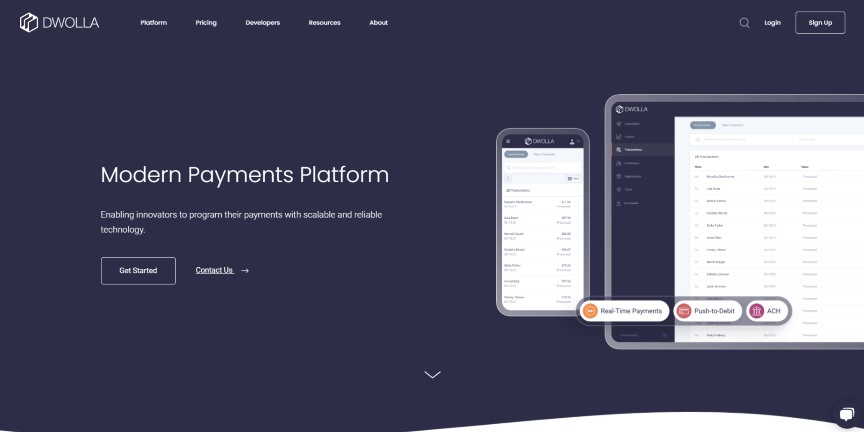 Dwolla is another payment platform option that emphasizes simplicity and security. It offers numerous features such as digital wallets, the ability to send up to 5000 payments at once, real-time payments to banks participating in the RTP® Network, and same-day ACH payments.
Pricing: Dwolla's pay-as-you-go plan includes a 0.5% fee per transfer. The company also offers flat-rate plans starting at $250, $1000, and $2000 per month.
Source: NerdWallet Dwolla review
6. Stripe
Stripe provides an excellent payment solution for web developers who would like to integrate a payment system into their projects using Stripe's robust API. By bypassing the traditional signup process, Stripe acts as a merchant account for its providers, handling all PCI compliance and merchant approvals.
Pricing: Stripe charges 2.9% + $0.30 per transaction with no setup or monthly fees.
Source: Stripe pricing page
7. Braintree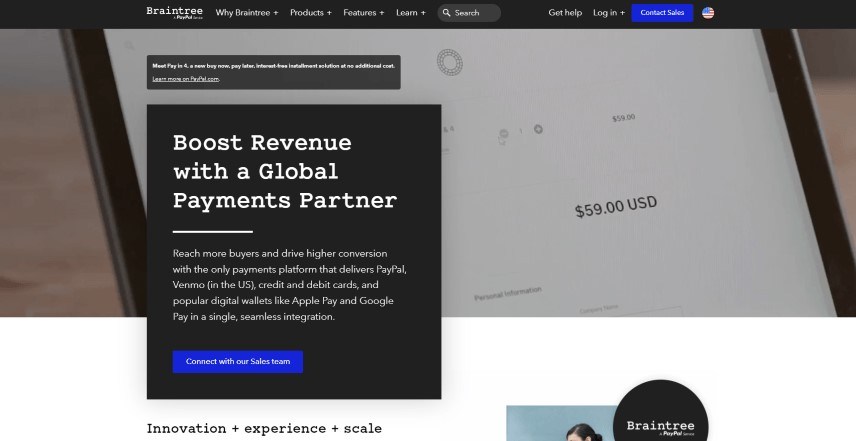 Braintree is an online payment gateway and merchant account solution known for working with popular tech startups such as Airbnb and StubHub.
PayPal acquired the company in 2013, and Braintree is now part of the PayPal ecosystem. Braintree, however, is geared toward companies with high sales volumes that need customization capabilities.
With Braintree, customers can also use a range of online payment methods, including PayPal, Venmo, debit and credit cards, Google Pay, and more.
Pricing: There are no set-up or monthly fees. Transaction fees are 2.59% + $0.49 per transaction for standard merchants and transactions using most cards and digital wallets.
Source: Braintree pricing page
8. WePay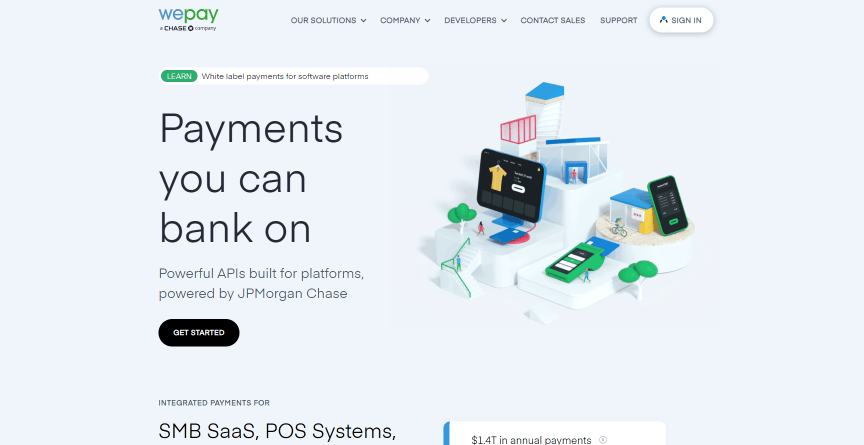 WePay is an online payment solutions company that provides payments infrastructure for independent software vendors and software platforms.
This infrastructure enables small businesses to accept payments through the software platforms. JPMorgan Chase acquired WePay in 2017, which enabled functionality such as same-day deposits to Chase bank accounts.
Pricing: Each software vendor or platform negotiates its own rate with WePay. If a vendor or platform chooses not to set its own rate, WePay's standard fee is 30¢ plus 2.9% per transaction. Source: WePay Terms of Service
9. Verifone (previously 2Checkout)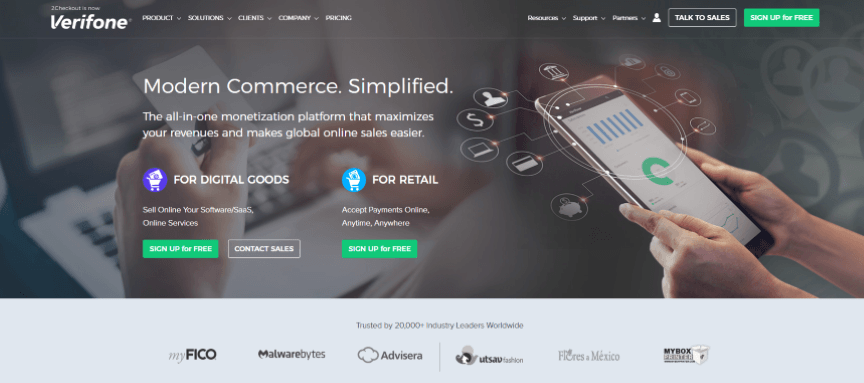 Verifone is a payment solutions company that began with point-of-sale hardware and now also focuses on software applications.
The company acquired 2Checkout in 2020, which enabled it to expand further into ecommerce. 2Checkout, which is now part of Verifone, offers various digital commerce solutions, including payments, billing, and subscription management.
Pricing: 2Checkout's 2Sell solution comes with fees of 3.5% plus $0.35 per transaction. Its 2Subscribe plan for subscription-based companies charges 4.5% and $0.45 per sale. The company's all-in-one solution, 2Monetize, comes with fees of 6% plus $0.60 per sale.
Source: 2Checkout pricing page
What about payments through mobile devices?
These two payment services allow merchants to accept credit card payments directly through their mobile devices, making it possible for devices such as the iPhone, the iPad and Android smartphones to act as a mobile point of sale (POS) checkout system.
Choosing the right online payment solution for your needs
There are plenty of online payment systems out there that you can use to conduct ecommerce activities. Choose one that's in line with your business objectives.
If you work with an ecommerce marketing agency, such as WebFX, ask your account manager what they suggest based on their experience. To get started with our ecommerce services, contact us online or call us at 888-601-5359.
WebFX Careers
Join our mission to provide industry-leading digital marketing services to businesses around the globe - all while building your personal knowledge and growing as an individual.