10 Excellent Online Payment Systems

In this article, we'll be reviewing my top 10 online payment systems for accepting payments on the Web. While many of the companies on this list have been available to online merchants for years, many are also now getting into new areas of online payments such as social commerce and in-store online card reader systems.
A Quick Primer on Online Payment Systems
Before getting started, here are just a few things to know about online payment systems.
What follows are 10 excellent online payment systems.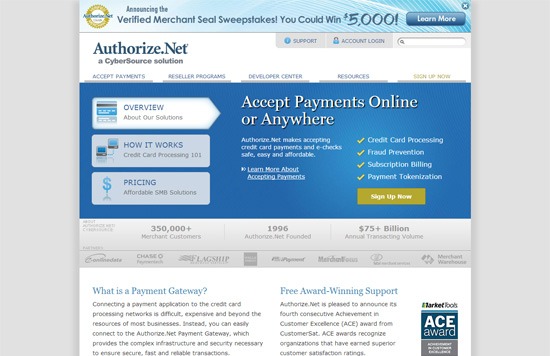 Authorize.Net is the Internet's most widely used payment gateway. With a user base of over 300,000 merchants, Authorize.Net has been the go-to method for e-commerce sites that need a gateway to accepting payments. Widely used e-commerce platforms such as Magento, Volusion and X-Cart are designed to accept payments using Authorize.Net easier.
Pricing: Authorize.Net has a $99 setup fee, costs $20 per month and takes a $0.10 per-transaction fee. Source: Authorize.Net pricing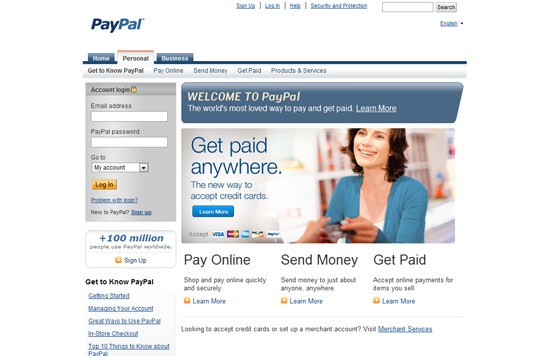 PayPal is the world's most widely used payment acquirer, processing over $4 billion in payments in 2011. PayPal payments are made using a user's existing account or with a credit card. Money can be sent directly to an email address, thus prompting the users to sign up for a new PayPal account. In addition to taking payments, PayPal also allows its users to send money through the service, which is a feature that only a few payment solutions provide.
Pricing: PayPal takes 2.9% + $0.30 per transaction and has no setup or monthly fees. Source: PayPal merchant fees
3. Google Checkout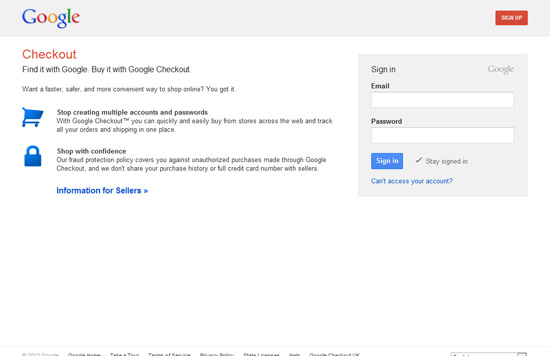 Google Checkout is Google's answer to PayPal. Google Checkout allows users to pay for goods and services through an account connected to their Google profile. The major benefit that Google Checkout has over the competition is that millions of Internet users use Google for other services, making a purchase through Checkout a simpler process.
Pricing: Google Checkout fees start at 2.9% + $0.30 per transaction for sales less than $3,000. The percentage they take goes down depending on monthly sales volume. Source: Google Checkout fees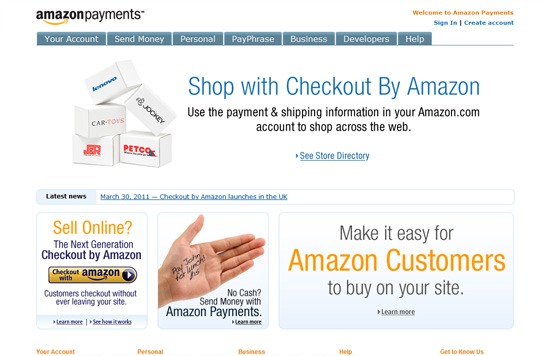 Amazon Payments allows its users to receive money using its API (and to send money out via ACH). Popular crowdfunding site Kickstarter uses Amazon Payments.
Pricing: Amazon Payments fees start at 2.9% + $0.30 per transaction for payments over $10 (the percentage they take is less for larger transactions). For payments under $10, the fee is 5.0% + $0.05 per transaction. Source: Amazon Payments fees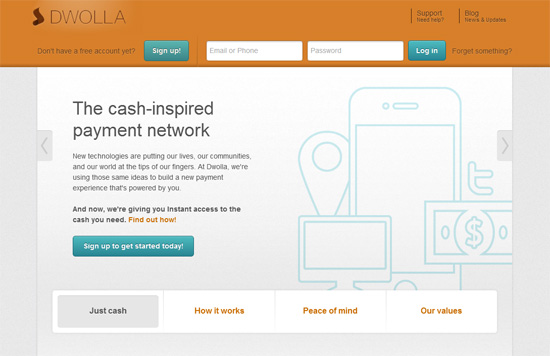 Dwolla is a direct competitor to PayPal. One of the newcomers in the third-party payments space, the company is processing over $1 million per day. Setting up Dwolla payments is similar to PayPal, although Dwolla doesn't have the same name recognition as their competition.
Pricing: There are no fees for transactions less than $10. For transactions over $10, Dwolla charges $0.25 per transaction. Source: Dwolla fees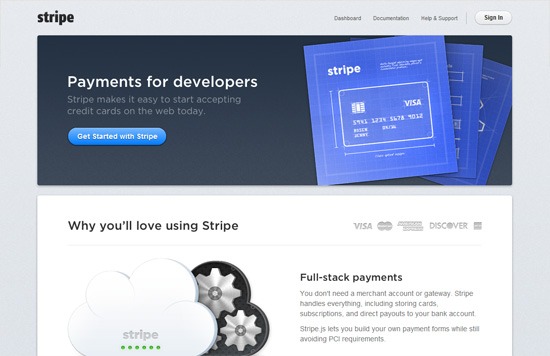 Stripe provides an excellent payment solution for web developers who would like to integrate a payment system into their projects using Stripe's robust API. By bypassing the traditional sign up process, Stripe acts as a merchant account for its providers, handling all PCI compliance and merchant approvals.
Pricing: Stripe charges 2.9% + $0.30 per transaction with no setup or monthly fees. Source: Stripe: pricing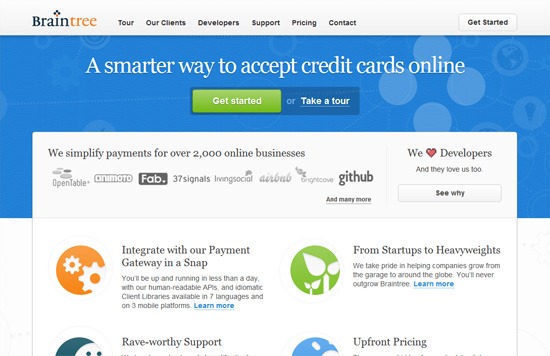 Braintree is an online payment gateway and merchant account solution known for working with popular tech startups such as Airbnb and LivingSocial.
Pricing: There are no set-up or monthly fees. Transaction fees are 2.9% + $0.30 per transaction for qualified cards. Source: Pricing – Braintree
8. Samurai by FeeFighters
Samurai is a payment gateway and merchant account solution. The company's main product, FeeFighters, is a tool to help merchants compare rates for merchant accounts. Samurai was developed as a direct competitor to Braintree and other gateway/merchant solutions and offers customers a payment gateway or a gateway/merchant account package.
Pricing: For their gateway/merchant solution, Samurai takes 2.3% of all sales volume, costs $25 per month and charges a $0.30 fee per transaction. Source: Samurai by FeeFighters pricing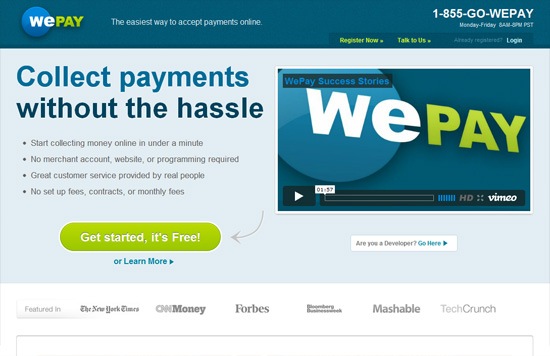 WePay is a payment processor that allows Internet merchants to accept credit cards and bank account payments online. WePay seems to be focused on the individual user, and has recently added e-store pages to their service to help their customers conveniently take in payments (e.g. event tickets, products, donations and so forth) through their service.
Pricing: WePay charges a 3.5% transaction fee (with a $0.50 minimum) for credit card transactions and $0.50 for bank payments, with no setup or monthly costs. Source: WePay fees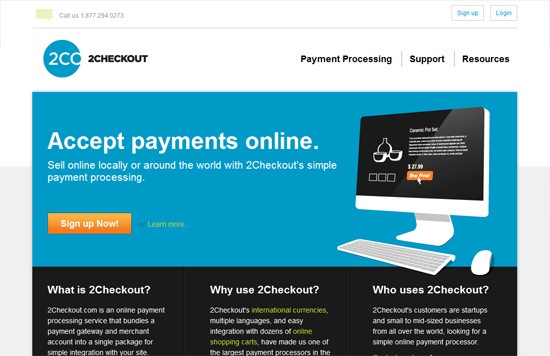 2Checkout is another payment processor that combines a merchant account and payment gateway into one, allowing customers to receive credit card payments as well as PayPal payments. The company offers international payments, shopping cart stores as well as a recurring billing feature.
Pricing: 3.99% (if you apply by May 1, 2012), a $0.45 transaction fee and $10.99 monthly service fee. Pricing and fees – 2Checkout
Other Noteworthy Payment Systems
Here are other online payment systems I think you should also check out:
What about Payments through Mobile Devices?
These two payment services allow merchants to accept credit card payments directly through their mobile devices, making it possible for devices such as the iPhone, the iPad and Android smartphones to act as a mobile point of sale (POS) checkout system.
Conclusion
There are plenty of online payment systems out there that you can use to conduct e-commerce activities. Choose one that's in line with your business objectives. If you work with an e-commerce marketing agency, such as WebFX, ask your account manager what they suggest based on their experiences.  WebFX works with a variety of industries, from hotels to boat dealers, so they likely have experience working with similar e-commerce businesses to yours.
This isn't an exhaustive list of online payment systems. If your favorite online payment system isn't on the list, please share it with us in the comments and discuss why you choose it over other online payment systems.
Related Content