How to Pick the Best Ecommerce Marketing Agency
If you own an ecommerce store, you understand the importance of attracting people to your website.
Internet marketing makes it easy for potential customers to find you at any time, and online strategies like SEO are the best way to boost your store's rankings in search engine results pages and bring more shoppers to your site.
Creating, managing, and leading your ecommerce company's digital marketing strategy, however, isn't easy. It requires time, dedication, and skill, which can strain both you and your team. That's why many online stores invest in ecommerce marketing services from ecommerce marketing companies.
If you're thinking about hiring an ecommerce agency, this guide is for you.
Learn how to pick the best ecommerce marketing agency, plus what ecommerce marketing strategies will deliver the best return on investment (ROI) and results. Keep reading to get started now, or if you're looking to work with WebFX, contact us online or call us at 888-601-5359 today!
[Video] How to choose the best ecommerce marketing agency
Learn about the five questions you should ask to help your business choose the best ecommerce marketing agency!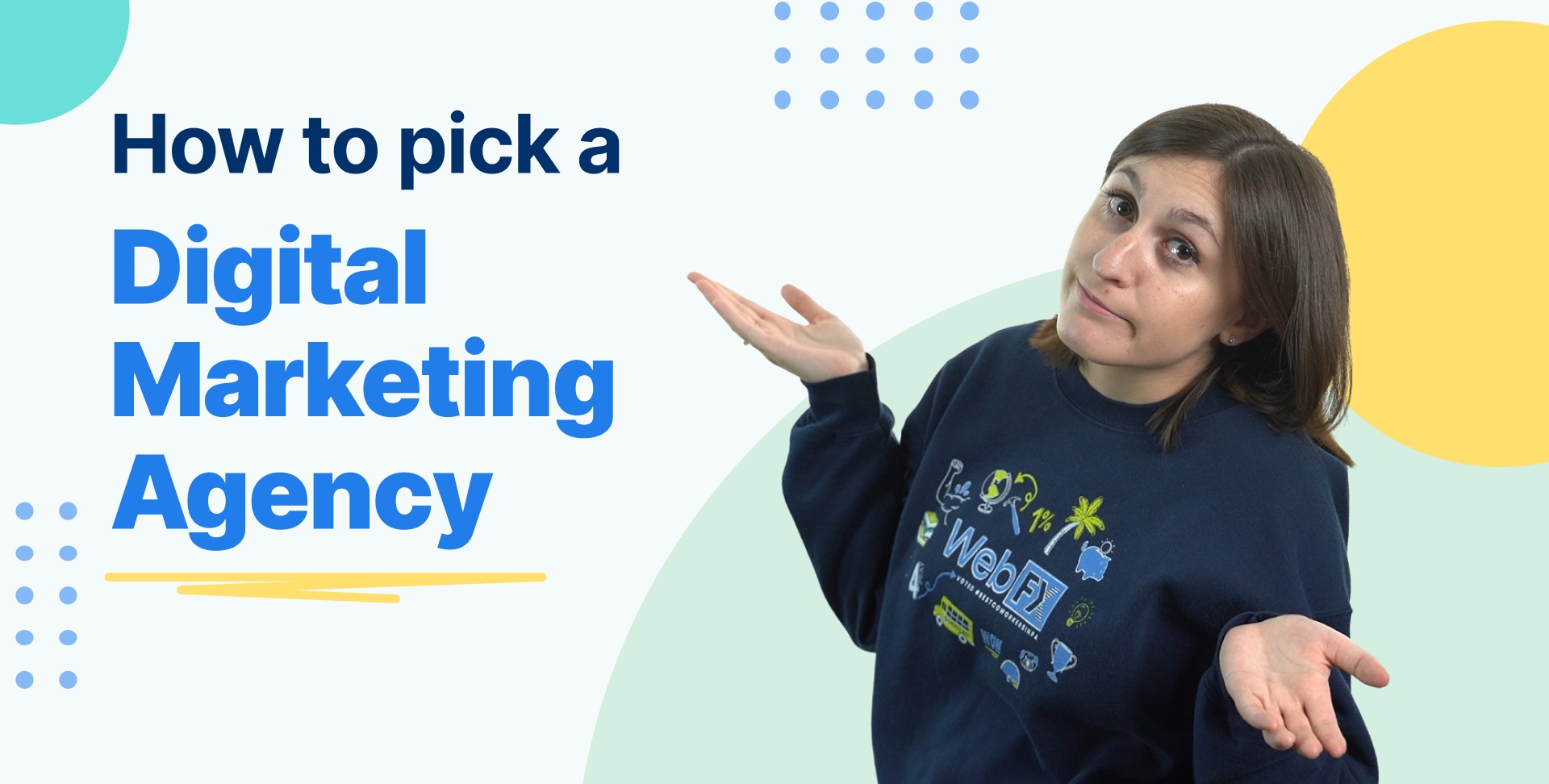 How to pick the best ecommerce marketing agency
You can learn how to pick the best ecommerce marketing agency by using these three tips as you research, compare, and meet with different ecommerce marketing companies:
1. Investigate the ecommerce agency's experience
The first thing you want to consider is how much experience the ecommerce marketing agency has. Find out exactly how long the company has been doing ecommerce marketing work and look for examples. A reputable agency will display this information on their website, making it easy to identify the quality of work they are able to produce.
You'll also want to gauge the agency's core area of expertise in ecommerce digital marketing.
Some Internet marketing companies specialize in areas like conversion rate optimization (CRO), while others offer a full range of services from web design to SEO. Zero in on exactly what you're looking to improve with your ecommerce marketing efforts, and choose a firm that specializes in those areas.
2. Read the ecommerce agency's case studies
You'll also want to consider the agency's track record. How successful has the company been in helping other ecommerce companies reach their online marketing goals? Successful marketing companies will share results and success stories.
These examples should be backed up with data, testimonials, and reviews. If you're planning to invest money in an online marketing campaign, you need to be confident in an agency's ability to deliver results.
3. Research the ecommerce agency's pricing
If you're like most ecommerce companies, you probably have a budget for each of your marketing channels. So understanding pricing options will play a role in selecting the right marketing agency for your project.
But be careful not to place too much emphasis on pricing, as this can drive you away from quality firms.
In other words, you often get what you pay for when it comes to online marketing. Pricing can be used as a tie-breaker if you're having trouble deciding between two companies. However, cost alone should not weigh the heaviest on your ecommerce marketing agency review.
Partner with a team of ecommerce masters!
WebFX campaigns have delivered more than 12,936,451 ecommerce transactions in the last 5 years
Read the Case Studies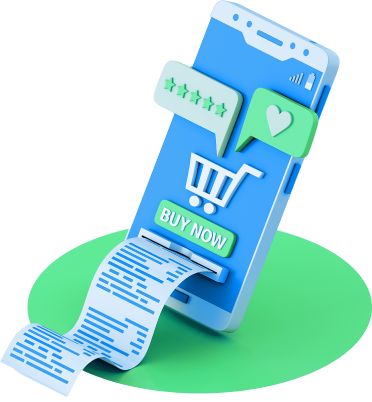 Why market your ecommerce company?
Ecommerce is one of the most competitive industries online. No matter what you're selling, the competition is bound to be fierce, and your ecommerce company needs a solid marketing plan to outsmart the competition and drive traffic to your website.
Optimizing your ecommerce site will allow you to be seen by as many people as possible.
Many sales that take place online happen because people are actively looking for a specific product or service. Ecommerce marketing also boosts your chances of ranking higher in search engine results—ultimately bringing in more targeted, qualified traffic.
5 sales-driving ecommerce marketing strategies
Let's take a look at some ecommerce marketing strategies designed to drive traffic to your site. An effective marketing agency should be able to deliver results when it comes to these key methods.
1. Search engine optimization (SEO)
Are you struggling to rank in results pages? When you operate an online store, it's important for customers to be able to find your site. Search engine optimization (SEO) can help drive traffic to your ecommerce website.
By identifying and targeting keywords and phrases that shoppers use to find your products, you can improve your rankings in search engines like Google. This makes it easier for potential customers to find and browse your site at any time. And optimizing your website will also improve user experience and keep them on your site longer.
SEO is especially important for ecommerce stores because customers are typically ready to buy when searching for a particular product. Without SEO, they might not even know your store exists. Increasing the visibility of your website with ecommerce SEO increases leads and maximizes your profits.
CHECK OUT OUR SEO PLANS AND PRICING
2. Pay-per-click ads (PPC)
You might be wondering why your ecommerce website needs pay-per-click advertising (PPC) if you rank for keywords organically. PPC advertising is extremely helpful for generating traffic to ecommerce websites while you establish organic rankings. And unless you're an incredibly niche industry with huge amounts of traffic and almost zero competition, you'll probably want to rely on PPC ads to drive traffic— at least at first.
With Google Ads, you can set your ecommerce ads to display when people search for certain keywords. If people don't click on your ads, you won't pay a cent. The results are almost instantaneous, and PPC ads often pay for themselves if you target the right keywords.
CHECK OUT OUR PPC PLANS AND PRICING
3. Social media
Considering that a large majority of adults with Internet access use social media, chances are pretty high that you'll be able to reach your target market with Facebook, Twitter, Instagram, and other social media sites. Social media marketing is a great opportunity to get the word out about your ecommerce products, events, and promotions.
You can also use social media to encourage customer feedback and build a fan base. If customers like your products, they will likely share your content on social media. Positive feedback and testimonials help position your ecommerce website as a valuable source, and great reviews build trust among potential customers.
CHECK OUT OUR SOCIAL MEDIA MARKETING PLANS AND PRICING
4. Blogging and content marketing

Creating and sharing valuable content online is essential for ecommerce companies. Search engines love quality content, and distributing it online can help boost your rankings.
Don't be afraid to experiment with different types of content. Blogs are great, but they're just the beginning of your options. Consider supplementing your blog content with engaging infographics or downloadable guides.
If potential customers find your content useful, you increase your chances of gaining loyal customers, and you'll gain credit as an authority source in your industry. It's a win-win situation!
CHECK OUT OUR CONTENT MARKETING PLANS AND PRICING
5. Email marketing
If you have a solid content marketing strategy, email is a great way to share your posts. You can also advertise new products, offer coupons, and hold contests. Add a signup form on your ecommerce website, and encourage visitors to add their email addresses to receive updates. You may also consider adding an option for people to subscribe to your email when they check out.
Email marketing is an effective method for driving traffic, clicks, and purchases – all valuable goals for your ecommerce website.
CHECK OUT OUR EMAIL MARKETING PLANS AND PRICING
What makes WebFX a leading ecommerce marketing agency?
At WebFX, our expert team of website designers, developers, strategists, and Internet marketers is ready to provide custom solutions for your ecommerce company. Our ecommerce clients enjoy fully-functional, high-performance, and user-friendly websites designed to improve user experience and generate revenue online.
That's why our ecommerce marketing company maintains a client recommendation score that's 488% higher than the industry average. We help our clients not only manage their online marketing strategy, but also grow their business through online marketing.
Read our client testimonials, as well as case studies, to learn why more than 90% of our clients make us their long-term partner. Plus, get insight into how our client-exclusive marketing platform, MarketingCloudFX, leverages artificial intelligence to give your strategy a competitive advantage.
Measuring the metrics that affect your bottom line.
Are you interested in custom reporting that is specific to your unique business needs? Powered by MarketingCloudFX, WebFX creates custom reports based on the metrics that matter most to your company.
Leads

Transactions

Calls

Revenue
Learn More

Work with the best ecommerce marketing agency for SMBs
We hope that this guide has given you some helpful tips for how to pick the best ecommerce marketing agency. If you're ready to learn more about how WebFX can help your ecommerce company achieve new levels of success, contact us today. We'd love to chat with you!
Find out how WebFX can improve your ecommerce company's online capabilities. Call 888-601-5359 or contact us online today for a free consultation.
Earn a 20% greater ROI with WebFX