If you're thinking about putting up an online store and would like to do it quickly and easily without worrying about coding or web hosting, the hosted ecommerce platforms discussed in this article are ideal options.

What is a hosted ecommerce platform?
A hosted ecommerce platform is a type of software as a service (SaaS) that hosts online stores.
A good hosted ecommerce platform will have ecommerce-specific features such as online payment integration and inventory management, powerful and reliable server technology resources, and expertise in compliance and security as it pertains specifically to web-based transactions and data management.
Generally, ecommerce web hosting is ideal for individuals or small- and medium-sized businesses that have little or no ecommerce development experience.
The biggest trade-off when using a hosted ecommerce platform compared to self-hosted solutions like Magento and Open Cart is your ability to have full control of your online store, which (among other things) means you will encounter some areas that you will not be able to customize or change.
There are many hosted ecommerce platforms out there. I will talk about your top ten best options.
1. Shopify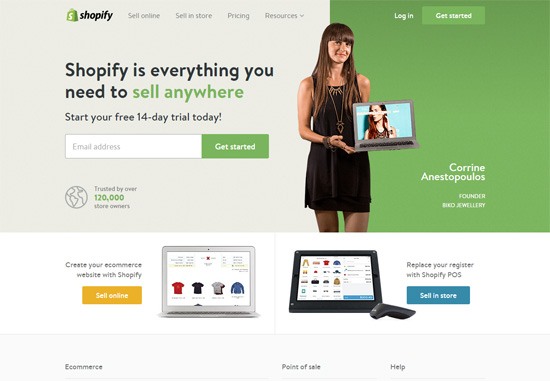 Shopify is a popular hosted ecommerce platform. Their user-friendly administration interface gives store owners the ability to manage their product inventory and customize their online store without knowing how to code.
Shopify recently launched a separate service that allows you to run a POS system through your mobile device, it integrates with your Shopify store so that you can manage your inventory using only one platform.
Pricing starts at $14/month for the Starter plan, but you will quickly outgrow this plan if you're serious about selling online. The next plan, called Basic, is more practical: It's $29/month and gives you 1 GB storage, an unlimited number of products in your online store, and a 2.0% transaction fee.
Online stores that use Shopify
2. Bigcommerce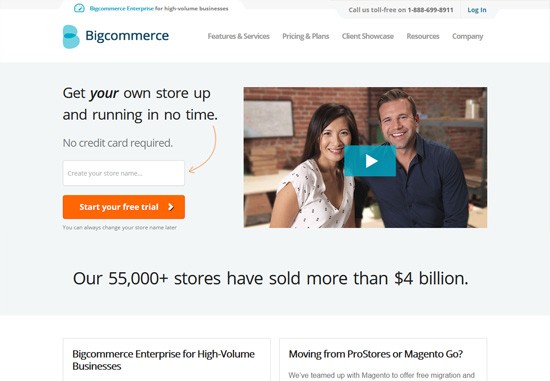 Bigcommerce is comparable to Shopify and, really, you can't go wrong with either one.
Bigcommerce is a host to over 55,000 online stores that (combined) have done over $4 billion in sales.
Have a look at their collection of free and paid store apps that can extend your online store with extra features and integration with third-party services like MailChimp and Visual Website Optimizer. Pricing starts at $29.95/month and comes with 3 GB of file storage and a 1.0% transaction fee.
Online stores that use Bigcommerce
3. Volusion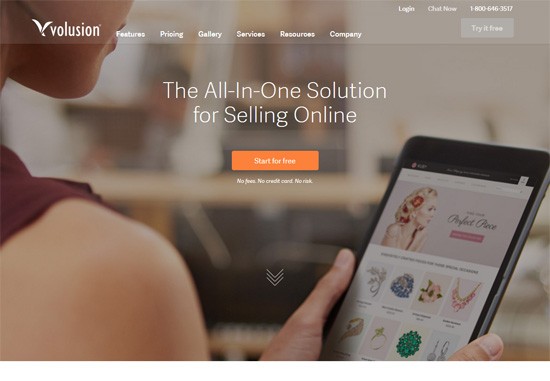 Volusion is, in my opinion, in the "Big Three" of the top hosted ecommerce solutions (alongside Shopify and Bigcommerce).
According to Volusion, the online stores they host have generated over $16 billion in combined sales. This platform boasts over 900 ecommerce features and offers additional personal services to their customers for a fee, such as conversion rate optimization which provides store owners one-on-one consulting with the company's marketing consultants (for $899).
Pricing starts at $15/month and allows up to 100 products in your online store, unlimited storage, and no transaction fees.
Online stores that use Volusion
4. X-Cart Cloud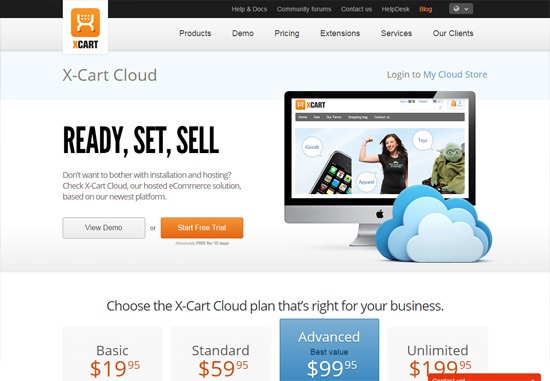 X-Cart is a free and open source PHP shopping cart software that you can host and manage on your own. The company has a hosted ecommerce platform service called X-Cart Cloud which runs the X-Cart software.
Think of X-Cart Cloud as being akin to WordPress.com, a subscription-based hosted publishing platform for the WordPress open source project. X-Cart Cloud has an assortment of free and paid modules that extend your X-Cart online store.
In three of their more expensive subscription plans, you will get access to their point of sale (POS) system module that will allow you to manage the inventory of your brick-and-mortar stores and online store within a single interface.
Pricing starts at $15/month and allows you to have up to 100 products in your online shop, 1 GB storage, 10 GB of bandwidth, and no transaction fees.
5. Big Cartel
Big Cartel is a hosted ecommerce platform that has found a niche in the creative industry. It hosts over 500,000 online stores, with most of them being stores for jewelry, fashion, music, arts, crafts, and other creative endeavors.
Pricing starts at $9.99/month, which allows you to have up to 25 products (with a limit of 5 photos per product), and no transaction fees. They also have a free plan that allows you to use the service for up to 5 products.
Online stores that use Big Cartel
6. 3dcart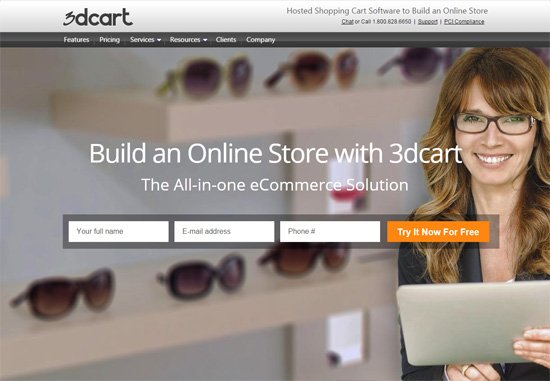 3dcart boasts a ton of ecommerce features: This hosted ecommerce platform allows you to accept Bitcoins and has a loyalty program system that gives your users the option to earn rewards points whenever they shop at your online store.
Pricing starts at $16.99/month and allows you to have up to 200 products, unlimited storage, and no transaction fees.
7. PinnacleCart
PinnacleCart displays an impressive client list of companies that includes HBO, Discovery Channel, and the Miami Heat. It has the ability to integrate with for third-party apps like Facebook, QuickBooks, and more.
Pricing starts at $29.95/month, which includes 1 GB of storage, 2 GB bandwidth, and no transaction fees.
Online stores that use PinnacleCart
8. Yahoo! Ecommerce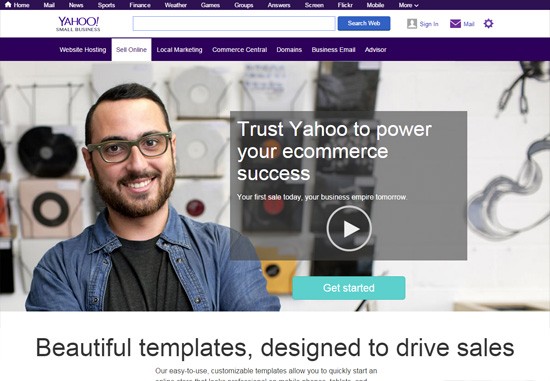 With Yahoo!
Ecommerce, you get peace of mind knowing that your online store is hosted by one of the biggest giants in the technology industry. They have supported over $65 billion in transactions and over 1 million businesses.
As to be expected from a tech company like Yahoo!, their ecommerce solution has a ton of excellent features such as direct integration with UPS (a major shipping company) to make managing your product deliveries easier.
Pricing starts at $26/month (billed annually) and includes the ability to have up to 1,000 products in your online store, 5 GB of storage, 150 GB bandwidth, and a 1.5% transaction fee.
9. Wix Online Store Builder
Wix is an extremely popular and easy to use DIY website builder. They recently ventured into the ecommerce space by launching the Wix Online Store Builder, a hosted online store platform.
Pricing for their ecommerce solution starts at $19.90/month, which comes with 20 GB of storage and 10 GB of bandwidth.
10. Storenvy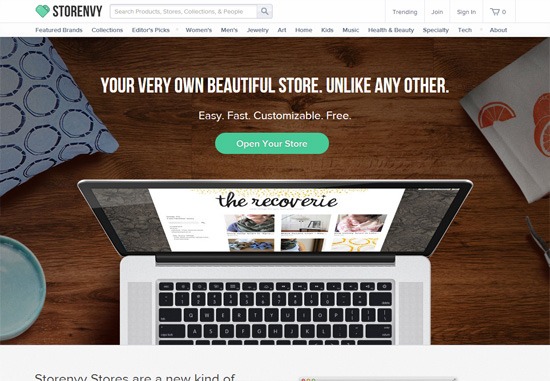 Storenvy is different from the other hosted ecommerce platforms discussed above in the sense that your online store is going to be included in their marketplace/network of brands.
All of your products will be featured and searchable within their marketplace, which means your items will be visible to their existing base of customers. Storenvy has over 100,000 brands selling on their site. Storeenvy also has an impressive developer API.
Pricing for Storenvy online stores is free, but if you would like to have a custom domain, it costs $5/month.
Conclusion
Hosted ecommerce platforms take the hassle out of self-hosting an online store.
The biggest disadvantage with this type of ecommerce solution is that you will have less control and ownership of your online store.
My top picks are Shopify and Bigcommerce.
They both have wonderful user-friendly features, excellent documentation and support, top-notch expertise, and good reputations in the hosted ecommerce platform space.
Related Content
WebFX Careers
Join our mission to provide industry-leading digital marketing services to businesses around the globe - all while building your personal knowledge and growing as an individual.