With scalable web application development and software solutions, our highly skilled web application development team will work to keep your business up-to-date with constantly evolving technology. Our services are built around providing the technology important to the success of your business. We're an award-winning programming agency with the experience to make your website great.
Helping Businesses Grow Since 1996
WebFX has been driving results for satisfed customers online for over 2 decades.
Read our story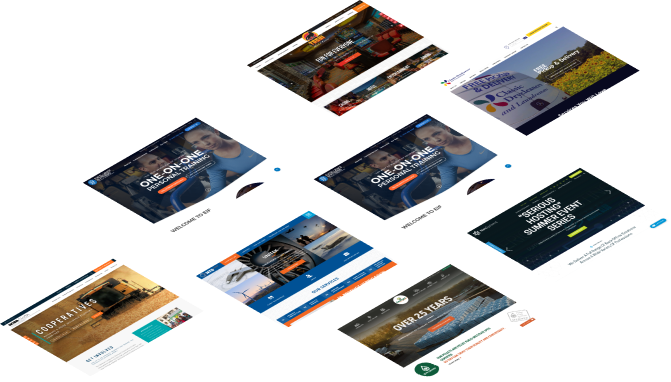 A Talented Team Creating Custom Solutions for You
The certified Microsoft and experienced web application developers on our team enable us to extend our capabilities during the development process. Our software developers are highly trained and skilled in various development technologies, processes, and functionality of applications. As a result, our work is of the highest quality.
Custom programming at WebFX includes the following technologies:
.NET, C#, C++
Visual Basic, VB.NET
.NET Consulting
.NET Programming
Transact-SQL Scripts
SQL Analysis
SQL Consulting
SQL Programming
On the other hand, our innovative web development techniques include:
ASP and ASP.NET
HTML, XHTML, and HTML5
Java and JavaScript
VBScript
The WebFX Difference
At WebFX, our software development and application development team believes that the success of any project is achieved through analysis and specification, web design prototyping, a well-established development process, knowledge of the latest technologies, expert management, effective communication, full-cycle quality assurance and a strong Internet marketing campaign. These are the highlights of our software application development that set us apart from the rest.
We are not just another software development company. We're a team of outstanding analysts who realize that success involves more than the mere competence in a specific language or application development tool. We're a website programming company that can give you the best.
Features of WebFX Custom Application Development
When you choose WebFX for custom application development, you get the following:
Cost-effective, robust solutions
Software backed with our expertise in current development tools and technologies
Complete life cycle of custom application development, spanning distinct stages like analyzing client requirements, design, development, and testing
Many years of experience in executing large web development projects for global clientele
Where Are WebFX Clients Located?
As a leading computer programming company and custom web programming firm, WebFX has served clients worldwide. We are based in Harrisburg, Pennsylvania, and have delivered custom web solutions for many medium to large-sized businesses in the Harrisburg, Carlisle, York, Mechanicsburg, Philadelphia, Pittsburgh, Baltimore, Erie, and Delaware areas.
No matter where you are located, however, we are more than happy to create a custom solution for your business or brand. Reach out to one of our development experts today to let us know what you are looking for, and we will provide you with a no-obligation quote on your next piece of custom software or web development software.