Top 5 Advantages of Magento
One of the most important decisions when starting an ecommerce business is which content management system (CMS) you'll use to manage products and transactions. There are many options available, and while that means that there are several great choices for business owners, it also means that selecting the right one is no easy task.
Out of all of the CMS on the market right now, one of the most popular is Magento. It is an open-source system built for ecommerce, and has two different editions—Community and Enterprise—to accommodate both small and large businesses.
However, just because it's widely-used doesn't mean it's necessarily right for everyone. So what is it that makes the CMS so popular? Every business owner has their own reasons for choosing the platforms they do, but in our eyes, here are the top 5 advantages of Magento:
Call 888-601-5359 to speak with a strategist about ecommerce design from WebFX, or keep reading to learn whether Magento is the right choice for your site.
1. It's powerful.
No matter how many products you have or orders you receive, Magento is powerful enough to accommodate your needs. It can manage hundreds of thousands of individual products, and the only limit to the number of products you carry is the size of your server.
This means that if you use Magento from the start, you won't need to worry about switching when your business grows. It's easily scalable, so even if you only have a handful of products and daily transactions right now, you'll be well-prepared if and when that number takes off.
Magento also offers features like product and inventory management that make it easy to organize and understand your site. You can set up filters and navigation exactly as you like to help customers find exactly what they're looking for, which can boost conversion rates and improve the overall performance of your site.
2. It's SEO-friendly
The Enterprise Edition of Magento was designed with SEO in mind, so optimizing product pages and descriptions is simple. It also generates SEO-friendly URLs (as opposed to the jumbles of letters and numbers found on many ecommerce sites) and meta descriptions, meaning that you don't have to worry about creating them yourself.
Another SEO bonus is that sites created using Magento are completely mobile responsive so they are compatible with all browsers and screen sizes. Not only does this allow your customers to shop from anywhere in the world—and on whatever device they have—it's also a positive sign in Google's eyes, which can help your rankings in the results of searches performed on.
3. It's customizable.
From the look of your site to the way you configure your product categories and features, everything created with Magento is custom. However, it's important to note that this level of customization means that virtually everything needs to be coded from scratch. Although there are a few design themes available on Magento's site, most business owners who use the CMS opt to hire a Magento developer for a unique and customized site.
In addition to the general appearance and organization of your site, you can also choose from a variety of payment, shipment, and language options to accommodate your customers. And with the right developer, almost any functionality you can imagine is possible.
Because Magento is an open-source platform, a lot of the functionality you may want likely already exists in the form of plugins. These plugins provide solutions for accounting, payment processing, shipping, and other common needs, and many are entirely free.
4. It's built for sales
Although most other CMS have ecommerce functionality as an add-on, Magento is unique in that it was built specifically with sales in mind. This means that in terms of driving conversions, it's one of the best choices out there.
With Magento's segmentation options, you can target customers based on their cart and buying history, plus provide personalized, relevant content. You can also tailor the promotions you show onsite and send custom coupons, meaning that customers only see ad content that is related to products they've clicked, purchased, or added to their cart. Magento also allows you to set up product recommendations and upsells on product and checkout pages. You can easily suggest related items for your customers, and essentially serve as a member of your sales team. The CMS also offers one-page checkout so customers will be much less likely to abandon their cart (or your site).
5. It's easy to edit.
Creating a Magento site is work-intensive, but once everything is coded and running, adding and editing new products is simple. It has a straightforward content management interface that allows you to see how pages are performing, so you can edit them accordingly.
And if you don't have the time to manually manage your site, Magento is a well-known CMS, so you can easily find developers and SEOs with the necessary skills to help you maintain your content.
Time to Level Up Your Sales
Our long list of services helps you grow every aspect of your business with marketing strategies that are proven to increase bottom-line metrics like revenue and conversions.
In the past 5 years, we've managed more than 12.9 MILLION transactions across our client base.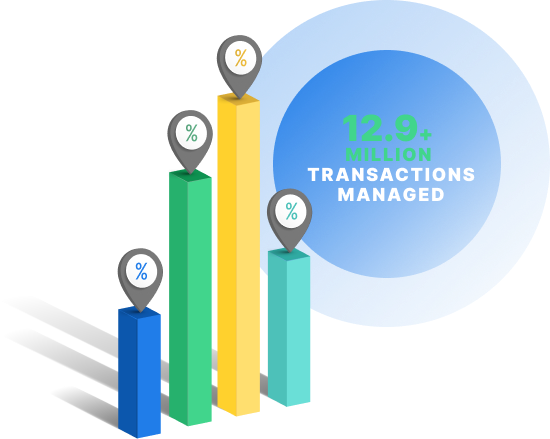 Is Magento right for you?
If you're considering launching (or redesigning) an ecommerce website, Magento is an excellent choice for your CMS. It's powerful, SEO-friendly, customizable, ideal for sales, and easy to edit. That being said, it isn't the easiest CMS to work with during the build stage, and launching a successful site will require some serious coding skills.
If you'd like some assistance with the launch of a Magento site, or to discuss your options for creating an ecommerce site, don't hesitate to contact us! Our designers and developers have years of experience laying out and coding ecommerce sites, and we will create the online presence you need to attract customers and generate sales.