There are plenty of companies out there offering to build a website for your insurance agency. They say they can create a site for only a few hundred dollars in a matter of days, and that it will meet your needs and improve your business. But can a website like this really grow your customer base?
Web design for insurance agents and agencies isn't as simple as plugging your information into a pre-made template that hundreds of other businesses are using. If you want your insurance business to be successful, it needs to stand out online — and accomplishing that task requires far more than a $500 website with a handful of pages and free stock photos.
Let's explore what your insurance agency website really needs, how a great design will help you grow your insurance business online, and how you can accomplish it. By the time you finish reading this article, you should have a better idea of what your website should look like — including insurance agency web design as a whole — and why insurance agent web design is so important in the first place.
Why Does an Insurance Company Need a Website?
Over the past few years, the way that people find information and services has changed. Your potential clients once relied on resources like the phone book, commercials, or print media to find insurance providers in their area. Now they can simply go online, type "insurance agent" into a search engine, and browse all their available options at their leisure.
If you don't have a modern, well-designed website for your agency — or any website at all — you are losing business. Competition is high, and consumers no longer have to settle for the first website they can find, or the agency that buys the most radio advertising. They can research until they find an agent whose online presence meets their needs.
Without a website, you will never be able to reach the customers who have turned to the Internet to find their next insurance provider. And without following insurance agent website design best practices, you'll never be able to compete with your competitors and grow your business.
Web Design for Insurance Agents: Follow These Best Practices
Let's take a look at some crucial website design tips your agency should follow. If your website already abides by these best practices, great! You are in good shape as far as design is concerned. But if you aren't meeting these design standards, it may be time to consider a refresh or redesign.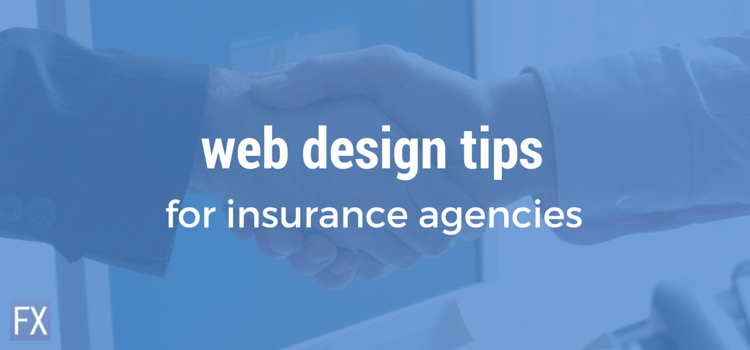 Fully Responsive and Mobile-Friendly
A growing majority of consumers use their smartphones and tablets for all of their Internet activities, and this includes researching products and services. Now that smartphones are able to render websites on a larger screen, it's not uncommon for your potential clients to search for insurance — or even try to purchase a new plan — right from their phone.
If your agency's website isn't optimized for mobile devices and smaller screens, you could be missing out on a startling amount of new business. The more that website visitors have to scroll or pinch-zoom to view and read the content on your website, and the longer they have to wait for pages to fully load, the more likely they are to go back to the search results and view a competitor's website instead.
You can improve your agency website's design dramatically by relying on a concept known as responsive design. Responsive design involves the organization of your website's design elements in such a way so that your site automatically scales to load properly on all devices, no matter how large or small their screens are.
By using responsive design, you'll be able to not only present those viewing your website on a desktop or laptop with a modern site, but also those browsing your site from their phone or tablet. The information they see will be the same, and the visual experience will be very similar. This can help reduce your website's bounce rate while improving other metrics, like time on page and conversion rate.
Clean Layout with Modern Appeal
Relying on responsive design is one way that you can improve the way your website looks and acts. But simply making your insurance agency web design responsive won't solve all your problems: if your website isn't attractive and doesn't appeal to visitors, you may still lose them to your competitors.
Focus on creating a website that utilizes a clean, modern layout that appeals to all visitors. This will likely involve the use of neutral colors like white and gray, switching to drop-down menus instead of side navigation, and using large, eye-catching photos or banners instead of small thumbnails or stock images.
If your website looks like it was created in the late 90s, now is the time to update it. Your customers associate your website with the level of service you can provide them — so if your site looks outdated, they may assume your policies will be, too.
Simple, Easy to Understand Navigation
Have you ever been to a website that you found impossible to navigate? Did you spend a long time clicking on different pages hoping you would eventually stumble on the information or option you were looking for? If this sounds familiar, you probably remember how frustrated you felt. In fact, you may have eventually given up and left the website completely.
For insurance agencies, it's absolutely crucial to avoid giving your potential clients this kind of frustrating experience. Although you may offer quite a few policies and plans, that doesn't mean you need to present links to all of them from your main navigation menu. Instead, you can condense them into a sub-menu, or link to them from one designated landing page titled something obvious — like "policies" or "car insurance plans."
Focus on simplifying your website's navigation as much as possible. If there's a particular page you want or need to link, but isn't as important as your other pages, you can always put it in the footer at the bottom of your site instead of in the top menu. This is typically where consumers expect to find pages like the privacy policy, site disclaimer, or social media links, anyway.
Quick Loading Time
It's a fact: the slower your website is, the more money you are losing. Several studies have shown strong correlation between not just slow websites and reduced rankings in search engines, but also reduced revenues. Consumers no longer want to wait for websites to load, and if your design is hindering your insurance agency website's loading time, you could be losing more money than you think.
Pull up your website and count how long it takes to load. If it's more than a few seconds, you have work to do. Can you remove or compress any images or graphics on your homepage? Or are there graphical elements making up your navigation that could be eliminated with a redesign?
Easy Access to Important Documents and Contact Information
Finally, the last crucial component of any insurance agency website will be easy access to important information. This may include policy documents, like insurance cards or proof of insurance, or phone numbers and other contact information.
Access to this kind of information should be closely integrated with your website's design. If your contact information is buried in your website footer or on a page in your navigation, potential clients who are looking to call you about a quote or with a question may get frustrated and leave. Additionally, if your current clients can't quickly access their own policy information, they may be in a bad mood when they are forced to call or email you for it.
Ensure that your design accommodates the needs of those who are using your website, whether they are potential clients or former ones. If you do this, they are more likely to look favorably on your site — and your agency as an extension.
Gauge Interest with Call-To-Action Buttons
A call-to-action combines copy and graphics to encourage visitors to take action. Typically used to gate content like ebooks and webinars, call-to-action buttons require users to input information such as their name, email, and phone number, before accessing downloads.
By placing call-to-action buttons on your service pages, you can decipher which services potential clients are interested in and follow up with relevant information. You can also use call-to-action buttons to gauge whether site visitors are casually browsing or ready to purchase.
Give Clients Access to Quotes Online
Customers demand quick, no fuss access to quotes. And if your insurance company wants to sell policies, it should consider including a quote calculator in its website design.
This tool should include a prefilled form that allows users to input key information without wading through pages of unnecessary questions. Be sure to present the quote clearly and indicate any discounts that have been applied.
Including a quote calculator on your site will prevent potential clients from turning to competitors for an online estimate.
What Else Should My Insurance Website Have?
Along with a modern, compelling, and organized design, your insurance website should be optimized to rank highly in searches. Some of this optimization has to do with how it is designed, but much of it relies on your website's content, structure, and code.
Search engine optimization, or SEO, is one way that you can improve your insurance agency's visibility in searches for the phrases that people are actually using to find insurance policies. Your website should absolutely use SEO, because it's one of the best ways that you can compete with other agencies—and one of the only ways that you can beat out a large company in a local search.
You can learn more about SEO for insurance companies, and why SEO is so important, by reading this page.
Need Help Updating Your Insurance Agency's Website?
Updating your website to abide by insurance agent web design standards is hard work. If you don't have the time or staff to learn these best practices and put them into action yourself, we understand. But don't worry — you don't have to do this alone!
As a leading web design agency, WebFX has helped more than 500 clients update their websites, improve their search engine rankings, and attract more customers online than ever. We know the best way to utilize insurance agency web design to not only make your company more visible, but also convert your newest site visitors into paying customesr. If you want a website that will help your agency truly stand out — not just some cheap template — contact one of our design experts today to find out how we can help. We'll be happy to put together a custom quote just for your business.
Find out how WebFX can create an effective Internet marketing strategy for your website. Call 888.449.3239 or contact us online today for a free evaluation.