Your accounting business is built on trust. If you want clients to trust you with their hard-earned finances, you need to show them that your firm has the experience, expertise, and intelligence to make it worth their time.
The best way to do that online is with a content marketing strategy. With well-made blog posts, articles, videos, graphics, and other forms of content, your accounting agency can start building a positive reputation with potential clients from the moment they find your website.
There are five major reasons you should use content marketing for your accounting firm, and they all help your business grow.
Our digital marketing campaigns impact the metrics that improve your bottom line.
See More Results

WebFX has driven the following results for clients:

$3 billion
In client revenue

7.8 million
Leads for our clients

5.2 million
Client phone calls
1. Content marketing builds trust
Imagine a brand that has a decent website, but its website never updates, and it stopped blogging years ago. Now imagine another brand that also has a decent website, and it's updated regularly and offers interesting content in the form of blogs, articles, and helpful videos. In a crowded marketplace, which brand would you choose?
The first brand isn't producing content at all, making the company itself look outdated, unreliable, or unsuccessful. It can't build trust with potential customers because there's nothing that even tries to show that the business is trustworthy. That brand also looks disconnected from its industry and behind the times. And nobody wants to become a customer when a company has to play catch-up.
The second brand is much more attractive for potential customers because it's showing them that it's an active, modern, and Internet-savvy business. Customers don't have to worry about whether they can contact the company either — they're clearly an active presence online, so the brand is accessible. And they probably have a contact page as well, making them accessible. Overall, they're just a better option for potential customers.

Hear What It's Like to Work With WebFX!

"WebFX has made SEO, website improvements, and just the overall process of improving the quality of the leads we have look and feel easy! With the amount of time I used to spend on this I could not imagine taking it back and getting even close to the amount of leads that they've gotten us!"
Public Accountant
2. Content marketing can bring you new business
Speaking of potential customers, content marketing can help you turn them into paying clients by giving them information that they need to make an informed decision. That's also a factor in developing trust with them, and it's a great way to transition regular site visitors into paying customers.
The best way to convert new customers with content marketing is to use calls to action (CTAs) at the end of all of your content. Whether you're creating a blog post, article, video, or other content, you can add a short, snappy sentence to the end that tells the visitor what to do next.
The exact CTA you want to use will depend on how your accounting firm operates. If you have people set up their own accounts and work with you indirectly, it's smart to invite them to create an account.
If you specialize in consulting, it's a good idea to tell your site visitors to email or call you.
If you want them to spread the word about your brand, you can tell them to share your site on their social media accounts like Twitter or Facebook.
There are other options at your disposal, but those are some of the most common. Using CTAs in your content marketing strategy means you'll be able to passively generate qualified accounting leads online.
3. Content marketing allows you to stand out
There are a lot of blogs out there, but there aren't a lot of good ones — especially in accounting. That means you have an opportunity to break into a new part of your industry and spread brand awareness.
Creating all of this content means you can appeal to a huge variety of different potential customers, and that increases your overall customer base. People can find you by accident as they research current events or common questions that deal with accounting, and you can reach out to them with smart, informed answers. Once that prospect has the information they need, they're more likely to choose you for future accounting needs because you answered their original question!
Content marketing is also a big part of overall Internet marketing and search engine optimization (SEO) strategies. The more content you create, the more opportunities you have to rank for the words or phrases that your potential customers use to research your industry (called keywords). When you create really, really good content, you can also have other people link to it, and that improves your chance of showing up on Google and other search engines.
Still, the goal of content is always quality over quantity. You may be able to create 50 articles in a week, but they're probably not as good as the 10 you could create if you took your time. It's tempting to make as much content as you can as quickly as possible — but it just doesn't pay.
4. Content marketing gives you a better return on investment
Because content marketing is all about writing, designing, or recording what you want, there's an incredibly low entry cost. In some cases, if you do it yourself, the cost is only your time. And because content attracts new clients, that means you can make a lot of money with minimal investment.
For example, let's say you subscribe to WordPress's professional options to manage the content on your site. You create a page on WordPress that winds up earning a customer who spends $5000 at your accounting firm. Minus the subscription fee (and your time), that's all profit.
Time to Level Up Your Sales
Our long list of services helps you grow every aspect of your business with marketing strategies that are proven to increase bottom-line metrics like revenue and conversions.
In the past 5 years, we've managed more than 12.9 MILLION transactions across our client base.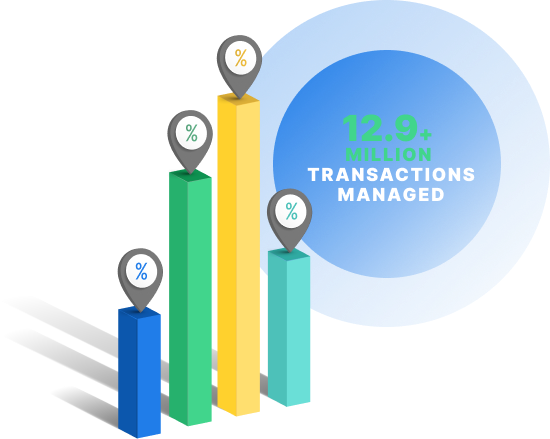 WebFX knows content marketing
At WebFX, we specialize in creating content for accounting firms just like you that want to reach more customers. We know the best ways to turn occasional site visitors into paying customers, and we'll make that expertise work for you. With a huge potential for returns and minimal investment, you stand to earn a handsome ROI when you start using content marketing.
Contact us today to start creating your unique content marketing strategy!
Earn a 20% greater ROI with WebFX