B2C

B2C Digital Marketing Services
B2C Digital Marketing Services to Maximize Your Revenue
Marketing is essential for every business, and yours is no exception. If you want to grow your business and revenue, you need to improve your marketing — and with our B2C digital marketing services, WebFX can help you do that. Read on for more information!
We've generated over
$3,021,182,299+
IN CLIENT REVENUE
We've generated
7,839,684
LEADS FOR OUR CLIENTS
We have more than
500+
DIGITAL MARKETING EXPERTS
B2C digital marketing services from WebFX
Marketing is the foundation of every business-to-consumer (B2C) company's success. If you don't market your business, you won't be able to maintain a steady stream of new leads. Thankfully, digital marketing can help your B2C company attract and convert customers.
In today's world, the Internet is the best place to do that. People spend so much of their time checking emails, performing Google searches, scrolling on social media apps, and more. It's the perfect marketing outlet, and WebFX can help you harness the Internet to drive more leads, conversions, and revenue.
We offer an array of digital marketing services to help you reach people all across the Internet, and we know how to drive revenue for your business. Keep reading to learn about the different B2C digital marketing services we offer!
1. Search engine optimization (SEO)
One of the most vital B2C marketing services is search engine optimization (SEO). SEO involves optimizing your website to rank in Google search results. The idea is that people will find your website when searching for content related to your industry.
At WebFX, SEO is our prime specialty. We'll help you get your website into Google search results for all the right queries, beginning by integrating relevant keywords into your content. We'll also employ various other SEO tactics, including:
With a strong SEO campaign, you'll be able to drive traffic to your website like never before!
P.S. Our B2C local SEO agency also offers local SEO services to meet your needs!
2. Pay-per-click (PPC) advertising
Pay-per-click (PPC) advertising is another valuable digital B2C marketing strategy we can help you with.
With a PPC campaign, you'll be able to drive more conversions by advertising your company and products or services both in Google search results and on third-party websites. WebFX can help you create your ads and get them set up in Google Ads.

Within Google Ads, you bid on keywords, so Google knows the searches where you want your ads to appear. We'll help you optimize your bidding strategy and improve the quality of your ads, so you can maximize your paid ad results.
From there, we'll design compelling landing pages for you that will drive users to convert once they arrive.
3. Social media marketing and advertising
Did you know that social media is home to 33% of the average user's Internet time? That makes it the perfect place to reach a wide audience online, which is why WebFX offers social media marketing services for B2C businesses.
We'll help you determine the best platforms for reaching your target audience, and then we'll get to work setting up an account on the platform or platforms of your choice. With your account up and running, we'll work on creating engaging content for you to post, such as infographics and videos.
We'll also help you run paid ads on social media, which will appear right in users' feeds. You can even target users based on characteristics like age and location, which we'll help you optimize.
4. Website design and development
SEO, PPC, social media — it all leads users back to one place: Your website. That's why it's critical not only to have a website, but to have one that uses good web design. Thankfully, WebFX is on top of it with our web design and development services.
If you don't yet have a website — or if you want a new one — we can help you set it up from scratch. And if you already have a site, we'll work on redesigning it to be functional and visually pleasing. Some of the ways we'll improve your web design include:
When users arrive on your website, they'll find a site that's user-friendly and aesthetically pleasing!
5. Content marketing
If the goal is to draw people to your website, what will you use to attract them? Your website needs to have content that users can benefit from so they'll have a reason to visit. That's where content marketing comes into play.
At WebFX, we have multiple teams of people committed to creating quality content for your website. We can start with written content like service pages and blog posts that will educate users about your business and industry. We can also create other content formats like videos.
As users come to your site to read your content, many will end up taking an interest in your products or services and converting.
6. Email marketing
Another digital B2C marketing service we offer is email marketing. We'll start by helping you set up forms on your website where users can sign up for email newsletters or special offers. Then we'll work with you to design the emails themselves, as well as the landing pages where they lead.
Since users will sign up for your emails voluntarily, they'll be happy to receive them. Pair that with the quality of the emails and landing pages we'll design, and you have a one-way track to abundant conversions!
93% of WebFX customers are extremely satisfied with their digital marketing results.
"Working with WebFX, everything is very organized and strategic. We're only a year into our partnership, and our expectations have definitely been met."
View More Client Testimonials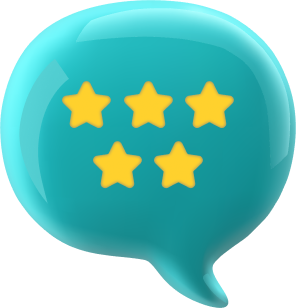 Why partner with WebFX?
Wondering why you should partner with WebFX for B2C digital marketing services?
Here are four benefits of partnering with us!
1. WebFX has decades of experience
One of the first things that makes WebFX such a good agency to partner with is our experience. We're not the only marketing agency out there, but many agencies have only been in the industry for a handful of years.
WebFX, on the other hand, has been driving results since 1996. That means we have over 25 years of experience with SEO, web design, and more. By partnering with us, you'll be gaining access to decades of B2C digital marketing expertise.
2. WebFX drives top-tier results
It's not just our experience that makes us stand out. After all, even the most experienced agency won't be much help if they don't know how to produce results. Fortunately, that's not an issue for us.
At WebFX, we have a rich history of driving stellar results for a variety of B2C businesses. In the past five years alone, we've generated over 7.8 million leads and $3 billion in revenue for our clients. That shows that we know what we're doing.
When you partner with us, you won't be left wanting. Rest assured that your conversions will see an immense boost with our help.
3. WebFX leaves our clients happy
WebFX doesn't just drive superb results for our clients. We also provide them with a high-quality experience the whole time we're working with them. If you don't believe us, just ask our past clients — we've earned over 1000+ testimonials from satisfied businesses over the years.
When you partner with us, you won't ever feel neglected or slighted. We'll stay close in communication with you about everything we do for your campaigns, even assigning you a dedicated representative to serve as your primary point of contact with us.
On top of communicating openly with you, we'll listen to any concerns or requests you have and do whatever we can to satisfy them.
4. WebFX is a full-service agency
If you read through the B2C marketing services listed above, you'll see that we can help you optimize everything from social media to email marketing. But that's not true of every agency. Many marketing companies specialize in only one or two strategies.
WebFX, on the other hand, is a full-service agency, meaning we offer marketing services across the board. The reason that's so useful is that it allows you to centralize all your marketing. You could go to different agencies for different services, but that would be a pain to deal with.
With WebFX, you can get help with all your marketing in one place. Even if you only need help with your SEO for right now, you might need some PPC help a year from now — and at that point, it'd be convenient to go back to the same agency you're already partnered with.
Our digital marketing campaigns impact the metrics that improve your bottom line.
See More Results

WebFX has driven the following results for clients:

$3 billion
In client revenue

7.8 million
Leads for our clients

5.2 million
Client phone calls
Drive up your revenue with digital B2C marketing from WebFX
Ready to skyrocket your company's revenue? Let WebFX help you fire up the thrusters! Our team of over 500+ experts has everything you need to boost your online marketing to new heights and generate conversions like never before.
With our B2C marketing services, you'll see everything from your PPC to your content marketing improve drastically. What's more, you'll get a top-tier partnership experience throughout the whole process.
Just call 888-601-5359 or contact us online to get started today!