B2C

B2C Digital Advertising Services
B2C Digital Advertising Services That Drive Conversions
Advertising your products and services is critical for driving more revenue for your business. In today's world, digital advertising is the best way to promote what you offer and increase sales for your business. With B2C digital advertising services from WebFX, you'll drive more leads and revenue to spark your online growth.
We've generated over
$3,021,182,299
IN CLIENT REVENUE
We've generated
7,839,684
LEADS FOR OUR CLIENTS
We have more than
500+
DIGITAL MARKETING EXPERTS
B2C digital advertising services from WebFX
Advertising is the key to getting people to buy — without it, prospects can't discover your business and buy what you have to offer.
Running a digital advertising campaign requires skills and resources, which is why it can be helpful to partner with a B2C digital advertising agency like WebFX. We offer a variety of B2C digital advertising services to help you reach your target audience.
Keep reading to learn more about B2C digital advertising services and learn why WebFX is the best agency for all your digital advertising needs!
Want to start driving revenue with your advertising campaign now? Contact us online or call us today at 888-601-5359 to speak with a strategist about our advertising services!
B2C digital advertising services from WebFX
At WebFX, we offer numerous B2C digital advertising services to help you drive more sales and revenue for your business. Here are some of the top strategies:
Pay-per-click (PPC) advertising services
If you want a fast and efficient way to put your business at the top of Google search results, use pay-per-click (PPC) advertising. You can run PPC ads through various networks, though the best one to use is Google.
With Google PPC, you can display ads for your company at the top of relevant search results (paid search ads) or in the margins of third-party websites (display ads). WebFX will help you set up both types.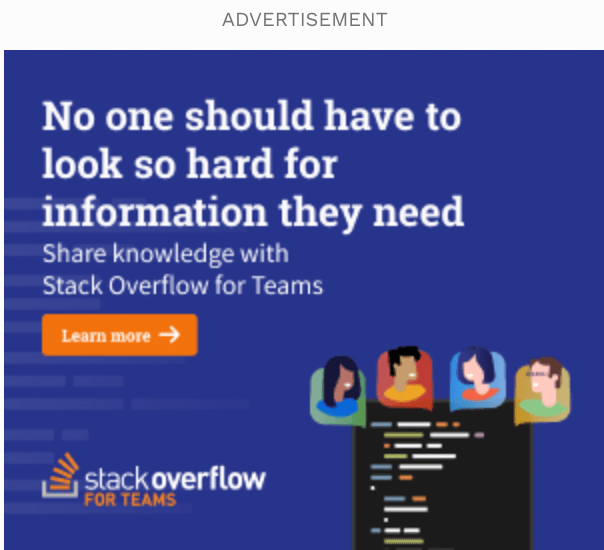 In Google Ads, we'll help you bid on the Google searches and websites you want your ads to target. Then we'll help you design the ads themselves, as well as the landing pages where they lead.
We won't leave you hanging once the ads are up and running, either. We'll help you monitor their progress down the road and optimize them to drive better results.
Paid social media advertising services
Google isn't the only place where you can advertise your business. You can also harness the power of social media, since that's where the average user spends 33% of their Internet time.
With our social media advertising services, you'll get help designing ads you can display to users on any social media platforms you choose. Just as with Google PPC, we'll help you create the ad copy and the landing pages.
Our team of experts will help you optimize your ad targeting settings to reach the right audience. We'll continually tweak your targeting to ensure the most relevant leads find your ads on social media.
After your campaigns launch, our team of experts will monitor the results of your campaigns to see what's working and what isn't. We'll provide improvements and adjustments to increase revenue for your business!
View our paid social media services
Remarketing services
Remarketing helps your business advertise to people who previously visited your website but didn't make a purchase. It's an incredibly valuable advertising tactic for driving interested leads back to your business to convert.
When you partner with WebFX, we'll help you put remarketing into action in your campaigns. We'll work with you to set up tracking to various pages on your website, so you can serve tailored ads to visitors once they leave.
From there, we'll help you design and launch ads specifically for those users. Our team will help you launch ads through whichever remarketing platforms you choose, be it Google, social media, or third-party websites.
Geofencing services
Geofencing enables you to set up a virtual barrier around your brick-and-mortar business or a competitors' company to drive people to visit you. When people enter the barrier, they can see ads for your business that entice them to visit your store.
With our geofencing services, we'll not only target by location, but also break down audiences into subgroups based on behavior and demographics. Furthermore, we'll take note of any competitors in your area and conduct research into their advertising efforts so we can counter them.
View our addressable geofencing services
View our competitor geofencing services
Online media buying services
We've already mentioned that you can run display ads through Google, but you can also buy ad space directly on other websites and display your ads that way. This process can involve going through a few different outlets and working out prices.
At WebFX, we offer online media buying services to help you obtain the most useful ad space on third-party websites. We'll help you determine which sites are most advantageous for your company, and then we'll work on purchasing ad inventory there.
From there, we'll help you design landing pages and banner ads that are visually compelling and entice users to click. We'll also report back to you regularly on the results we drive!
View our online media buying services
Programmatic advertising services
Programmatic advertising — paid advertising that uses artificial intelligence (AI) and real-time bidding (RTB) — is another type of service we offer. Programmatic advertising is all automated, but we'll help you set it up to drive top-tier results.
We'll prioritize personalization in your programmatic ads, targeting them toward individual users as closely as possible based on the information we gather about them. From there, we'll launch your ads and assess their performance, reoptimizing as needed to drive more engagement.
View our programmatic advertising services
Why partner with WebFX?
WebFX is an award-winning digital marketing company that can help you create B2C advertising campaigns that increase sales and boost revenue.
Here are five reasons you'll want to partner with WebFX for our B2C advertising services:
1. We have over a decade of experience
If you're going to trust your digital advertising to a marketing agency, you'll want to partner with one that's experienced. An experienced agency will know how to optimize your ad campaigns to maximize results and revenue.
That's one of the reasons WebFX is an ideal agency for you. We've been around since 1996, meaning we have over 25 years of experience with paid ads, and over a decade with social media.
Our advertising campaigns are backed by over 1.6 million hours of expertise, so you can feel confident you get an advertising strategy built for success.
2. We drive stellar results
It's not just our expertise that makes us reliable — it's also the results we drive. If you're skeptical of our ability to help you, all you have to do is take a look at what we've done for our clients over the years.
In the past five years alone, we've generated over 7.8 million leads and $3 billion in revenue for businesses we've partnered with across dozens of industries. You can feel confident we'll craft a campaign that drives the results and revenue you desire.
3. We make our clients happy
At WebFX, we value every business who partners with us for our B2C advertising services. We take a client-first approach to our marketing –– Everything we do for you will focus on achieving your business's goals.
If you don't believe us, just ask our clients. We have over 1000+ testimonials that attest to the excellent work we do for them. Check them out to see what it's like to partner with us!
4. We're a full-service agency
Paid ads are valuable tools for marketing yourself online, but they're not the only option. You can use a variety of strategies to draw in customers on the Internet, and as a full-service marketing agency, we offer dozens of them.
That means that if you ever decide to implement another strategy in addition to your paid advertising, we can add it to your plan. It prevents you from having to keep up with multiple agencies to handle different strategies for you.
Some additional marketing strategies we offer include:
5. Our team is filled with Google Ads experts
WebFX knows Google advertising. As a Google Premier Partner, we've demonstrated proficiency in running Google Ad campaigns and driving sustainable revenue for clients through them.
Our team of Google experts are Google Ads Certified, meaning we know Google Ads inside and out. When you partner with us, you aren't getting an agency full of people who aren't sure what they're doing — you're getting the experts.
WebFX is a partner businesses trust.
Hear from HydroWorx, who saw a 236% increase in organic sessions with WebFX services.
Watch the Video Testimonial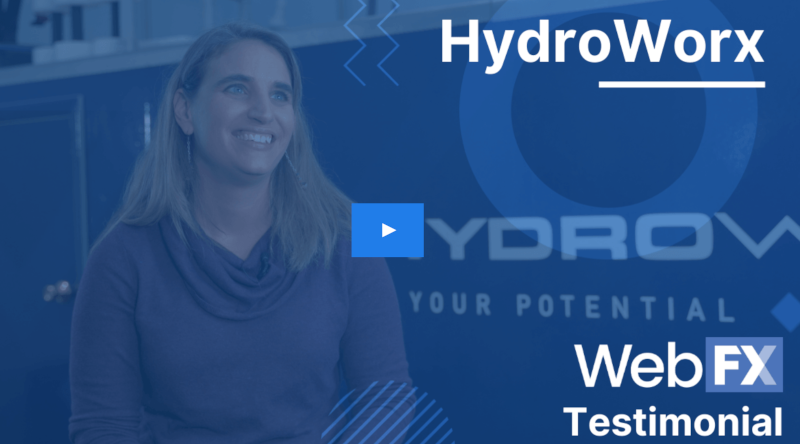 Let WebFX propel your online B2C advertising campaigns
Ready to get your online advertising off the ground? Partner with WebFX! We know advertising for B2C companies, and we'd love to help you optimize your campaigns to generate more revenue.
With our digital advertising services, you'll get help implementing each of the features listed above and more. You'll even receive a dedicated account representative to keep you in the loop about every move we make for your campaigns.
To get started with us, just call 888-601-5359 or contact us online today!