Your dealership needs customers to buy products, and for that, you need a solid marketing plan. One of the best marketing strategies out there is pay-per-click (PPC) advertising, which allows you to advertise to potential customers at the top of Google search results.
Of course, it's not as simple as launching a PPC campaign and then watching the results pour in. PPC for dealers and distributors only drives superior results if you employ the right tactics. So, how do you do that?
Below, we'll look at some of the ways you can boost your dealer paid advertising to new heights. Read on to learn more, and then partner with WebFX's team of over 500 experts for our dealership PPC services. Just call 888-601-5359 or contact us online to get started today!
7 dealer paid advertising hacks to boost results
Your PPC isn't going to improve automatically, so you have to implement the right tactics to get the best possible results from it. Here are seven simple tactics for bolstering the quality of PPC for dealers and distributors!
1. Target long-tail keywords
When you launch a PPC campaign, you don't want to just start throwing ads at everyone who makes a Google search. You're trying to reach a particular group of people, ideally people who will have some sort of interest in buying from you. And for that, you need keywords.
By targeting specific keywords with your ads, you can limit your resources only to people looking up things related to your business. Specifically, though, you should aim to target long-tail keywords — those that are several words long. They come with two advantages:
Their length makes them more specific to user search intent.
Their specificity means they come with less competition.
Using long-tail keywords will allow you to make better use of your PPC resources.
2. Use branded keywords
Another type of keyword you should consider using is branded keywords. Branded keywords are those that contain a name or term associated with a particular business or brand — in this case, your own.
When people search for your branded keywords, they're searching for your dealership specifically. That means they're the most likely to respond positively to your ads, so you definitely want to reach them. Therein lies the benefit of bidding on your branded keywords.
Besides, if you don't, there's always the chance that your competitors will — and if they dominate the PPC ads on your branded keywords, they'll be able to steal away traffic that was meant for you.
3. List negative keywords
While both the previous types of keywords help tell Google which searches to target, negative keywords are different in that they tell Google which searches not to target.
Let's say you target the keyword "auto parts distributor." Google won't necessarily target only that exact search. It could also target a variation such as "maryland auto parts distributor." But if your business is located in Nebraska, that's not a relevant search to you.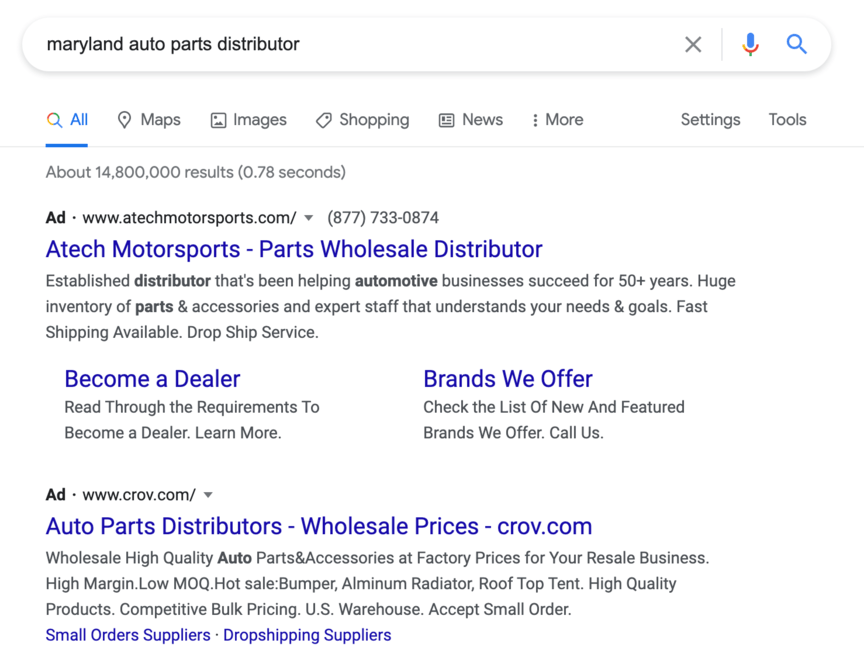 In that situation, you'd want to list "Maryland" as a negative keyword in Google Ads. That would tell Google not to target that keyword, thereby preventing you from wasting your resources on an irrelevant audience.
4. Create display ads
Not all PPC ads appear at the top of Google search results. Some take a different format, namely that of display ads in the margins of third-party websites. While not your main focus, display ads are a good possibility for you to explore.
By creating some display ads, you can reach people who might not find you through search results. Google Ads allows you to choose what sorts of websites your display ads will appear on, so you can target sites related to what you sell, like car magazine websites.
As you expand your marketing across different sites, you can further expand your audience, bringing in more customers to drive up your revenue.
5. Harness remarketing
One of the best things about Google Ads is that it doesn't limit you to targeting users based on what they're currently searching. You can also target them based on where they've been in the past. Or, more specifically, you can target people who have previously visited your site.
That's the idea behind remarketing lists for search ads (RLSA), which allows you to track which users visit particular pages on your site. From there, you can tell Google to target those users with particular sets of ads that play on the initial interest they expressed in your dealership.
The result is a PPC tactic that can lead to much higher conversion rates for your business.
6. Use custom audiences
Custom audiences are another fantastic feature offered by Google Ads, once again for the purpose of honing your audience. With custom audiences, you can draw up a list of features and target only people who match that list. Characteristics you can choose from include:
Age
Gender
Occupation
Location
You can use this feature to plug in the characteristics of your ideal audience, and Google will then limit your ads only to people who match that description. That means that if your audience mainly consists of middle-aged men from Birmingham, you can plug in those features.
By targeting only the people who typically buy from you, you can prevent your ads from being needlessly displayed to irrelevant audiences, thereby keeping your campaigns as efficient as possible.
7. Monitor results
Your dealer paid advertising doesn't end when you launch your campaign. In fact, it's only just starting! Once your campaign is up and running, you have to start monitoring the results it brings in. No campaign will be perfect from the get-go, so you have to optimize it over time.
The best way to do this is to keep an eye on some key metrics in Google Ads, like click-through rate (CTR) and conversion rate. These numbers will communicate how much your ads are doing for your business.
Ads that are underperforming should be paused or reworked. For ads that are driving stellar results, on the other hand, you may want to consider investing more of your budget. Either way, use the results you see to help you reoptimize your ads to drive better results.
Hear What It's Like to Work With WebFX!

"WebFX is a great company to work with! The marketers are dedicated to their clients and you can tell each team member truly enjoys their work and has a real passion for what they do!"
Heavy Equipment Distributor
Get the most from your PPC with WebFX's dealership PPC services
Need some help getting your PPC off the ground? WebFX would love to give you a hand! We know all about how to optimize PPC for dealers and distributors, and we can show you firsthand.
When you partner with us for our dealership PPC services, you won't be disappointed. We can help you drive conversions using all the tips listed above. Our more than 1000 client testimonials prove that we know how to produce stellar results!
To partner with us, just give us a call at 888-601-5359 or contact us online today!
Earn a 20% greater ROI with WebFX