Social media is a powerful tool for businesses seeking to grow their customer base and drive revenue. Even health care businesses and services such as hospice can benefit from social media.
Continue reading to learn how social media can improve your hospice company, or give us a call at 888-601-5359 if you'd like to speak with a strategist at WebFX about other digital marketing opportunities.
74% of people use social media when making a purchasing decision.
Make their decision easy with a stellar social media presence. See how your brand can level up by requesting a no-obligation proposal today.
One of our experts will be in touch within 24 hours!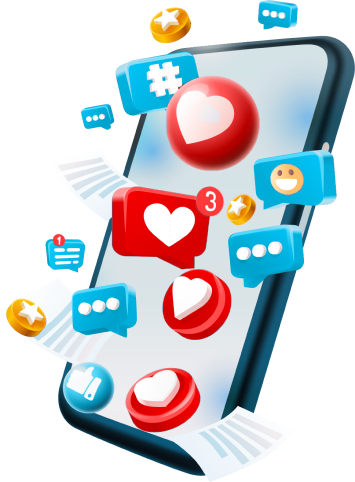 Why do hospice agencies need social media?
Social media is vital for any business that wants to attract leads and experience growth, including hospice agencies. As the tech-savvy rising generation becomes increasingly engaged in making end-of-life care decisions for their aging parents and loved ones, they will turn to the Internet and social media for guidance and ideas.
Social media can be a powerful tool for hospice organizations, helping them share news about the industry, provide details about their services, and build relationships with their target audiences. Hospice is a sensitive topic for many people, but with the flexibility and anonymity of social media, they can find the comfort and understanding they need from the privacy of home.
The benefits of social media for hospice
Having social media accounts increases your online presence and improves your search engine optimization (SEO), helping your business appear in more search results. Social media also provides many other advantages to hospice agencies who use it effectively, enhancing their ability to:
Build a community:

You can join groups on social media to offer support and valuable resources, share appropriate stories on your account, and inspire meaningful discussions about topics that interest your audience.

Communicate quickly:

Social media enables you to connect with your audience immediately, resolving concerns, answering questions, and providing the details your audience needs to make informed decisions.

Recruit talented staff members:

An active online presence will draw talented staff to your business as well as interested clients, helping you provide the best care for both employees and patients.

Establish credibility and authority:

Social media allows you to showcase your business and expertise, helping your audience recognize and trust you as a valuable source of information.

Educate audiences:

As your target audience searches for information online, they may come across your business thanks to the helpful educational resources you share on your social media profiles.

Create a positive image:

You can dispel false information about hospice care, portray your business in a positive light, and demonstrate the true value of your services through social media.
How to use social media effectively for hospice
Check out these tips to see how to reap all the benefits of social media for your hospice agency!
1. Create accounts on multiple platforms
To see success in your social media efforts, you need to go where your target audience is. Having accounts on multiple platforms will give you the widest reach, helping you connect with older generations planning for future care as well as younger generations looking into care options for their loved ones.
Each platform also offers different benefits and capabilities, enabling you to create various kinds of content to build better relationships with your audience. For example, YouTube is ideal for posting videos, while Facebook is a convenient place for sharing blog posts or joining groups.
2. Create valuable content
Strive to produce and share content that is meaningful to your audience members. Opportunities range from details about your services to information about relevant topics such as end-of-life care, grief, and loss. The more valuable content you provide, the more leads you will generate.
Other types of content you could focus on include:
Encouraging families and prospective patients to tell their stories.

Sharing blog posts from your website on social media.

Sharing or linking to helpful resources.

Promoting education about hospice care.

Inviting others to join you at an event you are hosting or attending.

Highlighting staff or agency achievements.
3. Post frequently and consistently
Being active on social media can boost your SEO by influencing factors that determine your rank on search engine results pages (SERPs). Some of the most significant factors your social media affects are how many people visit your website and how long they spend on it. When you post frequently, you give your audience more opportunities to:
Discover your content and services.

Click on links to visit your website.

Share your posts with others.

Read content on your page.
The more traffic your page gets and the longer visitors spend looking at it, the more likely your rankings on SERPs will increase.
4. Interact with others
Many customers are looking for personal connections with the businesses they interact with. Social media provides a convenient setting for creating relationships people crave, allowing you to meet their needs and prove your value. Interacting with your followers will also show them that you are accessible and caring, encouraging them to work with you in the future.
A few ways to build relationships with your followers include:
Inviting them to comment, like, and share your posts and articles.

Responding to their comments or personal messages.

Following local businesses and engaging with their content.

Sharing posts from industry leaders.

Promoting educational resources.

Joining groups and offering support.
5. Utilize your blog
Develop a blog on your website to discuss topics related to your business and industry. Once you have started posting, or if you already have a blog up and running, use your blog content for your social media posts. You can share highlights from your blog and link to the original post, driving traffic to your website, or you can repurpose your written content by creating a video or infographic to share.
Growing your social presence with WebFX is a walk in the park.
"WebFX allows growing your social media platforms to be stress-free! They are knowledgeable and adapt to your company needs!"
Learn More About Our Social Media Services

Social media management from WebFX
If you'd like help managing your social media accounts to see the best results, WebFX can assist you! We've been in the digital marketing business since 1996, so you can trust that we have the knowledge and expertise to aid your hospice agency in your online efforts. Learn how we can help you drive traffic, leads, and revenue by contacting us online today!
Increase your leads, sales, and revenue with digital marketing
Find Us Driving Revenue Nationwide