Physical therapy is one of the most competitive industries in medicine. It's also one of the most important.
That's why marketing a physical therapy office is so difficult. It's a highly competitive niche that helps clients recover from their injuries, empowering them to take their lives back into their own hands.
With such a valuable service, it's essential that physical therapy offices reach out to as many possible clients as they can.
The best way to do that is with digital marketing.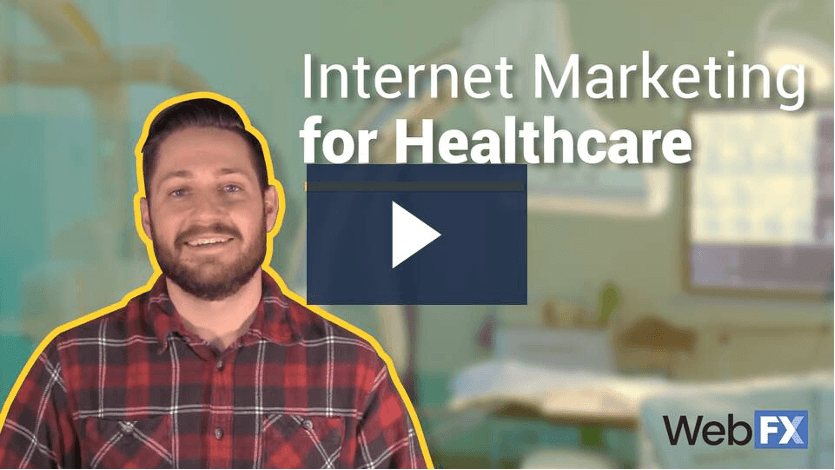 Call 888-601-5359 to speak with a strategist about how digital marketing for physical therapy practices can help you reach more patients, or keep reading to learn about a few key strategies that can help you improve your online visibility.
Our digital marketing campaigns impact the metrics that improve your bottom line.
See More Results

WebFX has driven the following results for clients:

$3 billion
In client revenue

7.8 million
Leads for our clients

5.2 million
Client phone calls
1. SEO for physical therapy
Search engine optimization (SEO) is the process of improving your website, so it shows up in search engine results.
These improvements include "optimizing" your site in lots of different ways, like streamlining the back-end code, adding specific keywords to your pages, and earning links from other websites.
Streamlining your code makes your site load faster. It also helps search engines easily "read" your site, so they know when to show you in different search results. That makes it easier for your target audience to find you as they're on the road to recovery.
Using keywords is equally important, since they tell search engines when to show your site. So if you use the keyword "Physical Therapy in [your city]" on your site's homepage, Google will show your site in search results when someone searches for that keyword. That qualified traffic then goes to your site, where you can turn them into new leads.
Last, earning links from other websites shows search engines that you're a trustworthy source of information in your industry. You can get links from news publications, industry blogs, medical journals, universities, and other outlets — all of which help you beat your competitors in search results.

Hear What It's Like to Work With WebFX!

"WebFX has completely transformed my practice. With their support, I have expanded my practice significantly and grown exponentially. I could not have expanded to this degree, nor this quickly had it not been for the incredible efforts provided by WebFX and my team."
Healthcare
2. Local SEO for physical therapy
In addition to regular SEO, local SEO is another essential aspect of digital marketing for PT practices.
Local SEO is the practice of designing your site so that it shows up in search results for people in your city or town. Essentially, local SEO is what helps you get clients in your area instead of attracting people to your site from across the country.
You have a lot of options for pursuing local SEO. The first step is to include your name, address, and phone number in the footer of your website. That way, every page tells visitors how to contact you.
Search engines also read that information. So if someone searches "phone number for [your business]," Google will display that number right in the search results to help someone contact you.
Google and other search engines also have local business listings. The most popular is Google My Business, which you can use to show up more often in Google search results and Google Maps.
Other search engines like Yahoo! and Bing also have that functionality, enabling you to reach the clients who need your help the most.
3. Content marketing for physical therapy
Content marketing is the process of creating new pages on your site that give visitors information on topics related to your business.
Those topics have a huge range for physical therapy offices like yours. You could write about the effectiveness of physical therapy, how it's changed over the years, and common issues your patients face.
Addressing those topics creates new pages on your site full of in-depth information that search engines will see. And if you optimize them for specific keywords, search engines will recommend those pages to users when they search for those keywords.
Popular forms of content include blog posts, infographics, videos, podcasts, and ebooks. All of these forms of content have the potential to attract potential clients to your site, which you can then turn into paying customers.
4. Social media marketing for physical therapy
Social media marketing involves creating profiles for your business on major social networks. Those networks include Facebook, Twitter, and LinkedIn — just to name a few.
Social media marketing helps physical therapy providers in a number of ways.
First, it gives you the chance to improve your local listings by adding your name, address, and phone number to some of the most popular websites in the world.
Second, it lets you reach out to potential clients directly, so you can build relationships with them. Whenever someone asks you a question or leaves a comment on your page, you can reply with an answer immediately. That lets you demonstrate your knowledge and build trust with people who you can eventually help.
Third, social media marketing lets you promote your website by writing posts, tweets, and blogs about your company. Then, you can share that content with your followers, and turn them into leads and paying clients.
If you want to use social networks to promote your business, it's completely free to sign up. Every network charges if you want to advertise, but none of them charge you for joining, posting, and building a following.
5. Conversion rate optimization
To make the most of online marketing for physical therapy practices, incorporate conversion rate optimization (CRO) into your marketing plan.
CRO is the process of finding the most efficient ways to turn your site's visitors into leads or paying clients.
CRO requires a lot of testing and patience, but it pays off tremendously when you discover something that works.
A typical CRO process looks like this:
Create a page to convert new leads
Record that page's conversion rate as a percentage of total visitors
Create variations of a single element on that page
Test those variations against each other for the same time period
Find the most efficient variation and implement it fully on your site
This process is highly specific for good reasons.
First, you need to create a page with the option to convert new leads.
Second, you let that page work for a few months, so you can see how many visitors it attracts and converts. This page and its data become your statistical baseline for future testing.
Next, you should find one element on that page to test. It's critical that you only choose one element. If you choose more than one, you won't know what you changed to get positive or negative results.
After that, test those variations for the same time period — typically several months.
Finally, look at the data to discover the most efficient variation you made. Then, implement it on your site.
With CRO, you can test virtually everything on your site, from the color of a button to the wording of a call to action. All of them have the power to drastically improve your conversion rate and help you earn new leads, and get more clients.
WebFX offers expert digital marketing for physical therapy practices
At WebFX, we offer a full suite of digital marketing services for physical therapy practices. We have extensive experience providing world-class online marketing to clients in the healthcare industry, so we understand the unique challenges businesses like yours face.
We also understand that each individual practice is different, so we'll take the time to get to know you, your needs, and your goals. Then, we'll create a custom strategy for you and work with you to implement it and grow your practice.
Whether you're a full-service medical institution or a single-person private practice, we can help your physical therapy business help more clients and earn more revenue. Request a free quote or call us at 888-601-5359 today to get started!
Earn a 20% greater ROI with WebFX