As a construction company, you build everything from office buildings to factories on a regular basis. What you may not be so familiar with, however, is building websites.
In this digital era, it's essential that your construction company has a website where people can find you. But more than that, with 94% of users' first impressions relating to web design, having good web design for construction websites is a must. So, how do you do that?
Read on for more information about web design for construction companies, and then take a look at our web design services. With over 1020 client testimonials, we have the dedication and expertise to optimize your website for maximum lead generation!
We'll help you create a website that stands out.
"WebFX has been instrumental in helping us develop a new website, allowing us to be a leader in our industry."
Learn More About Our Web Design Services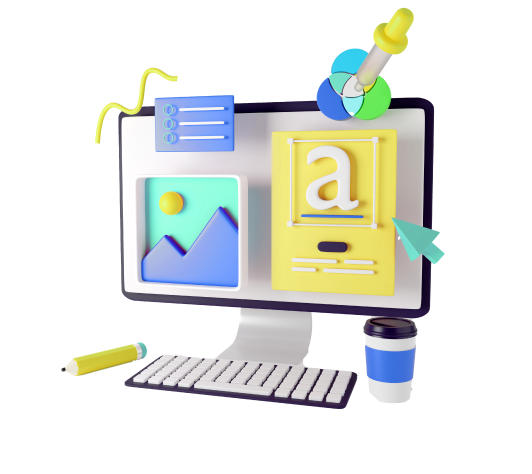 5 construction web design tips
There's an almost endless list of things you can do to improve your construction web design, but you can start off by optimizing some critical web design components.
Below, we'll go over some basic things to get right on your website and look at some construction website examples that show how to implement them.
1. Navigation
Your website won't make a positive impression on users if they can't even find their way around it. One of the first things you need to get right in your construction web design is your navigation.
Good website navigation means clearly laying out the structure of your site for users to see. You can take your design to the next level by adding markers to show them where they are on your site. You can do these things in a few different ways, but one of the easiest methods is to use navigation bars.
Bechtel's website, shown below, does a great job with this. In addition to a simplified navigation bar at the top of the page, it has a hamburger menu that opens into a side panel showing the full hierarchy of the site.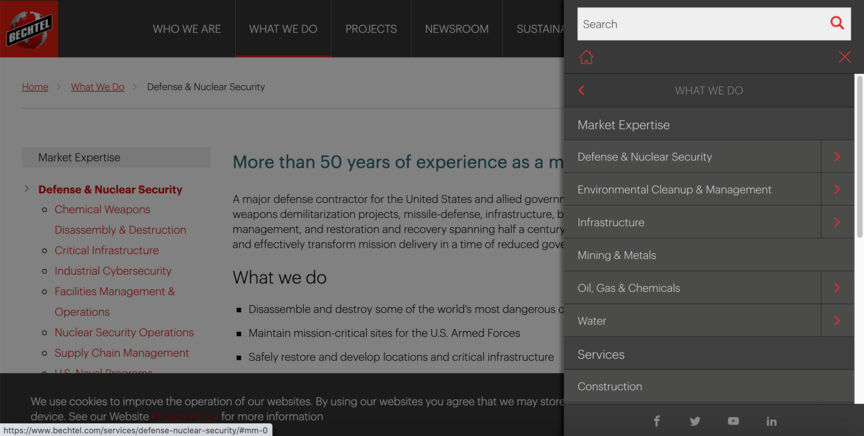 You can also see a breadcrumb navigation trail on the left side of the page, beneath the header, to show you where you are.
2. Principles of design
Web design has plenty of unique attributes, but it also shares a great many things with other types of design. One such shared feature is its adherence to the four visual principles of design: Alignment, contrast, repetition, and proximity.
Alignment: Lining design elements up in a logical and visually appealing way.
Contrast: Ensuring that no elements look too similar or clash with each other, particularly in regard to color.
Repetition: Repeating certain elements to maintain a consistent feel across the space
Proximity: Establishing connections between different elements by placing them close to one another
When web design for construction companies — or any other business — fails to make good use of these principles, it can make the design harder on the eyes, which in turn can lead to a worse user experience.
To see one example of how design principles can make a difference, we can look at Skanska's commercial buildings page. This page looks great on all fronts, but pay special attention to the alignment.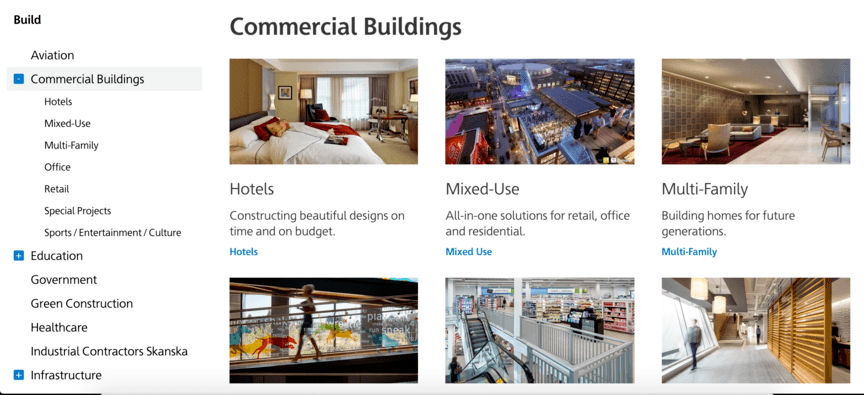 The images in the grid are aligned with each other both vertically and horizontally, and all three lines of text under each image are perfectly left-aligned. The alignment of the text in the side navigation bar, meanwhile, tells us the hierarchy of the pages shown there.
It's a great example of how the little details can make a big impact on your site's design.
3. Responsive design
If you've done web-surfing on both a phone and a computer before, you may have had a different experience on each device. And in all likelihood, you've encountered a few websites that weren't optimized for responsive design. This means they weren't optimized to work on both a mobile and desktop format.
With over half of all Internet searches happening on mobile, you can't afford to have a website that only works on a computer screen. You need to optimize it to work for either format, so customers will get a good impression of you no matter what device they find you on. Responsive design makes this happen.
For an example of good responsive design, let's take a look at Balfour Beatty's website. On its homepage, it features a "Trusted Builder" section that displays some of the company's projects. On the desktop version of the site, it lays out three examples horizontally, with the text appearing beneath each image.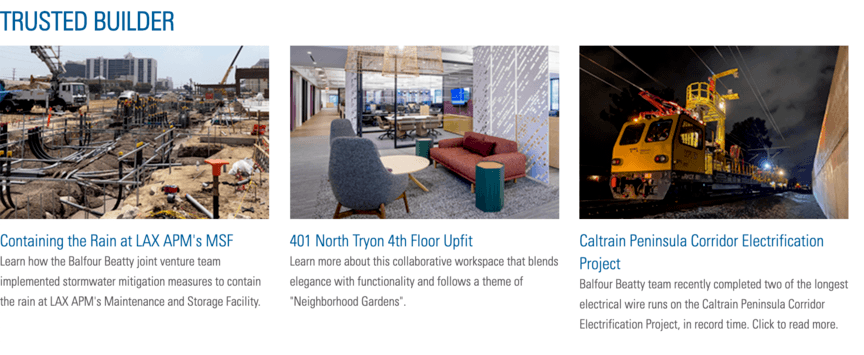 But this arrangement wouldn't work well on a phone screen. So for the mobile format, the site lists the examples vertically, with the text displayed to the right of each image.
4. Video
One of the best things you can do to keep people on your website is to use some form of video. Videos are incredible at grabbing people's attention and drawing them in — users spend 88% more time on pages that feature videos!
Your homepage is a great place to place a video.
If the first thing users see when they arrive at your website is a video — preferably one that plays automatically as soon as the page loads — they'll be much more likely to stick around.
A construction company that does a great job of this is Holder. As soon as you arrive at their homepage, you're greeted by a full-page background video showing clips of Holder workers in action. The video also shows a timelapse of a building being constructed, providing an example of something Holder built.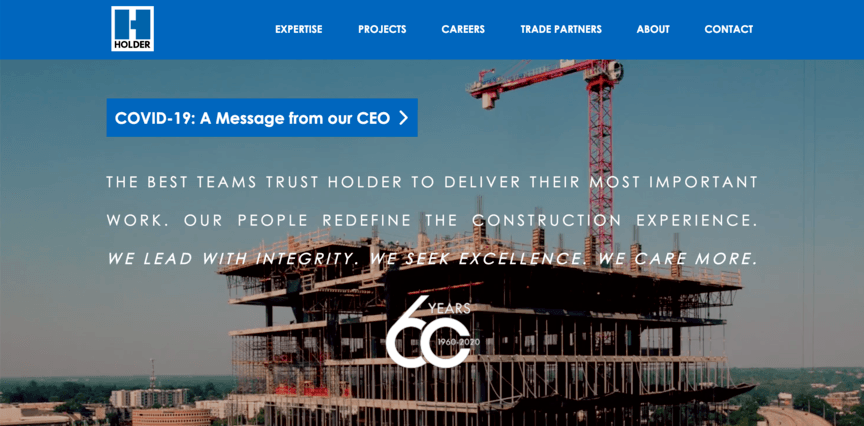 5. Interactive content
Web design for construction is a great place to feature moving content in addition to static images and text.
But that doesn't just mean video. You can go a step further by including content that changes not just of its own accord, but in response to users' actions.
Interactive content can take plenty of different forms, but the basic idea is that it reacts to what the user does with it.
It can start as simple as having an image that displays hidden text when you hover over it and can range as far as using interactive pricing charts where users can input personalized information to get a quote.
KBR's homepage is a great example of using interactive graphics On top of the background video like Holder's, it has a few basic interactive features. As you scroll down the page, you trigger slide animations that display additional content, and several of these change color when you hover over them.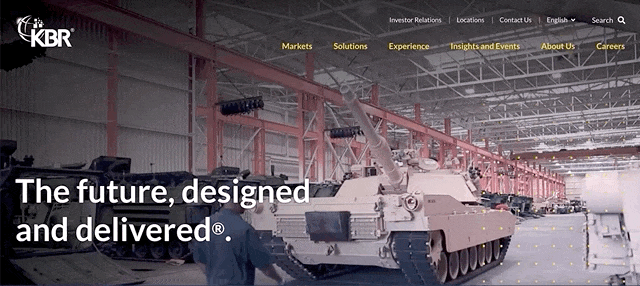 Perhaps the most entertaining element is the grid of yellow dots displayed over the video, which move around when you move your cursor through them.
While these things may not serve any explicit function, the very fact that the interaction is there is enough to draw most users in and get them to engage on the site.
How much does it cost to build the website of your dreams?
Use our FREE website design cost calculator to get an idea!
Web Design Cost Calculator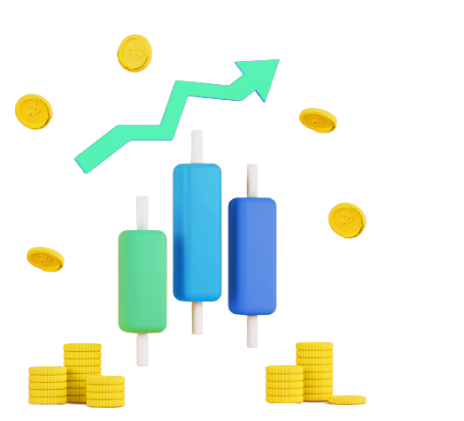 Hear What It's Like to Work With WebFX!

"We were looking for a forward-thinking but down to earth SEO company to partner with. Not only were we looking to build a long term business relationship but we needed them to understand our needs as a small company. And WebFX met all of that criteria. Our experience has been unparalleled; from the sales team who made the drive to our office to meet us in person to our Internet Marketer who has been an absolute joy to work with. They are completely transparent about their services and they take the time to explain everything which not only sets them apart from every other SEO company we have worked with but we also feel like we're taking something away from our interactions with the staff at WebFX. We are exited to see where this year will take us knowing that we have such a great support system with their company."
Home Contractor
Optimize your web design with WebFX
Not sure how to make these construction web design tips work for you? We can help! WebFX has been working in the digital marketing industry for over 25 years, and our custom construction website services are some of the best you'll find.
We'd love to help you optimize your website to draw in new clients. To get started with us, just give us a call at 888-601-5359 or contact us online today!
Earn a 20% greater ROI with WebFX