One of the biggest benefits of Internet marketing is the ability to leverage good reviews and testimonials from happy customers. Unfortunately, there can sometimes be a downside to this ability. Just as satisfied customers love to boast about your contracting services, an unhappy customer can use those same channels to complain. To protect your business, consider online reputation management for contractors.
Your industry is the type of business that relies on referrals and recommendations. If people like your work, they'll mention your business to their friends and colleagues. If they don't, they'll steer them to a competitor. It may not be possible to please every single customer you work with, but online reputation management will minimize the potential damage to a negative experience.
You can call 888-601-5359 or contact us online to speak with one of our 500+ experts today! We would love to work with you to ensure your reputation stays intact and attracts new customers.
This page explains why you need to monitor your company's reputation, as well as a few tips to get you started.
Our digital marketing campaigns impact the metrics that improve your bottom line.
See More Results

WebFX has driven the following results for clients:

$3 billion
In client revenue

7.8 million
Leads for our clients

5.2 million
Client phone calls
Why is online reputation management so important?
The Internet allows your messages to travel farther and faster than ever before. That's great when it comes to marketing your contracting business, but the problem is that negative stories or reviews about your business can travel just as fast.
Social media and other online channels have given consumers more control over the business relationship. Someone who wasn't happy with your most recent project won't write a letter of complaint—he or she will go online and tell everyone what went wrong.
Reputation management helps you catch these kinds of stories before they travel too far and handle them appropriately. Unless you spend some time tracking and monitoring feedback about your business, there's no way to know how many people are talking about it or what they're saying. If you don't know what people are saying, you can't respond. And as long as negative press go unanswered, your business loses confidence among potential customers and even some current ones.
Hear What It's Like to Work With WebFX!

"We were looking for a forward-thinking but down to earth SEO company to partner with. Not only were we looking to build a long term business relationship but we needed them to understand our needs as a small company. And WebFX met all of that criteria. Our experience has been unparalleled; from the sales team who made the drive to our office to meet us in person to our Internet Marketer who has been an absolute joy to work with. They are completely transparent about their services and they take the time to explain everything which not only sets them apart from every other SEO company we have worked with but we also feel like we're taking something away from our interactions with the staff at WebFX. We are exited to see where this year will take us knowing that we have such a great support system with their company."
Home Contractor
How can negative press affect your contracting business?
A negative news story can wreak havoc on a company's reputation and bottom line. In traditional media, the story would last for a day or two and then be replaced with something else—without being passed along to non-readers. Today, a story doesn't just last for a day—it can last for weeks or even months, and people are more than happy to share their own negative experiences as a supplement.
What could happen if such a story continued to spread across the Internet? For starters, the marketplace trusts your company less than before. A negative account—even an untrue one—can make people think twice about doing business with you. A poor review may raise suspicions about the quality of your work, while an article about misconduct or some other infraction casts doubt on the integrity of your business.
This could lead to fewer sales and lower revenues, because even if the claims made against you were unfair or untrue, your potential customers will be less confident about doing business with you. The same goes for a company accused of bad business practices. No one would hire a contractor with a questionable record when they could choose one with a solid work history.
No company is immune, especially in a time when unfiltered feedback can spread like wildfire on blogs and social media. The difference between a company that overcomes negative press and one that doesn't is reputation management. With the right strategy, your company can minimize the effects and come out stronger than ever. If not, that bad coverage can turn into a permanent stain on your reputation.
How can you manage your reputation online?
The key to reputation management is quick action. Bad news can travel fast online, so you need to be just as quick to neutralize the negative effects. These strategies will make it possible to keep your reputation intact.
Monitor online activity
What are people saying about your business? You know what they're saying on your blog and social media pages, but what about on other sites? This might seem like an impossible task given the vastness of the Internet. However, an online reputation management tool will bring all the mentions of you and your company to your attention.
Look for tools that monitor feedback on blogs, social media, search engines and other channels. Check these tools once a day or set them to send email updates, so you always know what is being said about your business.
Respond in a timely manner
A negative review on an obscure site might seem harmless—until a popular blogger gets hold of it and shares it with his or her audience. If your reputation management tool catches an unflattering review or article, respond to it right away.
Address a client complaint with an apology and an offer to resolve the problem. Reply to unflattering blog posts and articles with clarifications, updates, and an apology if you made an error. The sooner you answer negative feedback, the less damage your reputation will suffer.
Leverage positive news
When you don't respond to bad press right away, it can take on a life of its own. One story follows another, until these stories are the first things that come to mind when someone thinks of your company. In fact, they can even come up when someone does a search for your company—unless there are other stories or reports to counteract them.
If you showcase glowing testimonials, good reviews of recent projects, and other content that shows your company in a positive light, you can show that the negative stories are not representative of your business.
Good agencies have more than 50 testimonials.
Great agencies have more than 100 testimonials.
WebFX has over 1000+ glowing client testimonials.
See What Makes Us Stand out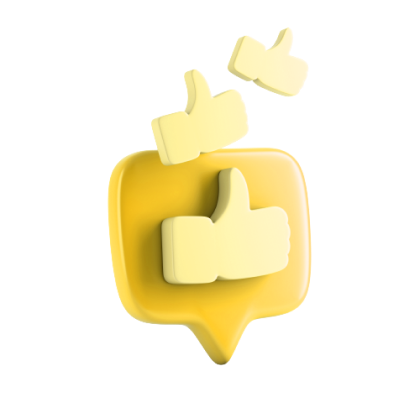 How WebFX can help
A good reputation takes a long time to build, but not much time at all to lose. One bad experience can cost future business, which is why it's important to monitor your reputation and act fast when a threat arises.
Don't wait until something happens to worry about your reputation—be proactive and start managing it now. For more information, check out our online reputation management plans or contact us today to speak with a strategist.
Earn a 20% greater ROI with WebFX