Maintaining quality customer service is vital for all businesses. A customer relationship management (CRM) system can help you improve customer bonds and gain insight into your business.
A CRM system can help busy electricians with little time to manage their marketing efforts, jobs, and schedules. Continue reading for a complete guide for CRMs for electricians.
When you want help from an industry-leading digital marketing agency, WebFX can help. Contact us to speak with a strategist about implementing CRM in your business.
Don't miss our Marketing Manager Insider emails!
Join 200,000 smart marketers and get the month's hottest marketing news and insights delivered straight to your inbox!
Enter your email below:
Inline Subscription Form – CTA 72
"*" indicates required fields
(Don't worry, we'll never share your information!)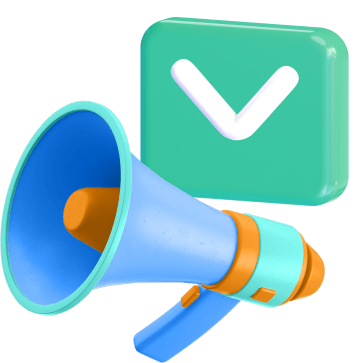 What is a CRM for electricians?
A CRM is software businesses use to help them collect and maintain sales, marketing, and client information. The software can gather and reserve customer data like:
Basic demographics, like age and location
Email addresses
Phone numbers
Collecting your clients' information can help you tailor your marketing campaigns to their preferences and experiences, giving you more chances to generate conversions.
Why should electricians implement a CRM system?
CRM can improve and streamline your customer service experience and organize your operations. The system safeguards all your information in a central location, so you don't have to spend time searching multiple files or documents for data.
CRM is a beneficial tool that helps electricians focus on their primary job without worrying about the back-end processes. You can save time and energy by using the software and improve your customers' experiences with your company. These systems help build user loyalty by serving the customer.
Benefits of CRM systems
Electricians can enjoy using a CRM system to stay organized and improve customer relationships. You can expect the following advantages from your CRM.
Improved customer service
With all your information stored in one place, you can easily access it whenever necessary. You can personalize content based on your client data to ensure they see and interact with relevant content. You can also encourage more leads, engagement, and conversions by only providing the information they want.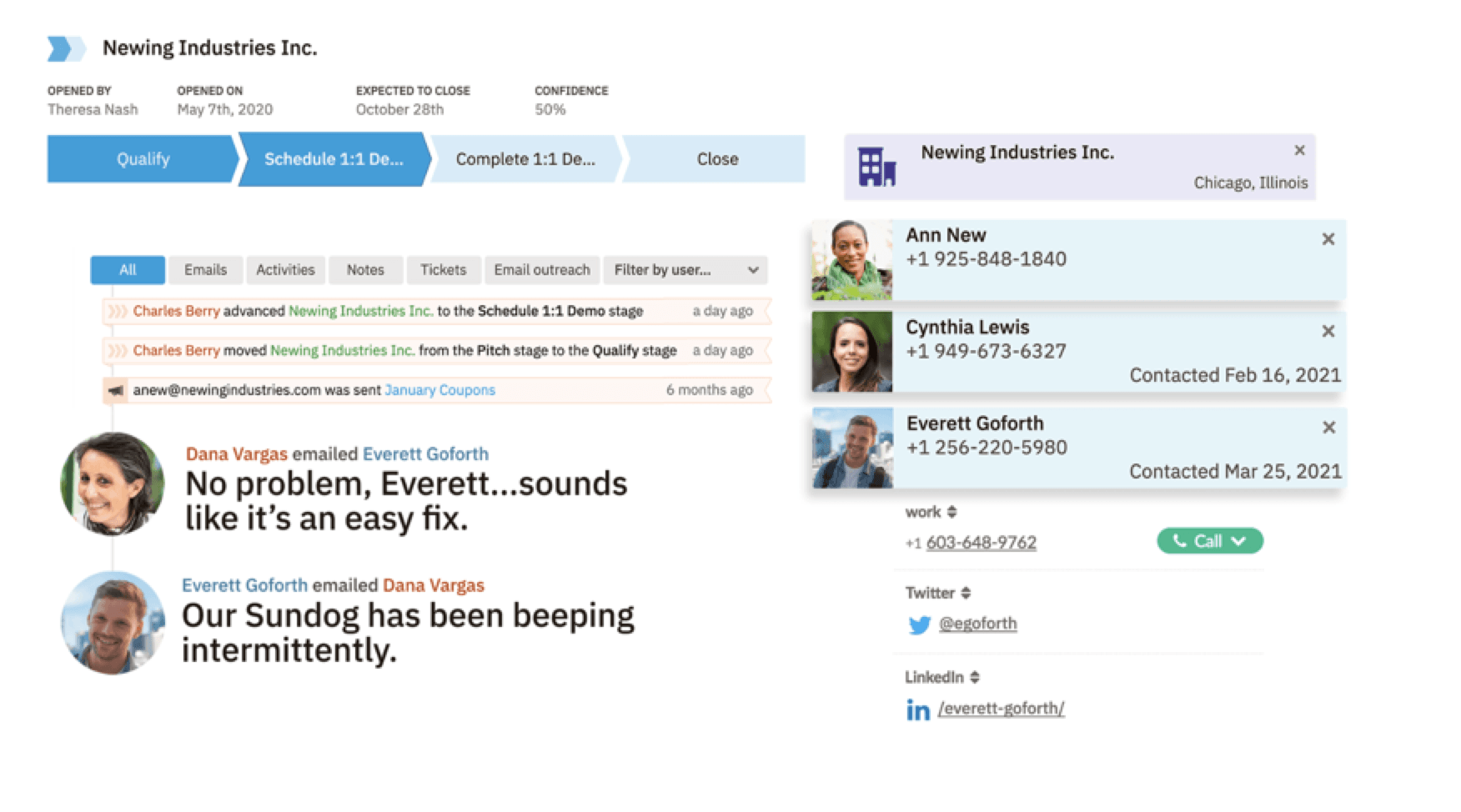 CRM software also often includes automation features, helping you deliver information fast to your customers. Many systems also have unique features that alert you when you receive a communication request or other issues.
Increased sales
You can use a CRM to gain insight into your sales approach, seeing how effective it is and what improvements you could make. Tracking analytics can help you monitor your top customers and develop ways to appeal to new ones.
With a CRM, you can:
Optimize schedules
Track projects
Receive reports and feedback
All these tools can help you improve your sales — with more insight, you can better target problem areas and deliver a better experience.
Easier collaboration
The CRM works for employees as much as it does for customers. If you have multiple team members, you can use the software to keep track of everyone's schedule, client projects, and data. You can communicate specific information back and forth between teams, so everyone can be on the same page.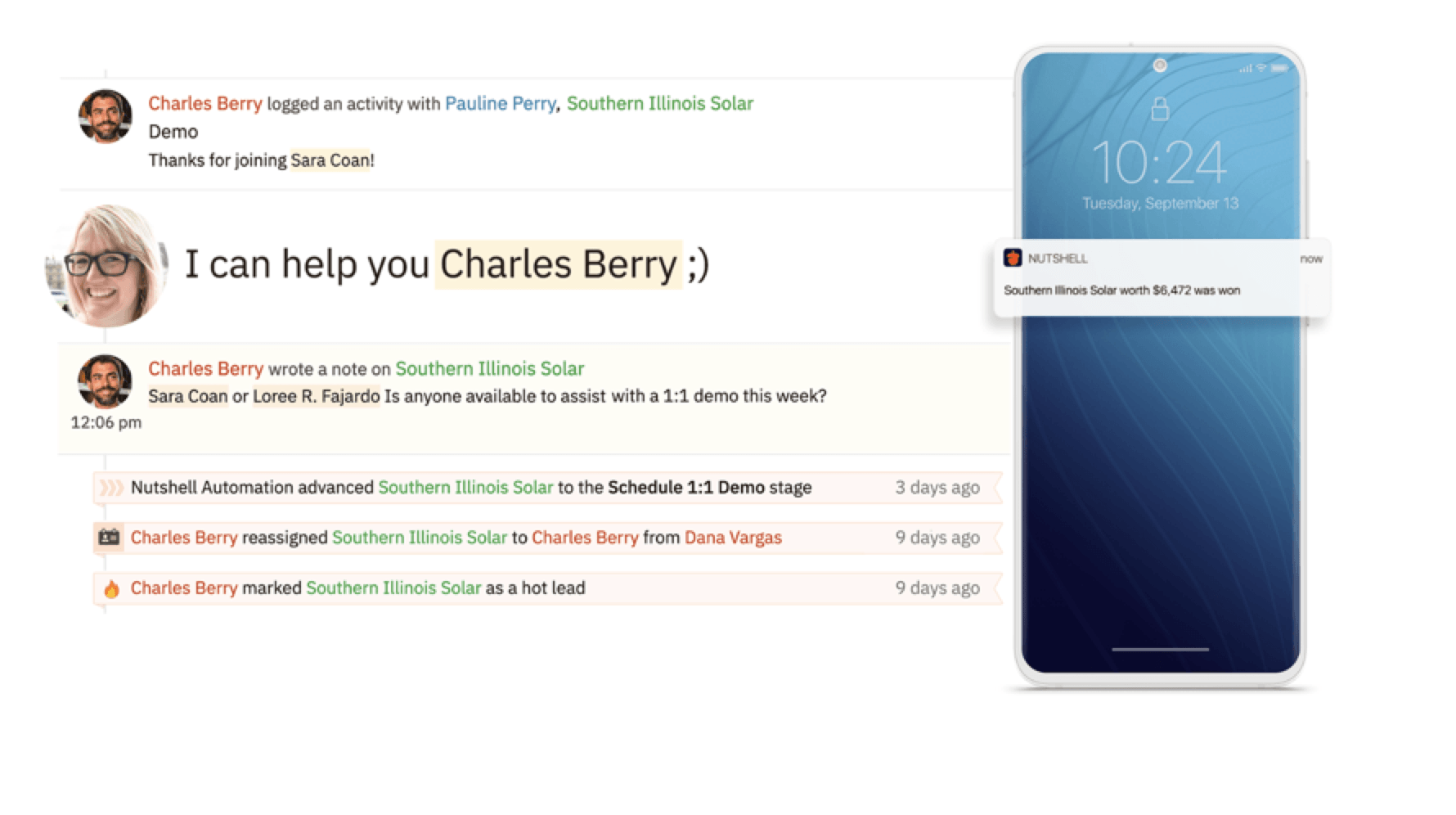 The software also helps everyone work in sync. Some systems provide ways for employees to update their managers about their jobs. The software could include features that help employees share:
Their location
What happened during the job
How long the job took to complete
Any project notes
Greater efficiency
Whether you are a solo contractor or have a team of electricians, having a CRM system can make administrative work more efficient. You can access information at the click of a button instead of searching through filing cabinets and folders.
You can save time by no longer needing to manually send quotes, contracts, and more. A CRM's automation feature can send your clients the necessary paperwork and information.
Many CRM systems also help you keep track of your marketing efforts. Others monitor your return on investment (ROI) for your marketing budget, monitor the lifecycle of your leads, manage your sales pipeline, and more.
How to choose a CRM
Many CRMs have different components, so finding the system that works for your needs is vital. When looking to implement CRM, consider some of the following aspects.
1. Determine the features and functions you need
Every business has different needs. A system used by a larger company may have more features than one for a smaller business.
When looking for a new CRM, first look at its functionality and features. Ensure the software has services that suit your business needs and will perform the way you need, including:
Employee tracking
Real-time data
Third-party integration
Customization options
Finding a scalable CRM can also benefit your business as it grows. You can upgrade your system as your business needs it.
2. See if CRM integrates with other software
If you already use other systems to manage your business, ensure the CRM can integrate with them. Transferring data between systems at the click of a button saves you time, allowing you to focus more on your front-end activities.
MarketingCloudFX — WebFX's proprietary software — has integration options for CRMs that make it easy to combine all your data.
3. Experience the process firsthand
If possible, try requesting a demonstration or free trial of any potential CRM systems you want to incorporate. Experiencing the tool before officially implementing it can help you see how it works in real-time for your business. It also can help you distinguish your likes and dislikes about the product.
Conducting a trial run will help you find the best CRM for your electrician business needs.
Meet MarketingCloudFX:
One platform tracking countless metrics and driving stellar results.
Learn More About Our Proprietary Software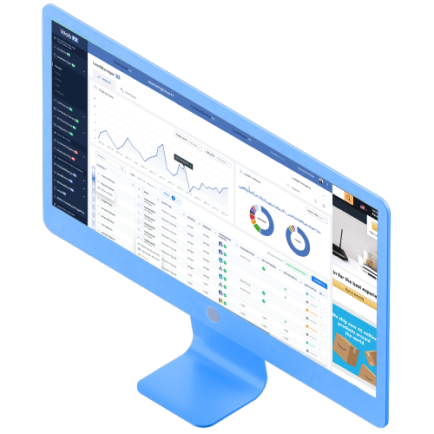 Let WebFX help you integrate CRM into your electrical business
When you need to integrate CRM into your practices, WebFX can help. We are a leading digital marketing agency specializing in analyzing and tracking customer data to help create customer-centric strategies that drive results.
Our CRM management software, NutShell, enables you to organize and manage your audience data to increase and improve your customer service efforts.
With over 25 years of dedicated experience, we've helped clients in various industries drive over $3 billion in revenue. Our dedication to driving the highest ROI for clients is evident in our approach to providing excellent services.
Start incorporating CRM into your electrical business today by working with WebFX. Contact us online or call us at 888-601-5359 to speak with a strategist about CRM!
Earn a 20% greater ROI with WebFX
Increase your leads, sales, and revenue with digital marketing