The key to driving sales and revenue is understanding your audience and deliver the right messages at the right time to encourage them to convert into happy customers. And that process is made infinitely easier with customer relationship management (CRM) software.
But you must analyze the data in your CRM to gain valuable insights into your leads and prospects to understand how to convert them. That's where CRM analytics comes in.
If you want to learn how to analyze and leverage your CRM data for more sales and revenue, this blog post is for you. So keep reading to learn all about CRM data analysis!
And don't forget to subscribe to our Marketing Manager Insider emails while you're here for even more free revenue-driving sales and marketing advice from our award-winning experts!
Don't miss our Marketing Manager Insider emails!
Join 200,000 smart marketers and get the month's hottest marketing news and insights delivered straight to your inbox!
Enter your email below:
"*" indicates required fields
(Don't worry, we'll never share your information!)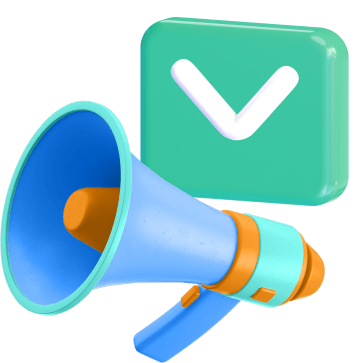 What is CRM analytics?
CRM analytics is the process of gathering, organizing, and assessing the data in your CRM to gain insights into your audience's behaviors, interactions, and interests. You can also use CRM data analysis to better understand which sales and marketing processes drive the most leads and conversions for your business.
How can CRM analytics help you drive sales and revenue?
Now that you know the answer to the question, "what is CRM analytics", let's dive into why you should practice it.
CRM data analytics can help you:
What CRM analytics metrics should you track?
So, now you know why you should analyze your CRM data, but what exactly should you analyze?
Here are some of the most important data you should analyze in your CRM and how you can leverage that data for more revenue:
New leads
Keep track of how many new leads you're generating in your CRM.
Plus, you should also keep an eye on the source of your new leads. Did they fill out your contact form on your home page? Did they request a demo on your product page?

How to leverage new lead data for better results
By getting an idea of how many news leads come in for your company, you can better understand the success of your lead generation efforts. And by tracking your lead sources, you can analyze which lead generation strategies drive the best results.
As a result, you can optimize your current lead generation tactics to drive even more leads for your business in the future. For example, if most of your leads contact you on social media, you can improve your social media campaign to boost your brand awareness and attract even more leads.
Closed deals
You should also keep track of the number of closed deals in your CRM. Analyzing your closed deals can give you tons of valuable insights into your processes and strategies.
How to leverage closed deal data for better results
By taking a look at how many sales and conversions you generate, you can measure the success of your sales processes.
For example, if you send an email drip campaign to high-value leads, it's essential to see how many leads converted into customers to analyze the campaign's success. If you don't convert any prospects, you'll want to tweak and improve your campaign to help you drive conversions in the future.
Lost deals
When it comes to CRM analysis, you'll also want to track your lost deals. Although losing deals is definitely not your goal, you can still gain a lot of information from those sales that didn't follow through.
Be sure to keep an eye on the number of deals that fell through the cracks in your CRM. In many CRM platforms, you can view the stage where your prospects fell out of your funnel.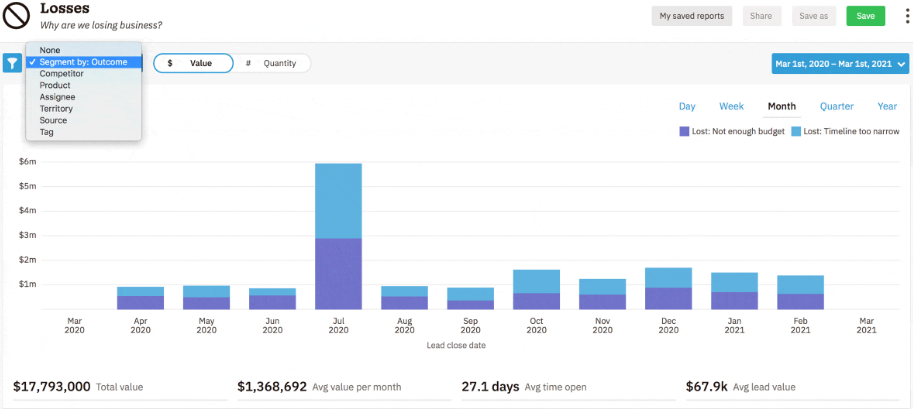 How to leverage lost deal data for better results
Analyzing your lost deals can help you measure the success of your sales processes and strategies.
For example, let's say you notice that many of your leads drop out of your sales pipeline after signing up for your email newsletter. In that case, you can optimize your email newsletters to contain more engaging content, like videos, so you can keep your leads' attention until they're ready to convert.
Website engagement
Several CRM platforms also allow you to analyze your audience's behavior and engagement on your website. You can view which pages they visit, which content they spend the most time viewing, what links or buttons they click on, and more.
How to leverage website engagement data for better results
Understanding your audience's behavior on your website is critical. It helps you gain deep insights into which content and messaging encourage them to get in touch with your company and make purchases.
It also enables you to improve your content strategy and web design to give your audience the information they want most while also providing the best user experience.
For example, if you notice that your audience spends the most time watching your videos, you can focus on improving your videos and making more of them to increase your engagement.
Audience interests and demographics
When performing CRM analysis, you'll also want to track your audience's interests and demographics. One of the biggest benefits of using a CRM is learning more about your audience.
As you earn new leads and customers, your CRM will collect their information, including their email addresses, location, job title, interests, and more. Be sure to analyze this information to better understand your prospects and current customers.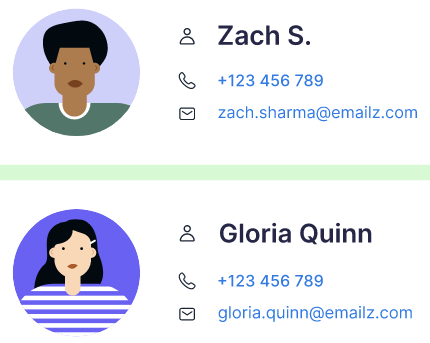 How to leverage audience interests and demographics for better results
When you analyze your audience's interests and demographics in your CRM, you can find commonalities to help you launch targeted ad campaigns that reach more potential customers.
For example, suppose you notice that most of your current customers are located in Miami and between the ages of 30 and 39. In that case, you can launch a social media ad campaign that displays your ads to people who fit that criteria as they browse through their newsfeeds.
You can also use these insights to personalize your audience's experiences. For example, you can create segmented email lists by grouping prospects with shared interests together. Then, you can send each segment personalized email messages that resonate with their unique wants and needs.
Measuring the metrics that affect your bottom line.
Are you interested in custom reporting that is specific to your unique business needs? Powered by MarketingCloudFX, WebFX creates custom reports based on the metrics that matter most to your company.
Leads

Transactions

Calls

Revenue
Learn More

Looking for revenue-driving CRM analytics software?
Are you searching for the best CRM data analytics solution? Need help leveraging your data to drive more revenue? MarketingCloudFX and Nutshell have you covered.
MarketingCloudFX is our in-house marketing proprietary software. It comes equipped with 10 seats in Nutshell⁠ — a hassle-free CRM platform that helps you close more deals.
With Nutshell, you can learn about your audience's interests and analyze their entire customer journey from initial awareness to conversion.
Then, you can sync that data with MarketingCloudFX, enabling you to implement data-driven marketing strategies that personalize your audience's experiences and expertly nurture them toward conversion.
Contact us online or call us 888-601-5359 to learn more about how MarketingCloudFX and Nutshell can help your business make waves in your industry.
WebFX Careers
Join our mission to provide industry-leading digital marketing services to businesses around the globe - all while building your personal knowledge and growing as an individual.