When you own a flooring company, you're constantly looking for high-value leads. You want new customers for your business, but strategic lead generation for flooring companies is no small feat.
By building your online presence, you can reach new leads and grow your business. There are many opportunities available to advertise, so it can be difficult to know which strategies are best for your business.
On this page, we'll take a look at three online strategies to increase leads for your flooring company:
If you need help figuring out the best lead generation strategies for your business, call us today at 888-601-5359 to speak with a specialist, or keep reading this beginner-friendly guide!
37% of marketers say that generating high-quality leads was one of their biggest challenges.
We want to decrease that percentage.
WebFX can help you generate high-quality leads with a customized marketing strategy.
Learn More About Lead Generation Services
1. Pay-per-click (PPC) advertising
If you've ever conducted a Google search, you've probably seen pay-per-click (PPC) advertisements at the top of the results. These are paid advertisements that appear above the organic listings.

PPC advertisements are triggered by keywords. When a user types in a search with particular keywords, the advertisements appear at the top of the search results.
How do you choose your keywords?
Keyword selection is an important part of the PPC process. These keywords will determine when your advertisements will appear. There are two types of keywords that businesses use for PPC.
Short tail keywords are keywords that contain only one or two words. These are terms like "flooring" or "flooring company." These are very generic searches that don't provide a lot of detail about the searcher's intent.
You want to avoid short tail keywords because they are not specific to user intent. Someone who is searching for a "flooring company" could be searching from anywhere with different intentions. These generic terms will also have a lot of competition from other companies.
The best option for your business is long-tail keywords. These keywords contain three or more words. Instead of using the keyword "flooring company," you would use "flooring company in Harrisburg, PA."
Long-tail keywords are more specific to what users are seeking, and they will help you get more qualified leads.
How does PPC operate?
PPC uses a bidding system. Once you have your keywords selected, you will need to bid for your ad placement.
Your maximum bid is the amount you are willing to pay for each ad click, also known as cost-per-click (CPC). Your maximum bid is flexible and can be changed when you want.
When you utilize long-tail keywords, there is less competition, so your max bid and CPC can be lower.
With short tail keywords, there is a ton of competition. The CPC for these keywords tends to be in the double digits. Instead of paying $2 per click for a more specific keyword, you could end up paying $30 per click for a generic keyword that won't drive in as much valuable traffic.
Your maximum bid and quality score will determine your ad placement.
Why should I use PPC?
PPC has a lot to offer your business. If you're looking for a great way to bring in new flooring leads, PPC is for you. Check out these noteworthy benefits of PPC:
You'll get more qualified leads
Long-tail keywords bring in more credible leads. Users search with specific keywords because they want the most precise results. Customers that are ready to convert aren't using short tail keywords.
By using long-tail keywords, you'll be able to capture those leads. Your leads will be searching specifically for a business like yours. When they see your PPC advertisement, they will be more likely to click on it and check out your business.
PPC visitors are 50% more likely to make a purchase than organic visitors. People who click on your advertisements are more interested in converting and using your services.
It's budget friendly
PPC works with your budget. If your budget is one of your biggest concerns, PPC is one of the best solutions for your budget worries.
PPC enables you to set your budget and stick to it. If you only want to spend $3,000 on a PPC campaign, you can do that. Your PPC campaigns are built around your budget.
With PPC, you'll never pay over your maximum bid. There are no unforeseen or additional costs.
PPC is a favorable option for businesses because it works with your budget. You set the amount you want to pay and have the ability to change it as you need.
You can monitor your progress.
If you're investing your time and money into PPC, you want to see if it's working. PPC enables you to monitor your campaigns as soon as you launch your ads. And if you don't like the results, you can alter your advertisements and keyword selection at any time.
PPC gives you the flexibility to change your campaigns as needed. This is a great way to figure out what works for your advertising plan.
If you're looking to reach more qualified leads, PPC is a great way to do it. With PPC, you can attract more qualified leads that are more likely to convert.
2. Search engine optimization (SEO)
Search engine optimization (SEO) is a great lead generation strategy to use in conjunction with PPC. SEO focuses on boosting your website's ranking to the top of the search results. Since 75% of people don't look past the first page of results, it's important that your website ranks on the first page.
How does SEO work?
Similar to PPC, SEO utilizes keywords. You'll want to use long-tail keywords here too. You can use the same keywords from your PPC campaign in your SEO campaign. Once you select your keywords, you need to optimize your site.
Google looks at numerous factors when ranking your site. Many of these factors are based on the user experience. Users need to have a positive experience on your website to keep them on it.
Keep it running fast
Users won't wait for your page to load. They want access to information quickly and a slow loading page hinders that. When your page loads too slow, users return to the search results to pick another site.
You can use Google PageSpeed Insights to see how your page is performing. This tool will tell you where your website falls short and how you can fix it.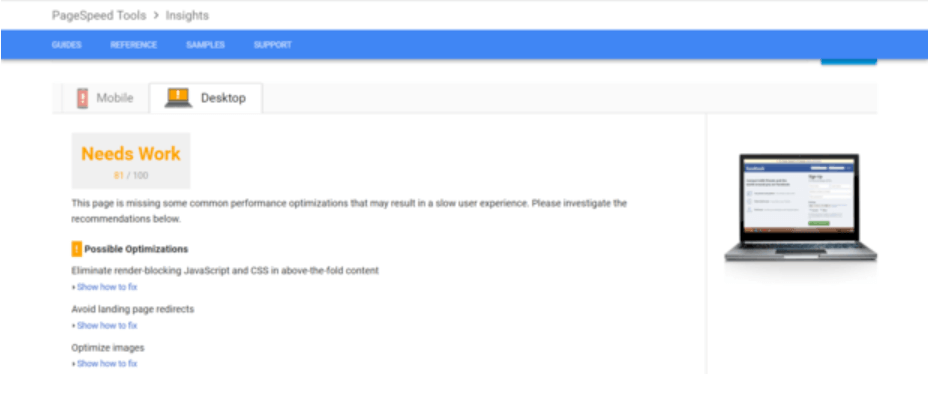 If you're not happy with your site speed, you can check out our page speed optimization services to improve your website's load times and attract more customers.
Use keywords on your pages
When you want to rank for a keyword, it is good practice to use that keyword on your pages. You should use them in the title tags, meta descriptions, headings, and within your content. The keywords on your page will tell Google what your page is about when it crawls through it.
It is important to refrain from keyword stuffing. When you overuse keywords, Google will rank your website lower because it will recognize that you are using keyword stuffing. You want to use keywords where they flow naturally.
Make your website functional
You need to have a functional website to keep people on it. One of the most important factors for keeping someone on your website is your design.
If your website appears old or outdated, users will be turned off. You want to have a modern and clean design that is appealing to the eye. It is best to stick to a simple and consistent design.
Your color scheme is important here too. You want to choose colors that reflect your business. It is good practice to be consistent with your colors throughout your website.
An important part of your design in the navigation. You don't want visitors to be confused about where to find the information they are seeking. By creating an easy-to-use navigation, you'll keep visitors engaging with your site longer.
These are some of the most important factors that influence your website's ranking. When you improve these factors, your website will rank higher in search results, and you'll reach more qualified leads.
3. Email marketing
Last on our list of lead generation strategies for flooring companies is email marketing. Email marketing is a great way to attract and nurture new leads — it's budget-friendly and has the ability to bring you a return on investment (ROI) of 4400%!
The best way to obtain emails is through your website. If people are already on your site, there's a good chance they're interested in your business. They may not be ready to convert, but want to hear from your company.
By including an email signup bar on your website, you can entice people to sign up to receive emails from your business. It should be a simple process that enables users to put in their email and click a button to sign up. You don't want to make it a difficult process to sign up because it will deter people from signing up.
It is best to refrain from paying for email lists. These don't contain valuable leads for your business, and your emails may end up in a junk/spam folder.
Once you have your email subscriber list, you can begin sending them the information they want. This can be coupons, links to content, or new products and services available at your business. These emails should contain information that your subscribers want to receive.
Emails are a great way to nurture leads and help them convert. People who subscribe to your emails are already interested in your business. By utilizing email marketing, you can help turn these subscribers into leads for your business.
Let WebFX help you install a new lead generation plan
Just like a new floor can change the face of a room, a new lead generation plan can change the face of your business. By investing in lead generation for flooring companies, you can bring in more valuable leads.
At WebFX, we are committed to helping you create the best possible lead generation strategy for your business. We're a full-service digital marketing agency that's dedicated to your company's success.
We take the time to get to know your business so we can create a strategy that drives the right flooring leads for your company. What works for one business doesn't always work for another. Your business is unique, so we personalize your plan to fit your needs.
Our team of 500+ experts brings years of expertise to your campaigns. We have years of experience helping businesses succeed. To date, we've driven over $3 billion in sales and over 7.8 million leads for our clients.
Learn more about lead generation for your flooring business
If you want to start creating your personalized lead generation plan, contact us online or give us a call today at 888-601-5359 to speak with a strategist!
We look forward to working with you!
Earn a 20% greater ROI with WebFX