Want to reach more local customers looking for garage door companies? If so, Google Local Services ads for garage door companies can help you reach more local leads looking for your services.
On this page, we'll provide you with information on Google Local Services ads and three reasons to integrate local ads into your marketing plan.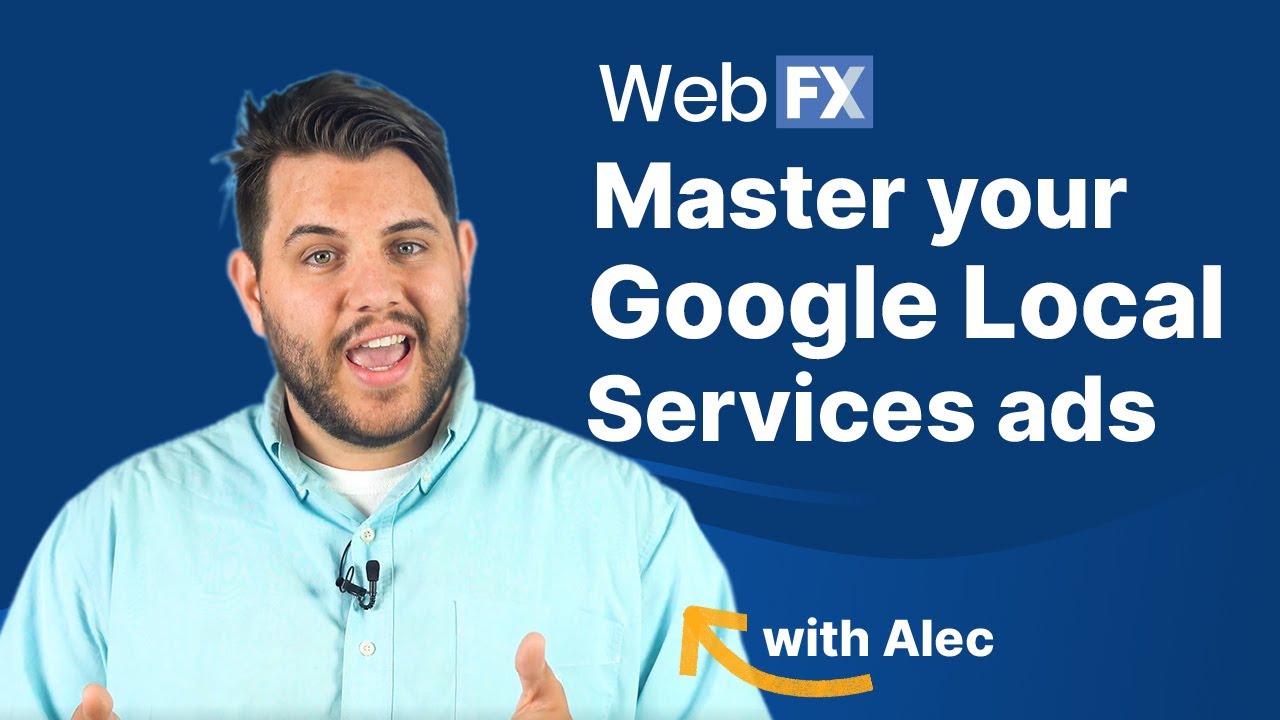 If you need help getting started, check out our Google Local Services ad management solutions — and contact us online to learn more.
Google Local Services ads overview
If you've ever searched online for a local business, you've probably seen Google Local Services ads.
These ads appear at the very top of the search results as three horizontal boxes with information about relevant local businesses.

Each listing contains:
Company's name
Star rating on Google
Hours of operation
Phone number
Years in business
Services you offer
Business bio
This information gives prospects an overview of your business and encourages them to call or visit your website to learn more — and ultimately become a customer.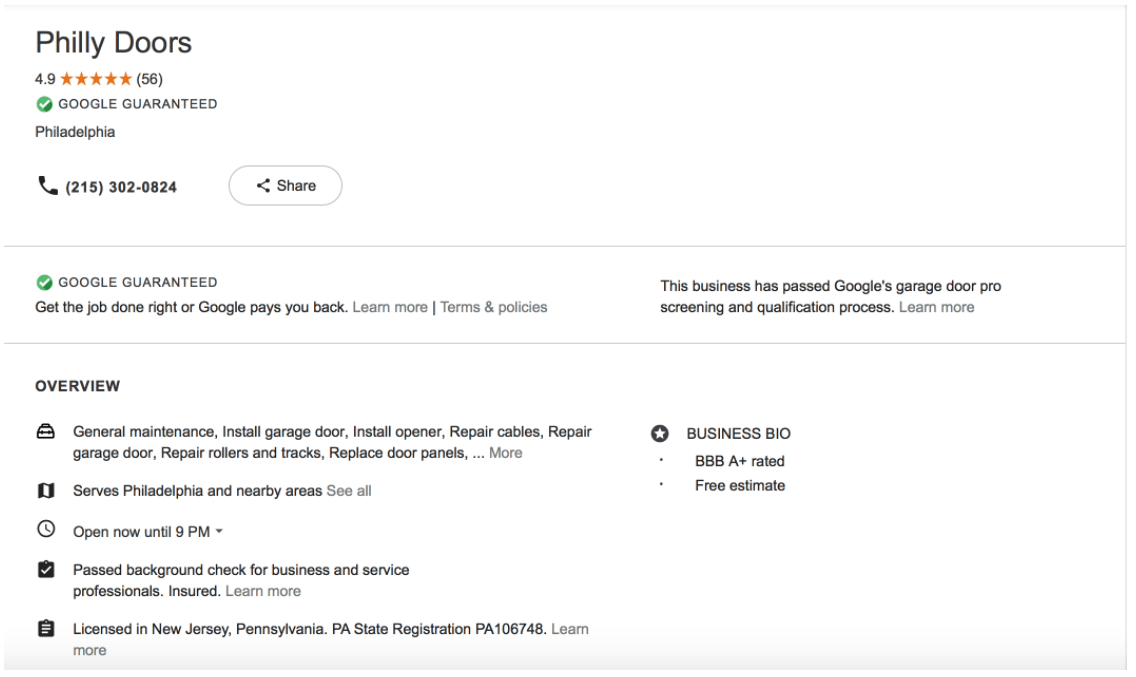 Hear What It's Like to Work With WebFX!

"WebFX are consummate professionals. We have had few problems and when we did they were handled quickly and to our satisfaction. Additionally, WebFX regularly approaches us with new innovations for our SEO and web presence that allows us to stay current. They have simply made the most complicated aspect of our business simple."
Garage Door Repair Company
How do I set up Google Local Services ads?
Google provides you with a smooth, three-step process for setting up your ads. Let's check out those steps:
1. Sign up
First, Google must verify that you can run Local Services ads. Google Local Services ads are currently only available to businesses in certain industries and cities.
Some of these industries include:
Garage door companies
Since Google includes garage door companies on the approved list, you can get started entering business details like your location and the specific services you provide.
2. Set your budget
Once you verify your business type and sign up, you'll set your ad budget.¬ If you've ever run a pay-per-click (PPC) ad, the budgeting set up is similar.
You'll pay a set amount for each lead that contacts your business. For mobile users, you can use a click to call button to get leads to contact your business. On desktop, you can give users the option to message or email your business. These interactions each count as contact with your business.
It's important to note that your budget will affect how many leads you get. If you have a budget of $500 and your cost per contact is $10, you'll only be able to obtain 50 leads with your ad. On the other hand, increasing your budget to $1000 will get you 100 leads.
Set an appropriate budget, so you can obtain enough leads to grow your business.
You'll also want to consider how much you pay for each lead. The cost for each lead varies by industry, location, and market. You may only pay $5 for a lead, but you can also pay $100 for a lead. It will depend on the factors listed, so you must take that into consideration when planning your budget.
3. Launch your ads
After you set your budget, you'll launch your ads and start obtaining new leads. Google gives you control over your advertisement. As long as you have money in your budget, you can decide when to turn on or turn off your ad.
This gives you the freedom to control how many clients you take on without feeling overwhelmed. Additionally, if you're going on vacation or away from the office for a specific time, you can turn your ad off until you return.
Independent research from Clutch has named WebFX the
top SEO company

in the United States.

Clutch has personally interviewed more than 250 WebFX clients to discuss their experience partnering with us.

Read More Clutch Reviews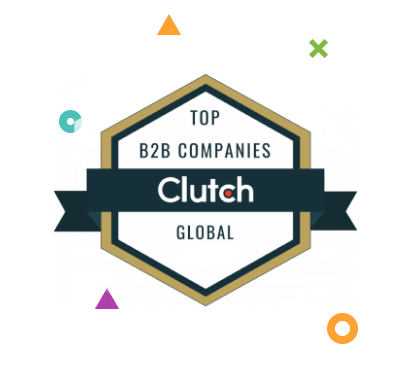 FAQ: Google Local Services ads for garage door companies
Now that you know how to set up your ads, let's look at some FAQs you'll want to consider.
What is the Google Guarantee badge, and how do I earn it?
A common question regarding Local Services ads revolves around the Google Guarantee badge. Since this badge appears nowhere else except the Local Service ads, many companies wonder what it is, what it does, and how they can get it.
The Google Guarantee badge sends a signal of trust to your audience. To earn a badge, you must pass Google's background check, license verification, and insurance verification. As long as your business is up-to-date on paperwork, you'll get a badge.
The Google Guarantee establishes that Google vetted your business and backs you. It instills confidence in your audience, too.
If you don't do an excellent job for a client, they can file a claim with Google to get reimbursed for the job (up to $2000). Clients cannot file claims due to:
Damage to property
Unhappiness with pricing
Cancellations
Dissatisfaction with business's responsiveness
The client must file a claim within 20 days of the completion of the job. They can only submit the claim if they don't approve of your work. If you do quality work for your clients, you won't need to worry about people filing claims.
The Google Guarantee badge serves as a trust signal to your audience that they can rely on your company to get the job done correctly.
Are Local Services ads the same as PPC ads?
No! It's a common misconception that these ads are the same thing, but these ads look and operate differently.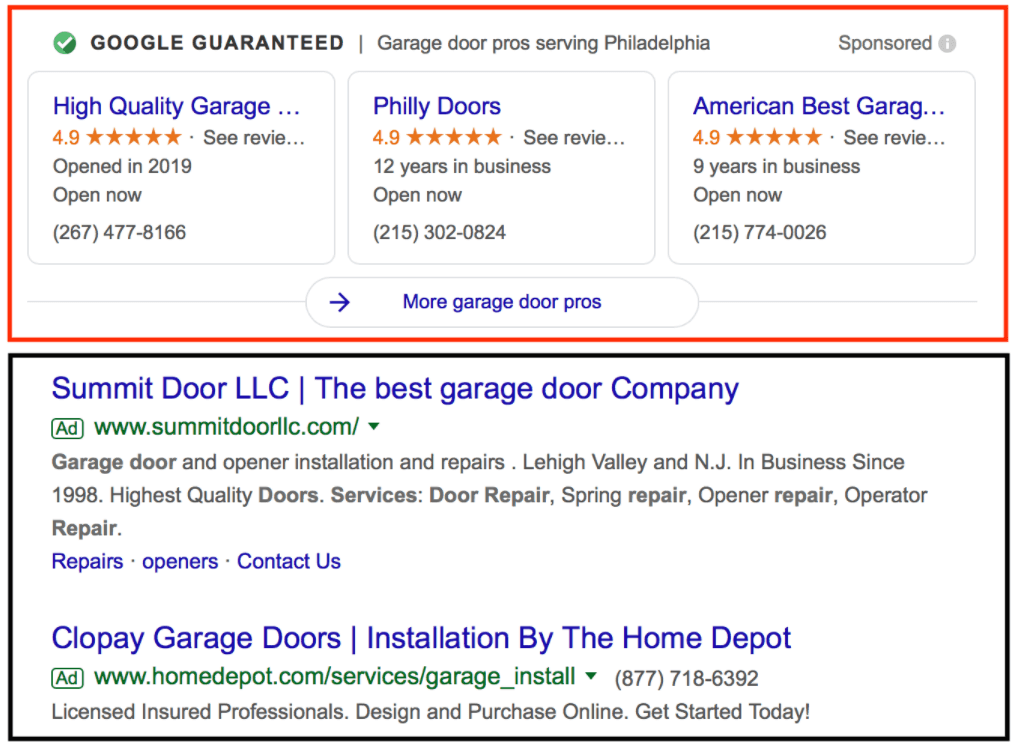 As you can see, search results can contain both Local Service ads and PPC ads. These two types of ads look different and share different information.
The Google Local Services ads contain essential information that entices users to click on the listings and engage. These ads focus on getting leads to contact your business, whether it's a phone call or text message.
PPC ads, on the other hand, have multiple purposes. They can be used to market individual services, products, or companies. PPC ads have various goal options available, including:
Building brand awareness
Increasing traffic on your website
Gaining more leads
Earning conversions
These options enable you to use PPC ads to achieve different goals.
Additionally, Google only charges for Local Service ads if a user contacts your business. Whether they call, email, or text, Google will charge you only if people reach out to your business.
With PPC ads, you get charged each time someone clicks on your ad, regardless of what they do once they click. While they're both considered paid advertisements, each of them operates on a different payment system.
Overall, it's a great option to run both strategies. It gives you more exposure in the search results and creates more opportunities for leads to find your garage door company.
3 reasons to invest in Google Local Services ads
Google Local Services ads will help you earn more valuable leads for your business.
Let's look at three reasons why you should invest in Google Local Services ads.
1. You gain more credible leads for your garage door business
Whenever you invest in marketing methods, the goal is to obtain leads interested in your business. Local Services ads are one of the best ways to attract leads looking to hire a local garage door company.
These ads attract leads ready to convert. They click on your listing, see if you fit their needs, and contact your business. These leads know what they want and need to find the right company with the desired services.
By investing in Google Local Services ads, you'll drive more local leads to choose your garage door company.
2. You build trust with your audience
Searchers want to find a business they can trust. They'll comb through reviews and ask for recommendations to find the best garage door company. With Google's Local Services ads (and the Google Guarantee badge), you can build another layer of trust.
This badge signifies that Google vetted your company. It sends a signal to users that Google trusts your company so that they can trust you too. It helps you gain more new clients who have the potential to tell other people about your great services.
3. You earn more sales
When you run marketing campaigns, you often focus on making sales for your company. Google Local Services ads are an excellent way for you to earn sales for your business. These ads attract more qualified leads for your company.
People who look at local service ads are closer to conversion. You won't pay for these leads until they contact your business. By that point, they are likely to hire your company, as long as you offer what they need.
If you want more local leads for your garage door business, Google Local Service ads will help you attract clicks and conversions.
If you don't know how to get started with Google Local Service ads or don't have the time to get them up and running, WebFX can help. With over 500 local marketing experts, we'll help you run local ads that drive more leads for your business.
Want to learn more about Google Local Services ads? Contact us online or call us today at 888-601-5359 to speak with a strategist about our Google Local Services packages.
Earn a 20% greater ROI with WebFX