People across the country lock themselves out of their cars and homes and need locksmith services daily. Bad news for them, but good news for the locksmith industry.
When most people lock themselves out of their cars or homes, their first move is to pull out their smartphone and use a search engine like Google to find a locksmith to help them. It's convenient, and the results are fast.
This means that if you want to reach the people who need your services, you need to be easy to find online. People don't have the time or patience to wait around when they're locked out, and they aren't going to reflect on a billboard advertisement they saw or recall that flyer they got in the mail.
That's why digital marketing is so important. If your locksmith company isn't online, you're losing out on tons of potential customers. So if you want to be competitive with other locksmiths in your area, it's time to get started with Internet marketing! Keep reading to learn more, or call us at 888-601-5359 to speak with a strategist and get a free quote.
Time to Level Up Your Sales
Our long list of services helps you grow every aspect of your business with marketing strategies that are proven to increase bottom-line metrics like revenue and conversions.
In the past 5 years, we've managed more than 12.9 MILLION transactions across our client base.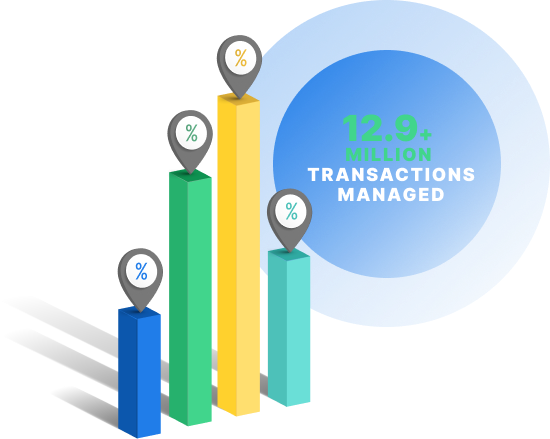 Why Internet marketing matters
Internet marketing is the best way to gain and keep the attention of potential customers.
People don't pay as much attention to traditional marketing methods anymore. They tune out radio ads, ignore billboards, and throw away fliers. But with Internet marketing, you can reach them as they're actively searching for your information – so you've already won half the battle.
Your locksmith business could see a huge jump in sales just by being visible online. In fact, SEO leads have a 14.6% close rate, while traditional marketing methods have only a 1.7% close rate.
As a leader in Internet marketing, we'll help you reach your online marketing goals. Contact us today to speak with a strategist about how your locksmith company can reach more customers online, or keep reading to learn about a few of the best Internet marketing strategies to invest in!
1. Your website
Is your website an accurate reflection of your business? Is it easy for visitors to navigate? Does it frequently attract new customers? These are just a few questions to consider when evaluating your website.
One of the first things to consider is the ease of navigating your website. Information should be simple for potential customers to locate. When someone's on your site because they've locked themselves out of the house, they're already going to be frustrated. The last thing you want to do is have a cluttered and disorganized website, which may cause them to leave and move on to a competitor. Create a straightforward menu with organized content to increase your chances of them converting.

Remember to keep all the content on your site updated and relevant. If you no longer offer a specific service, for example, remove it from your site. If you start offering a new service or have special promotions, include them on your website.
You should also consider the overall design of your website. After all, first impressions are 94% design-related! Having an aesthetically pleasing website engages more potential customers and increases the chances that visitors will return to your site.
Finally, include your contact information on every page and make it easy to locate. People on your site should not have to search for your phone number or email address, so add contact buttons and bold your phone number to draw attention.
2. Search engine optimization (SEO)
Once you've updated your website, you should focus on search engine optimization, or SEO. SEO is made up of several strategies that improve your visibility and rankings in search engines like Google. This is important, extremely important when you consider that 75% of search engine users don't click past the first results page.
The first step to improving your search visibility is identifying important keywords related to your business. So, for example, if you offer 24-hour service you could target keywords like "24-hour locksmith Harrisburg, PA."
The goal is to determine what your target audience is typing into the search bar, then optimize your website for those keywords and phrases. By doing so, you significantly increase your chances of reaching potential customers.
3. Pay-per-click (PPC) advertising
Pay-per-click, or PPC, is a cost-effective online advertising model that allows you to appear at the top of search results. And as the name implies, PPC platforms only require you to pay when someone clicks on your ad.
PPC ads run on a keyword auction system. You can bid to advertise at the top of search results for any given keyword or phrase, and if your bid is higher than other advertisers' for the same keyword, your ad will be displayed at the top of the results page. The higher your bid is, the more likely your ad is to be in a top position.
When you use traditional marketing to advertise, you have no way of knowing if you are reaching your target audience. But with PPC ads, you can monitor the number of clicks you receive and gauge the success of your campaigns with metrics like conversions and sales. You can also pause or stop your PPC ads any time, meaning you have complete control over your budget.
Plus, when you consider that people who arrive at your locksmith website as a result of a PPC ad are 50% more likely to purchase your services than organic visitors, it's clear that this is an effective way to reach new customers.
4. Email marketing
Email marketing is one of the oldest forms of digital marketing, but it's also one of the most effective. In fact, for every $1 you spend, email marketing has the potential to generate $44.25 in ROI.
The first step in using email marketing for your locksmith company is to build a list of subscribers. You can add a sign-up form to your website and encourage visitors to subscribe. Once a person opts into your email list, they are communicating to you that they want more information – making them a qualified lead.
After you've built a list of subscribers, you can send emails with information about special offers or new services, trending topics in your industry, and helpful tips for homeowners.
Email marketing is a great way to stay connected to potential customers and encourage them to return to your website.
5. Social media
Social media platforms are some of the most visited sites online, and given that as 2.3 billion people use social media, it's almost guaranteed that your target audience has a presence on them.
Being active on social media helps you build relationships with potential customers and increase brand exposure. You can use platforms like Facebook, Instagram, Pinterest, and Twitter to educate and engage with your followers.
Engaging with your followers shows that you care about more than simply making sales. They'll appreciate you taking the time to respond to their questions, concerns, and comments, which can build customer loyalty and trust. Then, when one of your followers is in need of a locksmith, you'll be the first that comes to mind.
You can use your social media accounts to do more than just promote your business, though. Similar to email marketing, you should use your accounts to post helpful tips and industry news that your target audience may find interesting.

Hear What It's Like to Work With WebFX!

"WebFX did amazing work creating a new website for us on a tight schedule. They have taken the time to learn about our business and give us ideas of how to make our digital marketing better. We still have work to do with WebFX but overall very pleased."
Professional Service
WebFX is a full-service Internet marketing agency
Internet marketing is essential for your locksmith company to remain competitive. Since most of your potential customers need immediate service, it's important to be visible where they're searching.
Creating an effective Internet marketing campaign is challenging, but we have years of experience helping our clients reach new customers and grow their businesses. WebFX is a full-service Internet marketing agency, and we're ready to help you achieve your goals for your locksmith business.
Contact us today for a free evaluation! Our team of experts can't wait to speak with you.
Earn a 20% greater ROI with WebFX