Did you know that 80% of local searches convert?
If you don't have a local marketing plan in place, now is the time to develop your local marketing strategy. With Google Local Services Ads for plumbers, you can easily attract leads that turn into conversions for your company — without blowing your budget.
On this page, we'll look at how Google Local Services ads drive results for plumbers and how you can get started with Local Services ads.
If you want to learn more about local ads, contact us online or call us today at 888-601-5359 to speak with a strategist about our Google Local Services ad management plans.
What are Google Local Services ads for plumbers?
Similar to traditional pay-per-click (PPC) ads, Google Local Services ads appear at the top of search results — above organic listings.
These ads help more local searchers find your plumbing business, learn about your services, and contact you to take the next step.
Local Services ads for plumbers feature three businesses at the top of the search results.

Users can choose from these three businesses, or select "More plumbers" to see other options.

After clicking on "More plumbers," searchers will see an entire page filled with local plumbers. At the top of this page, they can filter businesses by choosing the service they need.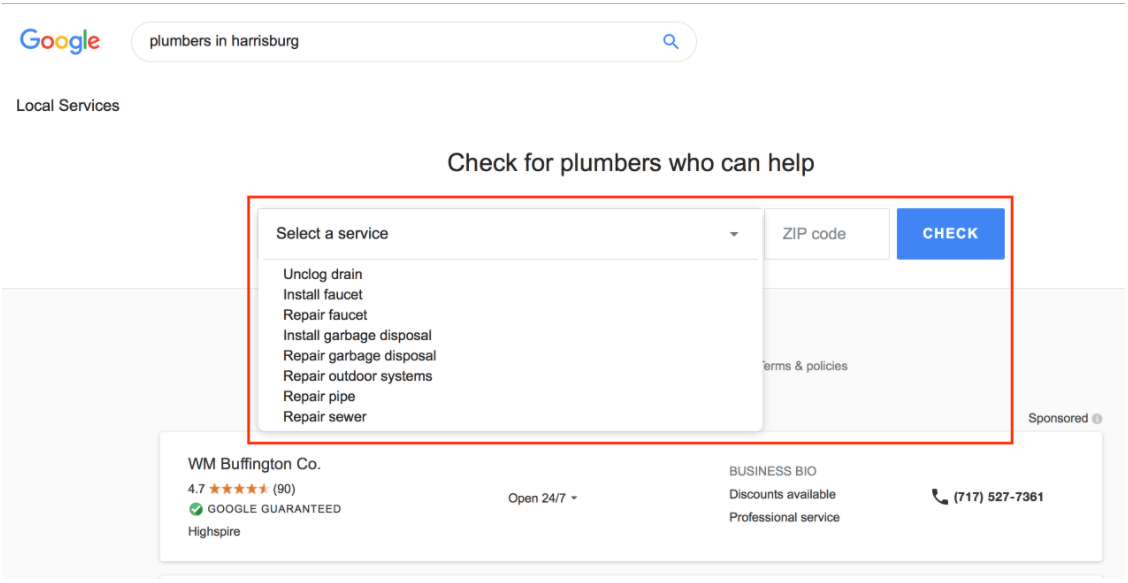 This filtering option makes it easy for users to find the right plumber that fits their needs. Once a user sees the right plumber, they will click on the listing to get more information.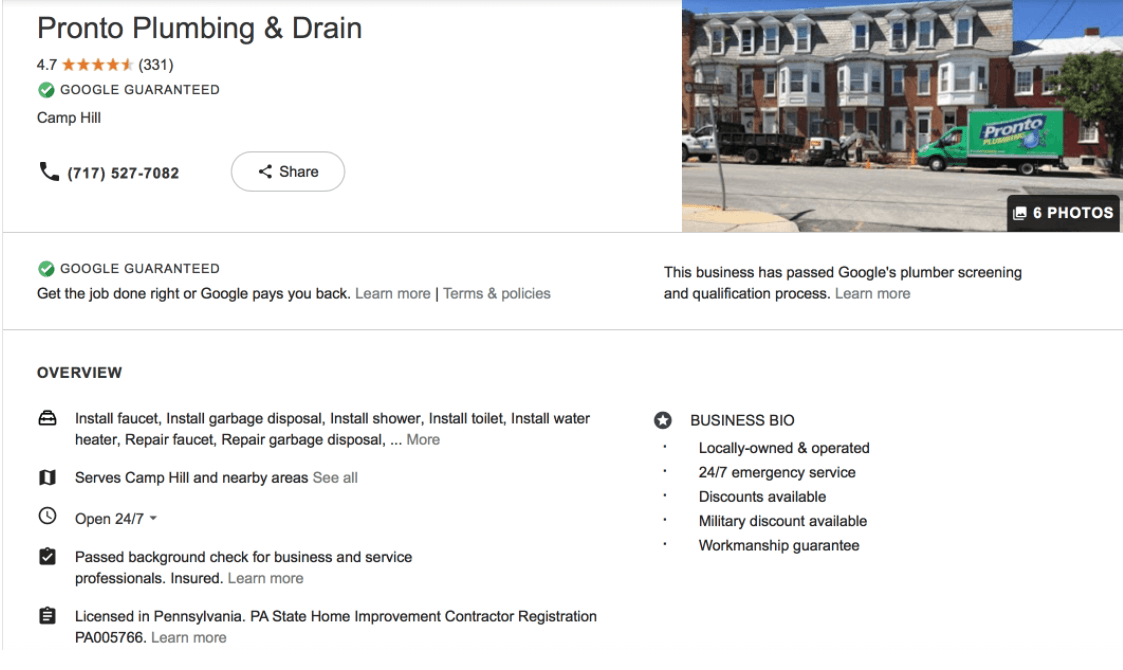 On this page, they can see your services and areas you operate. Visitors will also see a small business bio section with a bulleted list of essential business characteristics. You give your audience important information here, like your years in business or sharing that you provide free estimates.
If people like what they see on your listing, they can contact your pluming business straight from the advertisement — and you'll only pay when people contact your business.
Hear What It's Like to Work With WebFX!

"I have recommended WebFX to everyone that I talk to and will continue to do so. I can't stress enough how helpful WebFX is with helping us understand the SEO information and how it works."
Plumbing Company In New York
FAQ: Google Local Services ads for plumbers
Now, let's dive into some common questions businesses ask regarding Google Local ads for plumbers.
What is the Google Guarantee badge?
When you search for local business listings, you may see a Google Guarantee badge at the top of the local ads.

You'll also see the badge on individual listings for plumbers.

What does the Google Guarantee badge do?
The Google Guarantee badge is a symbol of trust. To obtain this badge, Google vets your business. You must pass a background check and verifying your license and insurance.
If your information is in order, you'll obtain the Google Guarantee badge.
When you get the Google Guarantee badge, you build trust with your audience. Your audience will feel more confident in choosing your business because Google backs you.
With this guarantee, Google will pay up to $2000 if a client doesn't like the work you do for them. People can only file claims based on your work. Google won't accept claims regarding:
Unhappiness with pricing
Dissatisfaction with communication
Cancellations
Damage to property
If you do good work for your clients, you won't need to worry about people filing claims against your business. The badge will serve as a symbol of trust for your audience and make them more likely to hire your plumbing company.
Do I pay when someone clicks on my ad?
No! Unlike PPC ads, you don't pay when someone clicks on your ad. You only pay when someone contacts your business.
Someone can click on your ad and read all the information about your business without it costing your business a dime. You won't pay until someone chooses your business and contacts you via phone call or message.
This setup benefits your business greatly because you only pay for leads most interested in your business. You're putting your budget towards leads that reach out to your business to learn more about your services or book an appointment.
Do I have control over my ad?
Yes. Once you get your ad up and running, you'll have complete control over your ad. Google enables you to start and stop your ad as you need.
If you get booked up with appointments, you can stop your ad until your schedule clears. You won't waste money obtaining leads only to have no room for them in your schedule.
This flexibility allows you to make the most of your budget. You control when you run your ad and how many leads you take from your ad. Google will help you keep track of your appointments to prevent overbooking.
How do I get started with Google Local Services ads for plumbers?
If you're interested in starting with Google Local Services, follow these steps.
1. Confirm your business's eligibility
The first step of starting with Google Local Services ads is verifying your business's eligibility. Google only enables certain types of companies to participate in Local Services ads.
Previously, Google only enabled local ads in certain cities. Since the start of 2019, Google expanded these ads into other smaller cities. You'll still want to check to ensure both your business's industry and location fall on their list of eligible companies.
When you go to Google's Local Services page, you'll discover if you're eligible when you try to sign up.
2. Sign up
Once you confirm your business's eligibility, you'll sign up for local ads. When you sign up for Google's services, you'll set up your business's profile.
There are two critical pieces of information you must include on your profile: Your services and location.
Your services determine who sees your ads. It's essential to be honest about your services, so you're only attracting people looking for those services. It benefits your business because you'll put your ad in front of people most interested in your plumbing business.
When you create your profile, list all your services. It may seem like a lot, especially if you do multiple types of jobs, but it will help you drive more leads to your ad.
Next, you'll want to specify your location and work radius. If you're located in a city like Philadelphia, you may service areas surrounding Philadelphia, or you may limit yourself to a 20-mile radius. Specify where you'll do work, so your ad only reaches people who you can serve.
3. Add license and insurance to your profile
Google requires that you have a legitimate license and insurance coverage. They will only promote businesses that are legitimate and have their paperwork in order.
To remain eligible, you must provide your updated insurance and license information to Google.
Providing this information will also help you get your Google Guarantee badge. It's just another reason to add this vital information to your listing!
4. Set your budget
When you run Google Local ads for plumbers, you must establish your budget. Like PPC, you don't need a certain amount to run your ad. You decide your budget and how much you're willing to spend for new plumbing leads.
It's important to remember that you only pay when people call or message your business. You must think about how many leads you want in a month and set your monthly budget to reflect that amount.
The amount you spend affects your business's success. If you spend $500 for the month and have a cost per contact of $10, you'll only get 50 leads. With a team of 10 plumbers, that's only 5 potential leads per worker for the month.
On the other hand, spending $2000 with the same cost per contact will get you 200 leads. Now you're looking at 20 potential leads for each of your plumbers for the month!
As you can see, your budget influences the number of leads you obtain. You must find a balance between how much you can spend and spend enough to drive valuable leads for your plumbing business.
5. Start running your ad
Once you fill out all your information and set your budget, you'll start running your ad. You'll begin obtaining valuable leads for your business and receiving new clients.
We foster and form long-term partnerships so that your business has long-term results.
Over 90% of WebFX clients continue partnering with us into year 2 of their campaign.
Hear from Our Happy Customers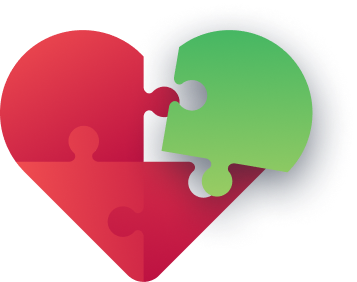 Start driving more leads for your plumbing business today
Google Local Services ads for plumbers will help you drive more local customers to your business. It's an excellent investment if you're looking for ways to grow and obtain new leads through online methods.
If Local Services ads feel like a daunting task, WebFX is here to help. With over a decade of experience, we know how to optimize Local Services ads to meet your business's needs.
Want to learn more about how WebFX can help your business flourish online?
Contact us or call us today at 888-601-5359 to speak with a strategist about our Google Local Services packages.
Earn a 20% greater ROI with WebFX