By finding the right digital marketing consultant for your business.
Discover how to find the best Internet marketing consultant for your company, from exploring their portfolio to reviewing their prices. Keep reading to get started on your search or call our experienced strategists at 888-601-5359 to partner with our award-winning digital marketing consulting company.
And don't forget, whether you're looking for a digital marketing consultant for your business or other digital marketing services, WebFX is here for you!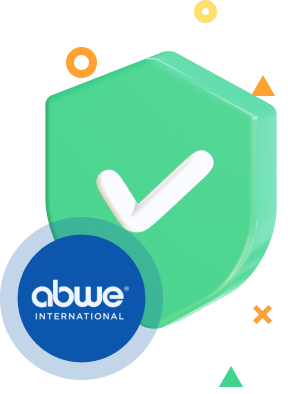 A Partner Businesses Trust
Their focus on ROI and their innate ability to communicate this information in a way that I understand has been the missing link with other digital marketing firms that I have used in the past.
Leah Pickard. ABWE
See the Case Study
What is a digital marketing consultant?
A digital marketing consultant is an individual or organization that advises, as well as plans and researches, a company's Internet marketing strategy. As a consultant, their primary goal is to maximize your leads and conversions, resulting in more growth and revenue for your business.
A digital marketing consultant's day-to-day responsibilities include:
Auditing a client's online presence, from their website to social media accounts
Developing Internet marketing campaigns
Conducting A/B testing to maximize the impact of design and copy
Reviewing a client's campaign performance through Google Analytics
In some instances, companies partner with a consultant that specializes in a specific area of digital marketing. For example, your business may want to partner with an Internet marketing consultant with a focus on search engine optimization (SEO).
What do digital marketing consultants do?
A few examples of what a digital marketing consultant does include:
Due to the wide variety of services that Internet marketing encompasses, many businesses partner with a digital marketing consulting company — this move gives you access to a team of consultants that specialize in every area of Internet marketing.
WebFX, for example, features an award-winning team of more than 300 Internet marketers that includes savvy social media specialists, creative web designs, talented web developers, and innovative content marketers.
How to find the best digital marketing consultant in 10 steps
When choosing a digital marketing consultant, it's critical that you do an in-depth analysis of each candidate. To make the process easier, we've compiled a list of 10 steps for finding the best online marketing consultant for your business.
Get started on your search now:
1. Research what services you want
When you're searching for a digital marketing consultancy, it's essential that you do some research. Educate yourself about the services you're looking for, such as content marketing, SEO, or PPC management. That way, you know what an online marketing consultant should deliver when it comes to that service.
Due to the rising popularity of digital marketing, there are plenty of trusted and respected websites that publish handy guides on every strategy in digital marketing. Many also maintain blogs, resource centers, and email newsletters, which keeps you up-to-date on new trends and standards.
For example, at WebFX, we provide our clients and site visitors with several up-to-date resources, including:
Even after you find an Internet marketing consultant, you should continue reading these resources. They provide your team with valuable insight into your digital marketing strategy and can help your team discover new opportunities for your business to grow its online presence.

As you research the services you're interested in, look into the average prices for these services. That way, when comparing digital marketing consulting companies or freelancers, you can understand where their prices rank.
It will also help you set a marketing budget too, which is critical.
2. Check out their services
With your budget determined and your team educated, you can start building a list of digital marketing consultants or firms for your company. Whether a consultant makes your list will depend on whether they offer the services you want.
Depending on how many services your company needs, you may find it difficult to match with a freelancer or independent digital marketing consultant. In most cases, they specialize in only a few areas of digital marketing — plus, they have a higher number of clients to manage.
That can lead to lackluster service and deliverables, which impacts your organization's bottom line. That's why many businesses, big and small, partner with a digital marketing consulting company. They can offer more services, plus a dedicated account manager.

If you choose a full-service digital marketing company, like WebFX, you have quick access to:
You can even take advantage of our web design services, which are a critical part of a digital marketing strategy, as the speed and usability of your website can influence your online visibility.
Once you compile your list of online marketing consultants and firms, you can start comparing their rates.
3. Analyze their prices
An undeniable factor when searching for a digital marketing consultant is their prices. While you want to partner with a consultant or firm that offers an affordable rate to match your budget, you don't want to invest in cheap services — because those won't deliver a return on your investment.
A challenge for many businesses, however, is that consultants don't publish their prices online. Even some of the top digital strategy consulting firms follow this policy, which makes your work even more difficult.
Instead of viewing their pricing pages, you're forced to fill out a contact form. Then, you have to wait for a response, which could take days depending on the consultant's workload. In some cases, they may even request that you take time out of your day to schedule a call.
While you may decide to invest the time in requesting pricing information, it's a positive sign when a digital marketing consultancy publishes their prices online — especially when it complements five-star reviews.
It demonstrates that they're confident in their prices. It also saves you an immense amount of time, as you can see in an instant whether that firm meets or exceeds your company's budget. Plus, their prices often note the deliverables included in their services.
4. Investigate their tech
An area that many businesses overlook when comparing digital marketing consultants is their technology. While all consultants will use Google Analytics, some also use in-house software that gives their digital marketing strategies a competitive edge.
For example, MarketingCloudFX is a platform developed by WebFX and powered by IBM Watson that provides users with exceptional insight into leads and calls generated by their digital marketing strategies.
The industry-leading return on investment (ROI) software can also predict and recommend keywords, which is invaluable when it comes to SEO. In addition, MarketingCloudFX includes marketing automation tools, such as for email marketing.
This kind of technology is what you want to see in a digital marketing consultancy.
When a company develops and utilizes that kind of tech, it indicates their expertise and commitment to the field of Internet marketing. It also provides your strategy with a competitive edge and extra insight, which can lead to better results.
5. Review their portfolios
As you continue your search for an Internet marketing consultant, you want to focus on consultants or firms with portfolios. Many online marketing consultants publish portfolios on their websites, providing several case studies for you to explore.
Focus on the following factors when reviewing a consultant's portfolio:
Specialty: Do they focus on a specific industry or digital marketing service? If they focus on SEO for industrial companies and you're a retail store, for example, their skillset may not be the best match for you.
Results: How do they measure their success? If a digital marketing consultant emphasizes results that directly impact a business, such as transactions and leads, it's a positive sign that they understand which metrics matter when it comes to digital marketing.
When you view a consultant's portfolio, consider noting the names of the clients in the case studies — if mentioned. Later, when you read the firm's testimonials, you can see if those businesses shared feedback about their experience.
Since a portfolio reflects a digital marketing consultancy's ability to drive results and success for their clients, it's an excellent start when searching for a consultant. If you like their portfolio, consider adding them to your short list of candidates.
6. Read their reviews and client testimonials
A critical factor when comparing Internet marketing consultants is testimonials, as well as reviews on third-party websites. They give you immediate insight into the potential perks and drawbacks of a consultant.
Read these reviews, and you can learn about a firm's:
Customer service
Turnaround times
Service quality
Price range
And more
Depending on what you're looking for in a digital marketing consultant, these reviews can make your decision simple. For example, if you're looking for a firm that can meet tight deadlines, you may remove a consultant that misses deadlines from your list of candidates.

Overall, you want to look for a consultant that will treat your business and your team with respect, plus invest the time to learn your business, industry, and services. That personalized approach leads to a one-of-a-kind strategy that drives results.
To emphasize the benefits of an original and unique strategy, consider the results of our clients. By focusing on a personalized approach, we've driven more than $2.4 billion in revenue for our clients in the past five years.
2.4 Billion
IN CLIENT REVENUE
6.3 Million
Leads for our Clients
4 Million
Client phone calls
Our digital
marketing campaigns
impact the metrics that matter most!
Learn More
7. Look for credentials
Next, you want to research the credentials of a digital marketing consultant, which can include:
Years of experience
Awards
Certifications
With respected awards and certifications, a firm or consultant demonstrates their knowledge of the industry, as well as the quality of their work. In some cases, it's essential that a consultant possesses a certain certification.
For instance, if you're interested in advertising on Google, you'd want to partner with an Internet marketing consultant that's Google Ads Certified. It shows that they know how to use the Google Ads platform, as well as create compelling ads for it.

If you're looking to work with a digital marketing consulting company, then check to see if they're a Google Partner Agency. This certification, which firms can advertise on their website via the Google Partner badge, validates that company's specialization in several areas.
These specializations can include:
Search advertising
Mobile advertising
Video advertising
Display advertising
Shopping advertising
When it comes to awards, they emphasize that experts in the industry are noticing and recognizing the work of a firm or consultant. While it isn't critical for an Internet marketing consultant to have a cabinet full of awards, it can indicate the quality of their work, as well as where they excel.
8. Explore their values
Whether you're collaborating with a digital marketing consulting company or freelance consultant, it's important to do some research on their background. After all, you want to work with someone that's going to work well with your team and business.
One area you want to focus on is their company values, which can focus on the following:
Quality of work
Level of customer service
Approach to challenges
And more
It's also worth looking into the team that makes up a digital marketing consulting firm. If a company has high employee turnover, it can often indicate greater problems in the organization, which can impact your experience as a client.
Instead, you want to choose an organization with a strong and consistent team. That ensures your business receives advice and strategies from a dependable team that doesn't change every few months, which can lead to setbacks in your campaign.
It's critical that you're working with a knowledgeable team too.
When it comes to digital marketing, it's a fast-changing field, which means professionals in the industry need to stay up-to-date. Often, the public social media profiles of professional consultants and digital marketers will demonstrate that they're active in the industry and invested in learning more.
With this step, you'll have a better understanding of whether a digital marketing consultant is a good fit for you.
9. Check their client retention
A massive signal that a consultant knows their craft is when they have a high client retention rate, which will often coordinate with glowing client reviews and testimonials. With a high client retention rate, you can trust that a digital marketing consultant knows what they're doing and that they do it well.
The downside, however, is that most digital marketing consultant companies don't publish their client retention rates — and the reason is because they're not great. If these firms shared their numbers, they wouldn't make you feel confident in that company's capabilities.
Since many consultants don't publish their client retention rates, it's an even better sign when a company does. An example of a digital marketing consultant that does share their client retention rates is WebFX.
Our client retention rate is 91 percent, which is 488 percent higher than the industry average.
10. Talk to them
Once you've compiled a short list of potential digital marketing consulting companies for your business, it's time to reach out. This step is critical, as it provides insight into whether the consultant or firm lives their values, as well as if their client testimonials are still accurate.
During your discussion with these Internet marketing consultants, consider asking the following:
What's your experience with my industry?
How much experience do you have as a consultant?
What strategies do you think would work well for my company?
How do you respond to a campaign that's not working?
How will you make my business stand out?
How do you involve clients in the process?
Based on their answers, as well as your overall discussion, you can determine whether this digital marketing consultancy is worth further consideration by your business. If they seem uninterested in your organization or annoyed by your questions, for example, it's often a red flag.

You want to choose a digital marketing consultant that gives you confidence.
It's also worth considering the questions that a consultant asks you during your meeting. If they ask you tons of questions about your business and industry, it's a strong indication that they're interested in your organization — and how they can help it grow.
A few questions that an Internet marketing consultant should ask you include:
What are your company's goals?
What past experiences do you have with digital marketing?
Who is your target audience?
What products or services are you looking to promote?
What is your expected budget?
By thinking about these questions in advance, you can maximize your initial conversation with a consultant. It can also provide you with additional insight into whether they're the ideal person or firm for your digital marketing strategy.
What to expect from a digital marketing consultancy
Throughout the process of researching and comparing various Internet marketing consultants, you may have expectations of what a firm or consultant should deliver.
Before you sign with either, however, it's essential that you and your consultant discuss and agree upon those expectations.
Here are a few things you can expect from a trusted digital marketing consulting company like WebFX:
Provide insight into your target audience: While you may already have developed your target audience a while ago, your consultant should provide you with additional insights into your marketing persona. That leads to better content and better strategy.
Develop a personalized strategy: Whether you sign with a consulting firm or individual consultant, they should deliver a customized strategy — not a cookie-cutter approach. It's critical that you discuss this factor before signing with a consultant.
Align your marketing and business strategy: When you receive a personalized marketing strategy, it'll coordinate with your company's overall goals. These goals can include a five percent growth in the next five years, for example.
Become an extension of your marketing team: The best digital marketing consulting companies will work as an extension of your marketing team — not as a service provider. This approach often correlates with personalized strategies and even better results.
Deliver real, measurable results: It's critical that your Internet marketing strategy offers results. If it's not achieving your goals, from increasing your email subscriber list to boosting your sales, then your consultant needs to reassess their strategy to deliver those results.
Want to discover what one of the industry's best digital marketing consultants can bring to your business, from more leads to more revenue? Contact WebFX online or at 888-601-5359 to receive a free, no-obligation quote.
WebFX is a premier digital marketing consultant
When it comes to your digital marketing plan, you need the right digital marketing consultant. You're going to invest time and money into it, so you need a company that will deliver the best results for your campaign.
At WebFX, we know how to deliver a successful digital marketing campaign for your business. Want to see some digital marketing examples to inspire you? Check out our blog!
We're a full-service digital marketing company with more than two decades of experience in creating customized digital marketing plans. When you partner with us, you'll get a team of more than 300 experts working on your campaign.
If you're looking for results, we know how to drive them.
We've driven over $2.4 billion in revenue and over 6.3 million leads for our clients. That translates to more orders through your ecommerce store, more purchases at your retail location, and more quote or service requests.
Our clients love the work we do, too. We have more than 500 client testimonials from a variety of industries. Check them out to see what it's like to partner with a top digital marketing consultant — and Google Partner — like WebFX!
Need a trusted digital marketing consultant for your business?
If you want to learn more about how you can get a customized digital marketing plan that helps your business gain new leads and conversions, contact us online or call us today at 888-601-5359 to speak with a strategist.
We look forward to taking your business to new heights!