Get more than Cleveland website design with WebFX
Are you looking for more than Cleveland website design services?
Browse our digital marketing services, which can help support your brand-new or updated site.
Explore our digital marketing services and digital advertising services to see all our available solutions. If you have questions, feel free to contact us online or call 216-208-4449 to speak with a strategist about your Cleveland web design and online marketing needs.
WebFX is a partner businesses trust.
Hear from HydroWorx, who saw a 236% increase in organic sessions with WebFX services.
Watch the Video Testimonial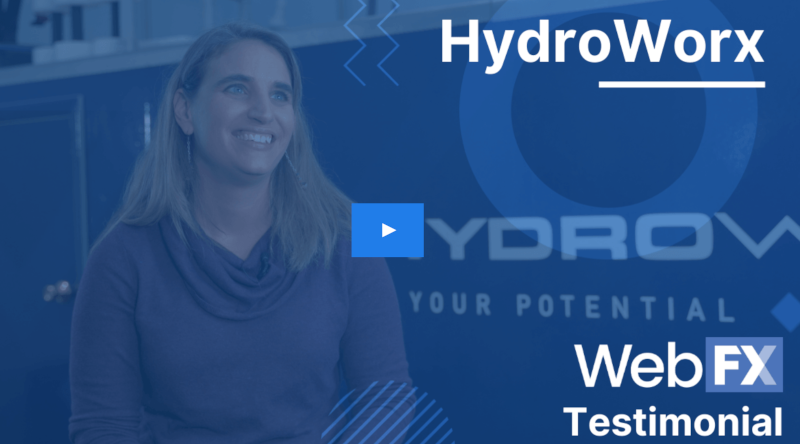 What makes a good web design?
The hardest part about designing your website, knows what will drive results for your Cleveland business. You may be asking yourself, "What elements are crucial to my website's design?"
Here are four main elements you'll want to focus on to create a good website design.
1. Appearance
If you want to have an effective website, the first step is creating a website that is visually appealing. This is how your audience will initially judge your business.
A modern and sleek website will engage your audience and catch their interest. A website that looks like it's from 1990 will not interest your audience.
There is more to your webs design's appearance than choosing the right colors and features. It's also important to focus on factors that affect your website's appearance. Responsive design is one of the most critical elements to include in your web design.
Responsive design ensures that each member of your audience has a positive experience on your site, regardless of the device they use. Users will access your website from mobile phones, tablets, and desktop computers. It's crucial that your website adapts to each of these devices to promote a positive user experience.
2. Navigation
In addition to appearance, navigation plays an important role in the user experience. Your navigation helps your audience browse through your site to find information. If your navigation isn't easy to use, you'll miss out on potential leads for your Cleveland business.
Your navigation must be simple and easy to use. You don't want your audience to be unsure of where to find information. A navigation bar that is organized and laid out properly for your audience will drive the best results.
3. Attention
Once you have visitors on your site, the next step is to keep them on your site. If your site isn't interesting or doesn't catch their attention, these leads won't have a reason to stay on your site. You must add elements that keep your audience interested in your site.
These elements include photos, videos, and infographics. These are all engaging visual elements that keep your audience interested in your page. They help break up all the information on your page and make it easier to look at your site.
4. Action
When leads are on your site, the end goal is to get them to act. If you want to encourage them to act, you must add elements that guide them towards acting.
A call to action (CTA) button is one way to get your audience to act. After people read through your page, they may want to take the next step. A CTA button helps guide them towards the next step.
You can logically guide these leads through your site. A CTA button stands out from the rest of your design to ensure that your audience always sees it. If they engage with your CTA, you can then guide them to a relevant page that pushes them closer to converting.
We don't want to tell you about the work we do, we want to SHOW you.
View Our Portfolio

We've built over
Websites
in a variety of industries.
Why are Cleveland web design services important to my business?
Regardless of what digital marketing strategy you use, you will drive leads to visit your site. It is crucial that you invest in your Cleveland website's design to set a good first impression with these leads. You also want to keep them on your site once they see it.
Your audience expects to see a modern, clean, and updated website. If you haven't updated your website's design in years, it will be off-putting to people in your audience.
When your website is outdated, your audience assumes that your information is outdated too. This happens regardless of whether the information was updated six months ago or just yesterday. Your audience will judge with their eyes, and seeing an old design makes them believe your site is outdated.
Investing in Cleveland web design services helps you keep your website modern and updated. It's a great opportunity to build the website of your dreams. You can add numerous elements that enhance the user experience on your site.
If you want to compete with your competitors, you must keep your website's design updated. Your audience will choose a competitor over your business if that competitor has a more modern feel to their site.
To drive the best results for your business, invest in your business's website design.
We look forward to helping your business grow!