Web Design Company
Raleigh
Your website is the foundation to your online presence, playing a critical role in helping your business generate not only online leads and sales but also valuable foot traffic to your physical location. At WebFX, our Raleigh web design company helps your business make the most of its site.
With our digital marketing services, which range from professional web design to search engine optimization (SEO), we help your company create, launch, and manage a beautiful, fast, and responsive site that tops search results, generates leads, and drives sales.
Learn more about partnering with our website design company in Raleigh, NC, which has launched more than 1000 custom sites, by contacting us online or giving us a ring at 888-601-5359. You can also see some of our work by browsing our portfolio and client testimonials!
If you want to expand your online reach and earn more revenue, we can help. Contact us online or call 919-230-8731 to speak with one of our experts today!
Want to market your Raleigh business online?
On this page, we'll take a look at some of our Internet marketing services and what makes us the top choice for your Raleigh Internet marketing needs. Keep reading to learn more!
Raleigh web design and digital marketing services
When you partner with WebFX for Raleigh web design, you get access to an award-winning team of:
Web designers
Web developers
Digital marketers
Professional copywriters
And more
Essentially, you get a complete solution to not only designing, developing, and maintaining your site, but also marketing it. For you, it becomes easier to meet your company's goals and demonstrate your impact on your organization's bottom line.
As your partner, we can help you in the following areas:
And more
Learn more about how we can help with more than just Raleigh website design by contacting us online!
Ready To Grow? Get Your Free Proposal Today:
Take the next step in growing your business using digital marketing. Connect with one of our expert digital strategists to learn how WebFX can help you reach your business goals.
Local Success
WebFX has partnered with numerous local businesses in Raleigh to help them grow with digital marketing. We've helped to implement campaigns including SEO, PPC, email marketing, and beyond.
Why should I choose WebFX as my Raleigh web design company?
Redesigning your website can feel like an overwhelming task. But by relying on an experienced web design company in Raleigh, NC, you don't have to worry about fixing it yourself. You worry about running your business while someone else focuses on redesigning your website.
If you want a company that knows how to create impactful, customized websites, look no further than WebFX. We know how to create websites that keep your audience engaged on your site.
So, why choose WebFX?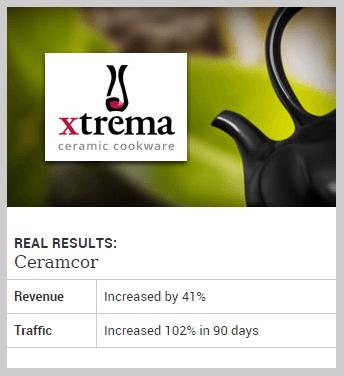 We have a team of experts
You don't want to hire any web design company. If you want to see the best results with your website, you must hire an expert web design company. At WebFX, we have over 200+ experts that will help you create your customized website.
Our team of award-winning designers will know how to create the website of your dreams. You can count on our team to create your customized website that helps you reach more leads.
We have the tools to make a great website
When you partner with us, you're working with a Raleigh website design company that has tools and resources to help you create your website. With our program RainmakerFX, we can make your website in 30 days. All of our sites are customized to your business's brand style and needs.
We know how to drive results
We've been doing digital marketing for over 20 years. You can trust that we have the knowledge and expertise to drive valuable results for your website.
Don't believe us? Just ask our clients! Check out our 550+ client testimonials that attest to the great work we do for our clients!
Ready to get started?
Are you interested in learning more about how your business can use Internet marketing to increase your sales and attract more customers?
Contact us today to speak with a strategist and hear about our custom plans.
Get your FREE Quote now
Why are Raleigh web design services important to my business?
Web design for Raleigh businesses is crucial for setting a good first impression with your target audience. They will get a feel for your brand by looking at your website's design. You want to make a positive impact on them to ensure these leads remain on your site.
Think about how people buy cars. Many will judge a car based on its color and design. If they like both of those things, they'll look further into the nitty-gritty details about it to make a purchasing decision.
The same logic applies to your website's design. You need to 'wow' your audience with your design to get them to stick around and become familiar with your site and brand.
A great web design will keep leads on your site and keep them engaged. It plays a vital role in helping you earn valuable leads for your Raleigh business.
What are important elements I need in my Raleigh web design project?
There are many elements that go into making your website look great. Here are four important elements to focus on when making your Raleigh web design project a reality.
1. Appearance
As we emphasized previously, your website's appearance is an important element to your design. You must create a web design that is visually appealing, modern, and clean. This is what your audience expects to see on your site.
Your design should reflect your business. It's the best way to build a consistent brand image for your Raleigh business. Focus on choosing a style and colors that fit for you.
Aside from style and color, you will also need to focus on technical aspects of your site's appearance. One of the most important elements is a responsive design. Responsive design ensures that your website adapts to whatever device your audience is using.
Your audience will access your site from mobile phones, tablets, and desktop computers. If you want to provide them with a positive experience, you must incorporate a responsive design to ensure they see your website in the best format for their device.
Your site's appearance is just the beginning of important elements you need to engage your visitors.
2. Navigation
Navigation is crucial for keeping your audience engaged on your site. If your navigation is disorganized or difficult to use, your audience will get frustrated and leave your site.
They need to find information quickly and easily, so your navigation must be organized. An organized navigation will make it painless for your audience to find important information. These leads will remain on your site longer because they found information quickly.
3. Action buttons
When you get leads on your site, you want to keep them on your page. You want them to keep reading and learning about your Raleigh business. To keep these leads engaged, you must include call-to-action (CTA) buttons.
CTA buttons are crucial for keeping leads on your page. They guide your audience to the next step and tell them how to proceed.
Many leads will like the information they see on your page, but they won't know how to proceed next. The CTA on your page will show them what actions they need to take to convert.
Launch your dream site with professional Raleigh web design
If you're ready to create a customized website that helps you obtain valuable leads on your site, contact us online or call us today at 888-601-5359 to speak with a strategist.
We look forward to hearing from you!
We're not your typical


Digital Marketing Agency.

Our team is made up of award-winning designers, developers, and Internet marketers. For us, it's not just a job — it's a driving passion. And that passion has led to some of the best work on the web.

Don't take our word for it! We're proud of our many customer testimonials on Clutch. We've earned a 4.9 out of 5 with over 175 ratings.
Driving Digital Revenue For Our 700+ Satisfied Customers