What is LeadManagerFX?
One of the many features of WebFX's MarketingCloudFX is LeadManagerFX. Capturing leads is an important goal of every business and with LeadManagerFX, you can now easily collect and organize all of your leads.
Read on to learn how LeadManagerFX can be an important asset to you and your business, and how you can start utilizing it today!
Meet MarketingCloudFX:
One platform tracking countless metrics and driving stellar results.
Learn More About Our Proprietary Software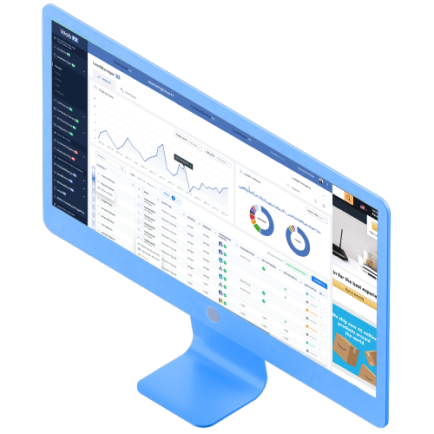 What can LeadManagerFX do for me?
The main goal of LeadManagerFX is to capture forms submitted by visitors to your site and store them in a database. This database allows you and the team at WebFX to see the quality, channels, and conversions overtime.
You can also keep track of reoccurring themes and use those to your advantage in future decisions for your business all while monitoring and increasing your lead value.
LeadManagerFX can provide direct value to you and your business in multiple areas such as:
Database of all your business's current and past leads
Worried about losing lead data? Need help organizing all of your leads? LeadManagerFX takes care of all of that in its database and allows you to easily and quickly search though all of your leads and look at specific data ranges, overall submission totals, which channels lead to the highest conversions, and more!
Tracking your leads
Do you ever what drew someone to your site and eventually to conversion? Follow in the footsteps of your leads and see where each lead generated from with LeadManagerFX.
Custom dashboard
Take advantage of the custom LeadManagerFX dashboard to organize your dashboard in a way that is most efficient for you and provides you with your own personal login information.
Notifications
Never worry about email filters or other email problems affected your leads again! With LeadManagerFX, you can opt to get text notifications on leads.
If you prefer email, you can choose to receive daily, weekly and monthly LeadManagerFX reports straight to your inbox.
Why should I use LeadManagerFX?
By using the LeadManagerFX service on MarketingCloudFX, you can measure the direct ROI from the online efforts by your team at WebFX. This tool, like the other tools on MarketingCloudFX, gives you full transparency of your relationship with WebFX and allows you to follow your overall success overtime.
LeadManagerFX enhances lead information by collecting data about the lead such as the traffic source from which the lead generated from. The lead website engagement details are also tracked. You can learn valuable information such previous pages visited and visitor funnel, score of the lead and value of the lead.
In the LeadManagerFX report tab in MarketingCloudFX, you can set filters and see your leads from custom and preset date ranges. The report also provides you with graphs to see a visual of how your leads are improving overtime, either yearly or month over month.
You collection of leads is also compiled and organized at the bottom of the report. You can search for specific leads in the report and see valuable information such as the date, type and value of the lead as well as the profile, source, medium. The amount of time spent on your site and the number of pages visited on your site can also be tracked as well as the sale status of each lead. Your lead list can also be export for further documentation.
Measuring the metrics that affect your bottom line.
Are you interested in custom reporting that is specific to your unique business needs? Powered by MarketingCloudFX, WebFX creates custom reports based on the metrics that matter most to your company.
Leads

Transactions

Calls

Revenue
Learn More

Ready to get started using LeadManagerFX?
No matter your CMS, LeadManagerFX and MarketingCloudFX will work for you. If you want to learn more about LeadManagerFX and MarketingCloudFX or are interested in learning more about the services that WebFX has to offer, contact us today or give us a call at 888-601-5359.